These versatile Gluten Free and Dairy Free Breakfast Burritos are the perfect meal prep recipe. They're super easy to customize and full of so much flavor. You really can't go wrong with this make ahead, delicious, on the go breakfast idea.
Who would like an easy pull-out-of-the-freezer breakfast idea? And what if we told you this meal is loaded with your classic favorites… scrambled eggs, breakfast sausage, sautéed onions and peppers, and even diced potatoes?
Thankfully breakfast burritos not only contain all our breakfast favorites, but they are also ready in minutes!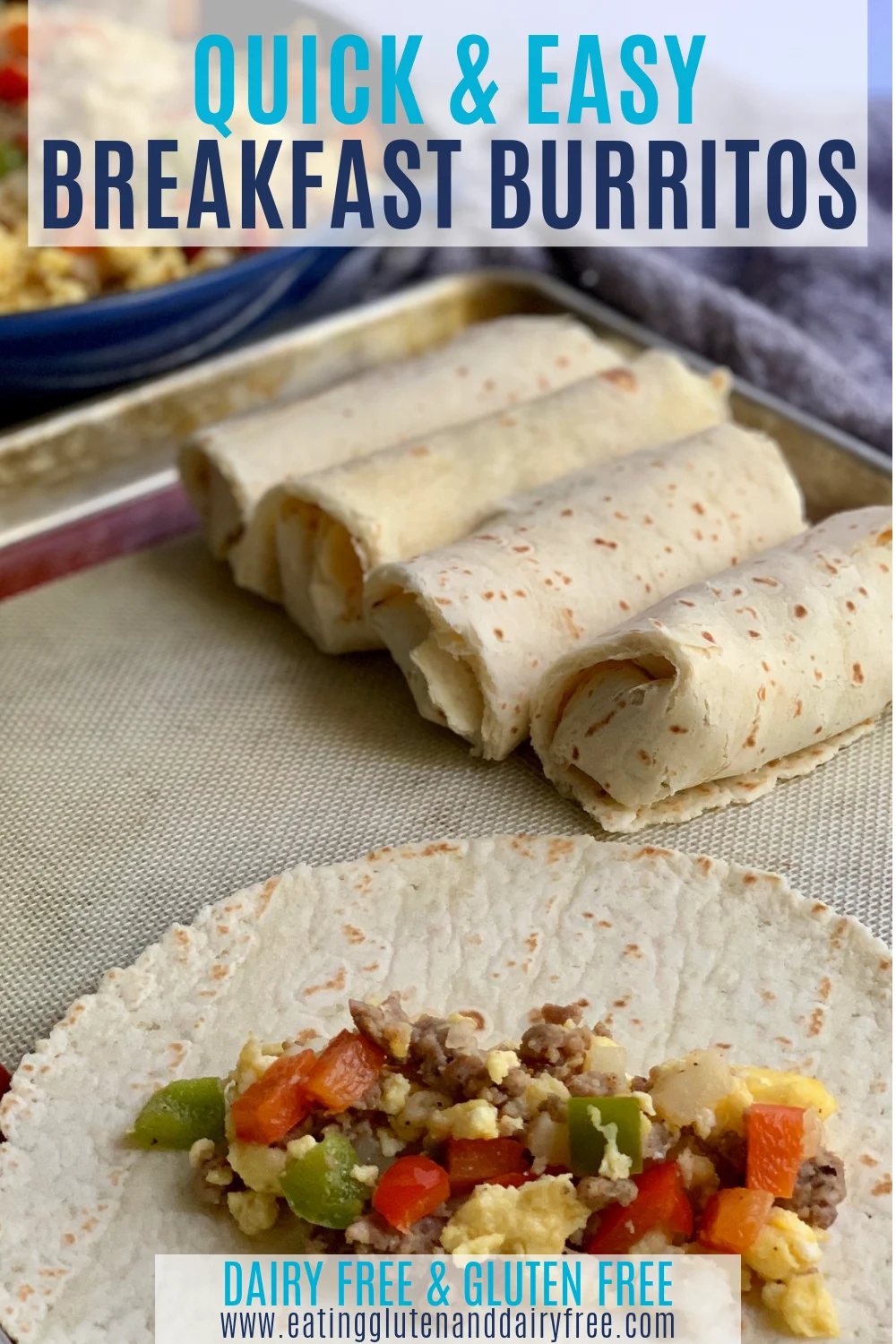 Thankfully a friend peaked my interest with this breakfast idea a few years ago.
Can you believe I had never heard of these, let alone tried one? And in the past couple years I've finally found gluten free tortillas these taste dreamy in and don't fall into a million pieces.
So many tortillas just fall apart when you wrap up the burritos. That's not the case with the gluten free Mission brand tortillas we prefer using. I find these in many big chain grocery stores and on Amazon.
breakfast burritos ingredient notes + tools
eggs-- use large eggs
breakfast sausage-- use your favorite brand or whatever you have on hand. We like using Mulay's Breakfast Sausage because it's certified gluten free, soy free, dairy free, and no MSG
diced hash browns-- we prefer Ore-Ida Diced Hash Browns as they're gluten free and you can check out their manufacturing statement here.
oil-- we like to use grapeseed oil or olive oil
onion-- add whatever you prefer, red, white, yellow, etc.
red pepper-- feel free to grab yours from your garden or grocery
green pepper-- again, grab yours at your garden or store
salt and pepper-- our favorite is Kosher salt but you can use Himalayan, iodized, whatever you have on hand
gluten and dairy free tortillas-- we love using Mission gluten free tortillas
nice set of knives for dicing ingredients-- we love to use Zelite knives. We've shared about them over on Instagram- have you checked it out yet?
sturdy cutting board-- you'll always find us cutting on a nice one
aluminum foil-- only if freezing your burritos
how do you keep a breakfast burrito from getting soggy?
One of the biggest questions we had when making a burrito is, how do you keep all the yummy goodies inside without letting the whole burrito get soggy?
And this question is super popular when we are talking about making this as a meal prep recipe.
If you're making freezer burritos, this is a popular thing to worry about.
But here are our tips to help keep your breakfast taco in perfect edible condition.
It''s all about knowing how to store and reheat your burritos properly. It's all about knowing how to store and reheat your burritos properly.
If eating now, let the filling cool down some and roll tightly to help keep out moisture.
If using as a meal prep recipe, or a freezer meal recipe:
Let your filling ingredients cool to room temperature.
Warm your gluten free tortilla for 20 seconds in the microwave.
Place the filling inside.
Wrap in your tortilla.
Then wrap with aluminum foil.
To help get a crispy tortilla when reheating, use a toaster oven or oven for reheating.
Otherwise we reheat in the microwave and top with salsa and dairy free sour cream.
what do you serve with breakfast burritos?
While these can be a meal by themselves, you can also choose to serve them with other items. Try some of these ideas:
how long are burritos for breakfast good for?
If your burritos last longer than ours, or you're making a big batch like we like to do, you can keep them in the refrigerator for 3-4 days if stored properly.
If you want to freeze them, they'll last about 3-4 months if stored properly in the freezer. Again, let contents cool, use aluminum foil and then we put in a freezer safe Gallon size Ziploc bag to help keep them from getting freezer burned.
Always remember to label your food with the date you made it, what it is and the date you need to eat it by.
more delicious add-in ideas:
Furthermore this recipe is versatile to include your family's favorite breakfast foods! There are countless add-in ideas or substitutions such as:
crumbed bacon bits
dairy free cheese - add in your favorite dairy free shreds
diced ham
diced potatoes
mushrooms
diced onion
spinach
refried beans
corn
pico de gallo
hot sauce
garnishes- top with dollops of salsa, avocado, or dairy free sour cream (there are a few great sour cream brands on the market right now. My go-to is by Wayfare.)
7 reasons why these should be in your freezer
for easy meals during camping trips
to take on road trips just store in a iced cooler
when company visits and breakfast time is limited
for those back-to-school early morning breakfasts
to heat up at work for lunch break
for college students needing a prepared breakfast
a quick meal for those "breakfast for dinner†kind of nights
more gluten + dairy free recipes
the best chicken pot pie-you'll love this flaky crust and how comforting and filling it is. This is one of our most popular recipes on Pinterest.
taco tater tot skillet-the kids love this meal and there's only one pan to clean up.
s'more cookie bars=now you can enjoy s'mores year round with this mouthwatering bar recipe.
more gluten and dairy free breakfast ideas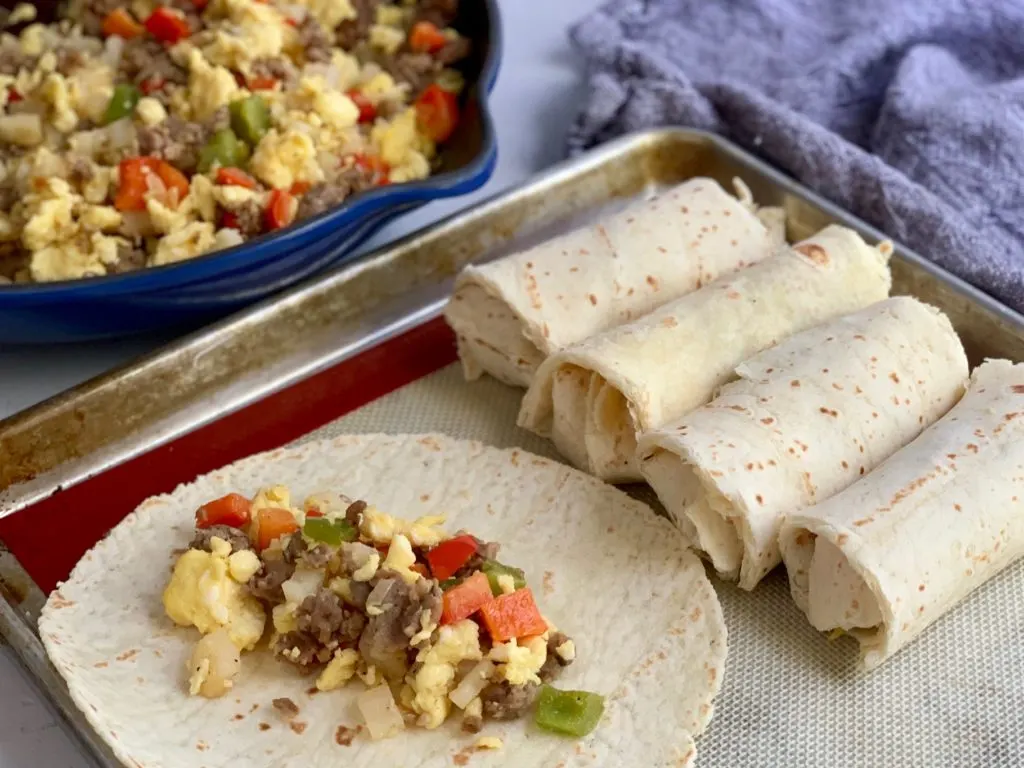 lastly
Right now we have these stocked in the freezer for an upcoming glamping trip. These will be handy, quick, and easy to reheat on the mornings we're planning on hiking.
As you can tell one really can't go wrong with this recipe idea. Breakfast burritos work well for everyone.
Make them exactly how you want them, change them up each time, never get tired of the same thing each time, quick on the go breakfast, meal plan recipe.
It's just an all around winner of a recipe.
Go ahead and make these now. Your future self will thank you.
Follow along on Pinterest, Facebook, and Instagram. Be sure to like and comment often so you keep seeing our posts in your social media feed.
We don't want you to miss out on the best of eating gluten and dairy free.
Eat well and feel well,
Jill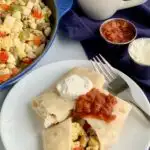 Print Recipe
Breakfast Burritos
Ingredients
12

eggs, scrambled

1

lb

breakfast sausage, browned, crumbled, and drained

1

16 oz

diced hash browns, cooked

2

tablespoon

oil

½

onion, diced

1

red pepper, diced

1

green pepper, diced

salt and pepper to taste

14

gluten and dairy free tortillas

suggestion in post
Instructions
In large skillet heat oil over medium heat. Add onion and stir.

Once onion becomes translucent add in diced peppers. Stir occasionally until tender. Then add in scrambled eggs, hash browns, and ground sausage. Mix well.

If eating immediately, warm tortillas in the microwave and serve with the burrito mixture and top with garnishes.

If freezing to enjoy later allow the egg mixture to completely cool. Then heat tortillas and add the egg mixture. Roll them into a burrito, and wrap in aluminum foil. Place in a gallon size Ziploc bag and transfer to the freezer.

When ready to eat frozen breakfast burritos place in the microwave and heat for 2 minutes or until heated through.

Optional: garnish with salsa and dairy free sour cream.

Heating gluten free tortillas helps them to be more pliable and break or crumble which is common with some gluten free tortilla brands.