Just wait until you sink your teeth into these decadent double chocolate donuts with a luscious and rich chocolate ganache frosting. Prepare yourself for a fudgy, yet fluffy, and deliciously moist breakfast treat.
And honestly you've never tasted a donut unless you've had it frosted with dairy free chocolate ganache. Talk about a decadent treat.
Every bite is perfectly amazing.
And don't make the mistake I used too... one batch isn't enough. Plan now to double this recipe.
You won't regret it.
These double chocolate donuts with chocolate ganache are the best. And they bake perfectly every.single.time.
double chocolate donut ingredients
gluten free all purpose flour -- we use Bob's Red Mill Gluten Free 1 to 1 Baking Mix; your favorite gluten free blend should work too. Side note-- we purchase our Bob's Red Mill Gluten Free 1 to 1 Baking Mix in bulk here to save money.
dark brown sugar--packed
xanthan gum-- omit this if your all-purpose flour blend contains this or guar gum
kosher salt
cocoa powder-- you can even use Rodelle's gourmet baking Dutch processes Cocoa
baking powder-- baking powder looses its potency after the container has bee opened for 6 months
egg-- if you are egg free skip adding this in. There are only small differences without the egg... yes, this was accidentally forgotten a time or two.
dairy free butter -- we bake with the Earth Balance Butter Sticks in a red box. They are vegan and soy free too.
unsweetened chocolate almond milk -- use the shelf stable or refrigerated container. This ingredients adds so much flavor to the donuts.
chocolate ganache frosting-- we use our 2 ingredient ganache frosting recipe here. To frost these 6 donuts you will need half of the frosting recipe. Or if you are baking a dozen donuts you can prepare the entire recipe as directed. Ingredients for this ganache recipe are dairy free dark chocolate morsels and coconut cream.
sprinkles-- always check your sprinkle ingredients. Milk is a common added ingredient. The brand, Sweets Indeed, offer sprinkles in a variety of colors and fun shapes. You can purchase them on Amazon or through their website here. For Christmas we've used these. Valentine's Day these. Easter and spring time donuts look festive with these and definitely these sprinkles with bunnies and carrots. And for Halloween these are a hit.
double chocolate donut recipe tips
donut pan-- years ago we purchased an inexpensive Norpro non-stick donut pan. If you are shopping for a donut pan, we suggest purchasing two of these Norpro pans here.
Ziploc sandwich bag-- transfer the dough to a Ziploc bag. Cut off a bottom corner and pipe the donut batter into donut cavity. This hack is much easier than using a spoon; which gets messy.
allow the donuts to completely cool in the donut pan before removing. If needed use a sharp knife cut around the edge of each donut to loosen
after dipping donuts into a bowl of chocolate ganache top with sprinkles
these donuts taste best when consumed within the first couple days of being baked
store leftover baked donuts in an air tight container
you will have ¼ cup or so leftover ganache. We enjoy our extra ganache atop pancakes or waffles.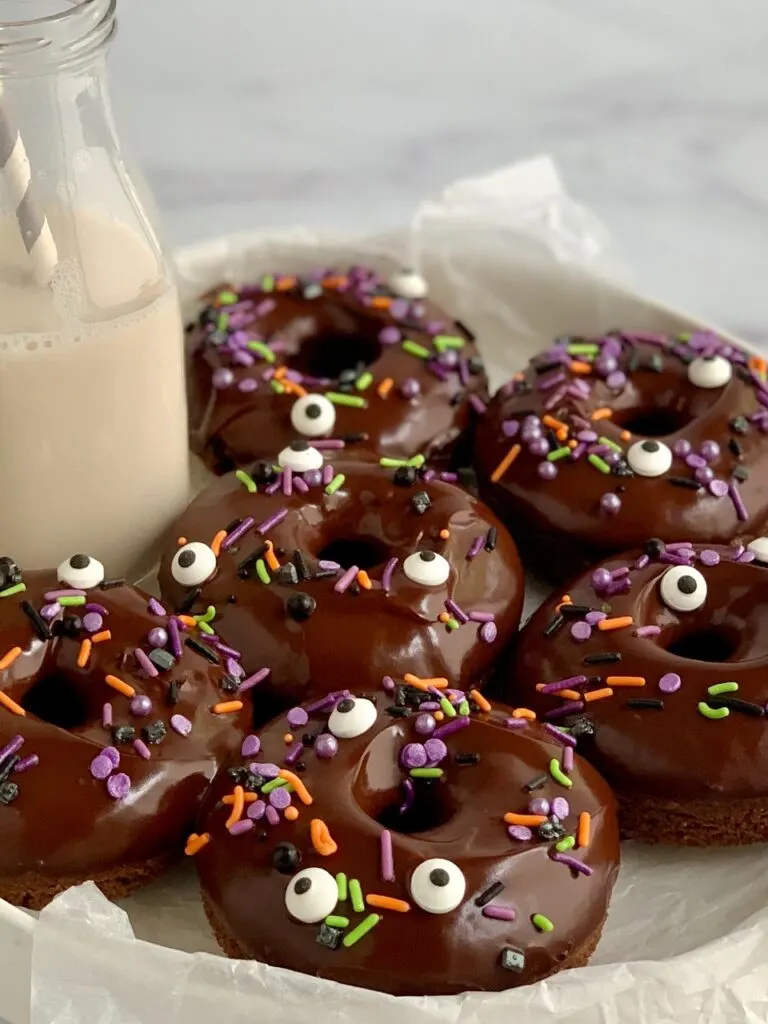 Can you believe just how festive and delicious these donuts look? Enjoy them without the sprinkles or dress them up for any occasion.
more gluten + dairy free donut recipes to try
reader favorite dinner recipes
lastly
There is no doubt these double chocolate donuts are so moist and fudgy. They are the perfect breakfast treat.
And your family and guests will be stunned to know they're gluten and dairy free.
Definitely hashtag me on Instagram when you make one of my recipes #eatingglutenanddairyfree. I wanna see your food.
Follow along on Pinterest, Facebook, and Instagram. New gluten and dairy free pins are being added weekly.
Be sure to like and comment often to our posts so you don't miss the very best of eating gluten and dairy free.
Lastly, if you're traveling soon be sure to check out the food travel guide on our website here and our TSA Approved Food list to thoroughly enjoy yourself on your next flight. Take care!
Eat well and feel well,
Jill
Print Recipe
Double Chocolate Donuts
Ingredients
1

c

gluten free all purpose flour

see suggestions in post

¾

c

dark brown sugar, packed

½

teaspoon

xanthan gum (omit if your all purpose gf blend has this or guar gum

½

teaspoon

salt

¼

c

cocoa powder

1

teaspoon

baking powder

1

teaspoon

vanilla extract

1

egg, room temperature

omit if necessary

3

tablespoon

dairy free butter, melted

½

c

dairy free chocolate milk (unsweetened almond milk works perfectly)
Chocolate Donut Ganache
1

c

dairy free dark chocolate morsels

5.4

oz can

coconut cream
Instructions
If your donut pan in not nonstick then spray it and set aside.

In a large bowl combine all dry ingredients.

In a small bowl mix wet ingredients.

Pour wet mixture into dry ingredients and mix. Do not over mix.

Place donut mix in a Ziploc bag. Cut off a bag corner. Pipe donut batter into donut pan.

Place in the oven and bake for 10-11 minutes. Watch carefully so donuts don't over bake.

While the donuts bake, prepare the chocolate ganache. Place the coconut cream in a small saucepan over medium heat. Pour chocolate morsels into a medium size bowl and set aside.

Once coconut cream is hot and almost beginning to boil but isn't boiling, pour over chocolate morsels. Allow to sit for 2 minutes.

After a 2 minute wait stir coconut cream and morsels until well combined. Allow to cool until thickened for donut frosting.

Remove from the oven and allow to cool for a few minutes.

Then remove donuts from pan and allow to cool on a rack.

After donuts have cooled, dip them in ganache.

If using sprinkles, allow ganache to set for a few minutes before placing sprinkles or any other toppings.

Store donuts in an airtight container up to a few days thou they are the best the day of.
Keep scrolling to sign up for our exclusive emails below.