Who's ready for a delicious spin on cinnamon rolls that is faster and much easier to make? Meet the latest and greatest breakfast idea… warm, sweet Cinnamon Swirl Waffles with a mouthwatering cream cheese topping for the ultimate breakfast win.
You still get that fluffy waffle taste now with a caramelized swirl in the middle.
And you can even generously frost these breakfast waffles with a gooey, sweet topping everyone will be talking about for the rest of the day.
To put it another way… y'all will fall in love with how delicious these taste without the hassle and wait time of traditional cinnamon rolls.
It's no surprise these are the hottest breakfast item around our house right now. For one thing the cinnamon swirl waffles aren't too sweet or rich; they're beautifully perfect.
The brown sugar, dairy free butter, and cinnamon create a perfect swirl. You will taste the cinnamon swirl in every bite.
Notably the most difficult part of preparing these waffles is deciding which frosting to top with. Both the the cinnamon swirl drizzle and the thick, cream cheese glaze work fabulously.
You won't be disappointed with either. And if you're craving walnuts, top your waffles off with a handful of chopped walnuts.
You can also you this cinnamon swirl recipe on your favorite pancake batter and top with the same delicious crema cheese spread.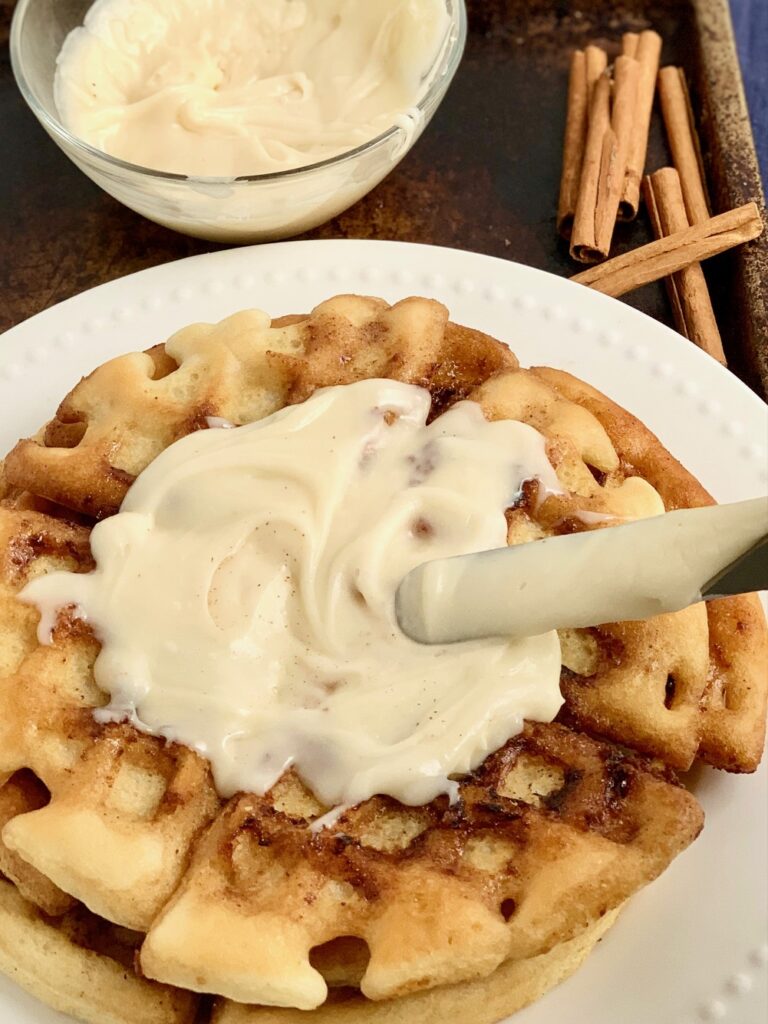 ingredients + tips for this recipe
boxed or homemade waffle recipe— you will need ingredients to prepare the batter as you normally would. If you're looking for a brand to try, consider the Kinnikinnick Pancake and Waffle Mix or the Bisquick Gluten Free Pancake and Waffle Mix.
brown sugar
ground cinnamon
melted dairy free butter— we use Earth Balance Buttery Sticks, these are vegan and also soy free
salt
2 frosting options— The first is a lighter Cinnamon Swirl Drizzle and the second is a thick, creamy Cream Cheese Glaze. My family goes crazy over both.
Cinnamon Swirl Drizzle–powered sugar, vanilla extract, and dairy free milk
Cream Cheese Glaze— dairy free cream cheese (we use this brand), dairy free butter, powdered sugar, vanilla extract
non-stick spray— this might very well be one of the most important ingredients. Spray your waffle maker liberally, particularly the top. If you do happen to get cinnamon batter stuck to the top of your waffle maker, allow it cool when finished. Then take a dull knife to any leftover hard cinnamon sugar. It will easily remove from the maker.
zip lock bag— place the cinnamons swirl mixture into a zip lock bag and cut a bottom corner off. Hold on to if firmly to make the swirl design
optional— chopped walnuts to top waffles with or warmed maple syrup
waffle maker— we use this one
pancakes— use this cinnamon swirl recipe on pancake batter too. And the cream cheese frosting is delicious with pancakes as well.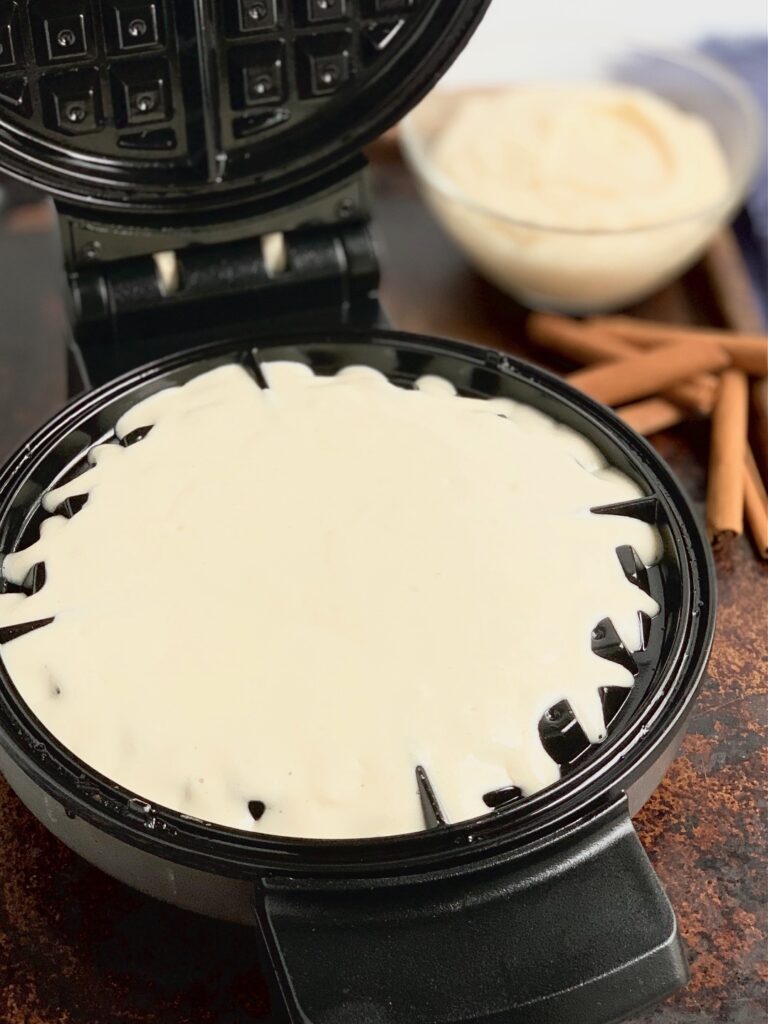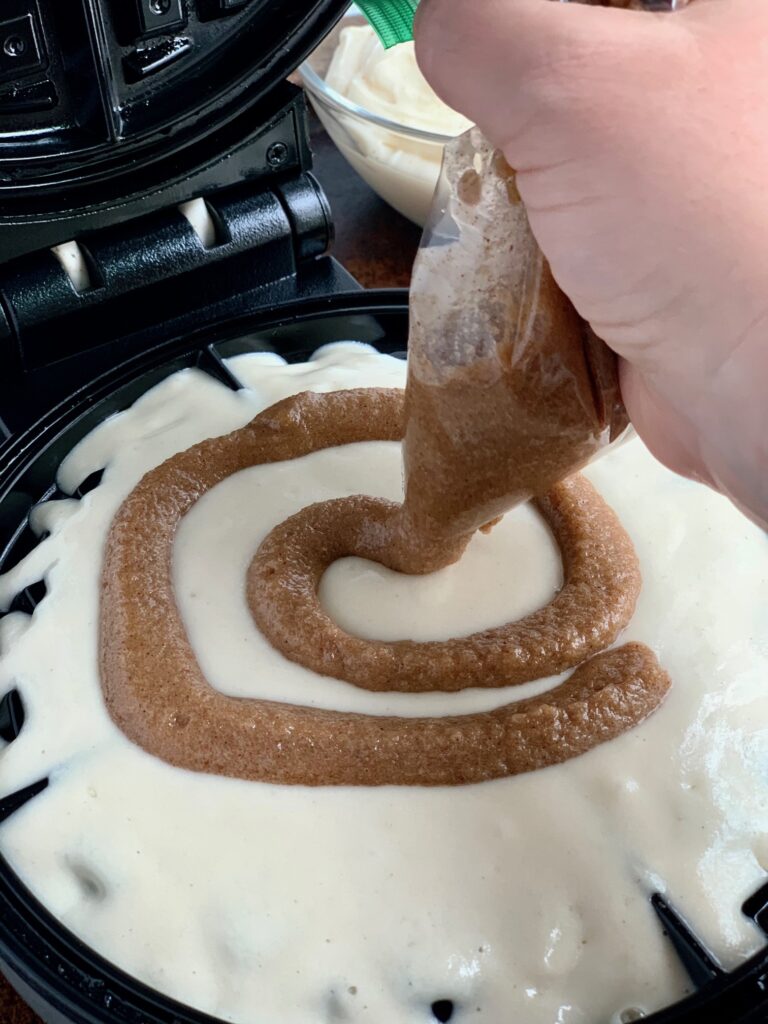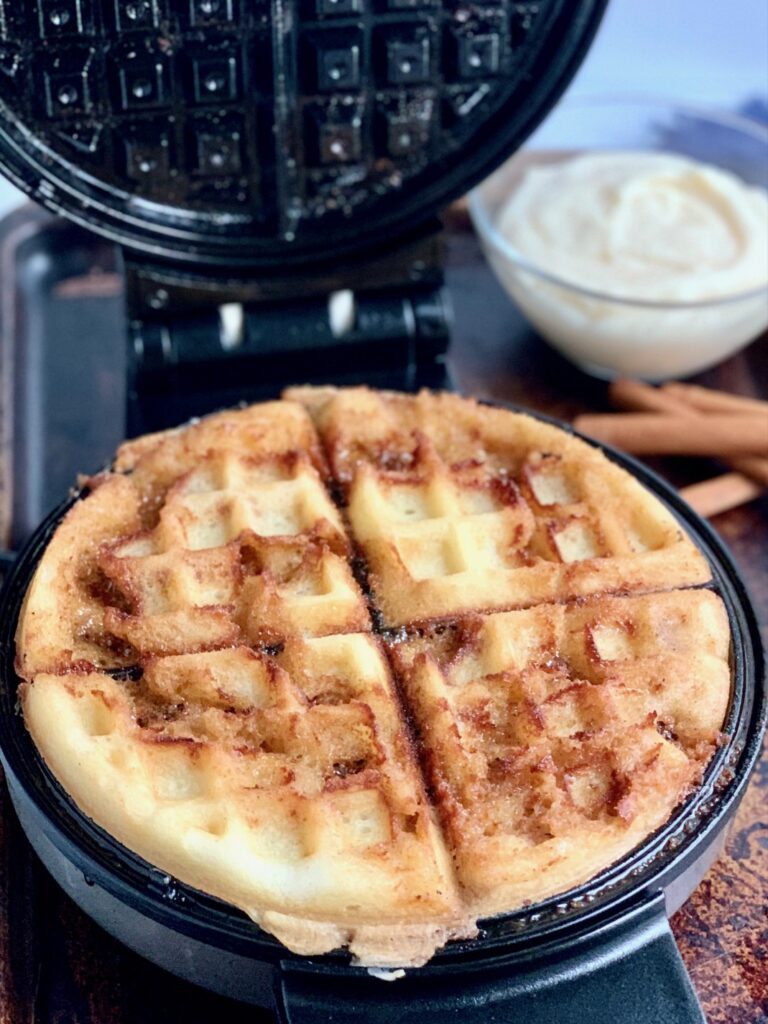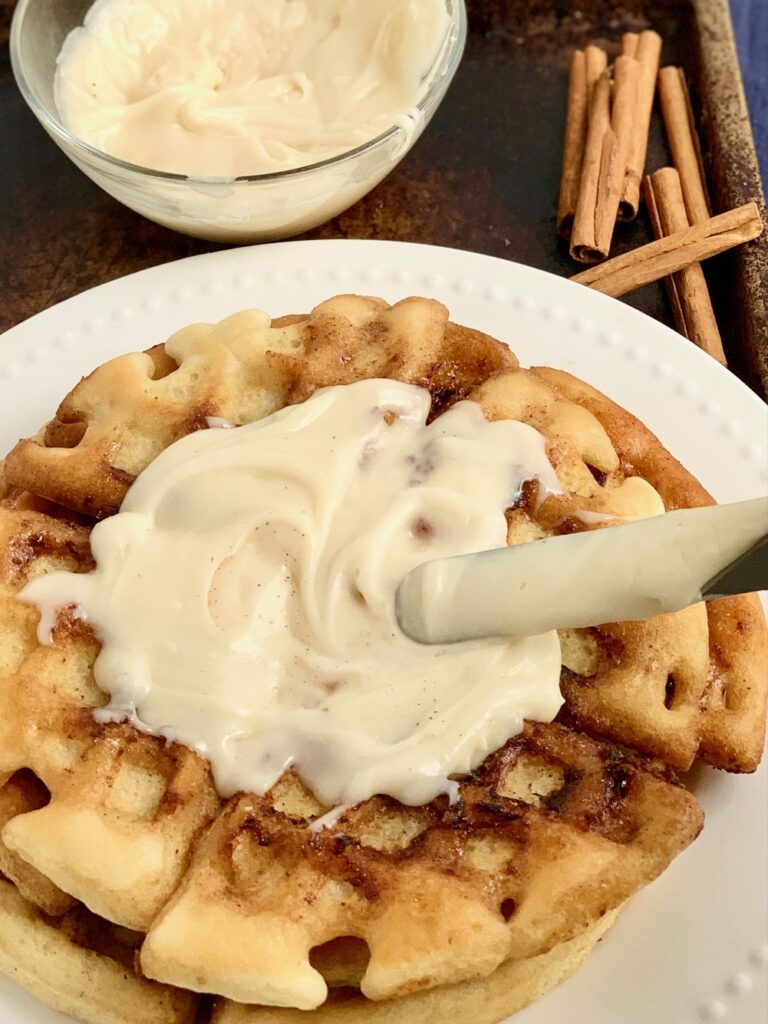 more gluten and dairy free recipes to love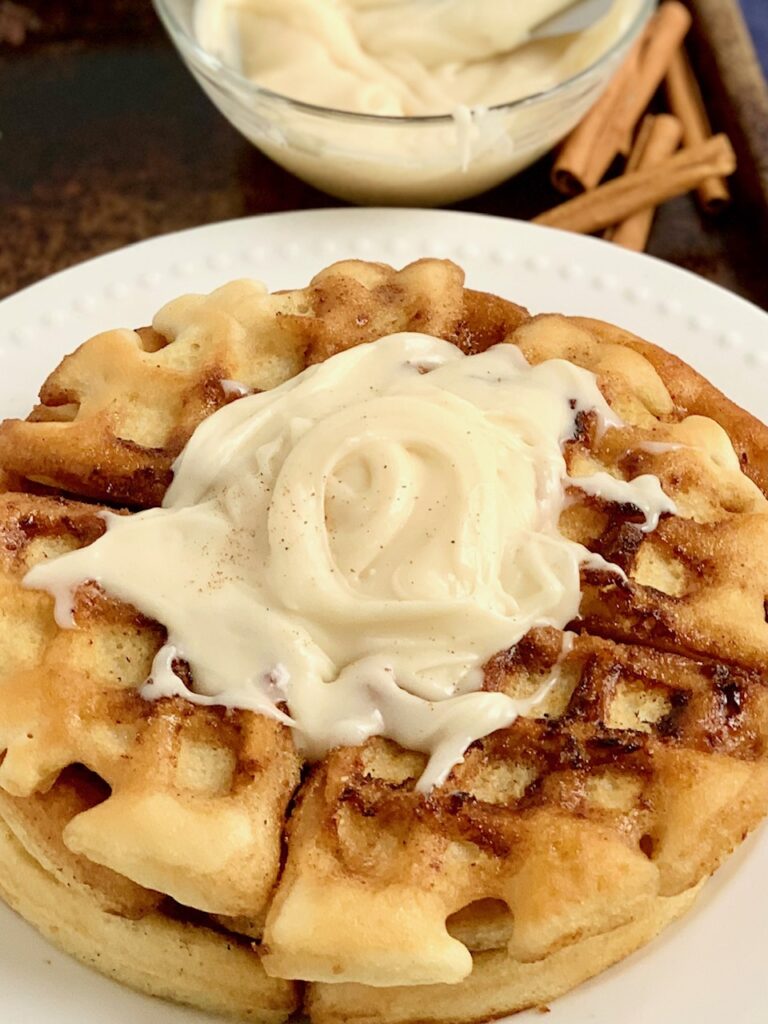 lastly
In fact you will be surprised just how lovely these waffles taste. They are perfect for lazy Saturday mornings, brunch, and to share with company. And you can enjoy them for breakfast or for dinner.
Be sure and tell me in the comments which frosting you drizzled your cinnamon swirl waffles… the delicious drizzle topping or the thick, cream cheese glaze.
You'll find more delicious recipes you can't believe are gluten and dairy free on my website here.
Follow along on Facebook, Pinterest, and Instagram. Be sure to like and comment often so don't miss our posts in your feed.
We will alert you to new recipes, new product alerts, product recalls, and the best of everything gluten and dairy free.
Eat well and feel well,
Jill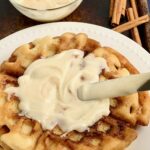 Print Recipe
Cinnamon Swirl Waffles
Servings:
8
large waffles
Ingredients
Waffle Batter
prepared batter for 8 large waffles (box mixes work great)

½

tsp

vanilla extract

non-stick spray
Cinnamon Swirl
¼

c

brown sugar

1

tbsp

cinnamon

4

tbsp

melted dairy free butter

1/8

tsp

salt
Drizzle Topping
½

c

powdered sugar

½

tsp

vanilla

1-2

tbsp

dairy free milk, plus more depending on the consistency you prefer for your drizzle

optional: warmed maple syrup or chopped walnuts
or Cream Cheese Glaze
¼

c

dairy free butter, room temperature

½ a stick

4

oz

dairy free cream cheese

suggestion in post

1½

c

powdered sugar

½

tsp

vanilla extract
Instructions
First, prepare your Cinnamon Swirl frosting, either the Cinnamon Drizzle Topping or Cream Cheese Glaze.
Cinnamon Drizzle Topping
Place all cinnamon swirl ingredients in a small bowl and mix well. Then place in a Ziploc bag and cut a corner off. Set aside.

Mix the powdered sugar topping ingredients in a small bowl and set aside.
Cream Cheese Glaze
In a medium bowl, cream together the butter and cream cheese until smooth with a hand mixer. Then place the powdered sugar and vanilla extract into the bowl and cream until smooth, about two minutes.

Refrigerate about twenty minutes until serving.
Waffle Preparations
Combine your favorite waffle batter as normal. Add in the vanilla extract.

Liberally spray waffle maker with nonstick spray before each new batter is placed on maker, particularly spray the top for this recipe.

Place waffle batter on maker. Hold onto Ziplock bag and create a cinnamon swirl in the center of each waffle.

Bake about 5 minutes or until set. Carefully remove waffle, and serve with topping while warm.

The waffles can be frozen and reheated, or store refrigerated up to a week in an airtight container.

Tip– spraying the waffle maker between waffles will help prevent the sugar from burning on the maker.
Keep scrolling to sign up for our exclusive emails.