This post may contain affiliate links. Read the full disclosure here
Y'all, this is the ultimate warm chocolate chip cookie dessert. Each bite is filled with warm chocolate chip cookie and cold ice cream. This is your perfect gluten and dairy free comfort food dessert.
No matter the season or occasion.

There's something about the warm, cold mix of the cookie and ice cream that makes your taste buds explode with happiness. And with every bite. It's the perfect way to finish off a meal.
Another bonus… you won't spend endless time in the kitchen shuffling cookie trays in and out of the oven. Then moving cookies on and off of cooling racks. Amazingly, this is a one oven skillet. You accomplish your goal in one big awesome dish.
Undoubtedly, this ultimate pizookie will grab some attention, too! This dessert is more unusual than most. It will grab attention differently than a plate of cookies would. You won't find this pizookie on the shelf at the grocery store. Likewise your dessert guests and family will know this is homemade. So if you're looking to show extra love to your company, go with this recipe. It will impress.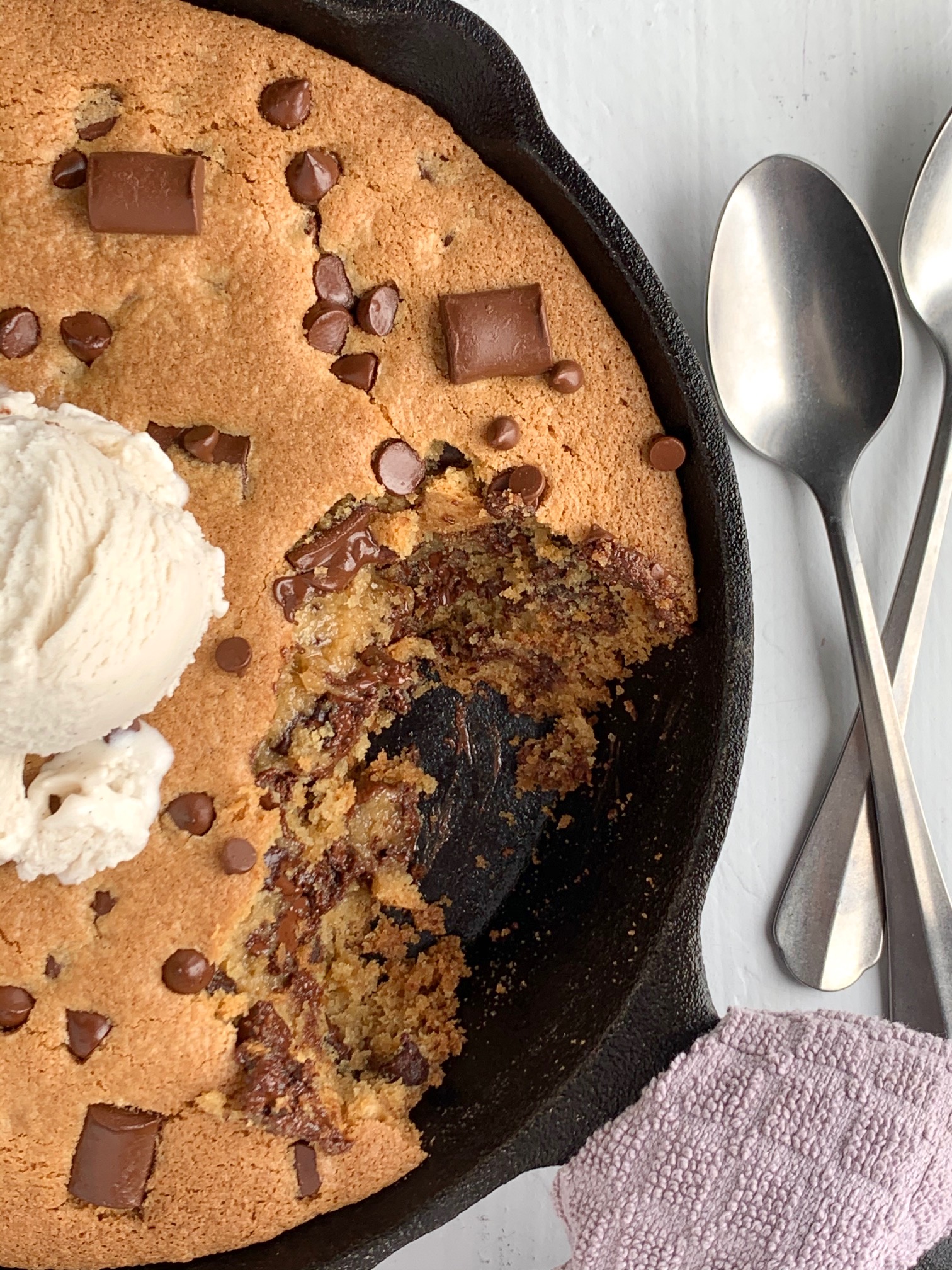 Know what else I love about this ultimate pizookie recipe?
The gluten and dairy free pizookie ingredients are basic and ones I have on hand. Can you believe each time I've made this dessert I've had every single ingredient on hand.
Every. Single. One.
It was a beautiful kitchen moment.
No quick grocery store runs. I live for those baking moments.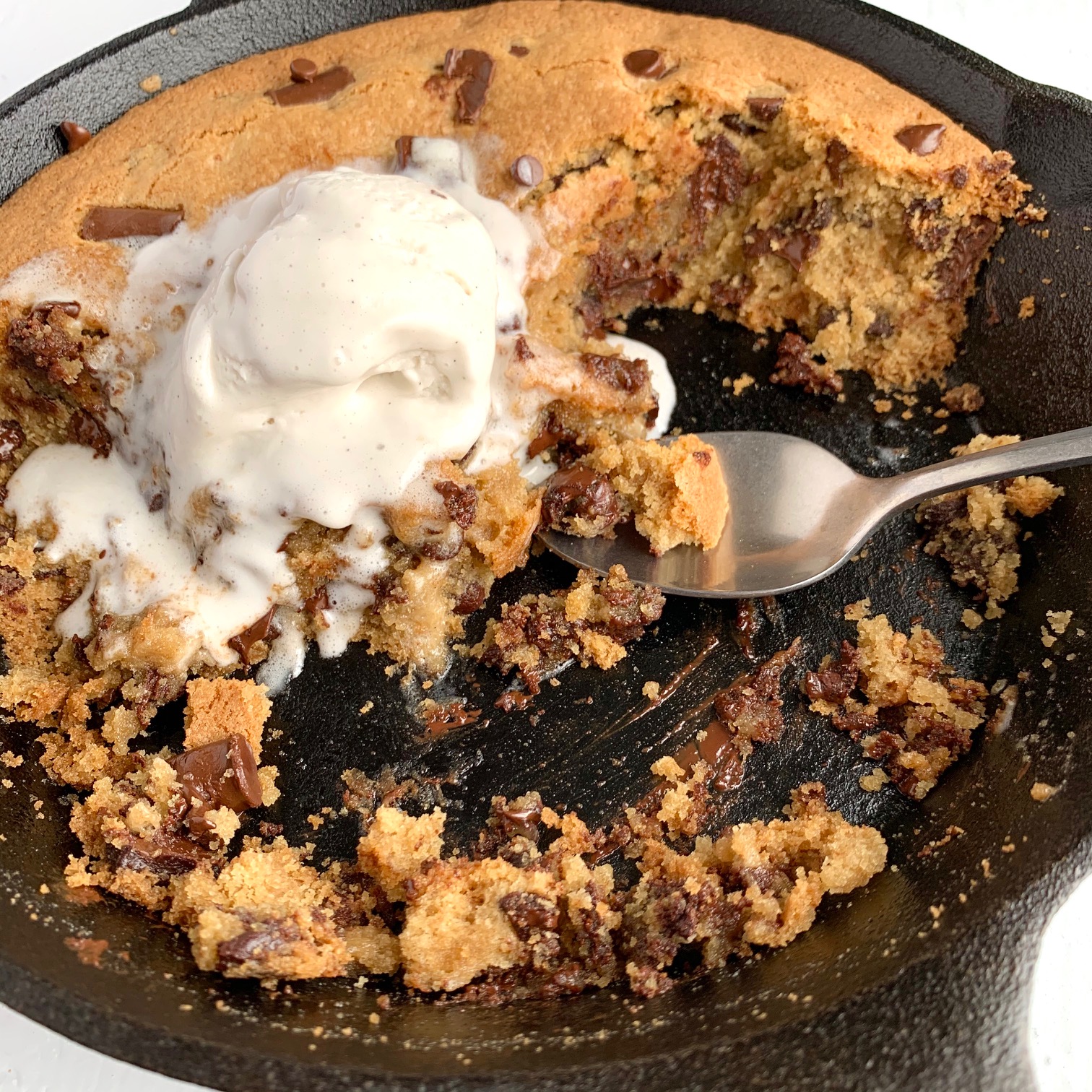 First for the recipe let's talk cast iron. This is the perfect recipe to bake in a cast iron skillet. Why, you ask?
our family is able to avoid toxic fumes and it adds iron to your food
you can put cast iron in the oven at any temperature
cast iron is soooo easy to clean up
it holds the heat, and distributes it evenly
these last for generations
lastly your recipe looks and tastes like it was just served from a fancy restaurant kitchen… or even better
Sometimes you can score these at garage sales or thrift stores on the cheap side. I've even seen them at estate sales. They are a great find! You can purchase a 12 inch skillet here. Or a 10 inch one here. If you're new to cast iron, it's worth spending time educating yourself on how to best care for them. Pinterest "cast iron care" while sipping your favorite gluten and dairy free beverage. It'll be a happy moment. These skillets will be your favorite kitchen go-to meal time pan… if they've been well taken care of. And you can pass them along to your kids!
Now if you don't have cast iron on hand, no worries. You can still experience this mouth-watering dessert. I'd suggest using a 9 inch round cake pan with a baking time of 20 minutes.
Let's talk ultimate pizookie ingredients:
I use either Mama's All Purpose Almond Blend Flour or Bob's Red Mill GF 1 to 1 Flour. If your flour mixture doesn't have xanthan gum add it in.
Second, Earth's Balance butter sticks are ideal in this recipe.
Next you can use gluten and dairy free chocolate chunks, chocolate chips or even mini chips when adding in the chocolate chips. I like to use a combination. Once the cookie dough is placed in the cast iron place a 1/2 c more of chocolate morsels on top. After the pizookie has baked and the ice cream has been placed I add even more chocolate pieces on top. Gasp!
Say whaaaaat? Someone might have a chocolate problem.
But seriously… your dessert will look so fancy and beautiful. It will look even better than what you'd receive from a high-end restaurant.
You are creating the ultimate gluten and dairy free pizookie after all!
Can you believe how many dairy free "ice cream" choices there are nowadays? We use So Delicious in our home. It seems they're debuting a new flavor every other week. It's a beautiful thing! For this pizookie we used vanilla bean. I wonder how the cappuccino would taste. If you try the cappuccino on your pizookie, let me know how it tastes in the comments!
Ah! Laska gluten and dairy free chocolate syrup is wonderful. We have lots of company and for some reason that means lots of ice cream. Not a bad combination. Ice cream bars are fun and easy. This is my go-to syrup on the ice cream bar. My kids and I love being able to eat what others are eating. This syrup helps us do that. I'm able to find it at our local health food store. If yours doesn't carry it, look here.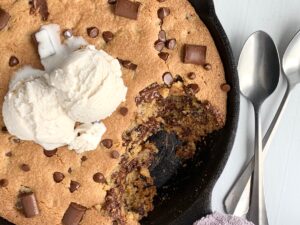 Lastly this dessert can be as casual as you'd like. You're welcome to serve in dishes, or grab spoons and eat it right out of the cast iron. Just warn everyone how hot the cast iron is.
Here is your warm, tasty gluten and dairy free ultimate pizookie recipe.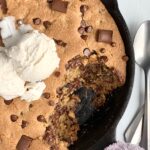 Print Recipe
The Ultimate Pizookie
Ingredients
2 1/4

c

gluten free flour

1

tsp

xanthan gum (omit if your flour blend has it in )

1

tsp

baking soda

1/2

tsp

salt

10 oz bag plus ½ c

dairy free chocolate chips

2

sticks

butter (1 cup) melted and cooled

little over 1/2

cup

sugar

3/4

cup

brown sugar

2

eggs, at room temperature, beaten

2

tsp

vanilla

dairy free ice cream

gluten and dairy free chocolate topping
Instructions
Use coconut oil to grease a cast iron skillet; set aside.

In medium bowl, place flour, xanthan gum, baking soda, and salt. Whisk well.

In a small bowl, place chocolate chips. Set 5-10 pieces aside for the topping. Add 1 tablespoon of the dry ingredients to the bowl and mix. Set aside.

In a large bowl, place the melted butter, sugar, brown sugar, eggs, and vanilla. Whisk well.

Add the dry ingredients to the wet ingredients and mix until combined. Add in the chocolate chips and stir well.

Place the dough in the cast iron skillet. Top with ½ c of chocolate chips. 

Bake 18-20 minutes for a 10 inch skillet. Bake 16 minutes in a 12 inch skillet. Check frequently towards the end to make sure it doesn't burn.

Remove from the oven. Serve warm with dairy free ice cream and dairy free chocolate syrup.
I found the original pizookie recipe here. This recipe was tweaked to make it dairy free. High fives all around!
Enjoy this mouth watering ultimate pizookie dessert! It's best of all dessert worlds… chocolate chip cookie, ice cream, and chocolate topping.
Lastly, this ultimate pizookie flavors well with homemade meatballs and pasta. Again it's a real struggle to buy gluten free meatballs in the grocery store. Click here for your homemade meatball recipe and meal ideas.
If you have questions, please feel free to ask in the comments.
It's another easy gluten and dairy free dessert recipe for you. Moreover probably even have all the ingredients on hand! And don't forget this recipe will definitely impress your company.
Please do me a favor and follow me on Pinterest, Instagram, and Facebook so you don't miss anything! And tag me at #eatingglutenanddairyfree if you use one of my recipes on Instagram. I love, love, love see your food pics.
Eat well and feel well!
Jill