Moist Raspberry Crumble Muffins are light, fluffy, and super easy to make and have a hint of lemon in each bite. This gluten free and dairy free recipe uses pantry staple ingredients and was inspired by a carton or two of luscious, intense, and beautifully ripe raspberries from the grocery store.
Our family loves raspberries and would usually devour a whole carton or two in just a few minutes as a snack. So, we knew they'd love these crumble muffins. We found a yummy-sounding muffin recipe and knew we were going to need to make it safe for our family with a few tweaks.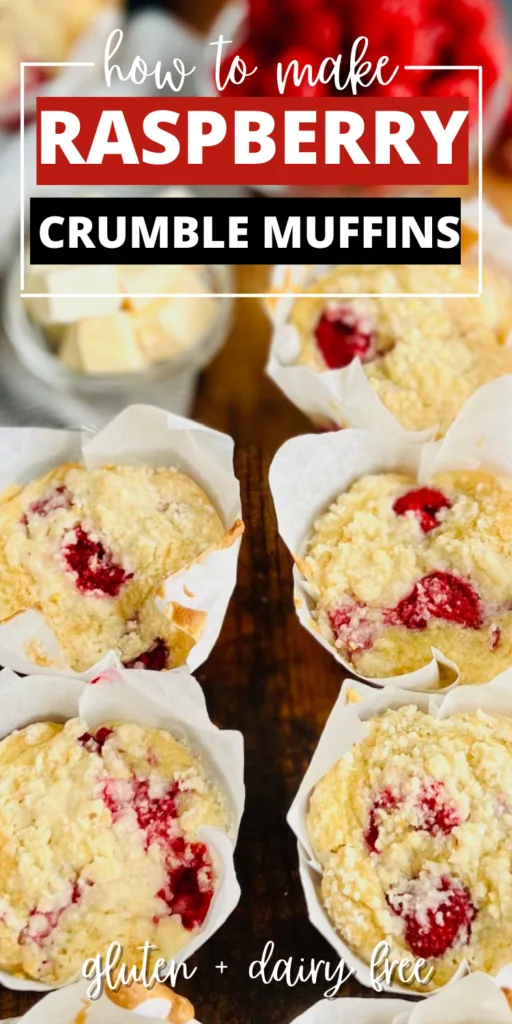 We've tweaked this recipe a bit to make sure it's both free from gluten and free from dairy while still tasting amazing. We used the ingredients we already had on hand and made some tasty Raspberry Crumble Muffins.
raspberry crumble muffin ingredients
gluten free all purpose flour— use the spoon and level method; we stock our pantry with Bob's Red Mill 1 to 1 Baking Mix and buy it in bulk here to save money. This blend does contain xanthan gum.
xanthan gum-- omit if your all-purpose flour blend contains this or guar gum
granulated sugar
baking powder-- consider this looses it's potency after being opened for 6 months. We label our containers with the date when we open them so keep track of this.
baking soda-- same as with the baking powder tip.
kosher salt
eggs— room temperature works best
dairy free sour cream— we like to use Tofutti dairy free sour cream or Wayfare Foods for this recipe
vanilla extract— we enjoy making our own vanilla extract and will be sharing our own recipe here soon
fresh or frozen raspberries— the inspiration for these perfect crumble muffins
crumble topping ingredients
gluten free all-purpose flour
granulated sugar
fresh lemon zest
dairy free butter-- room temperature for 20 minutes, and we like to use Earth Balance Buttery Sticks for this recipe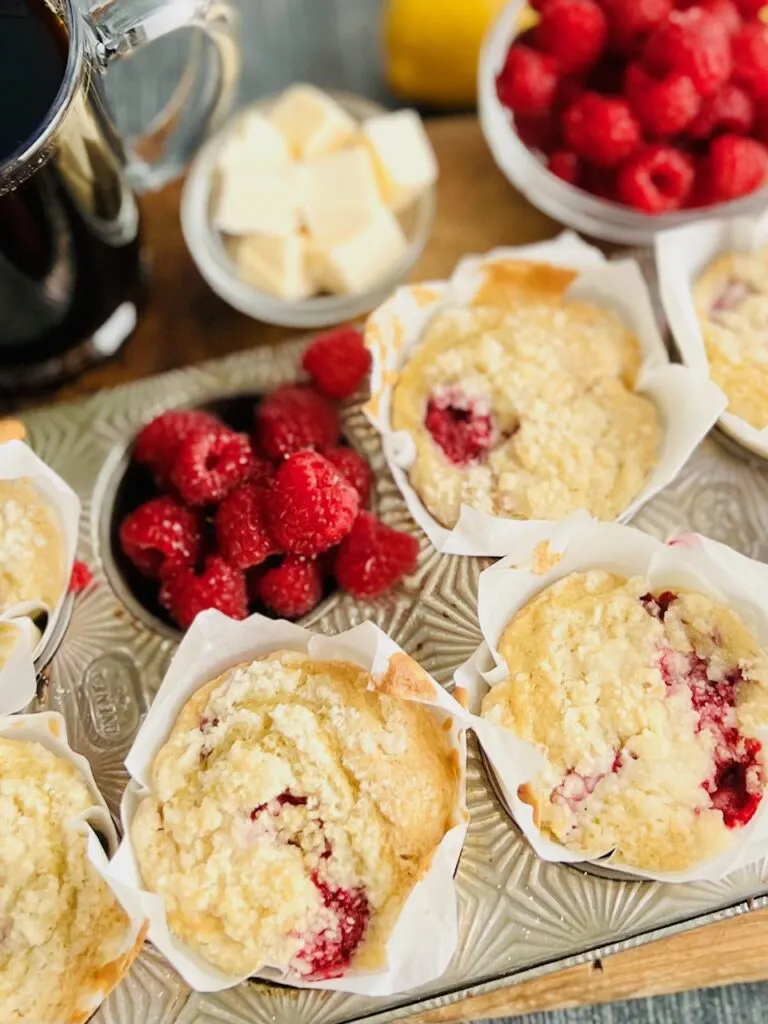 The dairy free sour cream is the secret to getting the perfect moist muffins that everyone will fall in love with. It's the same star ingredient that we use in our well-known, super soft, homemade sugar cookies.
You can easily swap out the raspberries for any other berries you have on hand, that's how good this muffin batter is. It's versatile and goes well with plenty of fruit. We had extra blueberries on hand and tossed a few in some extra batter and enjoyed the extra muffins bursting with blueberries too.
The crumble topping has a subtle hint of lemon from the fresh lemon zest and really takes these muffins to the next level. It interjects a fresh lemony taste into these sweet, moist muffins you really cannot beat.
kitchen utensils and gadgets for this recipe
muffin pans
muffin liners-- we love using these fancy bakery cupcake and muffins liners too. When baking with these larger tulip liners you will use more batter to fill the liner and fill 12 muffins liners instead of 24.
mixing bowls
whisk
citrus zester—we like to use this zester when making any of our recipes with the zest of fruits.
Pro Tip: Only fill your muffin liners halfway instead of ¾ of the way full. You don't want to overfill the liners and end up with mega muffin top on your Raspberry Crumble Muffins.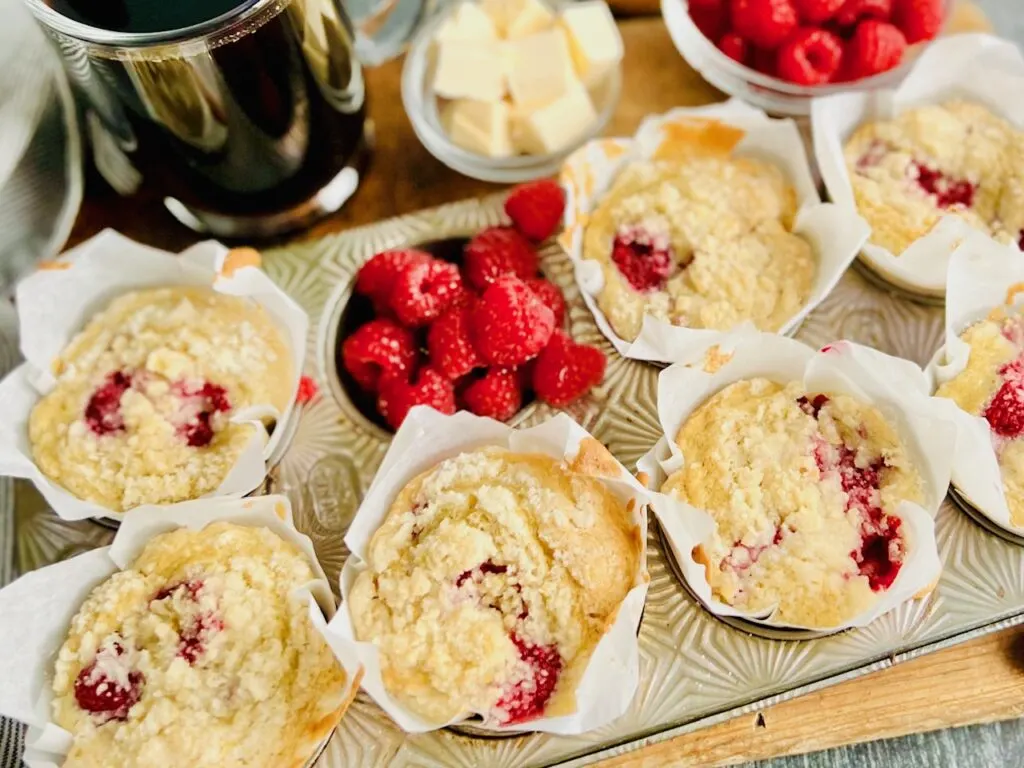 frequently asked questions
can I use frozen raspberries
Yes. Do not thaw the berries instead add them directly to the batter. Thawing the berries will add too much liquid to the batter.
how to choose ripe raspberries
Picking out the most ripe and fresh raspberries really makes a difference in getting the best muffins from this recipe.
You know you have a fresh, ripe raspberry if it's full of rich coloring throughout the whole berry and nice and plump in size and shape.
Toss any small, odd-shaped or ill-colored berries.
how do I store raspberries
Fresh raspberries should be cleaned, rinsed and dried with a paper towel before being stored in the refrigerator. Storing them in an air tight container or in the container in the crisper and is optimal.
They should last about 2-4 days in the refrigerator and about 6-9 months in the freezer.
do I have to use the brands you suggested
We suggest trying to use the brands we suggest. Baking and cooking with gluten free and dairy free ingredients can be very finnicky. Not all brands make the same quality products and not all of the products out there will produce the same thing in each recipe.
We test our recipes with specific brands and try to recommend them as we know they're good using those ingredients and brands.
If you cannot find the specific ones we suggest but have access to others, you can give them a try.
can these be frozen
These muffins are best the day of and should be consumed within a day or two of baking.
do you have other allergen safe dairy free and gluten free muffin recipes
We sure do. We have a few other muffin recipes we have developed and would love for you to try out. Try our Pumpkin Muffins or Double Chocolate Chip Muffins. They're full of flavor and are perfect anytime throughout the year.
we also have tasty donut recipes such as
Fruity Pebble Donuts, Double Chocolate Donuts, Oreo Donuts, Pumpkin Cinnamon Sugar Donuts and our Old Fashioned Sour Cream Donuts.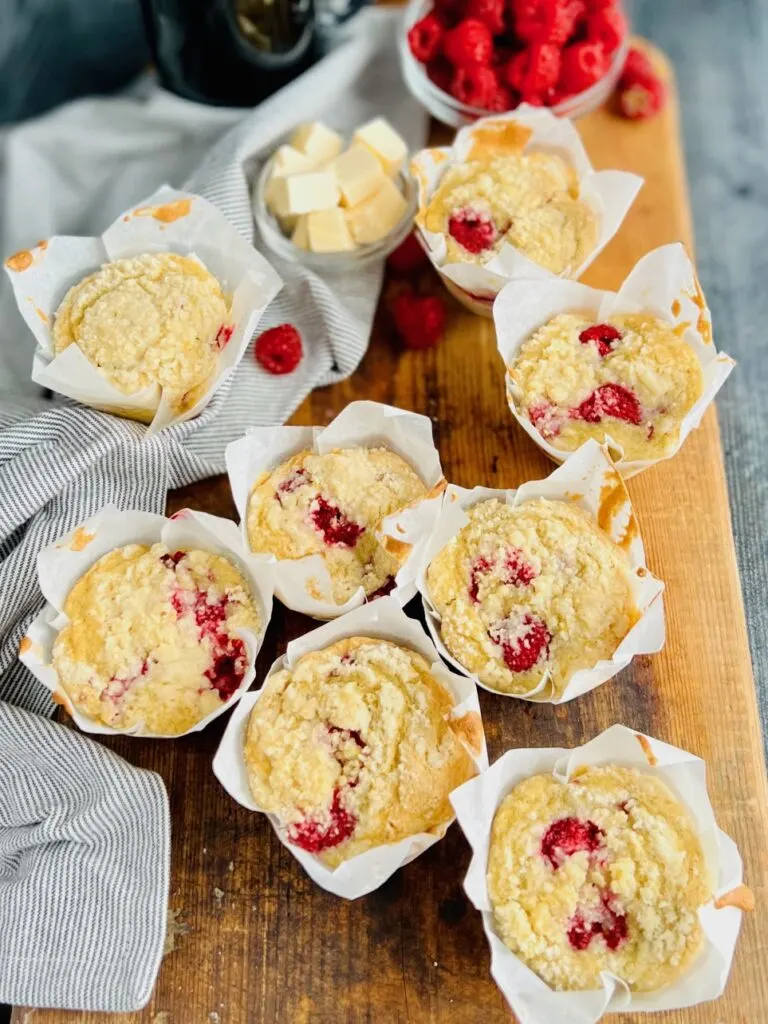 other yummy breakfast recipes
breakfast burritos— these are great for making ahead and filling with all your favorite breakfast burrito ingredients
orange cranberry loaf— a warm, cozy and refreshing breakfast loaf with lovely orange and cranberry flavors
apple crumble cinnamon rolls— comfort food infused with cinnamon apple tidbits with a buttery topping, drizzled with a rich icing.
lastly
These gluten free, dairy free, and soy free Raspberry Crumble Muffins are light, bursting with flavor, and so moist. They also are not overly sweet-- instead they are just right. Bake these bakery style muffins for a delicious breakfast or after school snack.
Be sure to snoop around our website for more recipes-- did you know we have dinner recipes too? And everything you need to celebrate the holidays and birthdays in your life.
Follow along on Pinterest, Facebook, and Instagram. Be sure to like and comment often so you keep seeing our posts in your scroll.
We don't want you to miss out on the absolute best of Eating Gluten and Dairy Free.
Eat and feel well,
Jill
Print Recipe
Raspberry Crumble Muffins
Ingredients
1 ¾

cups

gluten free all-purpose flour

spoon and level method

½

teaspoon

xanthan gum

omit if your gf all-purpose flour contains this or guar gum

1

cup

granulated sugar

2

teaspoon

baking powder

½

teaspoon

baking soda

¼

teaspoon

kosher salt

3

large

eggs

room temprature

1

cup

dairy free sour cream

1 ¼

teaspoon

vanilla extract

2

cups

fresh or frozen raspberries

do not thaw frozen berries, add frozen berries directly to the batter
Crumble Topping
½

c

gluten free all purpose flour

no xanthan gum needed

4

tablespoon

dairy free butter

room temperature 20 minutes

⅓

c

granulated sugar

zest of 1 lemon
Instructions
Line 24 large muffin tins with liners and preheat oven to 350°F.

Make crumb topping: with a pastry blender combine the butter, flour, sugar, and lemon until combined and crumbly, set aside.

In medium bowl whisk together flour, xanthan gum if needed, sugar, baking powder, baking soda, and salt.

In a larger bowl whisk together eggs, sour cream, and vanilla.

Add dry ingredients to wet ingredients and mix. Be careful not to overmix.


Fill muffin liners ½ full with batter. Top batter with an additional 2-3 raspberries and then crumble topping.

Bake 25-30 minutes. Remove from oven and allow to cool in the muffin tin 5-10 minutes, then place on a cooling rack.

These are best the day of or within 2 days of baking.

If using large bakery style tulip cupcake liners this recipe will make 12 muffins.
Keep scrolling to sign up for our exclusive emails below.