The kids and I thought we died and went to Heaven. Why? Because of these gluten and dairy free chocolate oreo sandwich cookie donuts.
They are so moist and soft it's unbelievable it should be illegal. The oreo sandwich cookies add the most amazing bit of crunch in each bite.
We're talking the REAL DEAL!
Eating these makes you forget you're gluten and dairy free. Your mouth will literally water eating these. You'll feel like a 'normal' person instead of a person who has to work hard every day to avoid two of the most proliferate food ingredients… gluten and dairy.
These look and taste "normal." I know it's shocking. Yes, you will pinch yourself. It's ok… pinch away. These donuts are 100% gluten and dairy free.
oreo donut recipe notes
gluten and dairy free oreo sandwich cookies–Kinnikinnick K-Toos oreo sandwich cookies or Glutino chocolate vanilla cream cookies (only use these if you're not sensitive to possible dairy cross contamination during the manufacturing process.)
dairy free buttermilk (recipe below — I used unsweetened almond milk and white vinegar)
dairy free butter–my recipe uses Earth's Balance
vanilla
egg
gluten free all purpose flour– Bob's Red Mill 1 to 1 GF All Purpose Flour or Mama's Almond Blend
xanthan gum— omit if your flour blend already has this
brown sugar
sugar
baking soda
baking powder
salt
shortening (I use palm shortening)
powdered sugar
vanilla
unsweetened almond milk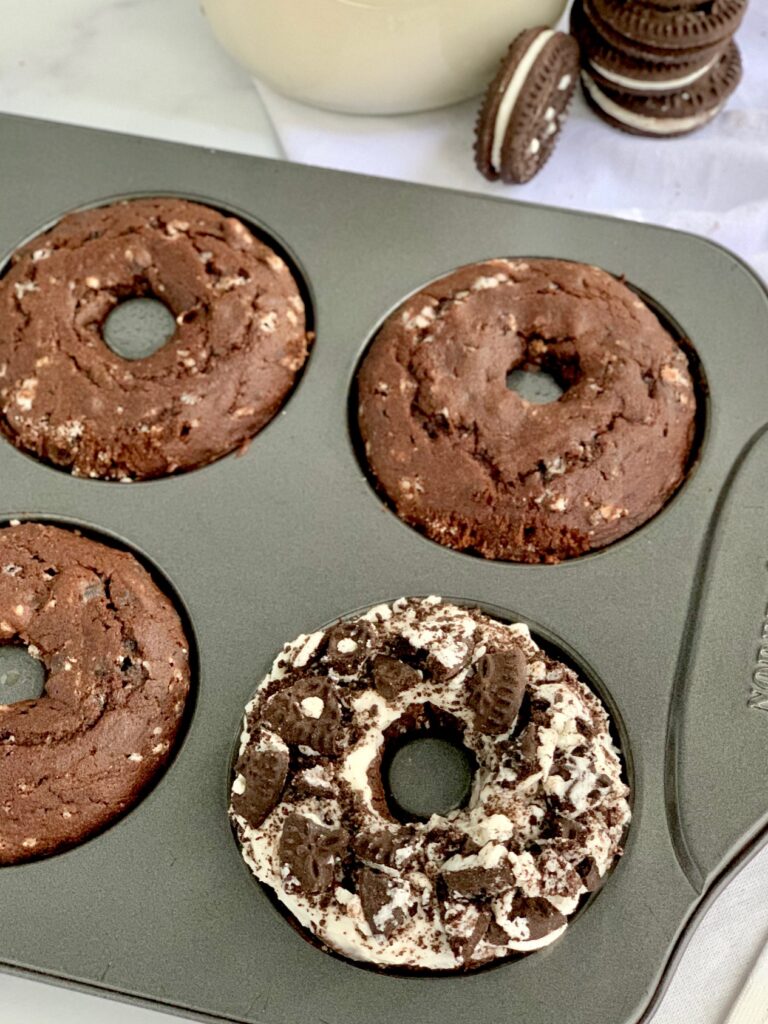 Yes, even the sandwich cookies. These oreo sandwich cookies are a special treat for my kids. They plead and beg for them. Quite frankly, I almost always respond no. I know I know… no Mom of the Year award here. But these cookies are loaded with sugar so they're saved for special times… like these breakfast donuts!
They also make for epic treats. Pin this donut idea for a school party, birthday breakfast, or any other special holiday event. Go ahead and pin this recipe now so you have it for later use. Or pin it and make them now. ♥
Is using a donut pan new to you?
Don't sweat it.
These pans are super user friendly! Not only that, but they're a breeze to clean up. They are available in a variety of sizes. If you're purchasing your first pan, I'd recommend a 6-well donut pan. If you need to purchase one, I'd suggest this one.
If you're nervous about the donuts popping out of the pan intact, read on. First, to make these pans a breeze to work with use a quick dusting of non-stick spray before piping them. After you've baked your delicious donuts, grab a dull knife. Work the knife around the outside of the donut to separate it from the well. Do this for each donut and then tip the pan upside-down over a cooling rack. Occasionally, I have used the knife a couple of times to loosen the donuts. Honestly, they usually pop out without hassle.
Lastly, if you're looking for tips to pipe the donuts into the pan… one word… Ziploc!
Place your batter into a freezer size Ziploc bag. Cut off one corner of the bag and you're ready to pipe! I will be honest… the first several times I made donuts I didn't use a Ziploc bag and it was a disaster!
My donuts looked hideous and were a total fail.
They were different sizes and not a pretty round circle at all. I had to tell my kids they were donuts because they weren't making the connection. Not cool, y'all. So learn from me and pipe them with a Ziploc or cake pastry bag. Also practice does make perfect with piping donuts. Even using a bag it still took a couple of times to figure it out. But they looked more like the real thing instantly when using a bag.
Enjoy this moist, chocolate oreo cookie sandwich recipe! It's too good not to share with you.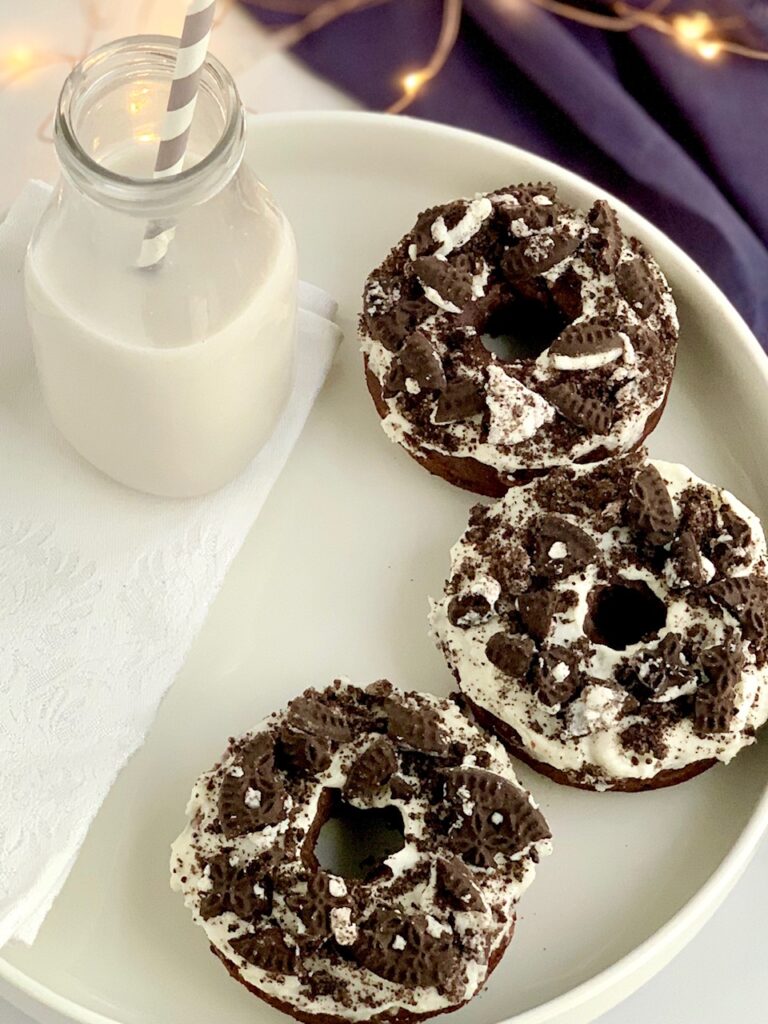 more gluten + dairy free donut recipes
lastly
Trust me you want to bake these mouthwatering gluten and dairy free oreo donuts now… as in, today. Your kids will be amazed they are safe to eat. These will definitely put you as the top contender for "Mom of the Year!"
Please pin away! And follow me on Instagram. I love the Insta and use it to post product updates and other recipes ideas not on my blog. It's full of helpful information, meal ideas, and inspiration.
Eat well and feel well,
Jill
Print Recipe
Oreo Donuts
Ingredients
1

egg

1/3

cup

dairy free buttermilk (see below)

4

tblsp

dairy free butter (Earth Balance stick) melted, cooled

1

tsp

vanilla

3/4

c

gluten free flour blend

suggestions in post

1

tsp

xanthan gum (omit if gf four has this)

1/3

c

unsweetend cocoa powder

1/4

c

brown sugar

1/4

c

sugar

1/2

tsp

baking soda

1/2

tsp

baking powder

1/2

tsp

salt

6-8

oreo sandwich cookies, well crushed
Dairy Free Buttermilk Ingredients
1/3

cup

unsweetened almond milk, soy milk, or coconut milk

1

tsp

vinegar, white or apple cider
Dairy Free Icing Ingredients
2

tbsp

dairy free butter stick, softened

2

tbsp

shortening

1¼

c

powdered sugar

1

tsp

vanilla

1½

tblsp

dairy free milk, unsweetend almond milk

2

oreo sandwich cookies, very crushed

2

oreo sandwich cookies broken into large chunks
Instructions
Preheat oven to 350 F. Spray donut pan with non-stick cooking spray

Make dairy free buttermilk. Combine unsweetened almond milk and vinegar in small bowl. Let sit for 5 minutes.

After 5 minutes whisk together in a medium bowl: buttermilk, egg, butter, and vanilla.

Add dry ingredients except oreo sandwich cookies to wet bowl. Whisk well.

Stir in half of the crushed sandwich cookies. Set other half of cookies aside for frosting

Place batter in a half gallon Ziploc bag. Snip an opening in the corner of bag. Fill each donut pan well.

Bake for 10 -12 minutes until set in the middle. Set donut pan on a cooling rack.
Dairy Free Icing
Beat the butter, shortening, powdered sugar, milk and vanilla until smooth.

Frost cookies with using an angled icing spatula.

Top with crushed oreos then add a few larger pieces of broken oreos.

Donuts can be baked the day before, ice and decorate the day of. Donuts may be stored in an airtight container refrigerated for a few days.
This recipe was inspired by a traditional oreo donut recipe by Sheri Silver on Babble.