Food Allergies Aboard the Norwegian Gateway-
Our family enjoys cruising! Ok, ok, I especially enjoy cruising!
Why?
It's a real food vacay for me. Family vacations look different when you're dodging food allergies or in tolerances. Most of our vacations are me cooking in an Airbnb or in a hotel room with a full kitchen. And that means I'm grocery shopping, cooking, and cleaning up on vacation.
So cruising is awesome for this mom!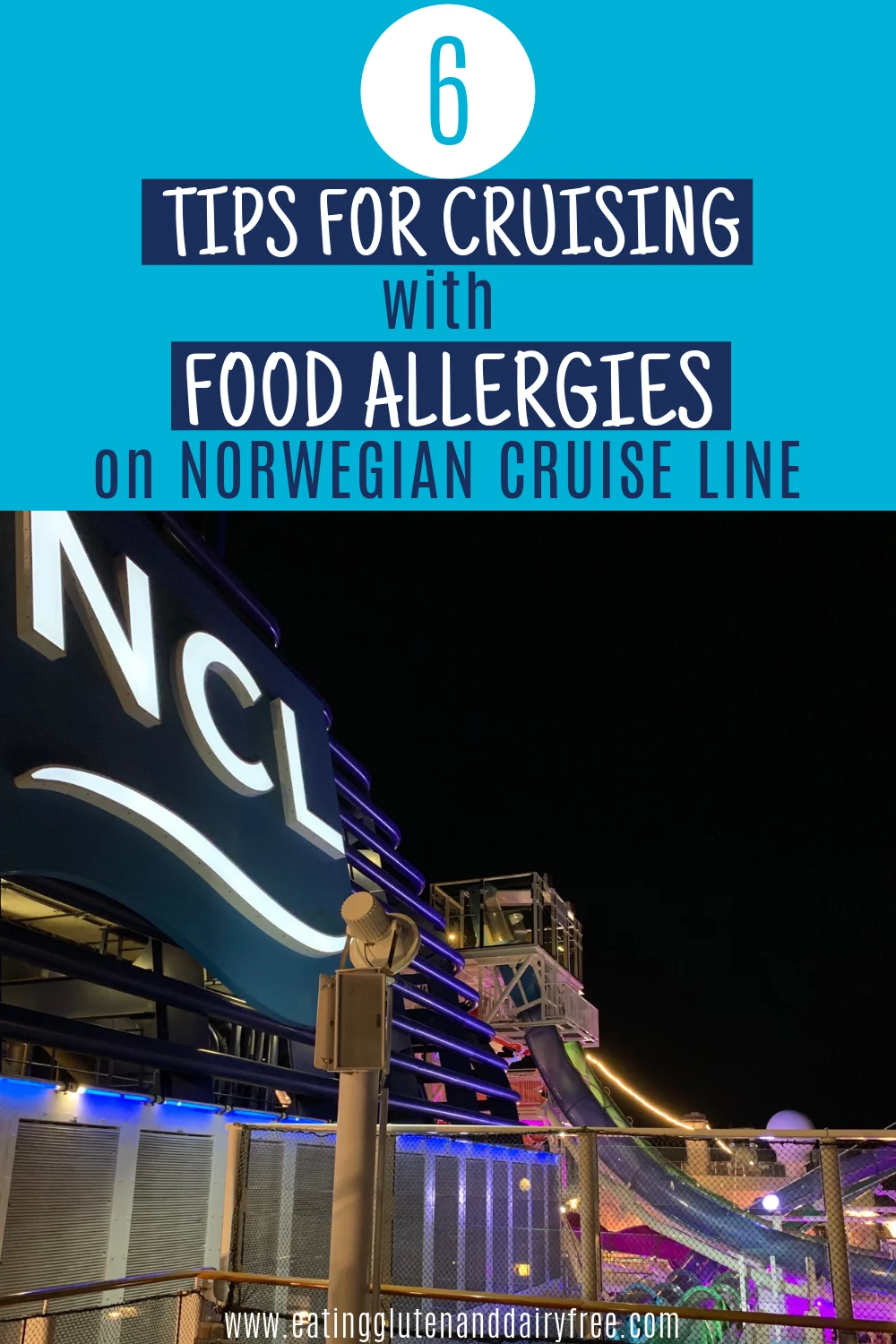 Whenever the hubs mentions the magical word... cruise... I'm 100% game!
And the first thing I do when we book a cruise.... alert the travel agent and the cruise line of our food restrictions. I also follow up with the cruise line a month before we sail. I like to double check they have our dietary restrictions linked to our reservation. I've found every cruise line recommends you alert them at least a few months in advance of any food allergy or intolerance.
Does this mean you won't be able to safely eat if you don't? No.
A few years ago we booked a seven night Disney cruise three weeks out. The chefs had no problem feeding us amazing food. However, it helps the cruise line with their food planning. And as cruise CEO's continue seeing an increase of passengers with special dietary needs, they'll make changes to their menus. Hopefully we'll see more food options on board!
My review of food allergies aboard the Norwegian Getaway is a bit lengthy. If you're short on time, pin it for now. You'll want to read my 6 Tips for Cruising with Food Allergies at the end of the review!
These six tips will help your cruise to rock... I mean go smoothly!
Day 1 Leaving the Port of Miami
On a mega ship such as the Getaway be prepared for an insane amount of people. Like over 5,000 people between passengers and staff. And everyone is thinking two things as they embark. Eating and swimming. So many cruisers head for the Garden Café buffet line. I saw the swarms of people in line with my own eyes. It was crazy.
Thankfully, we had a large, filling breakfast that morning on South Miami Beach (read about it here). So we had no problems waiting until the lunch crowd died down.When we did head to the buffet it was still busy, but doable. After our family found seats I asked for the Dietary Specialists on board. Within 15 minutes we'd introduced ourselves and placed our lunch order. As this post goes into more detail you see why you want to become BFF's with the Dietary Specialist. They are your food ticket.
Trust me.
You'll want them to guide you through every meal for the next eight days. If you miss them at lunch time, look for a welcome aboard paper from them in your cabin room. They will give you a phone number at which to contact them.
When we ordered our lunch in the Garden Cafe I also pre-ordered for dinner. For lunch we enjoyed gluten and dairy free hamburgers. Please note the hamburgers came without toppings. There was no lettuce, onions, pickles, or tomato. I found out later I needed to request each item. The homemade fries were amazing! The fries were one of our food favorites on the ship.
Our lunch time came and went. I'd recommend dining in the very aft of the Garden Cafe. The views from the back of the ship are gorgeous... particularly when you're viewing the Port of Miami or sailing into Harvest Caye.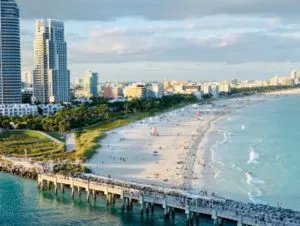 The sail away was breathtaking. The homes, the yachts, and South Beach! WOW! You'll definitely not want to miss this.
Before we knew it we headed for dinner. I will say... this night was one disaster after another. The lines for Savor and Taste were horribly long. Over 40 minutes long with large crowds waiting in such a small area. Kids everywhere were tired and it was melt down city, y'all. Parents -- you've been warned... keep reading for my suggestions to make this easy peasy.
Once we were seated in the restaurant we counted over ten different staff members who waited on us. We didn't get the impression we where in any waiters particular section. It seemed we kept answering the same questions over and over.... what our drink order was, answering if we'd ordered off the menu yet, and asking about allergies.
I'd say it was controlled chaos at best.
For instance, we placed our water order and had a 30 minute wait for it. No fancy drinks or even pop. Then we had to inform five different waiters of our food allergies during that meal alone. They brought two baskets of gluten bread to the table and butter to go with. #luckyhubs. No one offered any gluten free bread when they learned of our allergies.
At the time, I didn't realize I needed to request gluten and dairy free bread. When we sailed on other cruise lines the gluten and dairy free bread magically appeared at the start of our meal. It even came with dairy free butter. I did request gluten and dairy free bread after that.
Our meal took over an hour to arrive, with pre-ordering. However, the herb-crusted rotisserie chicken was fabulous. One of the best meals we tasted the whole week. It was moist and so full of flavor!
Disappointingly, the ship did not cruise with any butter alternatives.
Nope, nada, none y'all.
We were refused mashed potatoes and given a baked potato. I guess the staff couldn't make mashed potatoes without butter? The whole week nothing was put on the baked potatoes besides salt and pepper. Dinner had a great potato... just a tad dry. The steamed broccoli was nice.
For dessert we asked for "chef's choice." It turned to be a total dessert disaster. Or at least it wasn't quite what we had in mind. Dessert was cherry compote. It resembled and tasted like canned cherries dumped into a bowl and warmed.
Seriously, y'all, I don't make this stuff up. That's why I have the pictures.
And it's why you need to continue reading this Food Allergies Aboard the Norwegian Getaway post.
Needless to say I took one bite of the cherry compote and set it aside. My kids wouldn't even try it. And I wasn't going to be the mean mom on vacation and make them. I mean if a bowl of cherries is your thing, congratulations. You hit the cherry jackpot.
It was unfortunate this was the best gluten and dairy free dessert Norwegian could do. Our family doesn't care if it's from a box. Whip up a box of King Arthur gluten free brownies, y'all! We gave you three months notice.
We pre-ordered breakfast and lunch for the following morning. I wasn't offered a breakfast or lunch menu. Looking back I should've asked for one. I'd say we were offered a menu 40% of the time when pre-ordering meals. Usually it was a "what do you want" instead. At times it was a daunting task to think up new meals for four people with out any suggestions for what they have to offer. My tip -- always ask for a menu.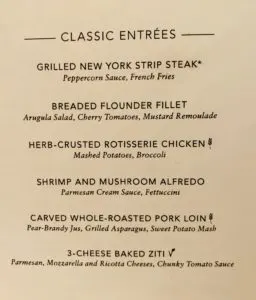 The menus were industry standard. The dinner menus offered different Appetizers and Today's Featured Entrees each night. The Classic Entrees section was always the same. Some days there were no gluten and dairy free appetizer options. There were usually 1-2 gluten free options on the Today's Featured section. However, a couple of nights they couldn't be made dairy free. When reading the menus the wheat leaf represents gluten free. The flower is vegetarian. And the chile is a warning for spicy.
When we left dinner, I found myself making up excuses why dinner was such a flop. Excuses like... "Oh it's the first day. I'm sure the kitchen staff is working over time'" and "I'm sure the meals will get better from here." Well, keep reading to see!
I will say... it gets comical!
Day 2 At Sea
I was excited to start day 2 giving the cruise line a fresh start. And we were thrilled to get in the pools. But first, was breakfast.
For breakfast the complimentary restaurants are open from 7:30-9:30 a.m. On port days they change the hours from 7:00-9:00. We learned this the hard way on day 3.
Again at breakfast we needed to tell several wait staff about our food allergies. We were asked the same 4 questions each time (who, what, did you pre order, and what's your room number). This did get annoying by day 4.
At breakfast we ate really well! Breakfast was consistently the best meal each day. It seemed we had the most selection too. We dinned on bacon and gluten and dairy free pancakes. And the fresh orange juice was amazing!
The bacon was a huge hit with the boys. As in they couldn't get enough. The pancakes were gorgeous, just a tad dry. Nothing a lot of syrup couldn't help!
Then it was swim time! The kids had such a blast swimming on this ship. Side note- Norwegian does offer courtesy life jackets onboard next to the pools.
Late that morning we took a swimming break and headed for pizza at the Garden Cafe. After we alerted staff we had pre ordered our meal it was again over a 45 minute wait. Thankfully there was lots of people watching to do. And there was a challenge to see who could drink the most lemonade. Oh and several rounds of thumb war!
The kids were thrilled when the pizzas arrived. And each child had their own square pizza. Which helped cut out the wonderful "he had more slices then I did" conversations. I enjoyed my Hawaiian pizza too! The pineapple chunks were packed with flavor. The crust was homemade. Bless them. After lunch we pre ordered dinner.
The kids enjoyed the Splash Academy. The staff kept them busy with games. We were impressed with the activity level they offered. And my kids are all about activity. They have to be worn out! In the afternoon we walked around the ship. You could see Cuba in the distance. It was a fabulous relaxing day.
The hubs had a new game plan for dinner.
None of us wanted to wait 40 minutes to be seated for dinner to wait another hour to eat.
So, he left a few minutes before the complimentary restaurants opened to get in line for our family. He messaged me on the NCL app when to bring the kids down for dinner. It worked like a charm! We also noticed the lines a little shorter than the night before too.
Thou the food y'all.
Again, the hubs received 2 baskets of gluten rolls. We had to tell several different staff members about our food allergies. The gluten and dairy free bread I had requested arrived with our meal. Thou it was a bittersweet. I wish I had a picture of the look on our faces when this bread plate arrived. Y'all it looked burnt, smelled burnt, and it chewed like a crunchy rock.
Now before I get knocked about "1st world problems" keep in mind... we paid quite a bit of money for this cruise. And a chunk of that money was for food.
Sorry but I would of given guests a new plate of bread. I would never have served this. That's all. Again we had nothing to put on the bread. And I'm not about to dip that in oil and balsamic vinegar or try to mask it with jelly.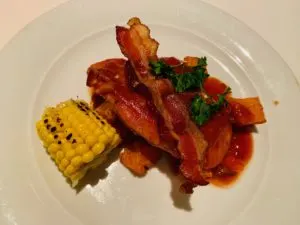 What's really funny... the kids and I were so hungry we ate every crumb. I did ask the waiter how the bread was toasted. Yes, I was fearing they used a shared toaster with gluten breads. I was relieved to find they place it on a tray then heat it in a salamander oven. If you suffer from Celiac Disease I'd suggest requesting your bread not be toasted thou. I'd be nervous about possible cross contamination.
The kids and I choose the Bacon and Bourbon Glazed Chicken Breast for dinner. It was suppose to be served with roasted sweet potatoes. When those sweet potatoes didn't arrive I assumed it had something to do with butter? The kids did enjoyed the corn on the cob and bacon.
And it was the last night we ordered dessert. We did ask for dessert suggestions from the staff. They suggested the cherry compote from the previous night. That was quickly turned down. Then they offered chocolate cake. What can go wrong with chocolate cake? We eat amazing gluten and dairy free cake all the time. Like how can that go south? You can buy it in a box mix. Well, it went wrong.
This chocolate cake looks gorgeous right?! We were so excited to try it and then... Well it had no taste. I'd compare it to eating a kitchen sponge. Yaaassss, that wonderful. Like the night before I took one bite and passed. I wondered if they left out the sugar?
Anyways the hubs felt so bad. He enjoyed an amazing dessert in front of us. After that we all stopped ordering dessert at dinner time.
Then we pre ordered for breakfast and dinner the following day. I did ask to see a breakfast menu! It was awesome. It gave me many great ideas for gluten and dairy free breakfast options.
I asked the hubs if we could get dairy free Chai teas from the ships coffee shop since dessert was a no go. He thought that was a great idea.
The Atrium Cafe does have unsweetened almond milk available upon request. My Chai was delicious. I savored every sip as we browsed the ship.
We decided to make dinner reservations at a couple of the a la carte restaurants.
First we stopped at the Italian restaurant, La Cucina. When we inquired about eating with food allergies they called for the manager. The manager was quite sweet and happy to help us. When talking with her I tried to order gluten and dairy free bread, pizzas for the kids and a simple pasta dish for myself. Initially the manager said they couldn't do bread or the pizzas.
Say what y'all?!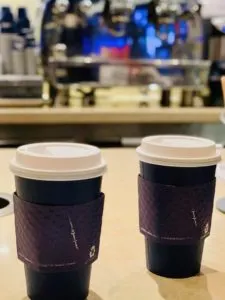 LOL, I'm pretty sure my chin hit the deck. I asked if the same bread we'd ordered in Savor could be arranged. And asked for the same pizzas we'd eaten earlier in the day. I let her know it was ok if the food was from the galley and not the La Cucina kitchen. The manager was relieved and said no problem. For my pasta dish the manager said my option was marinara sauce. I am not sure why ground beef couldn't of been added to this dish, but I wasn't about to rock the boat. The manger said the gluten free food is prepared in another part of their kitchen. So cross contamination shouldn't be a problem.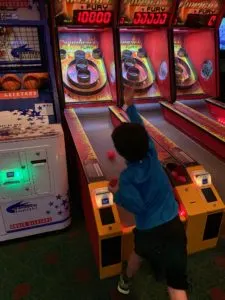 After leaving the La Cucina we strolled towards the a la cart steakhouse. In Cagney's Steakhouse the same scenario played out. After speaking to the manager we were again told we couldn't have bread served with our meal. I never knew gluten and dairy free bread was such an issue. I kept asking myself are we the first people to ever eat gluten free on this ship?!
And why is this so hard and exhausting?
After placing our dinner reservations we played games throughout the ship. The Getaway has many kid friendly games. We shot indoor basketball hoops and the hubs taught the kids how to play chess. They also have darts and bowling. There's so much else to do!
Really though... we were excited to hit land the next day and explore Harvest Caye!
Day 3 Harvest Caye, Belize
First, be prepared. The time change started to take its toll on day three. We kept losing hours but we weren't able to fall asleep earlier at night.
We had high hopes for an early morning breakfast. Instead we woke up late and rushed down to Savor. It was then we learned they change their breakfast hours on port days and were no longer seating. We ate in the aft of Garden Café.
Which ended up being a blessing in disguise.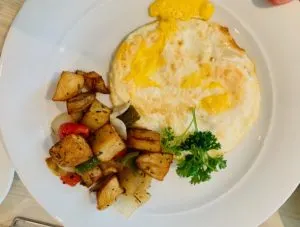 While we waited for our breakfast to arrive the ship docked at the island. It was quite an interesting process and kept the kids' attention as the ship backed into Harvest Caye. We were able to watch dolphins swimming nearby too! The island looked gorgeous and the weather was warm and sunny. Harvest Caye is Norwegian's private island. Your ship will have the whole island to itself, but it does get busy!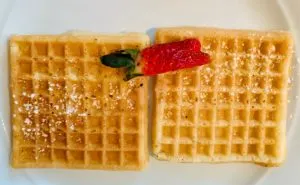 I had asked our dinner server the night before if there would be gluten and dairy free food available on the island. He said no. So we went heavy on breakfast. The eggs and potatoes were quite flavorful. They were seasoned well! The waffles were beautiful, but surprisingly hard as a rock. It took everything I had to cut up 4 servings of waffles for the kids and I. They tasted great and the syrup softened them up.
For the island I packed a goodie bag of prepacked snacks to hold us over until dinner. This included jerky, fruit leathers, fruit snacks, raw bars, etc.
The hubs decided to go all out and rent a private cabana. It was amazing! We had so much space and privacy on a very crowded island. It was beautiful and our home away from home for the day. We had no problems storing our things there. Our cabana package also included a butler who greeted us with 2 food menu's. Unfortunately, I forgot to take pictures of them. 1 menu had zero gluten and dairy free options. The other menu had a few gluten free fish options and a salad. You would need to request they be dairy free too. We snacked on our packed snacks and I enjoyed a refreshing coconut water. Yaaaaum! We ordered lots of water and fresh juices.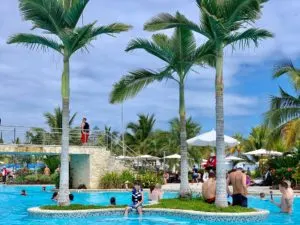 We spent time at the beach and in the pool. But, most of our time was spent by the pool or in the cabana. The pool was amazing. It was huge with several different areas to hang out and swim. There was a small island in the pool by our cabana. The kids had fun swimming back and forth from it. Again, there were flotation devices for the kiddos too. My daughter even went snorkeling in the pool. After 2 o'clock the island started to clear out. But we were able to enjoy an almost deserted pool for a couple more hours.
At dinner in Taste we noticed how quiet the dinning rooms had become. It seemed more and more were choosing to eat in one of the a la carte restaurants. My husband asked the wait staff if they had crayons and something for the kids to color. We were given the kid's menu. FYI- it was the same menu, same coloring activity every night. The menu is posted below.
We requested gluten free bread when we were seated. Several servers staff kept offering us gluten bread. Our gluten free bread couldn't come fast enough!
Dinner was ok. The steak was tough to cut up and chew. The kids went crazy for the epic fries.
We all declined dessert. And they still showed up with the tasteless chocolate cake from the previous night. We about rolled out of our seats laughing at the silliness of it all.
It was a comical week of food bloopers- and wait until you see what happened at lunch the next day. Anyways, we ordered for breakfast and lunch. Our dinner had already been pre odered.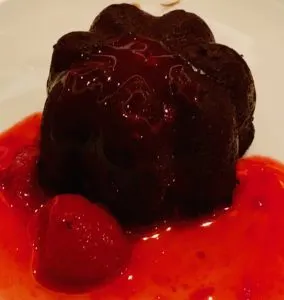 Back in our cabin I let the kids eat a stash bag of emergency gummy worms I'd brought.
And that was dessert... a bag of gummy worms.
After the kids fell asleep the hubs snuck up to the Garden Cafe for dessert. And that's how everyone was happy about dessert.
Day 4 Costa Maya, Mexico
This port looks gorgeous from the ship! The water is the crystal blue color you dream of. The walk to port is short and the immediate area around port is easy to navigate, but busy. There were at least 2 other ships in port with us. The port has shops and restaurants within walking distance of the ship.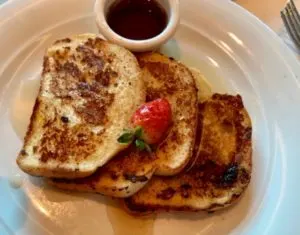 For breakfast a couple kids had pancakes and bacon. Others ordered the gluten and dairy free french toast. It tasted great and then we were off to explore Costa Maya!
After enjoying the immediate sites of Costa Maya we enjoyed returning to a half empty ship. And an empty pool!
We ate lunch in the Garden Cafe Buffet again. After a very long wait, an hour, our food arrived. Then things took a comical spin.
To our surprise they not only brought us our lunch, but also our pre ordered dinner. It would of been an understatement to say there was a lot of food.
There was food everywhere.
When we asked the staff about it they said that's what we ordered. Well, there was obviously a misunderstanding.
The kids had a hard time deciding what gluten and dairy free meal to eat first.... the crust-less peanut butter and jelly sandwich? The chips? Or the pepperoni pizza?
Oh the decisions one must make when cruising ♥.
The lunch tasted fantastic. We ate our hearts out too! But we did feel bad being wasteful. There was too much food for the 4 of us to eat.
Our dinner reservations came too quick that night! LOL. We were still full from lunch.
But we were excited to try our first a la cart restaurant, the La Cucina. This restaurant is not complimentary and prices are on the menu.
My expectations were higher then they should have been. We were paying extra for this meal and dinning experience. I assumed the service would be better. Learn from me. #lowerexpectations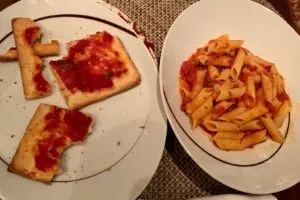 Since the kid's and I had already "eaten our dinner" at lunch we needed to reorder our meal again. At the La Cucina there weren't many gluten and dairy free options. So we reordered the same... pizza's for the kids and the Penna Amatriciana pasta dish for me. It was frustrating for a higher end restaurant not to have meat options for my pasta dish. Their only suggestion was meatballs, but they contained gluten.
And we had hoped the meal might be served quicker, but it wasn't. If you're not eating appetizers this is a painful amount of time to be seated before your meal comes. And we weren't ordering appetizers because they didn't have any gluten and dairy free options besides bread.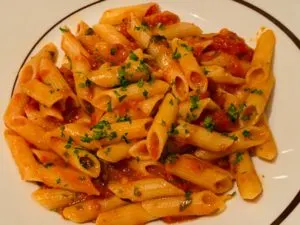 For dinner the kids' pizzas arrived after 45 minutes. The hubs and I received our pasta dishes 15 minutes later. Then the waiter arrived with pasta dishes for the kids. Again I hadn't ordered them additional pasta dishes. The pizza would of been enough. So much food.
I have no idea why they served the kids extra food. I guess there is be confusion when ordering gluten and dairy free with staff who are communicating in a second language. Again we laughed and ate what we could.
I think the kids were in a carb coma that night... between all the pizza, bread, and pasta!
After dinner we asked the manager about reordering breakfast for the next day. We weren't sure if she took the order or if we should contact someone else. She offered to take our breakfast order for the following day. I was quite impressed when the manager didn't even write our order down. I thought wowzers she's got skill! Well.. not so much.
Day 5 Roatan, Honduras
This was the port we'd been waiting for!
We had a snorkeling excursion planned and could not wait to get in the water.
The hubs, being a certificated scuba diver, warned us to take it easy on breakfast. He said no citrus or greasy breakfast items. Of course our boys cried a river when they saw a baconless breakfast.
Unfortunately, breakfast was another laugh.
We were seated promptly at 7:00 a.m. We told our server we had a shore excursion and needed to eat quickly. After 30 minutes went by our waiter came to the table. She actually scolded us for not placing a pre ordered breakfast.
LOL y'all should of seen my face.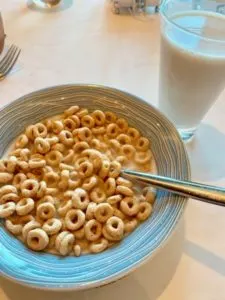 Uhhhh hello.
We kindly explained we had pre ordered the evening before with the manager of the La Cucina.
Remember how impressed I was with the manager who took our breakfast order the night before. The one who didn't write anything down. Ummm... not so much.
We reordered and I'm sure those poor chefs must of been hustlin' it. Because our food arrived 20 minutes later.
My mind is still boggled why it took the wait staff 30 minutes to figure out they didn't have a meal on file for our table...
Anyways, between the four of us we ordered cereal with almond milk, a fruit plate, and pancakes. Speaking of cereal... in the Garden Cafe buffet they had several personal size boxes of cereal.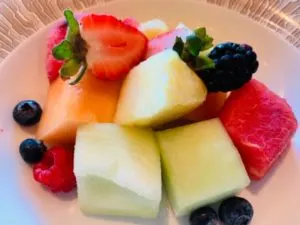 Needless to say we ate quickly and with great anticipation for an epic day!
Sadly, our youngest son wasn't old enough for the Jolly Roger Scuba excursion. We planned to leave him in the Splash Academy for the morning and early afternoon. I pre planned his lunch with the Splash Academy staff... again I was met with initial resistance.
I was told he couldn't stay for that period of time because... he needed a "special lunch."
Thankfully, our family had come to know this Splash Academy employee well. We had chatted with her about her homeland on several occasions. Our kids thought she was fun. And likewise she had a crush on our kids. Thankfully we were in good favor with each other.
We had to help her understand how easy it was to feed our son gluten and dairy free food for lunch. I kept repeating he just needs his food pre ordered. And pre order him a gluten free PB and J with chips.
Blah blah blah.
As mentioned earlier you have to be very proactive on this cruise line.
Finally the staff member agreed to follow my request. And she accepted our youngest into the Academy. She wrote down our room number and meal request down. When a child eats a meal in the Splash Academy it does cost an extra $6.
As we prepared to head off the ship I grabbed a food bag I packed the night before. All food was prepacked and sealed by the manufacturer. I packed gluten and dairy free bars and fruit roll ups. Also fruit leathers, jerky, and a treat of jelly beans ♥.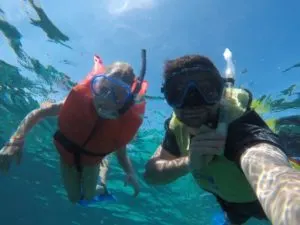 I had noted in my cruise notes the catamaran crew would serve a meal after snorkeling. The meal was described as seasoned chicken, rice, another veggie, and fruit. There wasn't a number for me to contact to ask about gluten and dairy free options. From my own travel experiences in other countries I decided the safest bet was to pack our own food. I packed enough food to hold us over until we were back on the ship.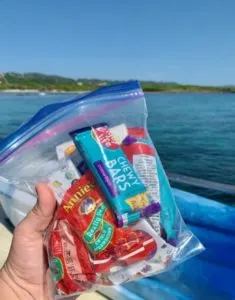 This excursion was amazing. The 2 oldest had the opportunity to snorkel for the first time. Our oldest, age 9, was a snorkel goddess. She was like a fish and needed little help. However, our 7 year was panicked with fear. His first attempt in the water with the snorkel mask was measured in minutes. Like...a couple of them. He returned to the catamaran to drop off his mask. Then he came back and swam in the water. Both kids had a blast! I see lots more snorkeling and scuba diving in our future.
As a side note there was a handful of people who didn't get off the catamaran. And some who got into the water only swam. The leaders of the Jolly Roger where super chill and let you do what you like. They were great about keeping an eye on all those in the water. The hubs and I were quite impressed with their dedication to safety on and off the boat. We'd recommend the Jolly Roger Catamaran snorkeling excursion.
Lunch was as they'd stated and it looked delicious. I was so thankful for our bag of snacks. They did have fresh watermelon the kids and I ate. The catamaran stayed in the water about an hour while everyone finished lunch. It was a beautiful sunny day with little shade on the boat. I'd recommend sunscreen as well.
Back on ship we were crazy hungry for dinner! We couldn't shower and dress fast enough.
We enjoyed dinner in Taste. A couple of us had the Herb-Crusted Rotisserie Chicken. Two others had gluten and dairy free pizza, broccoli, and fries.
We ordered breakfast and lunch for the next day and explored the ship.
The hubs took the oldest two kids for some late night ship exploring. Both kids enjoyed playing games on the top deck.
Day 6 Cozumel, Mexico
I crawled out of bed... literally dragging myself out the door. Despite my desire to sleep in I wanted to check out the juice bar on the main pool deck. Unfortunately their hours are limited to 7-10 a.m. Between the time change and port stops I kept missing them.
My bad. I wish I could of enjoyed a juice each morning. Seriously thou... most days I would of needed to been up by 6:00 to grab a juice. My tribe... that's too early on vacation!
The juice bar had a great menu. I had the celery juice. There is an additional cost for juice.
It was lovely drinking my juice on deck 15 as we sailed into port. I never get tired of port views. Cozumel offers gorgeous scenery.
The hubs and I have been to Cozumel several times and looked forward to the day. We didn't have an excursion planned. We're hoping to take a taxi to a nearby beach. The weather had other plans!
It was windy and 70, so we went with plan B. Because it was too cold and windy for a beach day. The hubs and I left the kids in the Splash Academy for a couple hours. Then we walked the Cozumel strip for a few gifts.
Back on ship we grabbed the kids and enjoyed lunch while people watching. From the Garden Cafe we could see port and people going and coming. There was lots of interesting shenanigans going on.
For lunch the kids enjoyed french fries and gluten free chicken tenders. The kids enjoyed lunch! We also ordered dairy free lime sorbet. It was the only gluten and dairy free dessert the kids enjoyed. They ate quite a bit of it throughout the cruise.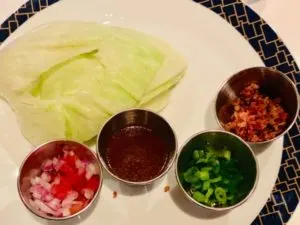 Sail a ways from port are one of my cruising favorites. And this one didn't disappoint. The Cozumel sail away was breathtaking. The moon was full and I'll never forget the Cozumel skyline with the moon glowing above it.
For dinner we headed to Cagney's Steakhouse. This is not one of the three complimentary restaurants onboard, but an a la carte. We had pre ordered our dinner a couple days before with the manager.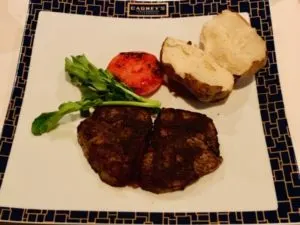 Once seated, we requested gluten and dairy free bread. After a lengthy wait the bread and our drinks arrived. The hubs and I both enjoyed a salad. Thankfully, the kids' steak and baked potato dinners came early... which was a relief. I asked about gluten and dairy free BBQ sauces. They said the menu sauces weren't gluten free so we asked for ketchup. The baked potatoes where great, but dry with no sauce or butter topping.
After the kids ate and the hubs dropped them off at the Splash Academy we waited for our food to arrive. My steak was very delicious, must tastier than the steak in Savor a few nights before.
For dessert I asked if there were any gluten and dairy free options. The waiter said there weren't. I splurged on a Shirley temple while hubs enjoyed his 7 layer cake and ice cream.
After dinner we watched karaoke for awhile. The hubs turned all romantic on me and sang one of "our" songs.♥
It was hard to think we only had two more sleep on the ship. No matter how hilarious the food mishaps had been... any vacation is better then no vacation!
The seas that night were the roughest I've ever been on. It was also the Winter Solstice. Maybe that made the seas moody?
The crazy weather also brought cooler temps and wind for the next day.
Day 7 At Sea
It was a bittersweet day. Much more bitter then sweet.
We enjoyed the cruise, the ports, and being pampered. It was so nice getting a break from cooking and cleaning. The ports were gorgeous. And we loved snorkeling.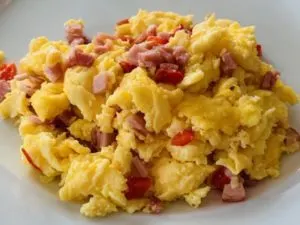 However the kids and I were not going to miss the food. It wasn't horrible, but nothing to write home about. And the hubs and I definitely weren't going to miss repeating ourselves several times at every meal... our room number, who had allergies, and what the food allergies where.
In our last day at sea we did what everyone should do. We slept in.
When we finally got up and moving we headed to breakfast. We tried a couple new breakfast menu items in Savor. Two of us ordered a ham and pepper omelet. Our table also received bacon, ham, and fruit. And again the fresh squeezed OJ is the best!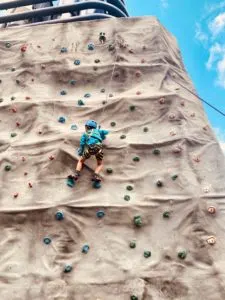 We had a lot to cram into our last day. Many of the top deck activities are closed when the ship is in port. But that was when we had the nicest weather to be up on the top deck. We were determined to rock the activities despite the cold wind and long lines!
Most of the upper deck activities had a height requirement of 42 inches to participate. Unfortunately our youngest didn't meet that, but he handled it like a champ and enjoyed putt putt.
The line for the climbing wall was over 45 minutes. It was definitely worth it to see our two oldest ring the bell at the top of the wall!
The cruise ship offers two different walking planks. One is for adults and older children. The other is for much smaller kiddos.
Both our boys were able to get harnessed and walk the small child plank course. Thankfully there wasn't a wait at all for this course.
However, for the adult and older children plank course the wait was over an hour. That was quite a bit of standing around. While the hubs waited in line with our daughter I played putt putt with the boys.
That afternoon I spoke with the Dietary Specialist at length.
I discovered we should have ordered every meal with her, not anyone else in the restaurants. I think some of our food hiccups wouldn't of happened.... like getting lunch and dinner both for lunch. Or not having our breakfast pre-ordered one day. And some of the food the regular wait staff said we couldn't eat she said we could.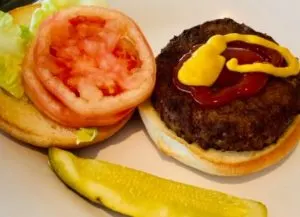 For example hash browns. I'd tried to order hash browns for breakfast earlier in the week. The dinner server said we couldn't have them. He said the hash browns were made off site and cross contained with gluten. The Dietary Specialists said yes we could have hash browns. And she reassured me the hash browns would be made fresh, gluten and dairy free. I was given more menu options for meal times. Thankfully I ordered all our remaining meals then.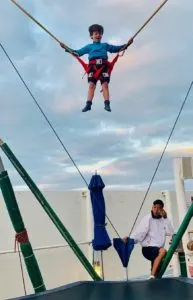 Ugh y'all. I wish I would've known how important it was to order through one of the two Dietary Specialists. She wouldn't have been able to do anything about the lack of butter alternatives. But she could of taken away some of the headaches of repeating ourselves. She would of cut down on the silliness of twice receiving extra meals at meal time. She would've also given suggestions of foods we could of had, like the hash browns. Lesson learned!
Lunch was pretty delicious though. The kids had hamburgers and jello. I discovered I needed to ask for tomatoes, lettuce, and other condiments for the hamburger. I enjoyed a french dip sandwich loaded with peppers, onion, and roast beef. This was so tasty!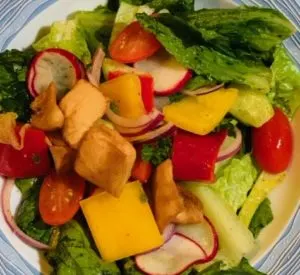 For our last dinner we ate in the Tropicana Room. This is one of the three complimentary restaurants. And we wished we'd eaten there more often. They offered live music during part of the meal. Our wait staff was by far the best we'd had the entire cruise. The head waiter was on top it, y'all! We didn't have to wait half an hour for water and bread. There was no repeating our food allergies over and over. And our food came out quicker than any other restaurant. The food was fabulous, too!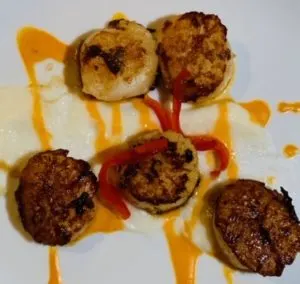 There was two appetizers they made gluten and dairy free for us. Yes... thanks to my wonderful conversation with the Dietary Specialist at lunch!
The first appetizer was a Boston and Red Leaf Lettuce Salad. Y'all, it had homemade gluten free croutons! It was delicious and I wish I'd had it every night. Unfortunately, it hadn't been on the menu previously.
One of my boys is a seafood fan. He seemed to enjoy the Seared Atlantic Scallops as the second appetizer.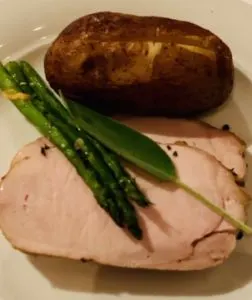 The Citrus-Glazed Salmon was calling his name for dinner too. Then several times he said, "This is yummy!" The other two kiddos enjoyed the Grilled New York Strip Steak and a baked potato. Their steak looked perfectly cooked. I enjoyed the Carved Whole-Roasted Pork Loin with baked potato.
Again we enjoyed the atmosphere of the Tropicana Room. If we were to cruise again on the Getaway, I know we'd eat there a majority of the time.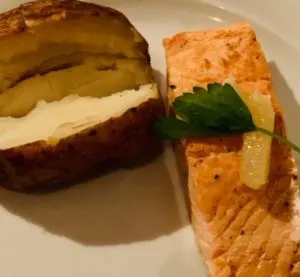 We walked around the ship and took pictures of the kids. Before heading back to our cabin to pack, we dropped the kids off for one last game night in the Splash Academy. It was much easier packing with no kids in the room too! We'll call that a win-win for everyone.
Our Last Hurrah and Debarkation
We enjoyed a last casual morning on the ship. We weren't stressed to catch a morning flight out of Miami so we did stroll a bit. It was a gorgeous morning in port. The moon was slowly setting over the downtown Miami skyline.
For breakfast we finally got the hash browns I had tried to order on day 2.
The hash browns were fantastic too! Just a bit of crunch with lots of potato flavor. Yaaasss!! The boys enjoyed their last hurrah of bacon. And we all savored the fresh orange juice.
After breakfast we were able to relax in our room for awhile to avoid the mass exodus. When we did debark, lines were running smoothly.
We stayed in Ft. Lauderdale overnight. We had an absolute blast. The kids were thrilled to have more beach and swim time.
If you'll be staying in the Miami area before or after your cruise, you'll want to check out this blog post.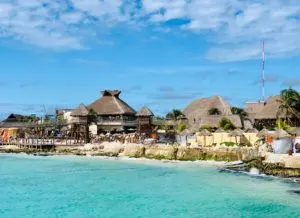 Ok I promised you...
Top 6 Tips for Cruising with Food Allergies Aboard the Norwegian Getaway
Prepare to find the Dietary Specialist at your first meal. Get their phone numbers. Ask where they are during meal times. Make a plan to order all meals through them. Your meal time should go much smoother than ours. And you'll have more food options. You can enjoy those hash browns on Day 2. Not Day 8.
Plan to be proactive. Over the course of a week I figured out I had to ask or request any and everything. Nothing was offered. This means requesting gluten and dairy free bread... with every dinner. And if you want oil and balsamic vinegar for it or jelly for your bread request that too. It also means asking for lettuce, tomato, and condiments for your hamburger. Catch my drift? Ask the Dietary Specialist on board for food suggestions. Don't see something you'd like to eat... ask them for other ideas.
Pack some of your favorite prepackaged desserts and treats. Be sure they are factory sealed. Unless NCL changes their gluten and dairy free dessert options you'll quickly tire of fruit, tasteless chocolate cake, cherries, or lime sorbet. Pack as many snacks as you can and worst case scenario you take a few back home with you. If you're flying into Miami and fear you don't have room in your luggage, fear not. There is a Whole Foods Grocery store insanely close to port. Pick yourself up some treats on the way.
Bring something to help entertain your kids during mealtime. Whenever you order any special dietary restriction plate the wait for your food is going to be a long one. Plan on sitting at the meal table a lengthy period of time... even if you pre-ordered. I'd suggest bringing playing cards (like UNO, Go Fish, or a traditional deck of cards for games) or coloring activity books. As I mentioned in the post we had to ask for a kids' coloring menu and crayons. It was the same coloring sheet the entire week. Thankfully we played hangman and tic-tac-toe. Bring a goody bag to keep them busy.
Be prepared for excursions. This means bring food in case. Throw factory sealed granola bars, fruit leathers, jerky, etc into a Ziploc bag. You'll be golden. I was careful to pack nothing that would melt in the warm tropic weather, too.
Butter, bring your own! Seriously. This was the biggest ?what? for me on the ship. I read recently on a gluten and dairy free FB page another cruiser's reaction to no butter on a NCL cruise ship. She was very shocked and annoyed they didn't offer any butter substitute. She was even fortunate enough to be in The Haven and was still without. I would pack a tub of Earth Balance butter next time or buy it at Whole Foods by port. It would keep cold in your cabin refrigerator. And would make each mealtime more amazing. Think buttery pancakes and waffles. Melted butter on baked potatoes! Yum. #trustme
...And lastly I'll throw in a freebie....
Make dinner reservations for the first night. The dinner lines at all three complimentary restaurants are typically insane that night. On top of that it takes extra long to receive your special made-to-order meal. So before you even board the ship book reservations at one of the a la carte restaurants. You'll thank me!
There you go! That's a wrap on my Food Allergies Aboard the Norwegian Geteway post. Have the best cruise ever. ♥
Don't let our funny cruise food mishaps scare you into not booking a cruise. Our cruise was amazing. We were blessed with the best family time and great memories. Follow my cruising tips above and you'll have the best cruise! I'll end this post with some extra food and menu pictures.
Enjoy. Feel free to ask questions in the comments. If NCL finally starts cruising with a butter alternative, let me know.
Lastly, if you'll be in the Miami area before or after your cruise check out this food travel guide here.
Eat well, feel well, and cruise well!
Jill
Here's extra pics I didn't have room to post above...
In the Garden Cafe Buffet...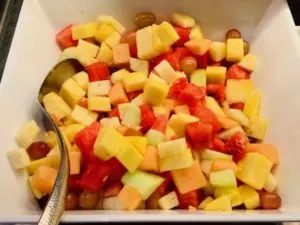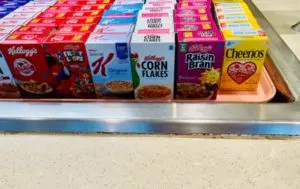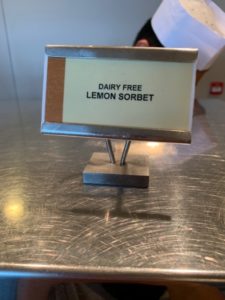 Pre ordered breakfast ham and bacon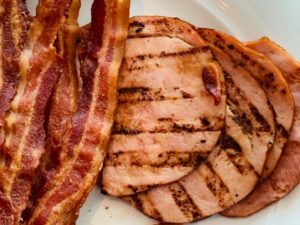 Fresh coconut water on Harvest Caye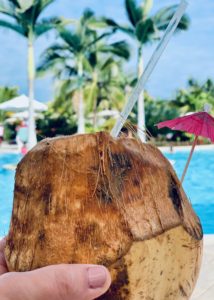 Kids' menu: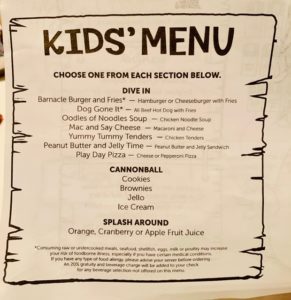 La Cucina menus (3)
Cagney's Steakhouse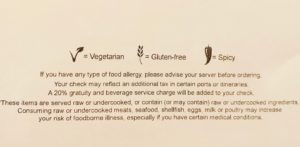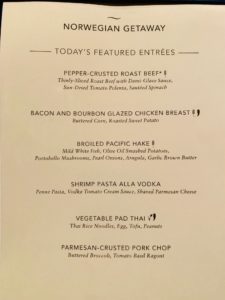 Happy cruising!♥