This no-fail Sweet and Sour Meatballs recipe is our favorite family dinner. We can never get enough homemade meatballs with pineapple chunks, and tender bell peppers covered in a wonderful sweet and sour sauce.
When you're out of dinner ideas and struggling to find something everyone will love-- this is your must-have recipe. Our family gets so food happy when they know this meal is on the menu.
You will find this gluten and dairy free family favorite sweet and sour meatball recipe is mouthwatering too.
Many of our favorite recipes have been handed down by my mother-in-laws. While most of the recipes aren't naturally gluten and dairy free I've always been able to make safe substitutions so our family can enjoy my husbands favorite childhood meals.
And this Sweet and Sour Meatballs recipe is not only one of his favorite meals-- it's now one of our families favorite, too.
I'm so thankful his mom was sweet enough to pass down the coveted recipe ♥. And now it's become a gluten and dairy free family favorite for everyone in our home.
Pictures don't convey how amazing this meal tastes. It's delectable in every sense. The homemade meatballs are mouthwatering and surprising addictive.
Next, the sweet and sour sauce covered pineapple and peppers are out-of-this-world amazing.
And your kitchen will smell so good, too!
The last time I made this dish was just a couple weeks ago. And you wouldn't believe the response from my kids.
When they got home from school and opened the front door, all I heard was, "Oh that smells so good!" Followed by an enthusiastic, "Mom, what are you making?!" As the kids feasted their eyes on the homemade meatballs coming out of the oven, I heard squeals, y'all!
Then it turned into twenty questions.
"When will they be ready?"
"Will you give me extra meatballs?"
"May I have six meatballs pleeeeease?"
"Can I have some now?"
"How much longer until dinner?"
...and it just kept going!
sweet and sour meatball recipe ingredients
ground beef
eggs
gluten + dairy free bread crumbs-- making your own gluten free bread crumbs is easier than you think. I've used so many different types of gluten free bread... the heel, an inside piece as shown, gluten free bread from the bakery, an Udi's sandwich bun... and even a hot dog bun when I was in a pinch. Guess what?? The meatballs tasted delicious no matter the type of bread used.
onion
ground ginger-- always double check your spices are GF and DF.
salt
black pepper
gluten free Worcestershire sauce-- the Lea & Perrins brand states their sauce is gluten free. The only online allergen they list is anchovies.
sugar
canned pineapple chunks
distilled white vinegar
gluten free soy sauce
brown sugar
cornstarch-- arrowroot powder works too
bell peppers
side dish-- serve over white rice, cauliflower rice, or brown rice
serving size-- this recipe makes a large helping. This is another one of those recipes my family insists there be leftovers for the next day. So this recipe makes a large batch every time. You'd never know the leftovers were a day old. Reheated, the sauce is just as flavorful. And the meatballs are mouthwatering! If need be, this recipe can be easily cut in half.
meatballs-- these can be made the day before or even baked and then frozen. two jelly roll pans.
This recipe comes together beautifully at the end. It really is the best! It's hard to believe something that is gluten and dairy free can taste so good. And be so mouthwatering.
The sauce is tantalizing to the taste buds. And you won't want to stop eating those yummy meatballs. The pineapple and peppers add even more flavor and texture.
This dinner creates a meal with bold sweet and sour flavors.
It really is the best of both worlds.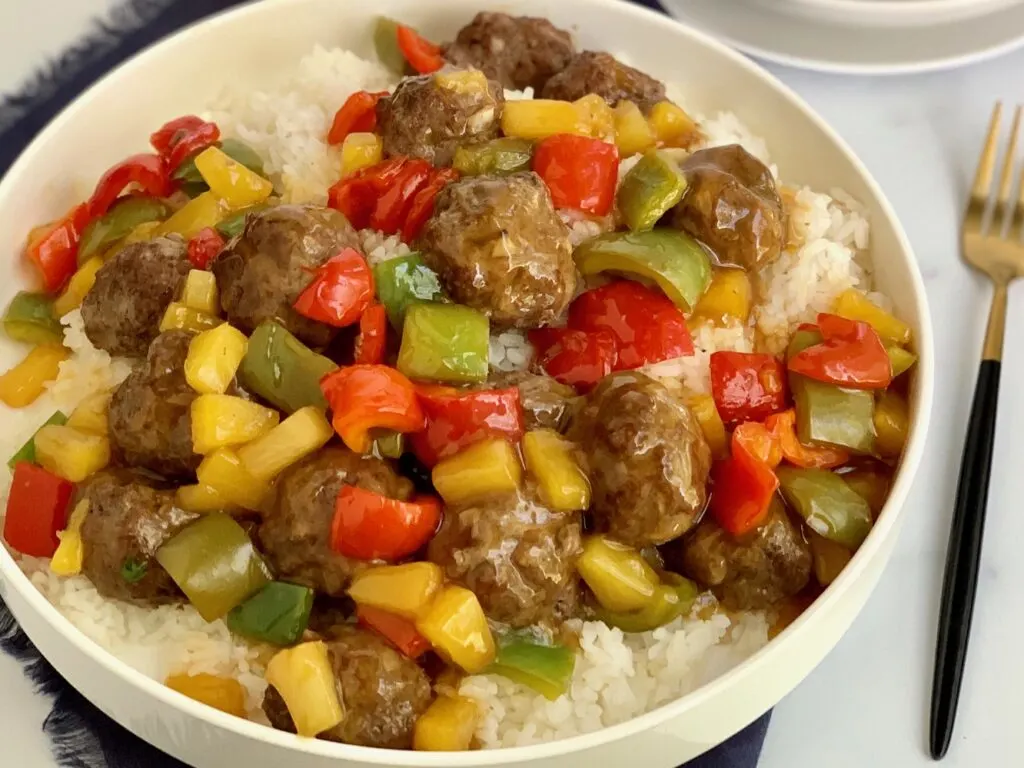 more mouthwatering recipes
easy skillet lasagna-- this is the easiest and most delicious lasagna recipes. You add your lasagna noodles to the pasta sauce-- no need to boil them so you only have one pan to wash up afterwards.
taco tater tot skillet-- this recipe is a follower favorite! I've never heard anyone not like this recipe. And it tastes so amazing.
homemade sloppy joes-- this quick go-to meal for busy nights. Serve with a side of baked potato wedges and the whole family will be happy.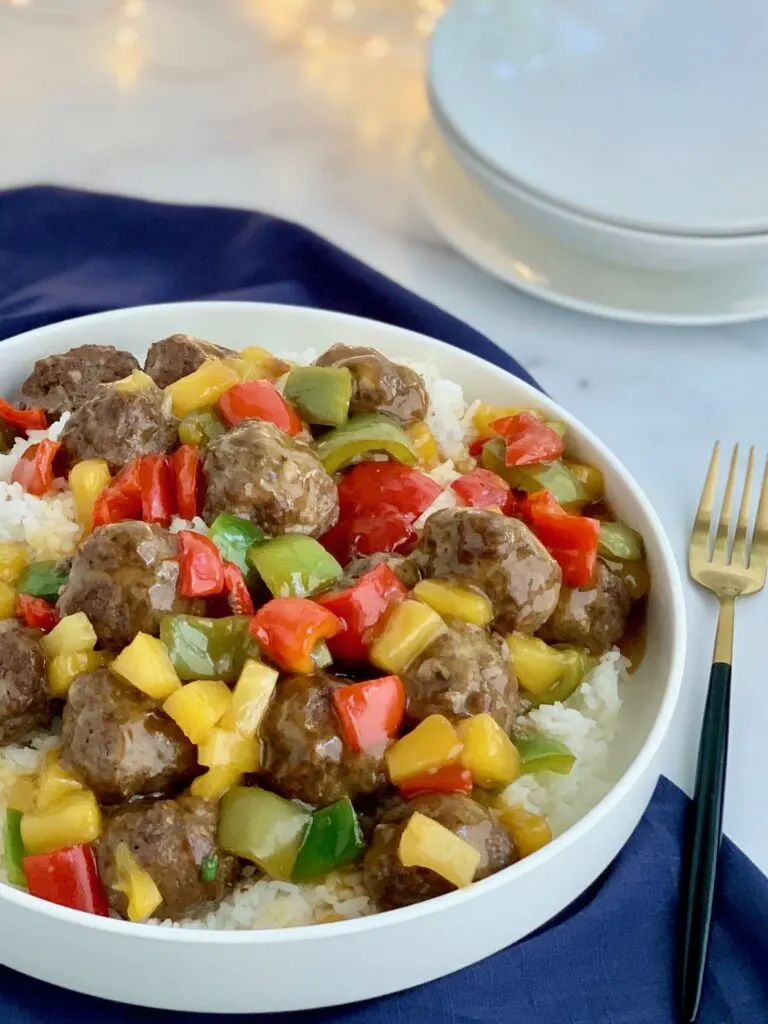 lastly
Be sure to leave a comment when you make these mouthwatering sweet and sour meatballs. Let me know how your family liked it. If you have any questions, post those, too.
I'm so thankful my "moms" have passed recipes down to me over the years! They end up being our favorites.
And be sure to follow along on Facebook, Instagram, and Pinterest. That way you don't miss out on the best of eating gluten and dairy free.
Eat well and feel well,
Jill
Print Recipe
Sweet and Sour Meatballs
Ingredients
Meatball Ingredients:
2

lbs

ground beef

2

eggs

1

cup

GF and DF bread crumbs

½

cup

onion, diced

½

teaspoon

ground ginger

1

teaspoon

salt

½

teaspoon

black pepper

2

teaspoon

GF and DF Worcestershire sauce

2

teaspoon

sugar
Sweet and Sour Sauce Ingredients
2, 20

oz cans

pineapple chunks or tidbits, drained with juice reserved

⅔

cups

water

6

tablespoon

distilled white vinegar

2

tablespoon

GF soy sauce

1

cup

brown sugar

6

tablespoon

cornstarch or arrowroot powder

1

teaspoon

ground ginger

gluten free brand

1

teaspoon

salt

2

bell peppers, cut into bite size pieces
Instructions
Preparing the Meatballs
Preheat oven to 400° degrees F. Lightly grease 2 large shallow baking sheets with nonstick spray. Jelly roll pans work perfect.

Prepare your gluten and dairy free bread crumb by chopping slices of bread into course crumbs.

Mix the first 9 ingredients well in a large bowl. Shape them into one inch balls.

Place meatballs on a baking sheet. Bake for 10-14 minutes until done in the middle. Set aside.

To Make the Sauce:
Mix enough water with the reserved pineapple juice to make 2 cups.


Over medium heat in a large saucepan combine the juice mixture, water, vinegar, gluten free soy sauce, and brown sugar.


Stir in the cornstarch or arrowroot powder, ginger, and salt. Stir until smooth. Cover and simmer until thickened.

Then stir in the bell peppers, pineapple chunks, and meatballs into the sauce. Simmer again, uncovered, for 20-25 minutes until the peppers are tender.

Serve over rice. Optional: garnish with green onions.

♥ The traditional sweet and sour recipe I received can be found here.