This post may contain affiliate links. Read the full disclosure here
Recently a new "dinner thing" came to my attention. How I've missed this is beyond me. And let's be honest… I really enjoy eating gluten and dairy free lasagna. So much so that we'd have it more often on the menu, but I don't have time. That's why this easy skillet lasagna is my new favorite thing! It's delicious and quick.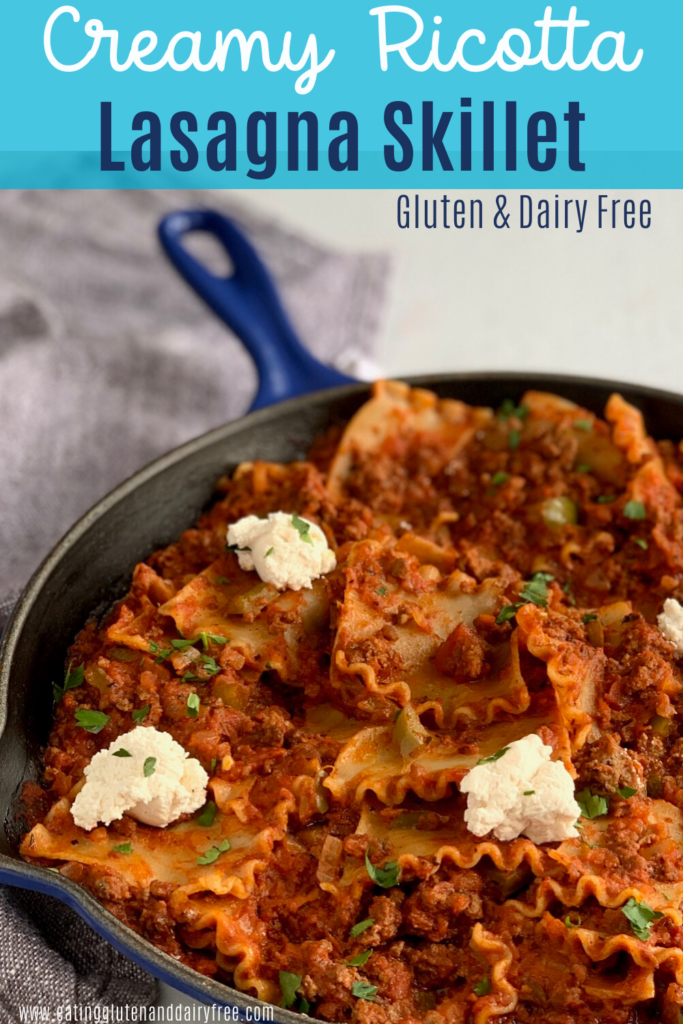 A Few Reasons Why You'll Love This Skillet Too
This easy skillet lasagna meal tastes amazing. It's creamy, flavorful, and comforting…it tastes like something you'd get at an upscale restaurant
It's made in one pan (yes, you read that right!!)
And it's ready in 40 minutes
The leftovers taste like you just took it off the stove top
Why wasn't this brilliant easy skillet lasagna dinner idea around 11 years ago when I started my gluten and dairy free journey? Thankfully it's here now, and it's become a regular meal around our house. #Imcelebrating.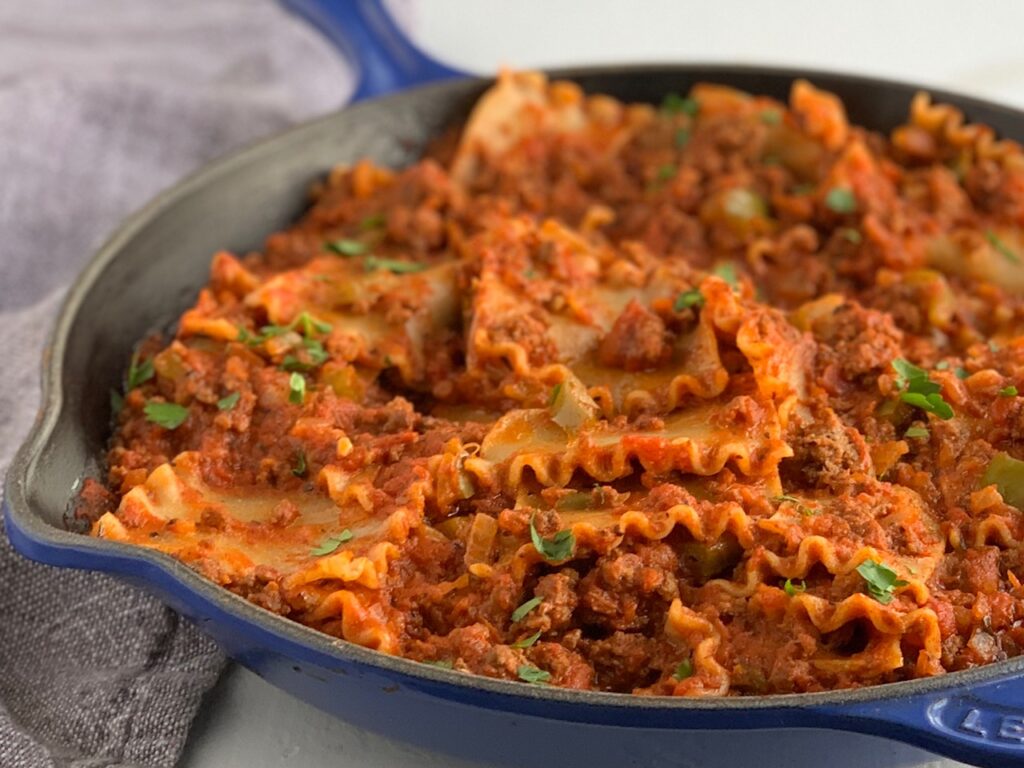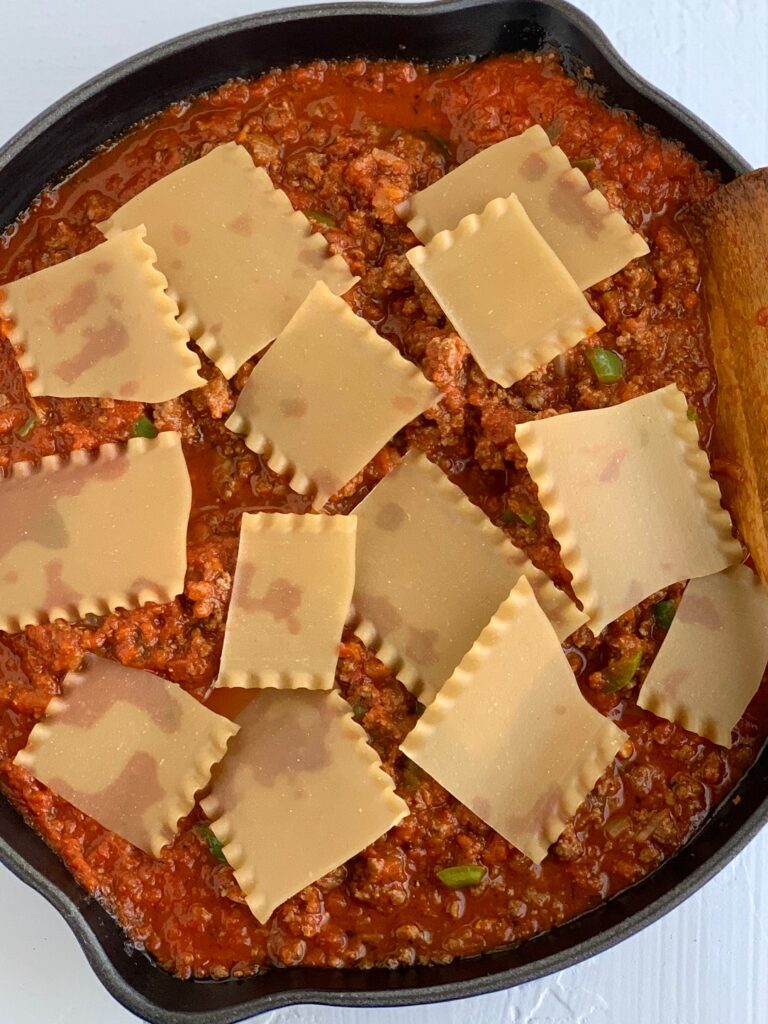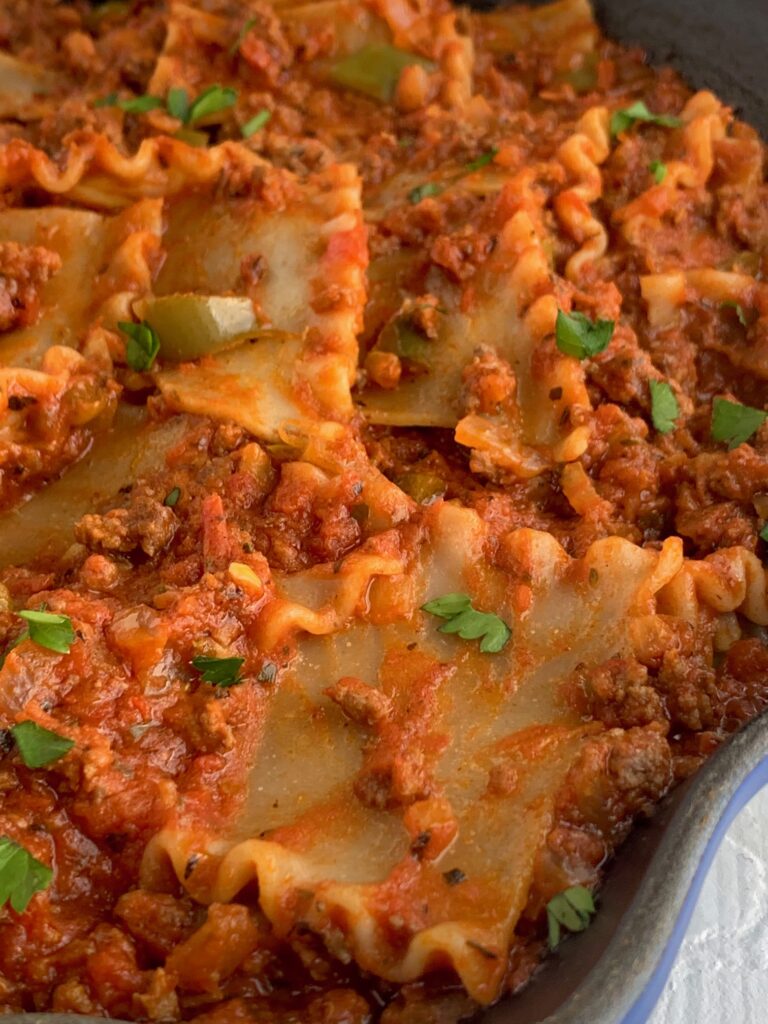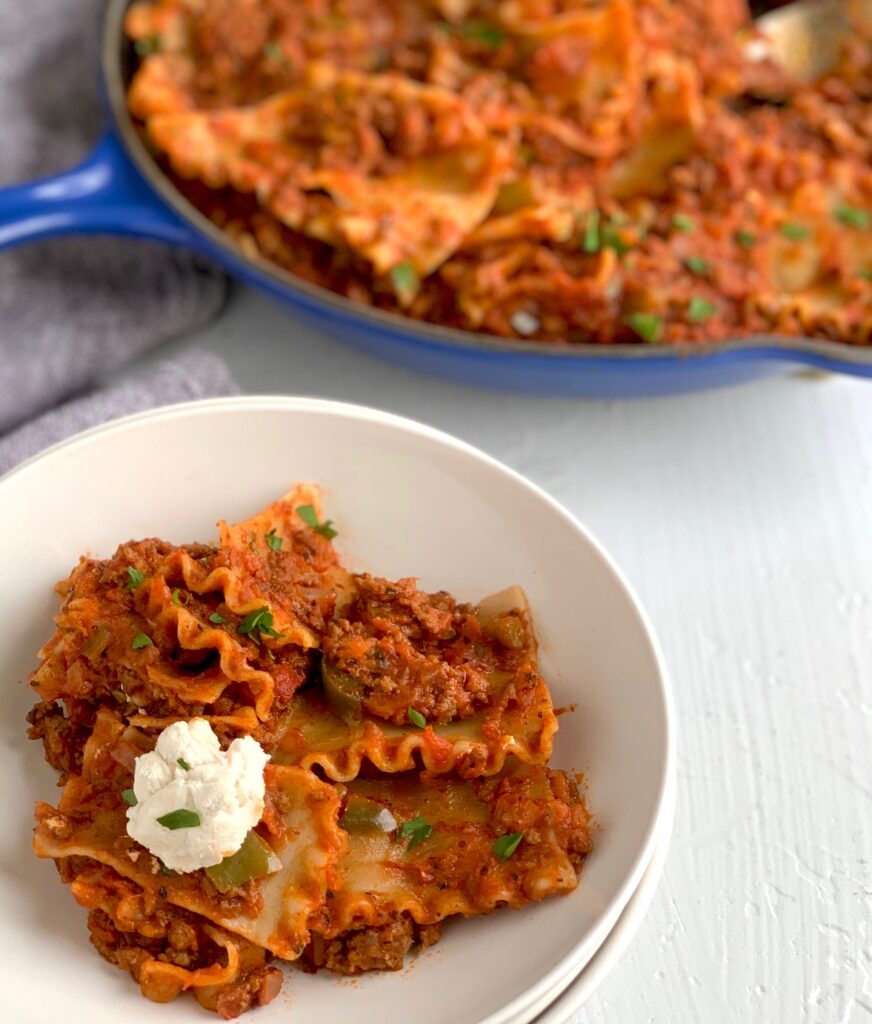 Further more my family couldn't have been more excited for this new dinner recipe.  Which means lasagna way.more.often.
Honestly I'm not sure what I liked more about this recipe. Preparing this easy skillet recipe in one pan or the easy clean up. Also just as shocking and fun is letting my kids break the lasagna noodles for this recipe. Wouldn't you know they thought I'd lost my mind the first time I invited them to do it. ♥
Can I get a hallelujah for this easy lasagna skillet meal idea?
Tips For This Recipe
First the gluten free lasagna noodles are easy to work with in the skillet. I've used these Tinkyada gluten free noodles for years. For this recipe there is no extra pot to boil them in. They do their magic noodle transformation in the pasta sauce. And how crazy fun is it to purposely break the noodles! Like I mentioned earlier my kids enjoy breaking them for me. For years I've sweat bullets while boiling lasagna noodles in a large boiling pot. In reality sweating they wouldn't break apart. And now we're celebrating the break!
I tell you… it's glorious!
Next dairy free ricotta is one of the best dairy free products to hit the market recently. I used Kite Hill ricotta in this recipe. It's a dairy free brand using non-GMO almonds. The dairy free ricotta cheese made this easy skillet lasagna sauce creamy and dreamy! The first time my youngest ate it he said, "Mommy, dis soooooo umazing." Yes, in the moment I decided not to be the grammar police but rather enjoy his compliment!
I like to use easy, store bought pasta sauces. So our family enjoys marinara sauce with most of our pasta dishes, including my homemade oven-baked lasagna recipe here.
Here's what one reader had to say about this recipe on Instagram-
Hannah- "This skillet lasagna has become a staple in our house. It's one of the few meals EVERY one of us likes."
Lastly
I know y'all are sitting on the edge of your couches, reading this, and waiting to push print for this recipe. Wait no longer, here you go!
If… if you have leftovers, don't sweat it. Any leftovers are wonderful. I would only say this if I truly meant it. Warmed up this easy dinner dish tastes just like it came off the burner. The noodles aren't soggy or limp. The sauce tastes even better the next day.
I know I say it every post…because it's so true.  Eating gluten and dairy free doesn't have to be a curse.  A challenge, yes. But gluten and dairy free food can still be as amazing and delicious as anything else out there.
Let me know how you and your family liked this gluten and dairy free skillet lasagna. As always please take a pic and tag me on Instagram with #eatingglutenanddairyfree. I love, love, love seeing your food pics.
You'll find a recipe for every occasion and holiday on my website. Also follow me on Pinterest. You won't believe all the amazing gluten and dairy free recipes pinned to my boards.
Eat well and feel well,
Jill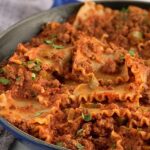 Print Recipe
Easy Skillet Lasagna
Ingredients
1

Tbsp

oil

1/2

onion, diced

1

green bell pepper, diced

1/2

lb

ground beef

1/2

lb

Italian sausage

2

16 oz jars

marinara sauce

1

tsp

garlic powder

1

tsp

brown sugar

1/2

tsp

dried oregano

7

gluten free lasagna noodles, broken in 2 inch pieces

1/2

c

dairy free ricotta

garnish with a few sprigs of fresh parsley
Instructions
In medium skillet heat oil over medium heat. Add onions and cook until they are translucent, stirring occasionally. Add green peppers to skillet for another 3-4 minutes.


Add in ground beef and Italian sausage. Break it apart into crumbles. After it's heated through, drain fat off.


Stir in marinara sauce, garlic powder, brown sugar, oregano.


Stir in broken lasagna noodles. Add in a pinch of salt and pepper.


Bring it to a boil then reduce heat to medium and cover the pan.


Cook until the noodles are soft 18-20 minutes, stirring occasionally.


Remove the pan from heat. Top skillet lasagna with dollops of dairy free ricotta cheese and parsley.