This recipe will be your newest friend. Your companion in meal planning. This has to be the easiest Mexican recipe ever. Undoubtedly this easy taco skillet dinner is packed with delicious Mexican flavor. And it even packs a hint of heat.
I think we can all agree summers are busy! Do you even find yourself sometimes wishing for the slowness of summers past… as an 8-year-old when summer seemed to stand still?
Thankfully this dinner idea comes together in under 30 minutes and only needs one pan. And the salsa used in this recipe is bursting with flavor. There are onions, fire roasted tomatoes, bell peppers, jalapeno peppers, and more of our favorite Mexican spices. The ground beef and salsa combo brings extra moisture to this meat. Pair this with crunchy, fresh iceberg lettuce. And top the easy skillet with diced tomatoes. Lastly, this dish isn't complete without bustin' open a bag of tortilla chips to dip into this easy taco skillet!
Yes, that's right. You don't even need to clean up dishes or silverware after dinner. ♥
I told y'all it was easy!
To enjoy your easy taco skillet, the recipe includes:
one pound of ground beef
a 16 ounce jar of salsa (I prefer Muir Glen organic medium salsa. It has just enough heat the adults enjoy it, but not so much heat the kids won't eat it.)
shredded iceberg lettuce
diced tomatoes
bag of tortillas
Thus, this is your easiest dinner recipe to date. There are only 5 ingredients. You won't spend endless time in the kitchen chopping, dicing, mixing, or measuring. Instead you lounge outside with your feet up enjoying the pleasures of summer.
Hallelujah.
Now if you're desiring to make more of this gluten and dairy free skillet, you certainly can. Additional add-in's could include:
black beans
corn
dollops of guacamole
sliced green onions
fresh cilantro
diced green chilies
shredded dairy free cheese
dairy free sour cream dollops
black olives
crushed Fritos chips
and even hot sauce… if you dare
Naturally this would be an easy meal for cooking while camping this summer too! Brown your beef over the fire and add in the salsa. Yum and again, so easy with little cleanup.
Print Recipe
Easiest Taco Skillet
Ingredients
1

lb

ground beef

1

16 ounce jar

your favorite salsa

2

cups

shredded iceberg lettuce

1/2

tomato, diced

1

bag

tortilla chips
Instructions
Over medium heat brown ground beef in a large skillet, drain fat.


Lower heat and stir in an entire jar of salsa.


After salsa is heated through top with shredded lettuce and diced tomatoes.


Remove from heat and serve with tortilla chips.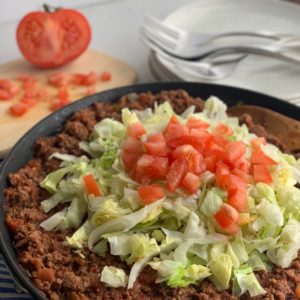 Don't you agree this is an easy taco skillet? And it's all gluten and dairy free!
It tastes fresh and light. Granted there's no boxed ingredients with an expiration date for 2050. Yaaasss. That's always cause for doing a happy dance.
When you try this taco skillet, leave a comment and tell me just how easy it was. Pin it to your board now while you think of it.
Again, it has to be the easiest Mexican meal ever.
Speaking of easy… it reminds me of these bacon wrapped tater tots. Oh, these are absolutely delish and easy. They are the perfect appetizer or side dish for your next potluck or BBQ. You only need three simple ingredients. Click here for the recipe.
Enjoy your summer! Make sure to take it easy when you can. ♥
Eat well and feel well,
Jill