We've found a treasure in this Softest Chocolate Chip Cookie recipe. These cookies are amazing--soft, mouthwatering, and full of so much chocolate.
This recipe yields cookies that turn out perfectly every single time.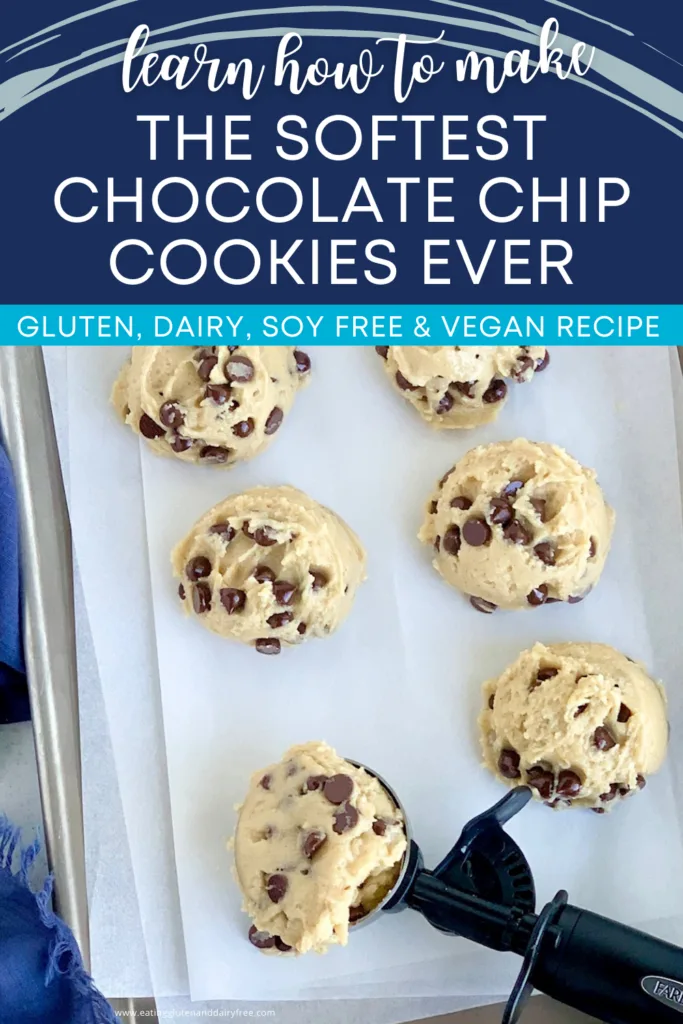 The struggle to eat gluten and dairy free is more prominent with some foods. Like pizza... hard as we try gluten and dairy free pizza is just not the same. Though I've been coming very close!
And cookies... that's been a struggle. But, anymore, I don't even remember what a traditional chocolate chip cookie tastes like.
the making of this cookie recipe
Who else follows food blogger, Pinch of Yum? Undoubtedly, in my mind, she is the ultimate food blogger. Unfortunately, her content isn't necessarily gluten and dairy free. However I do enjoy the creativity of her recipes and find some of them can be adapted gluten and dairy free, such as her "The Best Soft Chocolate Chip Cookies" recipe.
As a matter of fact, her cookie recipe inspired me to create this gluten and dairy free version.
Let me introduce you to the softest chocolate chip cookie that happens to be gluten and dairy free. #rejoicing
what others like you are saying about this recipe
Kelsey on Instagram says, "I've made this recipe 3 times now and they are truly the BEST chocolate chip cookies."
Rebecca on Instagram messaged, "These are soft and full of chocolate chips."
Sandy on Facebook, "I wanted to eat all the cookie batter. Love this recipe."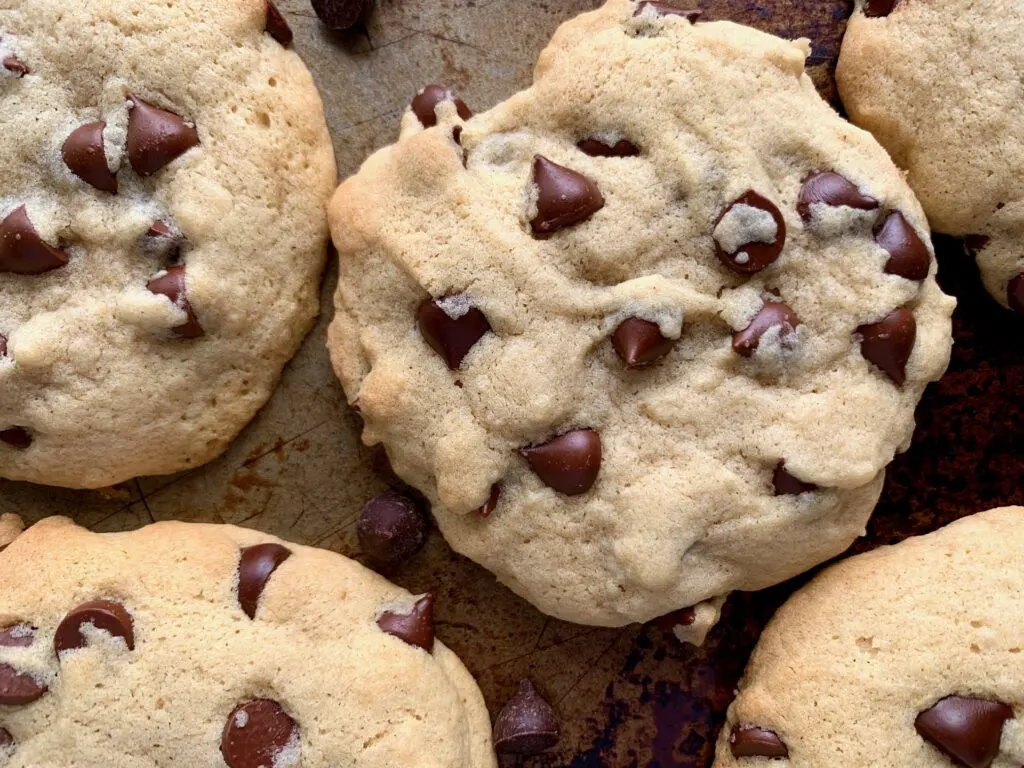 Y'all, this recipe is worth swooning over for us gluten and dairy free folks. It's soft, rich, tastes a bit buttery, and there's so much chocolate.
The worst part about these homemade cookies is how painfully difficult it is not to eat the entire batch... straight out of the oven. I'm warning you now; you can't eat just one.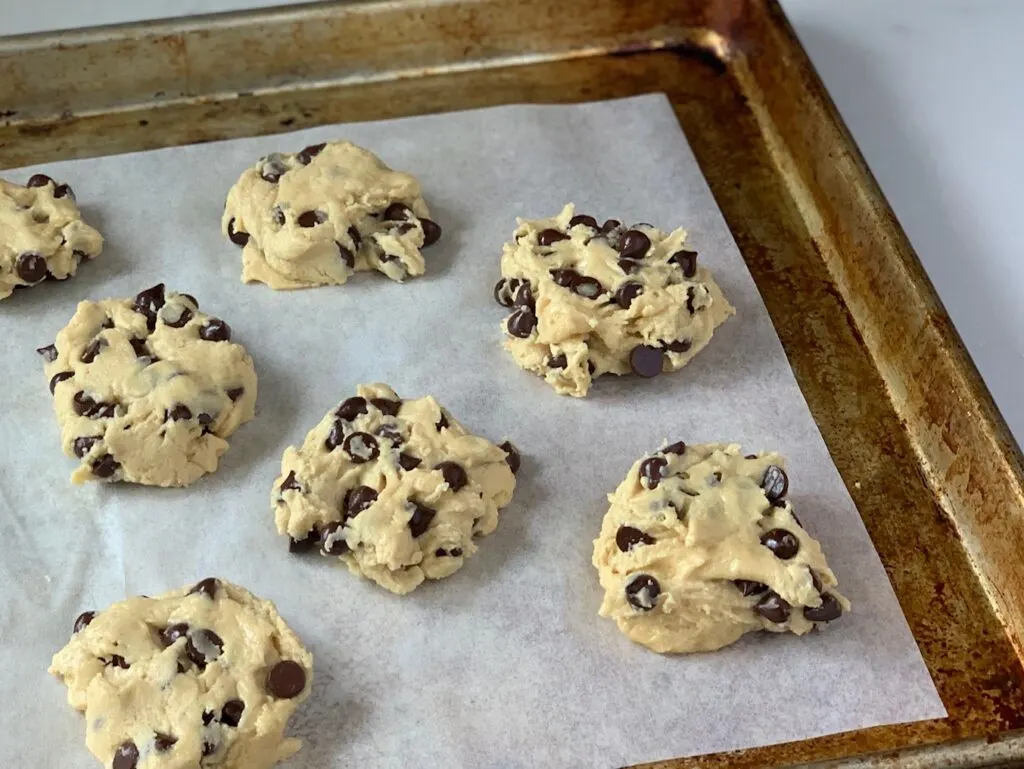 Here are the ingredients for this gluten and dairy free cookie recipe:
dairy free butter-- we use Earth Balance Buttery sticks. These sticks are also vegan and soy free.
brown sugar-- packed and leveled
large egg-- room temperature
gluten free all-purpose flour--We prefer Bob's Red Mill GF 1 to 1 Baking Flour an it contains xanthan gum already in it's blend. We buy it in bulk here to save money. This flour tends to soak up liquids and this recipe is reflects that. If you're using another brand of flour such as Mama's Almond Flour you will need more flour added to this recipe (1 ¾ cup).
xanthan gum-- omit if your all-purpose flour already contains this
baking soda-- once opened this looses it's potency after 6 months so be sure to write the date you open it on the container.
dairy free chocolate chips--we use a variety of Enjoy Life chocolate chips including their mega chunks, semi-sweet mini's, and dark chocolate morsels. Toll House Simply Delicious sells traditional sized dairy free chocolate morsels at Walmart too.
Now wouldn't you agree that's an incredibly easy cookie ingredient list?
tips for the Softest Chocolate Chip Cookie are:
have all your ingredients on hand because this recipe moves quick
you only need one large mixing bowl, hallelujah
Pinch of Yum stresses in her recipe to semi-melt the butter. I melt mine in the microwave for 20 seconds.
measure your gluten free flour by spooning the flour into the measuring cup and evening the top with a flat knife. Don't scoop the flour into the measuring cup inside the bag... like I've been guilty of so.many.times.before.♥
lastly Pinch of Yum emphasizes not overbaking this soft chocolate chip cookie. She is spot on! Set a timer for 10 minutes and take them out. The cookies probably won't look done, at least mine don't. You leave the cookies on the pan for thirty minutes after they've been taken out of the oven. The cookies continue baking on the pan. I promise you won't want these cookies if they're overbaked. Set a timer.
This recipe makes 15 cookies. I almost always make a double batch.
Not to mention you can easily freeze these... as if you needed another reason to bake a double batch. But just in case you do, they're perfect for roadtrips, school parties, or any celebration. Pull what you need out of the freezer and allow them to thaw. Or take them straight from the freezer and make ice cream sandwiches.
more gluten + dairy free recipes
lemon streusel bars-- these are absolutely amazing! Tangy lemon filling sandwiches between the most delicious streusel topping.
chocolate cream pie-- this decadent pie is your summer must.
homemade brownie bites-- wow, this dessert is so easy, chocolaty, and creamy. Yet it looks like you spent hours in the kitchen.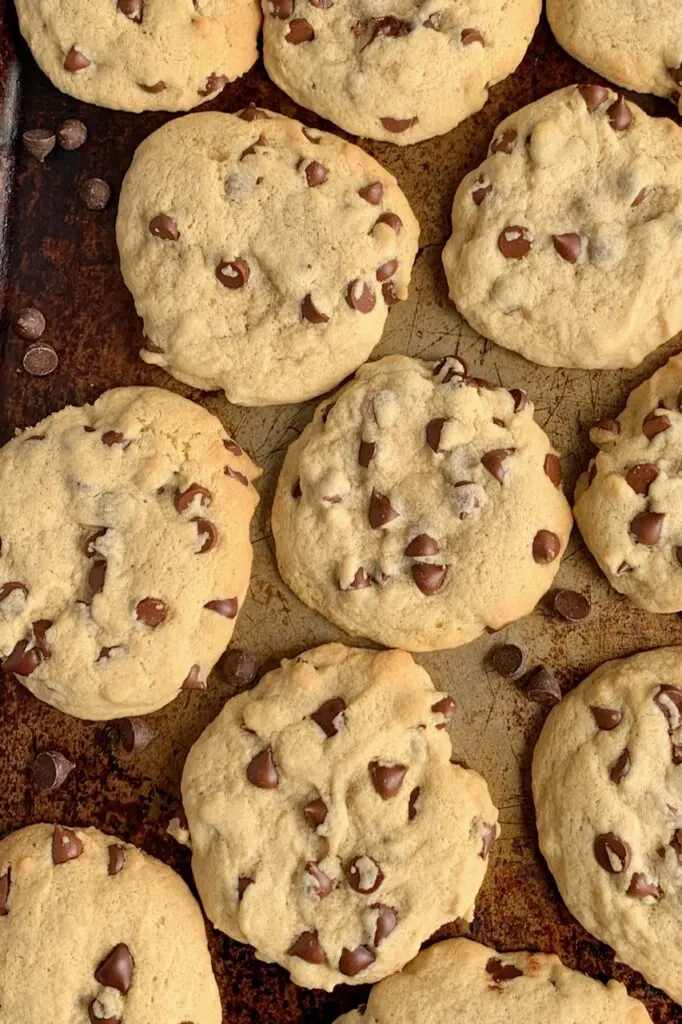 Pin this softest chocolate chip recipe now. You can't go wrong with this recipe.
These gluten and dairy free cookies will satisfy your chocolate chip cookie needs.
And if you're looking for a giant chocolate chip cookie-- check out this Chocolate Chip Cookie Cake post here. We use the same cookie recipe to bake this delicious cake.
You can bake and decorate it for birthdays, anniversaries, work parties, or family night.
You'll find more cookie and dessert recipes on our website.
Make yourself at home and pin your favorites now.
Lastly let's connect on Facebook, Instagram, and Pinterest. Speaking of Pinterest-- we're pinning new gluten and dairy free recipes every.single.week.
And be sure to like and comment often on our social media posts.
We want you to keep seeing our posts in your feed with new recipe releases, new product alerts, and eating "free from" life hacks.
Eat well and feel well,
Jill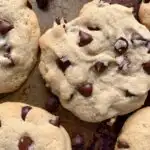 Print Recipe
Softest Chocolate Chip Cookie
Ingredients
8

tablespoon

dairy free butter semi-melted

suggestion in post

½

c

granulated sugar

¼

c

brown sugar

packed and leveled

1

egg, room temperature

1

teaspoon

vanilla extract

1 ½

c

gluten free all-purpose flour

see post for suggestions, spooned and leveled

1

teaspoon

xanthan gum

omit if your flour blend contains this

½

teaspoon

baking soda

¼

teaspoon

salt plus a tinge more

1½

c

dairy free chocolate chips

suggestions in post
Instructions
Preheat your oven to 350°F. Place parchment paper on 2 cookie sheets.

Place the butter in a small bowl and microwave for 20 seconds. You want it to be slightly melted.


With electric beaters or stand mixer, in a large bowl beat butter and both sugars.


Add in the egg and vanilla. Beat on low just until incorporated, 10-15 seconds. Don't overbeat the eggs.


Add in the flour, xanthan gum, baking soda, and salt. Mix again. The dough will be very wet.


Then add in the chocolate chips. Mix well by hand.

Drop by hand or spoon onto a cookie sheet.

Place into the oven and set a timer for 10 minutes.

When timer goes off, remove cookie sheet from oven and allow to cool for 30 minutes. These cookies will keep in an airtight container and they freeze well.