Here's a Homemade Italian Meatballs recipe that's hearty, with robust Italian meaty flavor and a hint of fresh Italian spices that is not only easy to make but really brings your gluten and dairy free Italian recipes back to life.
We have yet to find a decent allergen friendly frozen Italian meatball brand available in our area. Who knows why they think you need dairy and gluten in frozen store bought meatballs… so, we decided to make our own Italian Meatballs for all our Italian dish needs.
No more meatballs that fall apart or have a funky flavor. And definitely no meatballs with absolutely no flavor, this easy, allergen-friendly recipe was made just for you with the perfect authentic flavoring and texture in mind.
You don't have to look at those dairy and gluten-ridden meatballs with envy anymore because you'll be ready to have all the safe Italian Meatballs you need on hand and in the freezer ready to go.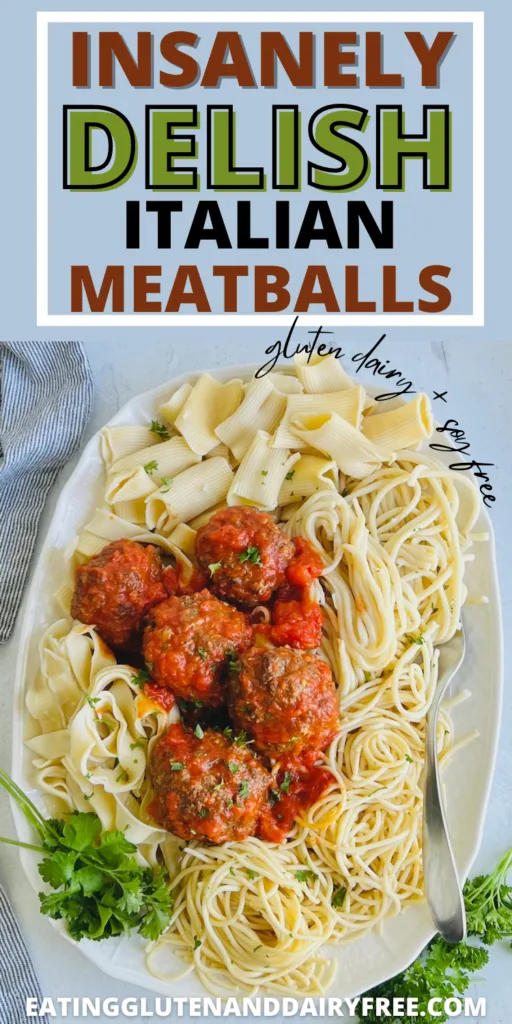 Homemade Italian meatballs ingredients
ground beef
Italian sausage— always check that your Italian sausage is gluten free. Some brands will list wheat in the ingredients, so be cautious and always check the label.
gluten free bread crumbs— use a safe brand or make your own
beef broth— the Pacific brand is our go-to. Dairy free milk can be substituted.
egg
Worcestershire sauce— in the US Lea and Perrins is gluten and dairy free and a brand we like to use
diced sweet onion
Italian seasoning blend— our favorite is the McCormick brand
garlic powder
salt
ground pepper
optional– we enjoy topping these baked meatballs with fresh chopped basil and parsley for a boost of fresh herbs
helpful tools to make meatballs
mixing bowl— to mix your ingredients in
cookie sheet— here's the cookie sheet we like to cook the meatballs on
large scoop— to scoop out the mixture and help make the balls easier to form
baking mats— to make baking them easier and cleanup faster
saucepan— to make your marinara sauce in to coat your meatballs with
frequently asked questions
can you make your own gluten free bread crumbs
You absolutely can make your own breadcrumbs. In fact, we've had to make our own when we were in a pinch with this recipe (and others) and the meatballs turned out just fine.
We recommend using whatever gluten free bread source you have on hand. We've used a gluten free bun, bread, hamburger bun, hot dog bun and even a bagel before. All have been used successfully in these homemade Italian meatballs!
To prepare your own we stick 2 slices of bread in the oven at 200 degrees Fahrenheit until it is toasty and somewhat hard. Then we transfer it to a food processor and pulse until the bread is small crumbs.
So feel free to use whatever safe bread source you have on hand to make your own breadcrumbs for this meatball recipe.
how to make gluten free meatballs that won't fall apart
So, you want our secret to making the best Italian meatballs from scratch that doesn't fall apart? Here are a few of our tips to making gluten free Italian Meatballs.
Make sure to use good breadcrumbs (that are allergen friendly of course), these help act as a binder
Make sure to use an egg- an egg helps bind the breadcrumbs and meat together.
Give your meat a little massage first. Sometimes massaging the meat helps it start sticking together to help form the perfect meatball shape.
can you freeze these homemade Italian meatballs
You bet you can!
We love to save time for the future by making a double batch of these Italian meatballs, so we can use a batch now and freeze the other for later.
Once your meatballs have cooled, place meatballs in a ziplock bag and lie flat to freeze for later.
If you find that your meatballs just stick together too much, you can line a cookie sheet with parchment paper, space out the meatballs and then freeze. Once frozen individually, you can put into ziplock bag and lay flat in the freezer.
how to thaw frozen meatballs
The day before you'd like to use your frozen homemade meatballs, remove the bag of meatballs from the freezer and place in the refrigerator to thaw overnight.
can you make these meatballs in advance
Yes, you can make these in advance. They're the perfect thing to have on hand for busy weeknights and weekends. Store them in the refrigerator for up to 3-5 days.
Make sure to reheat them and serve them with your favorite Italian dish when you're ready to enjoy.
If you're looking to use these later than 3-5 days, we recommend freezing them for future use.
what sauce can you use with these meatballs from scratch
We love using Victoria Trading Company marinara sauce and Rao Marinara sauce. Both are gluten and dairy free and our go-to store bought marinara sauce.
You can always use a homemade sauce, but if looking for an easy way to finish these meatballs into a meal, like Spaghetti and Meatballs dinner, these marinara sauces will not disappoint.
other Italian allergen safe recipes
Here are some more of our favorite homemade itailan recipes we enjoy on a regular basis.
spaghetti pie— This is a great layered twist on traditional spaghetti. Make these meatballs to go on top of the pie or just accompany a nice heaping scoop of this dish.
sundried tomato alfredo sauce— enjoy this alfredo sauce with any of your Italian recipes.
manicotti–learn how to make your own homemade manicotti that is gluten and dairy free and full of Italian flavor!
lastly
We wanted to make sure you knew about our amazing Cookbook, The Classics. It's packed full of 16 of our most popular breakfast, dinner and dessert recipes.
We've also shared a ton of our favorite allergen safe brands we choose to cook and bake with and have included an exclusive dessert recipe in that ebook cookbook that you can ONLY find in that cookbook- nowhere else on our site.
Plus did you know we have shared so many more gluten and dairy free recipes with you on our website, Eating Gluten and Dairy Free? There are recipes for every occasion, holiday and just everyday perfect recipes too.
Follow along on Facebook, Pinterest, and Instagram for the very best of eating gluten and dairy free.
Eat well and feel well,
Jill
Print Recipe
Homemade Italian Meatballs
Servings:
20
small meatballs
Ingredients
½

lb

ground beef

½

lb

gluten free Italian sausage

½

c

gluten free bread crumbs

dice dry bread into small crumbs

¼

c

beef broth

can substitute with dairy free milk

1

egg

½

small

onion

diced

¼

tsp

garlic powder

1

tbsp

Italian seasoning blend

¼

tsp

gluten free Worcestershire sauce

½

tsp

salt

1

tsp

ground pepper

top with fresh chopped parsley or basil

for extra flavor
Marinara Sauce
24

oz

jar of your favorite brand

1

tsp

brown sugar
Instructions
In a large bowl combine all the meatball ingredients well.

Spray a cookie sheet with nonstick spray. Scoop out 1 inch of the meat mixture and form into a ball with your hands.


Place meatball on cookie sheet. Place in oven for 12-14 minutes until heated through.

While meatballs bake heat Marinara sauce in large sauce pan. Add brown sugar and mix in well.


Once meatballs are heated through remove from the oven. Place directly onto spaghetti dish or coat in Marinara saucepan first then top on spaghetti dish. Top with minced fresh basil or minced parsley once plated.

For large meatballs use a large cookie scoop to drop on a cookie sheet and round with your hands. Bake large meatballs for 17-18 minutes.
Keep scrolling to sign up for our exclusive emails below.
Lastly, I want to leave you with one more homemade meatball recipe. Click here for a family favorite, Sweet and Sour Meatballs. This is mouthwatering.
Imagine sweet and sour meatballs drizzled in special pineapple sauce with bell peppers and pineapple, then placed on a bed of rice.
You must know two important facts about this recipe: 1) make plenty for leftovers and 2) this recipe works fabulous with company. No one will taste it's gluten and dairy free. And your family will love this one too.
I'd love to hear in the comments how this recipe worked for you. Please share how you best like to enjoy it… over spaghetti, shredded spaghetti squash, or maybe even a variety of veggie noodles.
Eat well and feel well,
Jill