Welcome to your newest creamy ricotta stuffed shells recipe. You will find it hard to believe this recipe is gluten and dairy free. The ricotta, spinach, and mozzarella blend creates a wonderful-tasting ricotta mixture.
It's unbelievable, actually.
Sadly, I've searched for 10 years to find gluten and dairy free ingredients for this dinner recipe. Thankfully, in the past year Kite Hill introduced one of their star products. Kite Hill ricotta is made from creamy almond milk.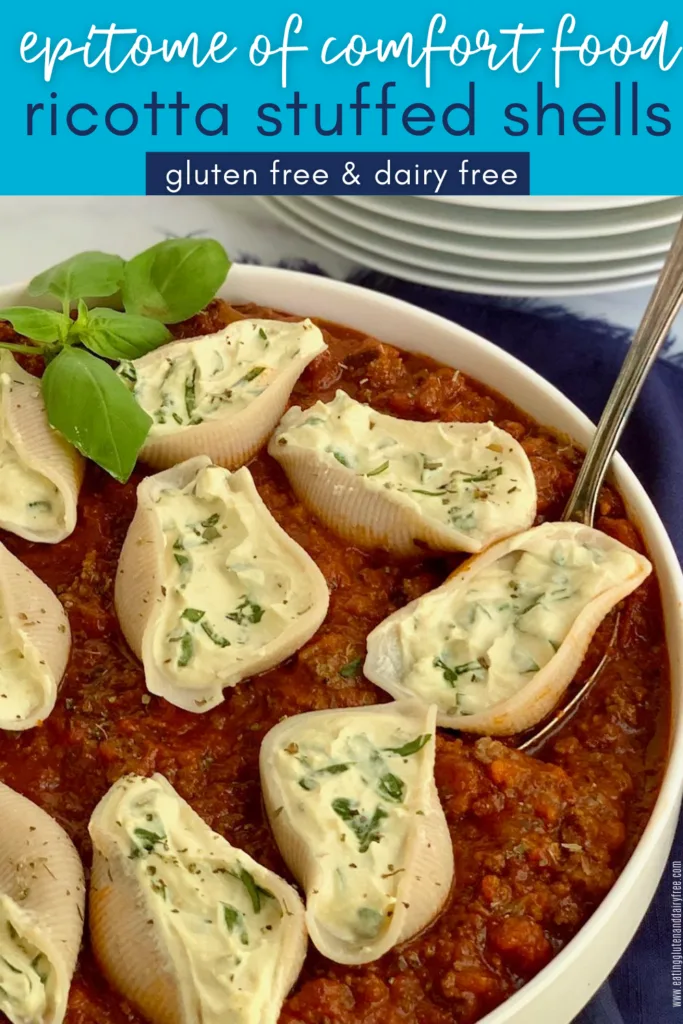 Would you guess this ricotta is gluten, dairy, and soy free? And it's made non-GMO and vegan.
The first time I saw it on the grocery store shelf I bought it. I couldn't wait to taste it dolloped on my easy, skillet lasagna found here. As you can tell I fell head over heels for this creamy ricotta. It adds a whole new taste to Italian dishes that I haven't tasted since I went gluten and dairy free 12 years ago.
Once I knew this product was this amazing my brain went wild with new recipes ideas to try, like this creamy ricotta stuffed shells, for example.
Then the unbelievable happened.
Kite Hill ricotta was in such hot demand it was locally back-ordered for over two months.
And wouldn't you know those two months seemed like two years.
Let's just say when this product was kindly restocked, I nearly had a cardiac event. I bought 5 of the 7 ricotta containers on the shelf. In case you're wondering… I did want to buy all 7, but I couldn't be that person.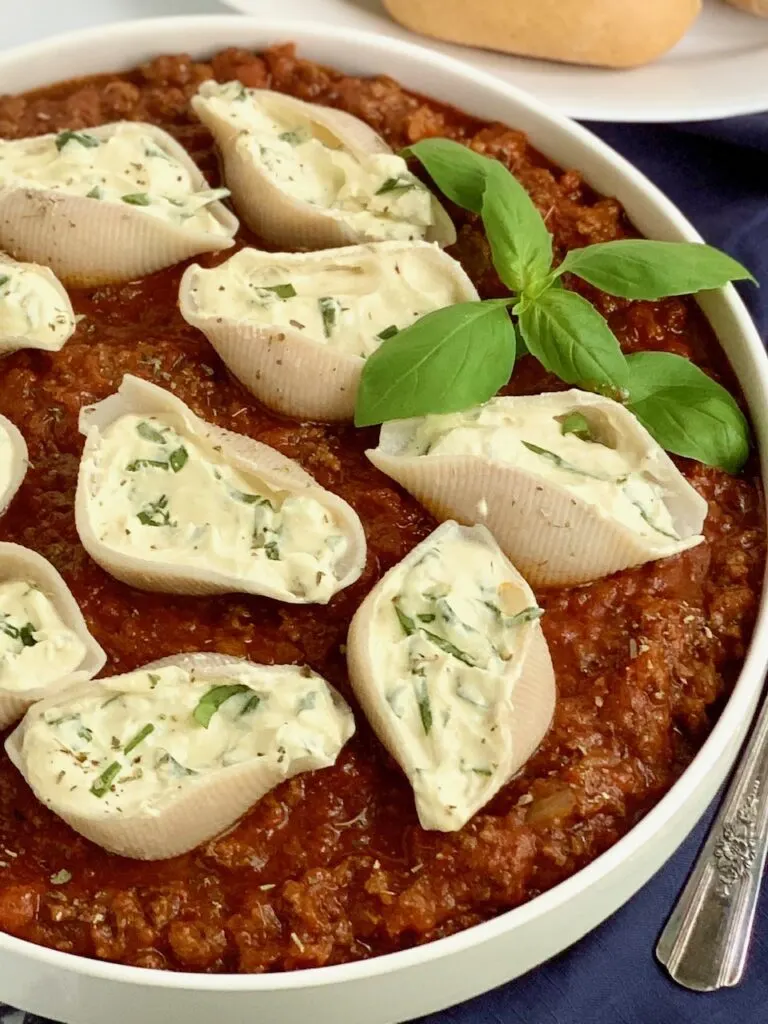 And here we are… two weeks later with a delicious recipe for you!
Ingredients needed
For this gluten and dairy free creamy ricotta stuffed shell recipe you'll need. Get more info on these ingredients in the recipe card at the bottom of the post.
I'm sharing here to give our brand suggestions and ingredient notes 🙂
gluten free jumbo shells—Tinkyada Brown Rice Grand Shells are what we like to use. You can get them on Amazon or from your local store.

dairy free ricotta— Kite Hill Ricotta or homemade ricotta
fresh spinach
garlic powder— always double check your spices are gluten and dairy free
Italian seasoning
pasta or marinara sauce
brown sugar
onion
oregano
ground beef
Italian sausage— optional
fresh basil
salt and pepper
optional— Follow Your Heart Mozzarella or other dairy free mozzarella of choice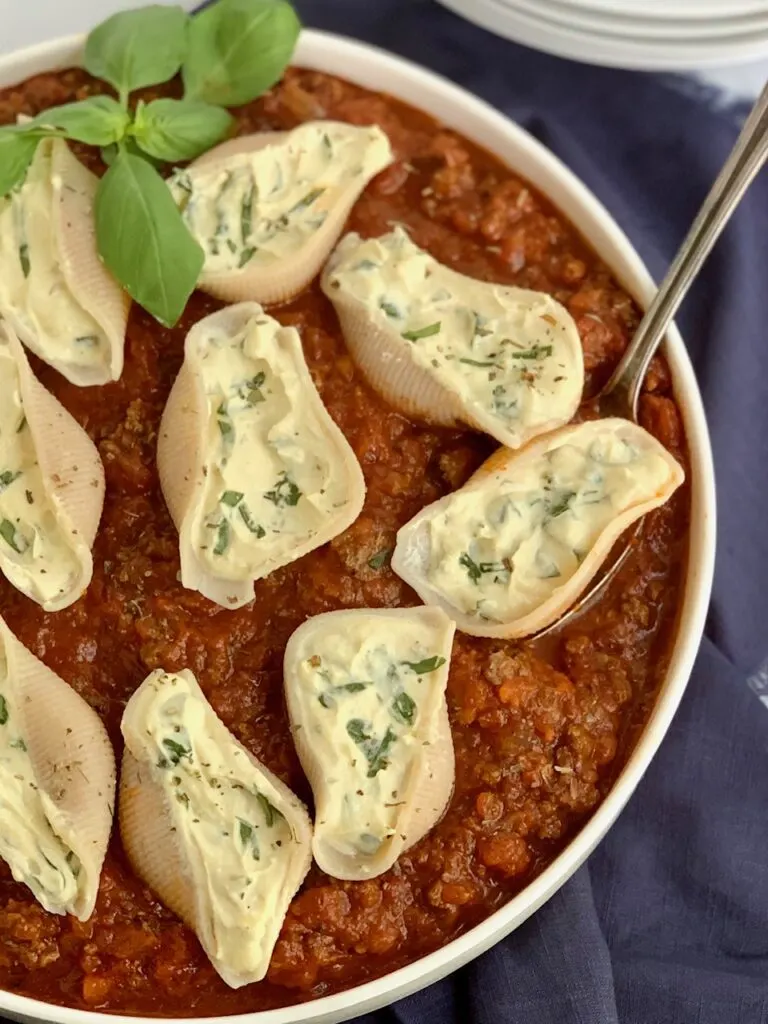 What you'll like about this recipe is the taste and how quickly it comes together. As a crazy multitasker I enjoy recipes best when a couple parts are cooking at one time.
For instance, this recipe has three parts that may be prepped at the same time.
Seriously though… while the mega shells boil, brown your ground beef and sausage. While those two parts cook, prepare the ricotta mixture and set aside.
And, if you're on a quest for gluten and dairy free baguettes or french dinner rolls consider Udi's. They complement this Italian dish favorably… as in a family favorite.
more recipes you'll love
skillet lasagna— this easy one pan meal is getting rave reviews from readers. It's also ready in less than 40 minutes.
baked potato wedges— these are the perfect side side for any meal. And kids love them, even the pickiest of eaters.
walnut brownie sundae skillet— this is the dessert of your dreams. Top this warm skillet brownie out of the oven with ice cream and a maraschino cherry.
lastly
I hope you and your family relish this gluten and dairy free ricotta stuffed shell recipe as much as we do. Y'all will want to devour this dish!
Without a doubt, you'll fancy the ricotta taste! You'll be asking yourself how gluten and dairy free can be so delectable!
Make sure to follow us on Instagram and Pinterest to keep up with all our new recipes. Tag us if you make the recipe on IG or share your thoughts by commenting on the pin on Pinterest. If you try this recipe, feel free to give it 5 🌟 below
Eat Well and Feel Well
Pin It For Later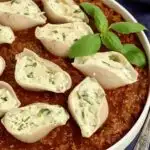 Print Recipe
Creamy Ricotta Stuffed Shells
Ingredients
4

oz

gluten free grand shells, roughly half an 8 ox boz

suggestion in post

1/2

lb

ground beef

or use 1 lb ground beef and omit the sausage

1/2

lb

Italian Sausage

1/2

onion, diced

1

24 oz jar

marinara or favorite pasta sauce

if using marinara add 1 tbsp brown sugar to recipe

1

tsp

garlic powder

1

tsp

Italian seasoning

salt and pepper to taste

fresh basil to garnish
Ricotta mixture
1

8 oz container

dairy free ricotta

suggestion in post

1

egg, beaten

1

cup plus

fresh shredded spinach

1/4 +

c

shredded dairy free mozzarella cheese, set aside extra to sprinkle over shells at the end

optional, suggestion in post

1

tsp

dried oregano
Instructions
Preheat oven to 350 F.


Prepare grand shell noodles according to box instructions. Drain, rinse well with cold water, and set aside.
Side note- watch the noodles carefully. They can quickly become too tender and fall apart.


Saute onion in 1 tablespoon oil in large skillet over medium heat.


Once translucent add in ground beef and sausage. Work to break up the meat into small pieces. Cook until heated through. Remove excess fat and oil.


Add marinara sauce, brown sugar, onion, garlic, Italian seasoning, salt and pepper to taste. Stir well.


In a medium bowl add egg, ricotta, shredded mozzarella, oregano, shredded spinach. Mix well.


Place generous helping of marinara meat sauce on bottom of baking dish or cast iron pan. Place sauce evenly on dish. You will use most of the sauce. Leave just enough for placing a spoonful on each shell when filled (about a cup).


Take jumbo shells one at a time and fill with ricotta mixture. Place in baking dish on sauce.


Once baking dish is full, place additional marinara sauce on top of each shell. Sprinkle with shredded mozzarella.


Place in oven for 20-25 minutes.


Remove from heat. For garnish cut fresh basil for topping.