These Air Fryer Mushrooms are super tasty and easy to prepare. Ready in minutes and are delicious ase a side dish or as part of your main meal. You'll love them!
Mushrooms are such a versatile ingredient. They can be used in so many dishes but taste amazingly on their own as well as a side dish.
This easy Air Fryer Mushrooms recipe ensures that all of the flavors are packed into the juicy mushrooms and they are cooked in minutes. You can't go wrong with them.
Many of us can appreciate how great air fryers are and air fryer recipes can make things so much easier during the week.
Air-fried mushrooms are perfect with meat dishes and pasta and is the best way to cook a side dish of mushrooms. You can add them to sauces or just enjoy them as they are.
The Air Fryer makes it much easier to prepare them. Taking a simple ingredient and creating something delicious.
If you like the idea of mushrooms in your meals then you must try the Pork Chops and Mushroom Gravy recipe. You could use this easy air fryer mushroom recipe within the sauce or just enjoy another dish that showcases this tasty ingredient.
Add these Air Fryer Mushrooms to your Thanksgiving meal too, the perfect side dish to add to your table spread.
Why You'll Love These Air Fryer Mushrooms
Simple and easy - A great side dish for so many main meals
Minimal ingredients - Just a few ingredients will make a dish packed full of flavor.
Enjoyed as they are or added to dishes - Very versatile
Full of flavor - The air fryer seals all that juiciness and flavor
Fast - ready in just over 10 minutes
Ingredients Needed
Baby Bella mushrooms
Olive oil
Garlic powder- Always check that your garlic powder is free from allergens. We like to use McCormick Spices.
Black Pepper
Salt- we like kosher salt, but you can use or sea salt
Helpful Tools
Air Fryer
Measuring Cups and Spoons
Mixing Bowl
How To Make Air Fryer Mushrooms
This is the full recipe to make the air fryer mushrooms.
Preheat the Air Fryer to 400F while you prep the mushrooms
Wash the mushrooms and pat them dry.
Slice them in half, the smaller ones can be left whole.
In a mixing bowl, add the olive oil and seasonings. Stir and add the mushrooms to the bowl. Toss to coat them.
Add the mushrooms in a single layer to the Air Fryer basket.
Cook mushrooms for 4 minutes. Shake the basket, cook for an additional 2 minutes.
Remove from Air Fryer, serve and enjoy!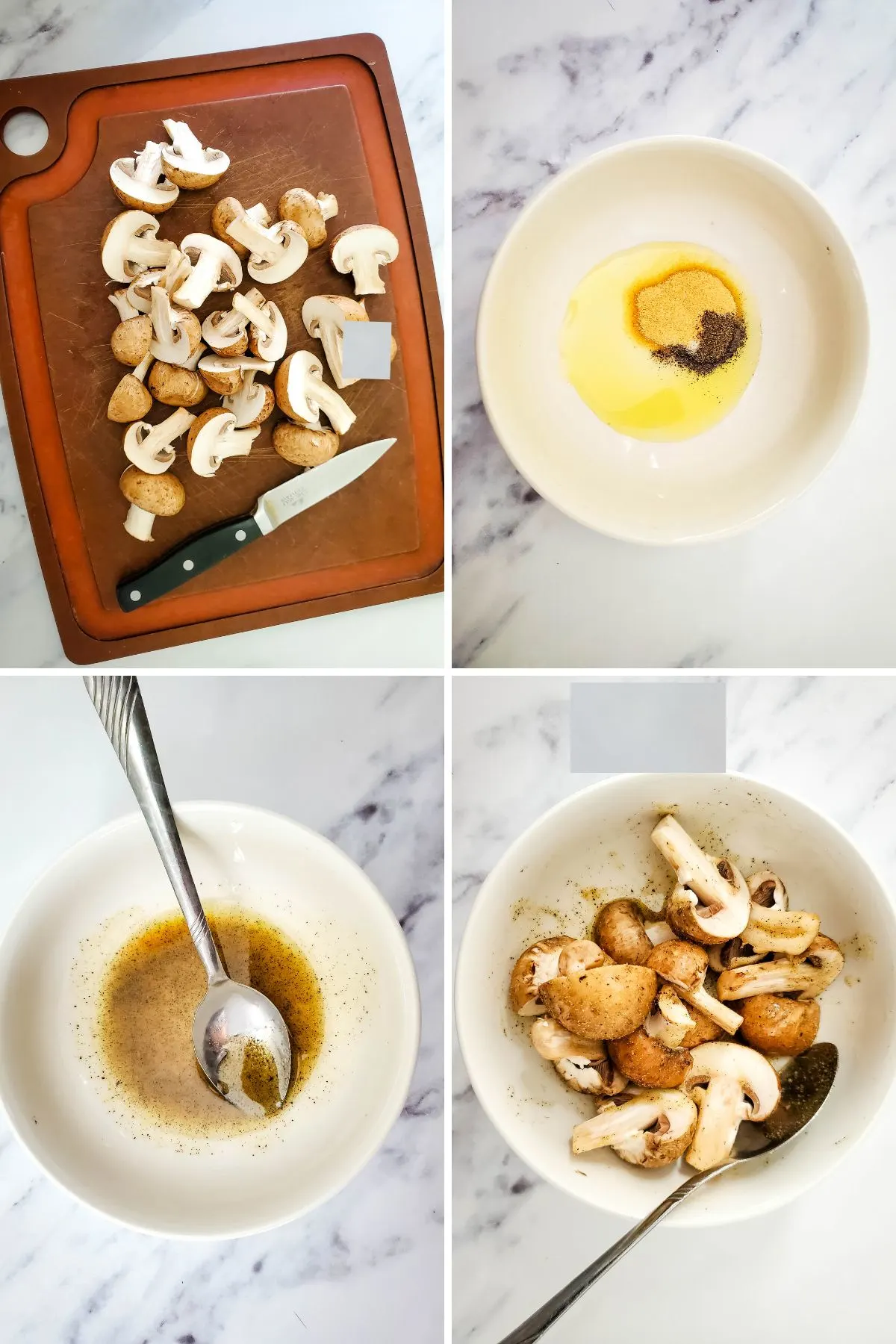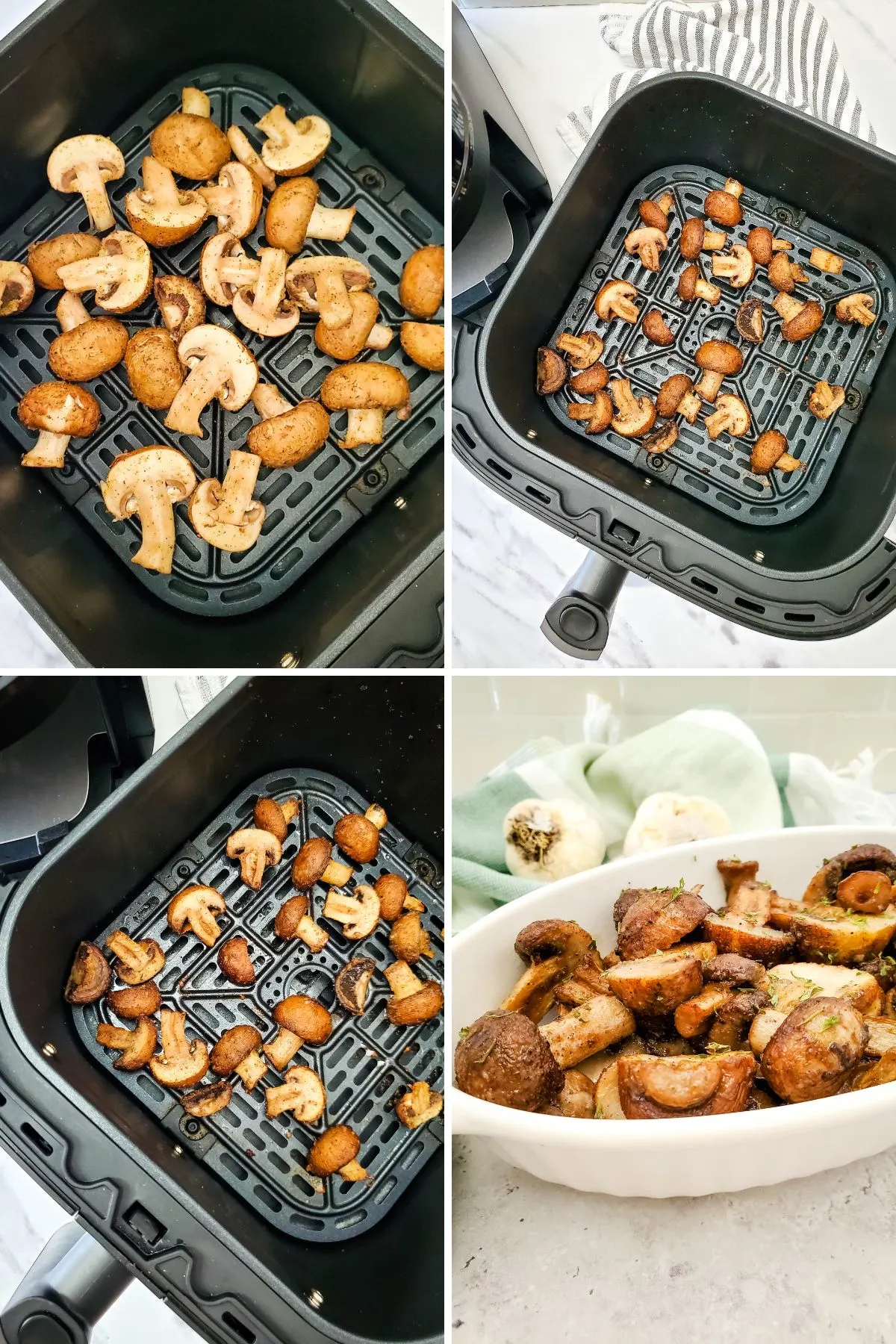 Recipe Variations
Use flavored olive oil. If you want to add to the flavor then you could use flavored olive oil. Chilli is great for a bit of a kick but garlic-infused olive oil can add a different depth of flavor to the mushrooms and works really well. Garlic mushrooms are always going to taste incredible.
What other seasonings can I add? You could sprinkle things like onion powder, soy sauce, fresh parsley, lemon zest, black pepper, and even parmesan cheese to add a different flavor.
Add different vegetables. Mushrooms work well with many different vegetables. This process will work well with bell peppers or zucchini.
What about breaded mushrooms? You could make them in a smaller air fryer. You just need to add some bread crumbs and perhaps coat the mushrooms in some garlic butter. They will be super tasty.
Storage
If you have any leftovers then you can store them in the refrigerator for 3-4 days. They can easily be reheated in the air fryer for a couple of minutes and will taste just as good. You can also freeze them for up to three months. Before storing the air fryer mushrooms they should be left to cool completely.
Tips & Tricks
Make sure you take the time to ensure that the mushrooms are coasted in olive oil and seasonings. This will ensure that the air fryer cooks them evenly.
Shaking the mushrooms after 4 minutes ensures that nothing is sticking to your air fryer basket. You can also check on how the cooking process is going.
FAQ
Could I use different types of fresh mushrooms?
The Air Fryer helps to create crispy mushrooms so you could easily make crispy breaded mushrooms. You can use a different type of mushrooms as well if you wish.
Chestnut mushrooms, portobello mushrooms and larger mushrooms can all work well. This is a recipe that could even turn the mushroom haters into mushroom fans.
What can I serve with these air fryer mushrooms?
These air fryer mushrooms will work well added to pasta sauces or served as a side dish to many different meals.
They are incredible in sauces as well.
So versatile that you can serve them with almost anything. We love them! There are some great options to try.
How long does it take to cook mushrooms?
There are many ways to cook mushrooms. Many people like the idea of oven-roasting them and that can bring out a lovely flavor.
If you do decide to cook them this way then it will take around 20 minutes depending on how big the mushrooms are.
How long does it take to fry mushrooms?
Pan-frying mushrooms in some butter on the stove will take around 4-5 minutes before the mushrooms are cut. If they are left whole it may take a little longer than when they are cut or sliced.
What is the healthiest way to fry mushrooms?
If you use cooking spray, then frying mushrooms in a pan can be quite healthy.
But one of the healthiest ways to do it is using this method with an Air Fryer.
You use minimal oil and the flavor is sealed within the mushrooms. Yum!
Other side dish recipes
Wedge Salad - The crunchy, crisp taste of this loaded Wedge Salad is unbelievable. Perfect for lots of main dishes.
Green bean casserole - The perfect comfort food side dish with homemade creamy mushroom soup, tender green beans, and crispy French fried onions.
Baked potato wedges - These taste delicious. Baked wedges are the perfect side dish for lots of main dishes and will be a staple in your meal plan.
These Air Fryer Mushrooms are perfect for any holiday meal. here are some of our favorite Thanksgiving gluten and dairy free dishes that go great with these mushrooms.
Lastly
Do you need some recipe ideas for the upcoming holidays? Love having all your gluten free and dairy free recipes in one spot? Then you absolutely, must pick up a copy of our ebook cookbook, The Classics.
It's all of your favorite classic recipes made with allergen friendly ingredients (plus a secret recipe you will never find on our site!). This also makes the perfect stocking stuffer for the foodie in your life.
Make sure to follow us on Instagram and Pinterest to keep up with all our new recipes. Tag us if you make the recipe on IG or share your thoughts by commenting on the pin on Pinterest. If you try this recipe, feel free to give it 5 🌟 below
Eat Well and Feel Well
Pin It For Later