If you want something full of flavor then this Cinnamon Spice Glaze is perfect for lots of dairy-free and gluten-free recipes. It is a sugar glaze that will instantly add flavor. You have to try it!
We all love the idea of adding different flavors especially when we are baking and making gorgeous creations like gluten-free homemade cinnamon rolls or our incredible Pumpkin Spice Muffins.
This is where we have the perfect glaze or your dessert recipe.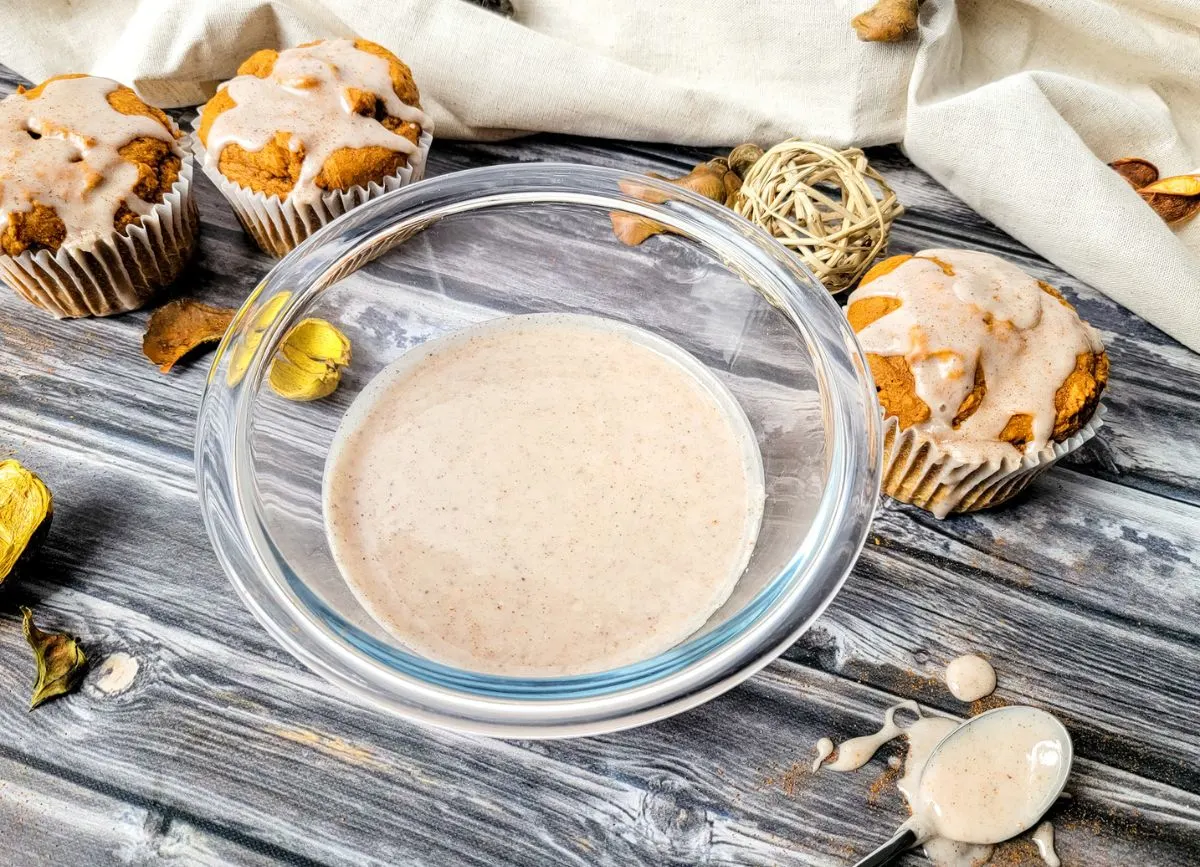 The combination of the cinnamon with the pumpkin spice just screams fall and is a flavor combination that will work in so many different recipes.
Whether it is sweet baking or savory dishes, you will find so many uses for your powdered sugar glaze.
If you like the sound of this cinnamon spice glaze then they will work perfectly with these Yeast Free Cinnamon Rolls or this amazing Pumpkin Chocolate Chip Bread.
A great glaze to elevate an already incredibly tasty dessert.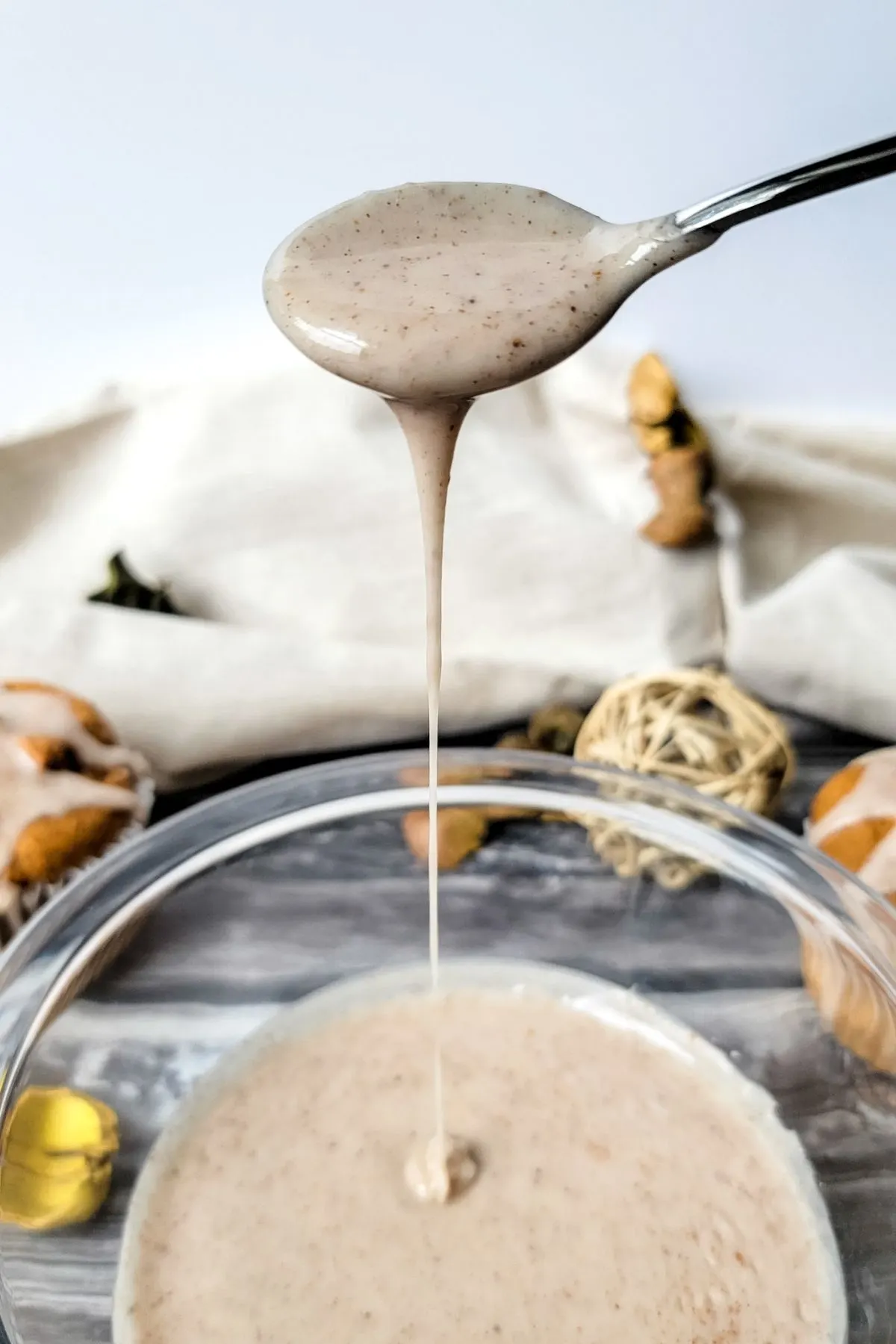 💜 Why You'll Love This Cinnamon Spice Glaze recipe
Easy to make - Very simple to prepare and in only just a few minutes
Tastes amazing - Will work with so many recipes, we even shared a few of our favorites to add this to below
Simple ingredients - You will likely have everything you need to make this smooth glaze
Gluten and dairy free - You wouldn't even know that this is allergen friendly!
Ingredients Needed
Powdered sugar
Dairy free milk-- we use refrigerated unsweetened almond milk but you can use any milk option you prefer or have on hand
Ground Cinnamon
Pumpkin spice
Nutmeg
Helpful Tools
Mixing bowl
Whisk
Measuring cups and spoons
🥣 How To Make The Cinnamon Spice Glaze
This is the full recipe to make your very own Cinnamon Spice glaze.
Sift the powdered sugar into a medium bowl or a large bowl if you are doubling up the quantity.
Add the cinnamon, pumpkin spice, and nutmeg, then whisk those dry ingredients together. You could use an electric mixer for this if desired.
Add the dairy free milk and whisk until smooth.
Recipe Variations
Want to try different milk? If you want to try some different flavors then there are some great dairy-free options out there. Any plant based milk, Coconut milk, and almond milk would work well.
Make cinnamon sugar instead. If you want dry sugar then you can omit the milk and use granulated sugar instead of powdered sugar to make tasty cinnamon sugar.
What other flavors will work? Why not add a bit of real maple syrup to your glaze? It will turn it into an incredible maple cinnamon glaze.
You could also add pure vanilla extract to give it a sweeter taste. A teaspoon of vanilla could make all the difference.
Tips & Tricks
Make sure you whisk all of the ingredients together to ensure they are combined.
Double up the quantities to make a bigger batch.
A stand mixer or electric whisk will make light work of the whisking to make this sugar icing.
Always check your spices and other ingredients to ensure that they're gluten and dairy free as some spice manufacturers have been adding gluten or dairy to their spices.
Feel free to omit the pumpkin spice and use something else in its place if desired, or just omit it entirely so you can use this glaze all year round.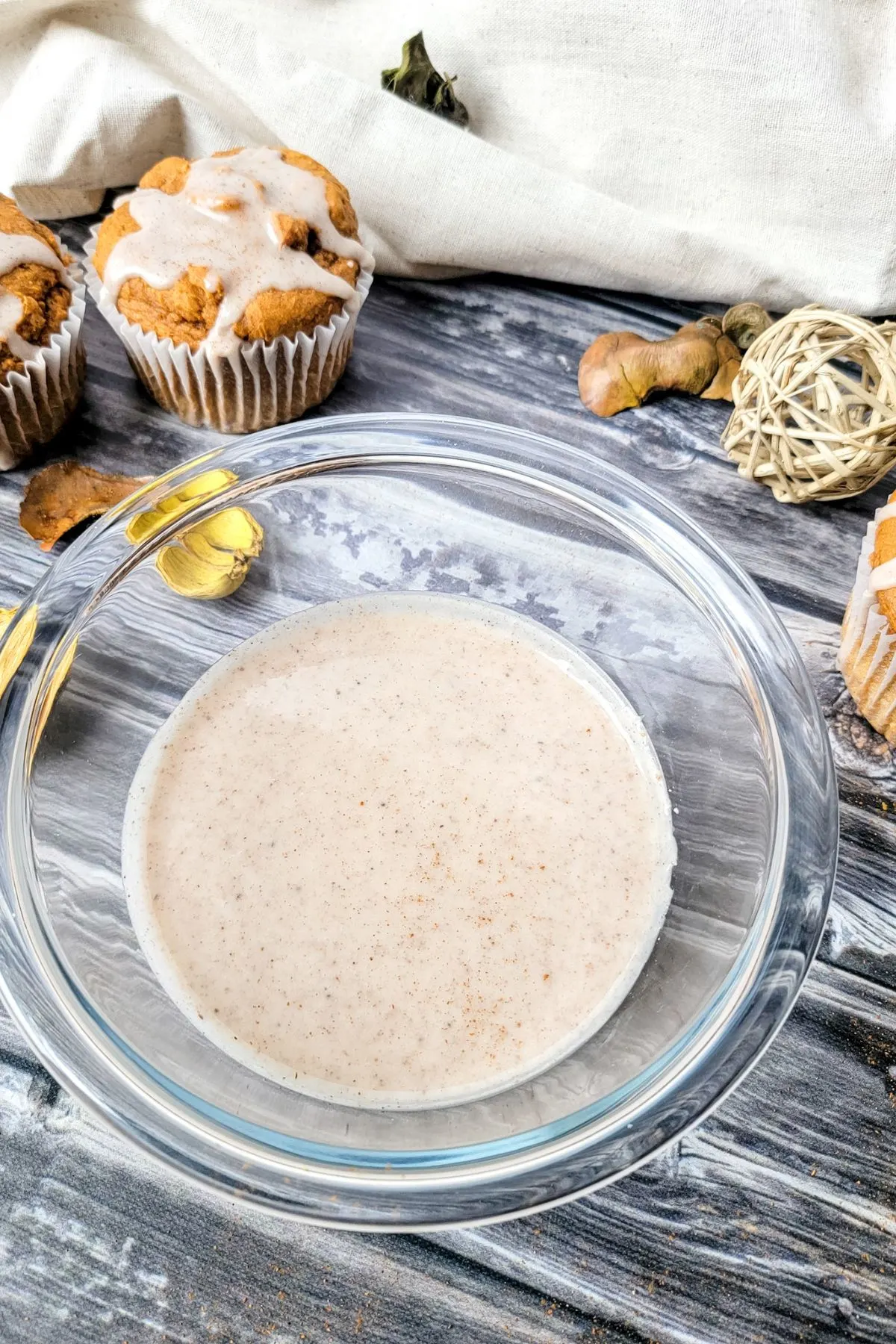 Storage
To store the glaze you can do so in the refrigerator for 3-4 days in an airtight container.
Before you use the cinnamon glaze make sure you give it a good whisk to combine all of the ingredients together.
You can try to freeze this glaze. It may separate when thawed, so be sure to stir it up before using it again. We prefer to just make a fresh batch instead of freezing it.
What can I use the Cinnamon Spice glaze for?
There are so many ways that you can use this delicious cinnamon glaze. One of the obvious options would be cinnamon roll icing.
You could also make a bundt cake and drizzle the glaze over the top to give it that fall vibe.
Other suggestions would be in a gooey cinnamon roll, coffee cakes, mixed in pumpkin puree, or even in cuisines like Mexican recipes, Spanish recipes, and so on.
The list goes on but you will find tons of uses for this glaze. You can find some incredible gluten-free and dairy-free healthy recipes to add this to.
Here are some of our favorite recipes to add it to: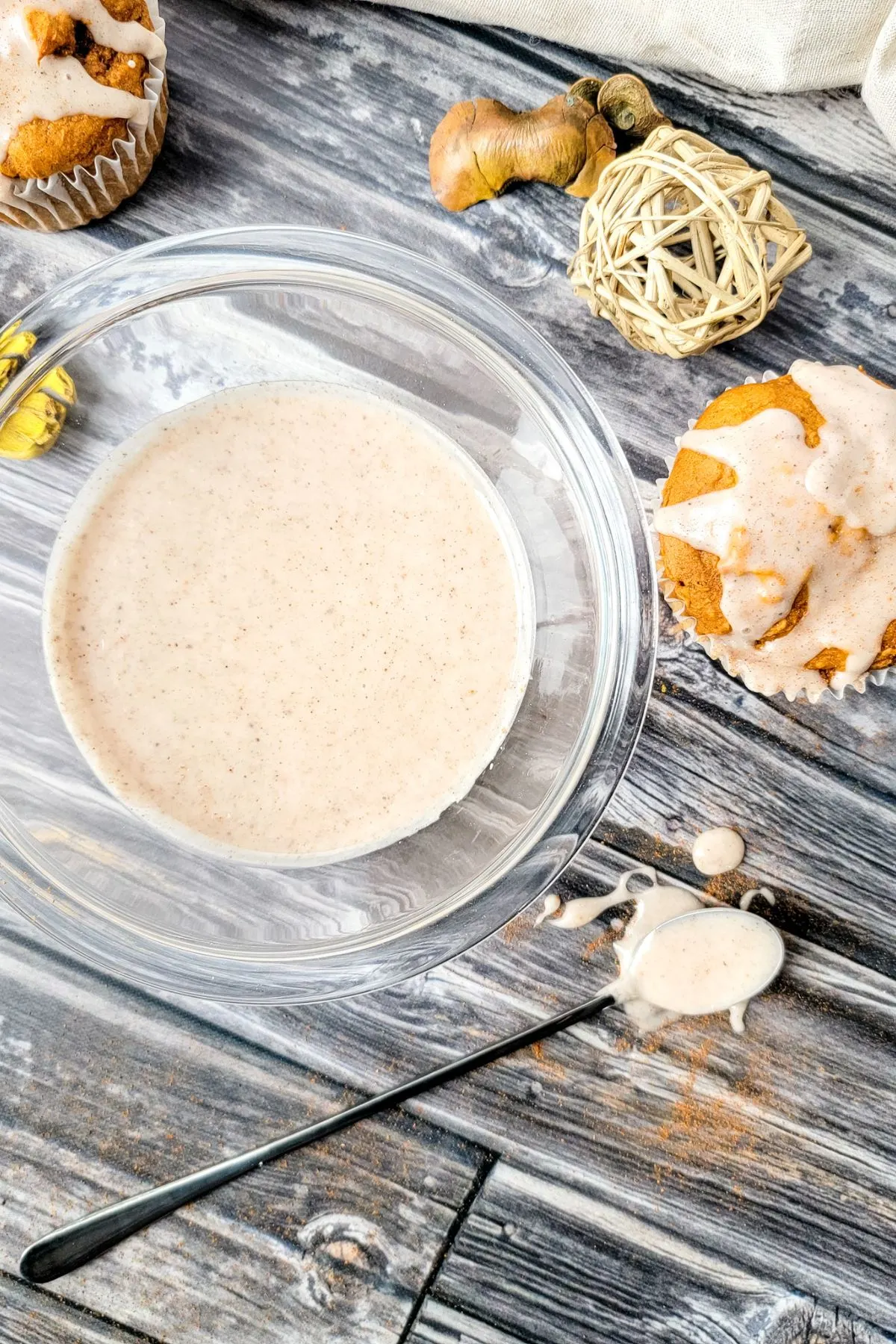 What makes this cinnamon spice glaze great?
This is perfect because it is dairy free and so versatile that it can be used in a variety of baking or savory dishes.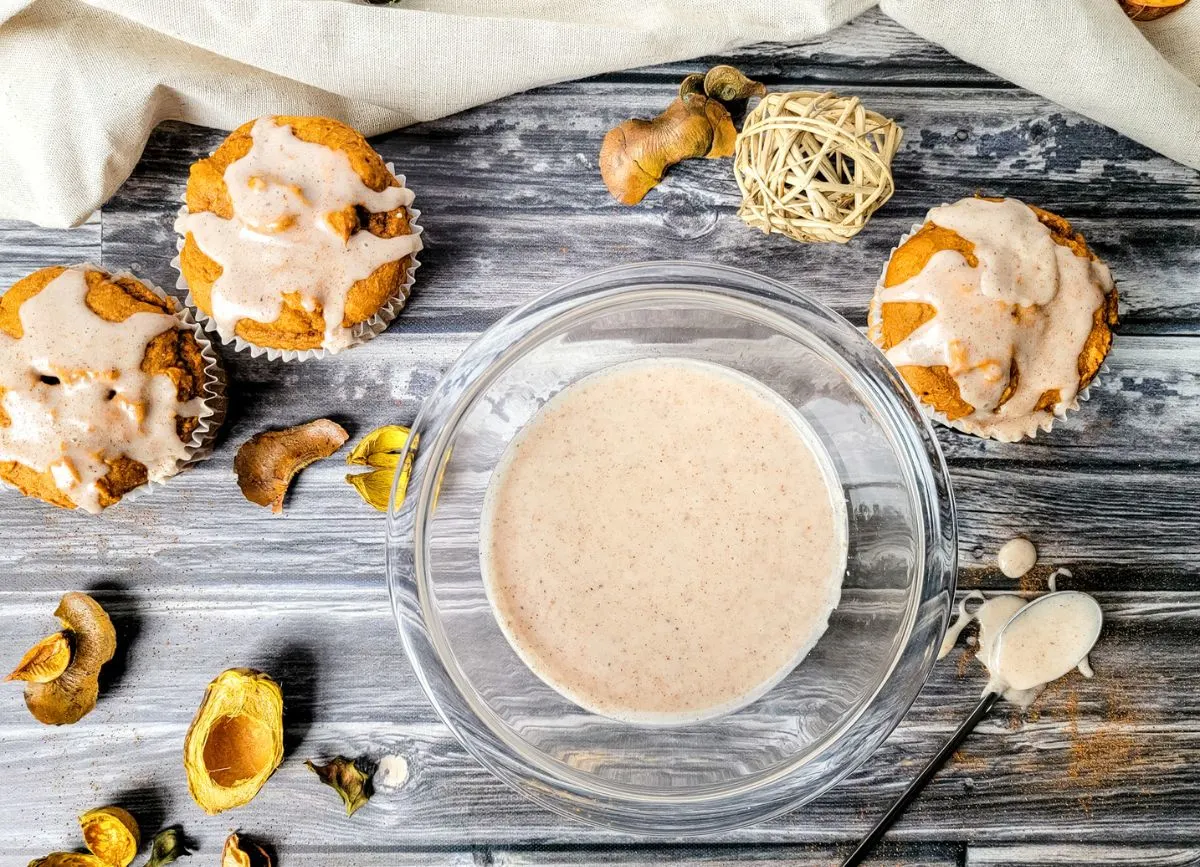 Other Cinnamon Recipes
Apple Crumble Cinnamon Rolls - These warm Apple Crumble Cinnamon Rolls are breakfast comfort food at its absolute finest.
Pumpkin Cinnamon Sugar Donuts - They are incredibly soft and moist on the inside, with a sweet crunchy cinnamon sugar coating on the outside. The pumpkin flavor of these donuts is absolutely incredible.
Cinnamon Swirl Waffles - Warm, sweet Cinnamon Swirl Waffles with a mouthwatering cream cheese topping for the ultimate breakfast win.
Need more easy gluten and dairy free recipes at your fingertips? Make sure to grab our ebook cookbook, The Classics. It's all your favorite classic recipes made with gluten and dairy free ingredients.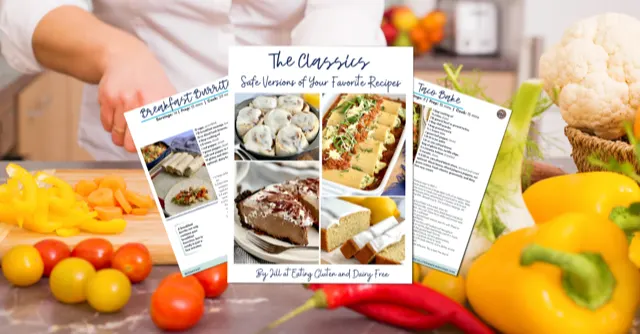 It gets delivered straight to your inbox so you can use it as a digital cookbook, or print it out to have a physical copy. It's the perfect stocking stuffer too!
Make sure to follow us on Instagram and Pinterest to keep up with all our new recipes. Tag us if you make the recipe on IG or share your thoughts by commenting on the pin on Pinterest. If you try this recipe, feel free to give it 5 🌟 below
Eat Well and Feel Well
Pin It For Later