Who else agrees deep fried apple fritters are a classic dessert?
Growing up, my fall wasn't complete until I'd had at least one… or two fritters. Strolling through fall art festivals in North Carolina was best enjoyed with a warm cup of apple cider and a deep fried apple fritter. I could browse and shop for hours with those in hand.
Recently I even whipped up a batch of these as part of our Easter morning breakfast. They were absolutely delicious.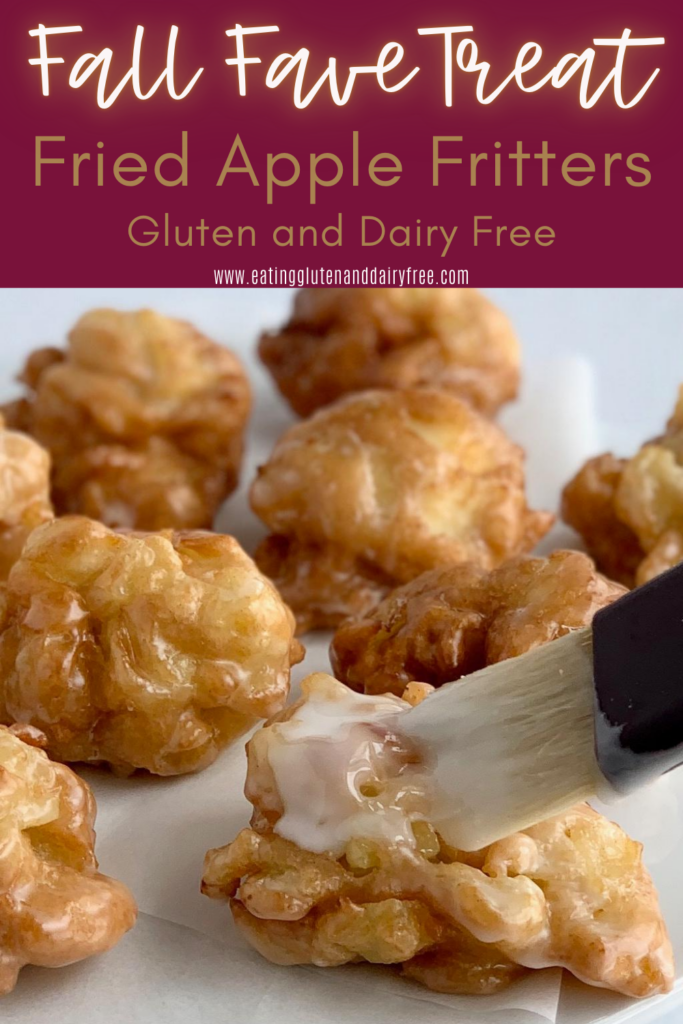 Honestly, nothing beats fresh apple chunks in a light, doughy cinnamon sugar ball, deep fried and glazed. Seriously, y'all, I can eat these right out of the skillet even without glaze How about you?
And if deep frying is new to you or you've had bad experiences before, keeping reading. Below I give you tips and utensil suggestions for making this recipe an enjoyable experience. The first time I deep fried these fritters I couldn't believe how easy it really was. I didn't need to purchase a special deep fryer or other fancy equipment. Wouldn't you know, I had all the utensils I needed on hand.
apple fritter recipe notes
Using a deep fryer thermometer in this recipe is a must. For the best fritters have your oil at 375 F. If you don't have one, I found one I like on Amazon. Check it out here. I use my thermometer often with other recipes for candy or even gluten and dairy free deep fried chicken.
A large slotted spoon (like this one) seems to be the safest and easiest way to turn and remove the fritters from the oil onto a cooling rack.
This recipe will go more smoothly by using an ice scream scoop with a trigger to release the batter into the hot oil. This one is perfect.
Lastly keep in mind this oil is hot! No multitasking while these are frying. Surprisingly these apple fritters fry up fairly quickly too.
Once your used oil has cooled, store it in a container to reuse for the next batch.
And this recipe will made 6 large fritters or 12 small fritters.
Lastly these deep fried apple fritters can also be enjoyed with a dusting of powdered sugar instead of glaze.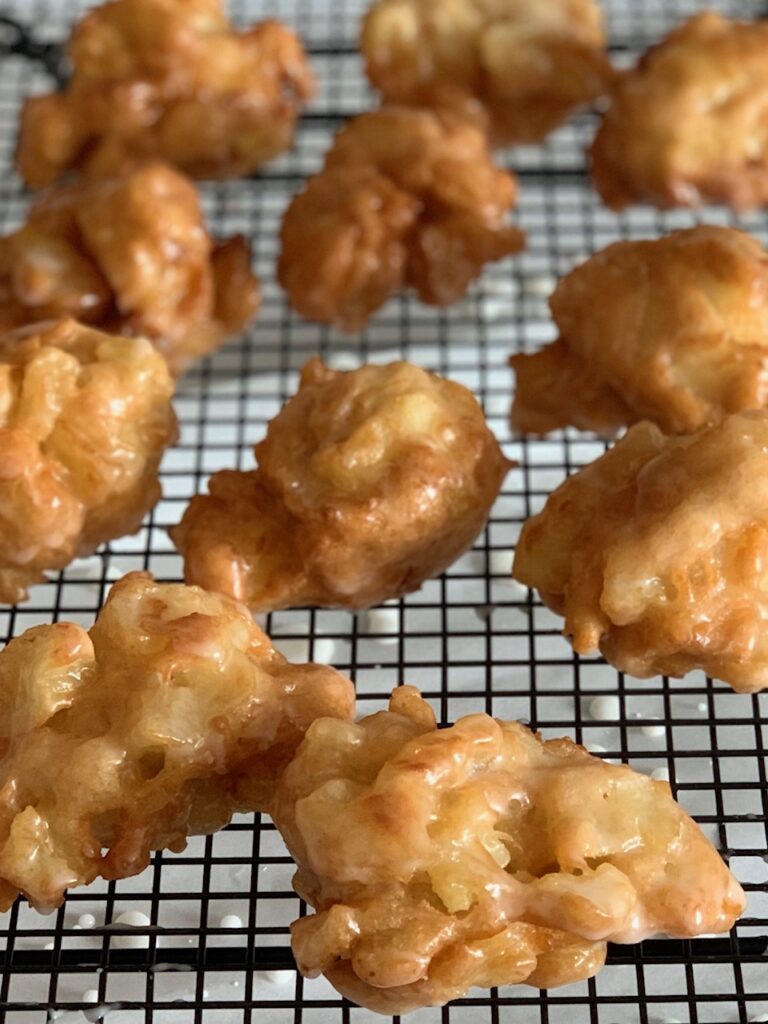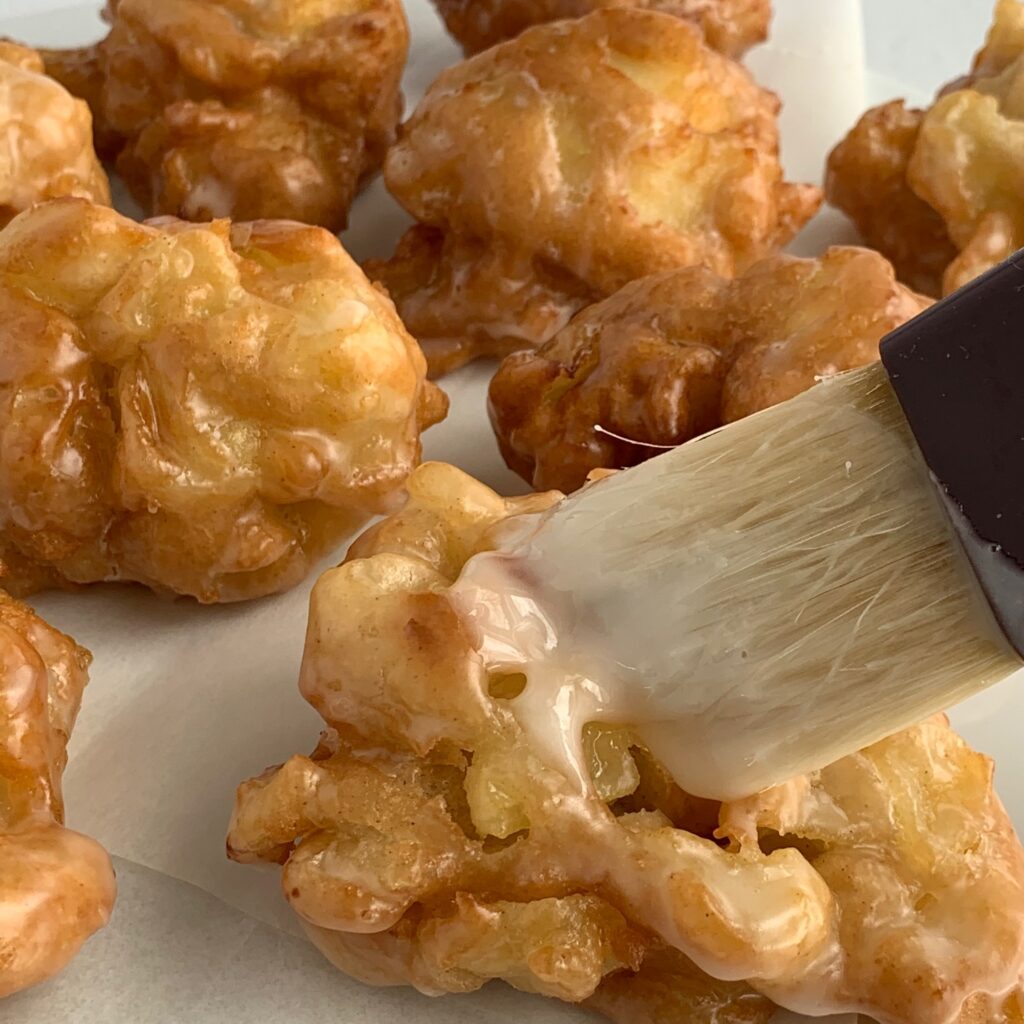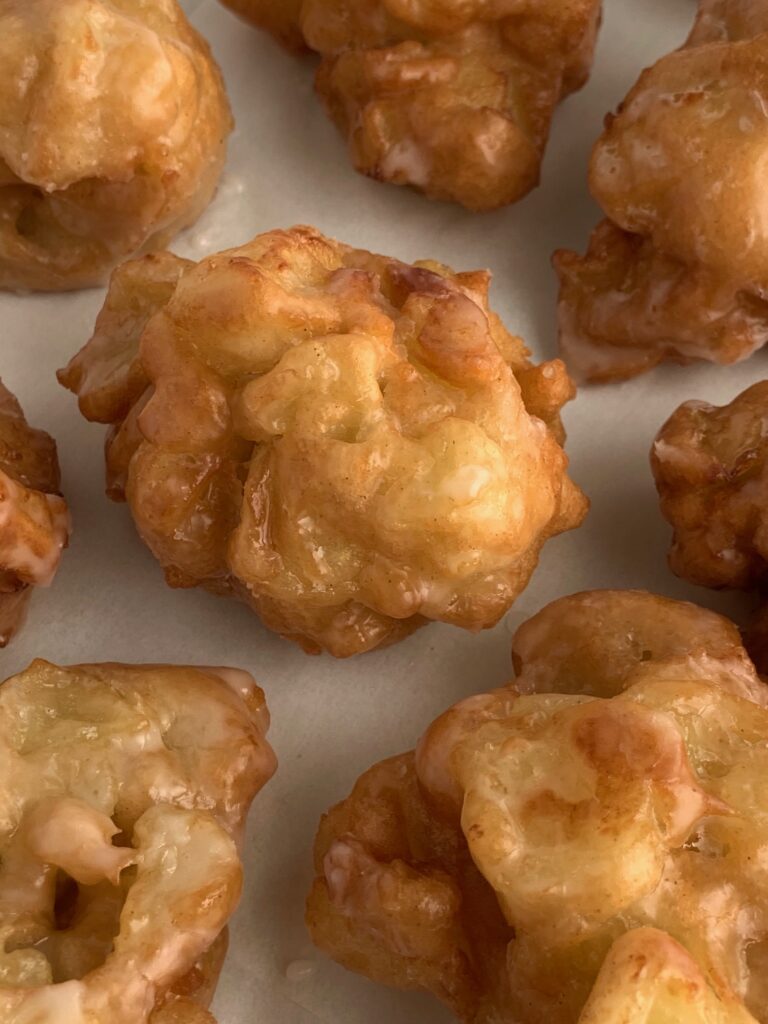 Undoubtedly, you will love these apple fritters. Head to the store now for Granny Smith apples and apple cider. Enjoy the best part of fall!
more gluten and dairy free recipes you'll love
lastly
I look forward to hearing how well you enjoyed these deep fried apple fritters. Please share in the comments if this recipe was helpful
Additionally, I was inspired to create this gluten and dairy free recipe from The Grateful Girl Cooks. She has an Amish apple fritter recipe found here I thought looked delicious, but needed both gluten and dairy substitutes.
Lastly, you'll also want to follow me on Pinterest, Facebook, and Instagram.
Whether you're brand new to eating gluten and dairy free or a seasoned "free from" pro, I'm often offering tips, new product info, and recipes to inspire.
We don't want you to miss out on the best of eating gluten and dairy free.
Eat well and feel well,
Jill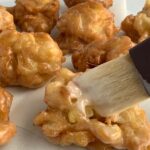 Print Recipe
Deep Fried Apple Fritters
Ingredients
For the Fritters:
2

eggs

2

tbsp

sugar

1

c

gluten free all-purpose flour

Bob's Red Mill GF 1 to 1 Baking Mix or Mama's Almond Blend work great

1/2

tsp

xanthan gum (omit if the all-purpose flour has this)

omit if GF all purpose blend contains this or guar gum

2

tsp

baking powder

1/2

tsp

cinnamon

1/2

tsp

salt

1/4

c

dairy free milk, unsweetened almond milk works well

2

tsp

fresh lemon juice

3

c

Granny Smith apples, peeled, cored and chopped

several cups of vegetable oil for frying
For Glaze:
1 1/4

c

powdered sugar

1/4

tsp

vanilla extract

3-4

tsp

warm water
Instructions
Place vegetable oil in a large skillet with high sides. Heat on medium to high heat until a thermometer reaches 375°F. This is the most important part of this recipe. A thermometer is a must.

While the oil heats, cream eggs and sugar in a large bowl for 1-2 minutes.

Add in flour, xanthan gum, baking powder, cinnamon, salt, and milk. Mix well.

In separate bowl, combine the chopped apples and lemon juice. Add this to the dry batter and stir well.

Once the oil is heated use an ice cream scoop to scoop out the apple fritter batter and safely drop into the hot oil with the scoop trigger.

When the fritters turn brown, use a large slotted spoon to carefully flip. Brown on the other side.

Use a slotted spoon to remove apple fritters and place on paper towels. Allow them to drain and slightly cool while you make the glaze.

For the glaze: in a small bowl mix together the powdered sugar, vanilla, and water.

Use a pastry brush to paint the glaze over all sides of each apple fritter and place on a cooling rack. Let sit for a few minutes and serve warm. These are best eaten the same day they are fried.

Optional: Sprinkle apple fritters with powdered sugar instead of glaze.
Keep scrolling to sign up for our exclusive emails.