This rich, creamy, and fluffy Buttercream Frosting is so good you'll want to eat it straight out of the bowl. And with just a few ingredients it's perfect for icing cakes, cupcakes, brownies, sugar cookies, graham crackers and more. This will be your new frosting recipe for life.
Can you believe we worked for 11 years to perfect this dairy free buttercream frosting? We must have tried over a dozen different frosting recipes.
And wouldn't you know the recipe of our dreams was under my nose the whole time!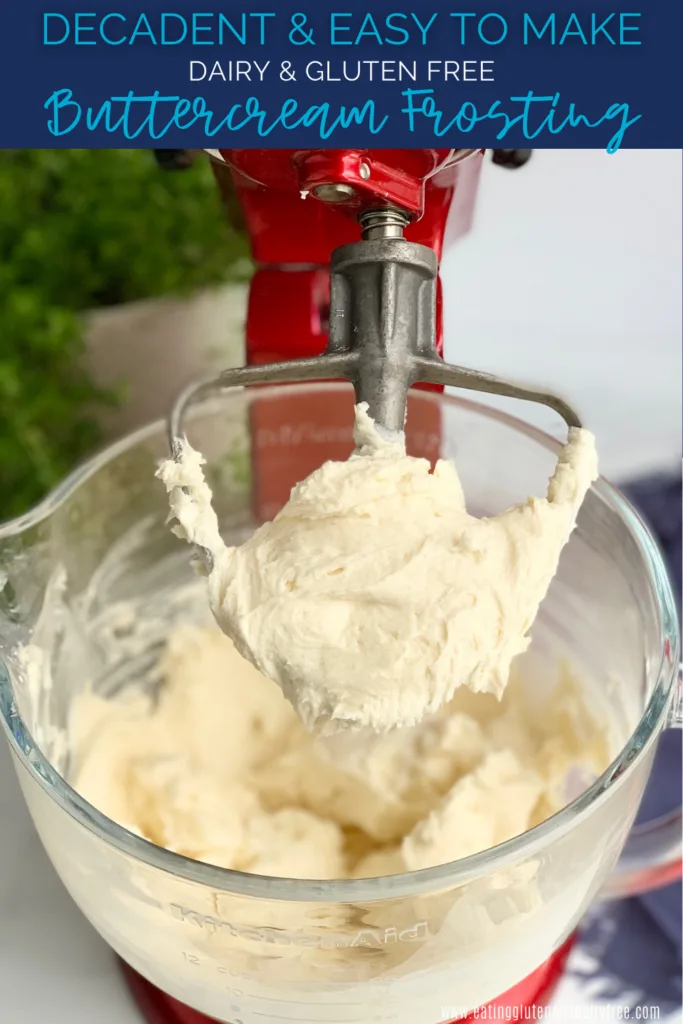 While I've never taken a cake decorating class, I spent years watching my mom bake and decorate cakes as a teenager. My mother is an incredible cake baker and decorator.
It would not be an exaggeration to suggest my second home growing up was the local Wilton Cake Supply Store.
So it comes as no surprise a pastime of mine is to explore the Wilton Cake Decorating website for cake theme ideas.
Out of the blue, I recently wondered what the ingredients were in their famous buttercream frosting recipe. The Wilton recipe seemed simple enough, but I was most concerned with taste after substituting dairy free ingredients. Sometimes dairy free butter tastes great as a substitute, but sometimes it's downright horrible.
And to my surprise, the dairy free substitutes didn't change the frosting taste, texture, or consistency. It tastes rich, luxurious, and decadent-- just like traditional buttercream frosting.
As a matter of fact... I took one spoonful of frosting and knew I'd found my newest food love. I shared some with my kids and they begged for more.
Let's just say my allergen safe frosting recipe has transformed our birthday celebrations for ages to come.
Most people won't even guess this is an allergen friendly recipe it tastes so much like traditional frosting.
This frosting recipe is perfect for piping, spreading, filling, decorating, and anything else you can think of.
And surprisingly this recipe is perfect for any skill level. Beginners and master cake decorators can ice the perfect cake with this recipe.
buttercream frosting ingredients + notes
shortening- we prefer to use palm shortening
clear vanilla extract-- this can be hard to find this locally. Clear vanilla extract can be purchased here or use this McCormick brand traditional vanilla extract if you're not looking for a pure white colored frosting.
dairy free butter-- we use Earth Balance Soy Free Buttery Sticks that are soy and vegan too. We haven't tried this recipe with other dairy free butter substitutes.
dairy free milk-- we use this unsweetened almond milk
confectioners' sugar-- or powdered sugar
standard three layer six-inch cake-- triple the buttercream frosting recipe for this size of cake. This provides plenty of icing for piping in between each layer, frosting the sides and top, plus any extra piping along the bottom or top of the cake.
disposable bags-- found here are amazing
angled icing spatula-- this is our most useful kitchen gadget. I can't imagine frosting cakes without. Tip... warm this under hot water and towel dry just before spreading your icing for a smoother look.
round turntable-- if you'll be icing cakes for years to come. I wish I'd bought mine years before I finally did. Not only do my cakes look better, but I save so much time icing cakes with it.
measuring spoons- you always need a nice set of measuring spoons to use in the kitchen.
sprinkles-- fun, safe sprinkles can be tricky to find. We stumbled upon Sweets Indeed sprinkles and haven't looked back. We use them for all our recipes. You'll find they have the coolest seasonal sprinkles and everyday themes. They can be purchased from their website or Amazon.
can I use powdered sugar in place of confectioners' sugar?
Yes-- confectioners' sugar and powdered sugar are the same thing.
what is buttercream frosting good for?
This frosting recipe is perfect for piping, spreading, filling, decorating, and anything else you can think of.
The frosting is quite versatile and can be used for so many uses in baking and is quite delicious on cakes and other various baking recipes.
One of our favorite things to do with this gluten free and dairy free buttercream frosting is to bake a batch of these fudgy brownie cookies and whip up some of this frosting and sandwich it right in between two cookies to make the most decadent fudgy brownie cookie sandwich.
You have gotta check that recipe out!
what's the difference between buttercream frosting and buttercream icing?
While many people use the terms icing and frosting interchangeably, there's actually a difference.
Frosting is made with a cream base and icing is made with a sugar base. They will both contain sugar as an ingredient however.
You'll also find that buttercream frosting is made with butter (or in our case, dairy free butter) and will give it more of a butter like taste versus the sugary taste you get from the buttercream frosting.
In general, frosting is usually thicker and fluffier, while icing is usually thinner and has a glossy texture.
what are the 3 types of buttercream?
There are 3 common types of buttercream. They are American buttercream, Italian Meringue and Swiss Meringue.
This recipe would be considered an American Buttercream, which is generally the most common type used in non-professional kitchens.
do you have to be a professional baker to make dairy free buttercream frosting?
No way!! And surprisingly this recipe is perfect for any skill level. Beginners and master cake decorators can ice the perfect cake with this recipe.
how do you store buttercream?
If you are going to make your frosting ahead of time, before you're ready to use it, you should store your buttercream frosting covered and in the refrigerator up to a week.
Keep in mind that it will firm up while in the fridge and you'll need to give it time to come to room temperature before using or trying to pipe with it.
how do you serve buttercream?
For optimal taste, you should always serve and enjoy this buttercream frosting at room temperature on your baked goods.
Taking a bite of cold buttercream will leave a gross, greasy feeling in your mouth due to the high fat content and may not taste as good as it would when room temp.
perfect cake themes for your next birthday party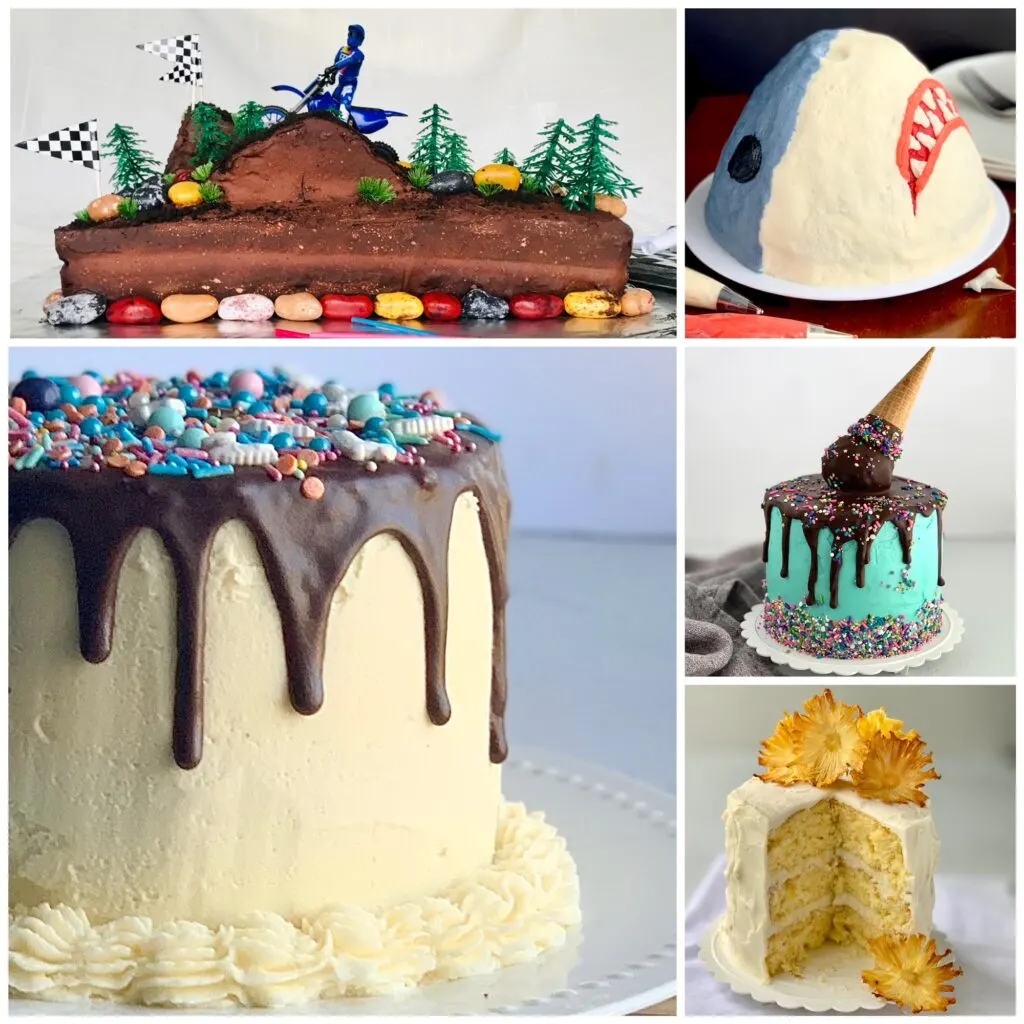 more dessert ideas for the birthday party
heart-shaped peanut butter cookies-- these are an instant hit at any party with their fun heart-shape and delicious flavor
brownie cookie sandwiches-- brownies are fun to have on the birthday dessert table too. This recipes takes them to the next level as a brownie cookie with buttercream frosting in the middle. Every cookie sandwich is the perfect bite.
classic apple crisp-- this classic recipe is always a hit. You'll enjoy this recipe's doubled topping taste
lastly
Enjoy this rich and allergen friendly buttercream frosting. This is our go-to frosting for any cake theme, cupcakes, Christmas sugar cookies, and even smothered over brownies.
Let me know in the comments how you enjoyed this frosting or if you have questions.
And if you're looking for a delicious dairy free cream cheese frosting-- check out this cream cheese frosting recipe. You can easily half it for frosting smaller baked goods like pumpkin bread.
You will also find these roundup gems The Best Halloween Candy, Easter Basket Treat Ideas, and the best Valentine's Day Food roundup.
Print Recipe
Buttercream Frosting
Ingredients
½

c

shortening

suggestion in post

½

c

dairy free butter, softened not melted

suggestion in post

1

teaspoon

clear vanilla extract

4

c

sifted confectioners' sugar

3-4

tablespoon

dairy free milk

water will also work
Instructions
In a large bowl, cream shortening and butter with an electric hand held or stand mixer until light and fluffy.

Add vanilla and mix well.

Add confectioners' sugar 1 cup at a time. Mix on low. Scrape down sides of mixing bowl often.

Add in dairy free milk 1 tablespoon at a time. Add in more for your desired consistency.

Store frosting covered in the refrigerator up to 1 week. Allow to soften to room temperature before frosting your baked goods.
Video
Notes
note- buttercream may be stored refrigerated in an airtight container for two weeks. Before using buttercream allow it to rest until room temperature and re-whip before icing.
Make sure to follow us on Instagram and Pinterest to keep up with all our new recipes. Tag us if you make the recipe on IG or share your thoughts by commenting on the pin on Pinterest. If you try this recipe, feel free to give it 5 🌟 below
Eat Well and Feel Well
Pin It For Later