If you're a huge fan of all things pineapple, then this is a must-bake Pineapple Cake.
Interestingly, I've been looking to recreate the pineapple wedding cake from my destination wedding in Mexico over 11 years ago.
So when I finally put the right ingredients together, I couldn't wait enjoy slice of this homemade Pineapple Cake.
And the 11 year wait was worth it because this cake is heavenly. You'll find there is refreshing pineapple flavor and small pineapple chunks in every bite.
The cake itself is unbelievably moist and showcases a gorgeous light yellow color. This cake is a must try.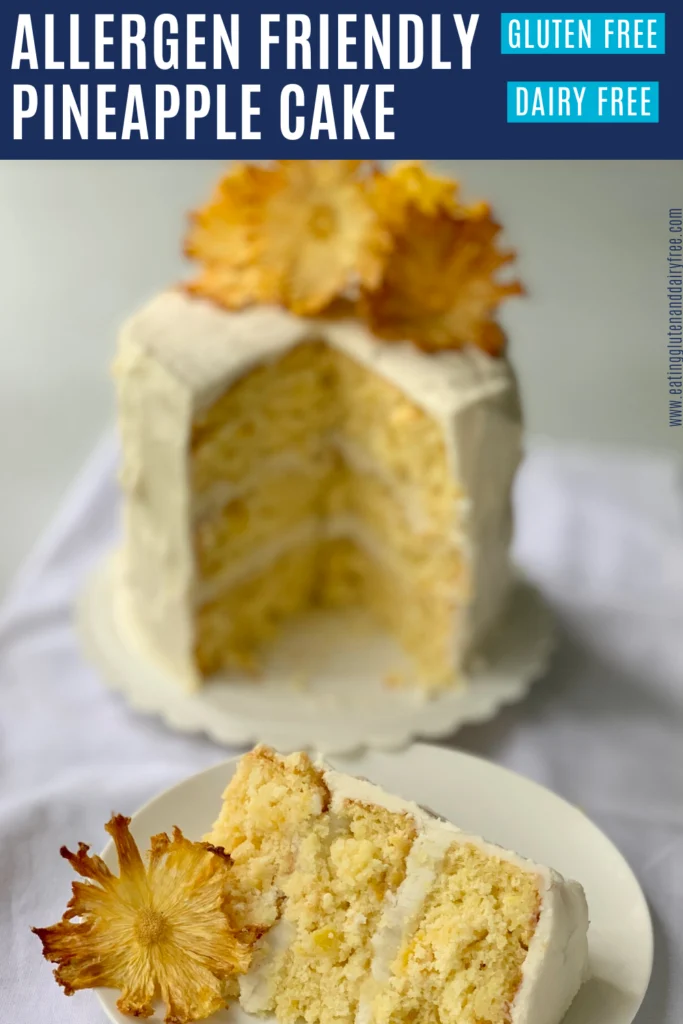 When decorating your own pineapple cake, you can keep it simple as shown or add gorgeous piping and a border.
I chose to keep it simple and allow the homemade pineapple flowers to take center stage. Below you will find a video link for this easy pineapple flower design that definitely ups the wow factor of this cake.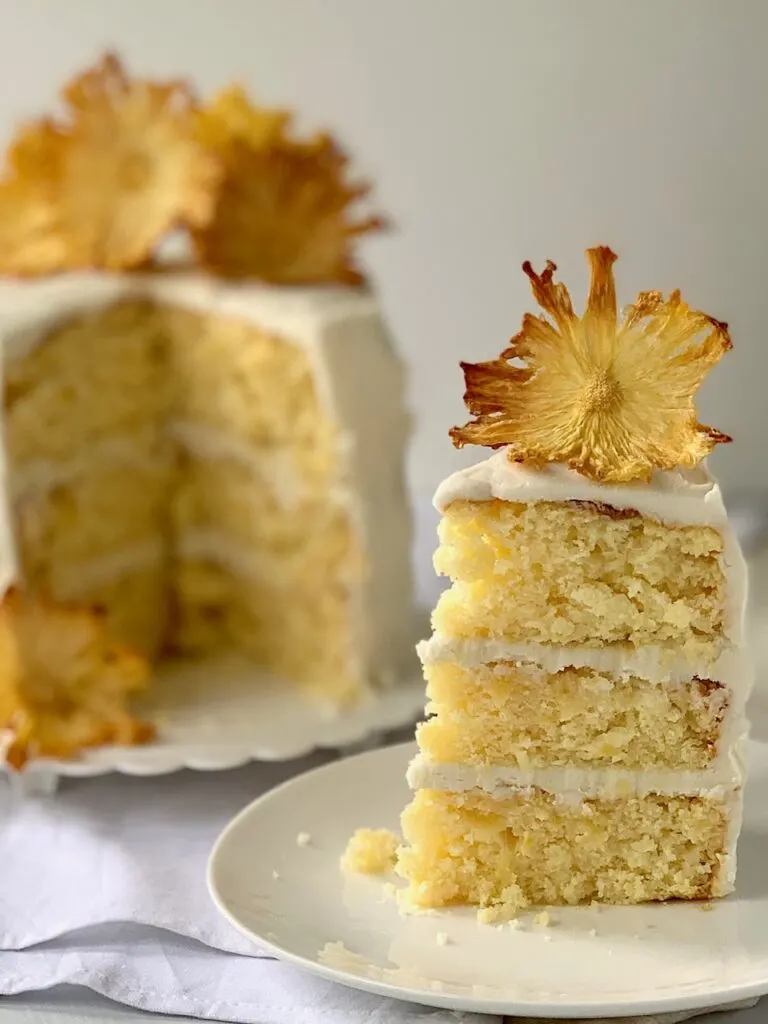 pineapple cake recipe notes
box cake mix-- use your favorite go-to vanilla cake mix. My favorite is King Arthur GF Vanilla Cake Mix. Other cake mixes should bake similarly; however I've only ever tried this recipe with the King Arthur brand. Baking times might be slightly different among brands.
crushed pineapple-- I would recommend canned pineapple over fresh for this recipe. Fresh has a different ration of juice to fruit and does not work as well.
vanilla buttercream frosting-- this is my go-to recipe for buttercream frosting. I frequently use it for birthday cakes and the filling in my brownie cookie sandwiches. You could also use a safe-to-you store-bought brand.
dried pineapple flowers-- you'll find several Pinterest posts for this technique. I followed the instructions from Sugar Geek Show.
round cake pans-- 6 or 8 inch pans are easy to use with this layered cake recipe. Pictured is 3 six-inch stacked cakes.
piping & icing bags-- I use these clear, disposable piping bags
icing tips-- for piping frosting between the cake layers I use a 1A tip
angled icing spatula-- this is a great kitchen gadget investment. I use mine several times a week. Click here to view. This was used to frost the top and sides of the cake.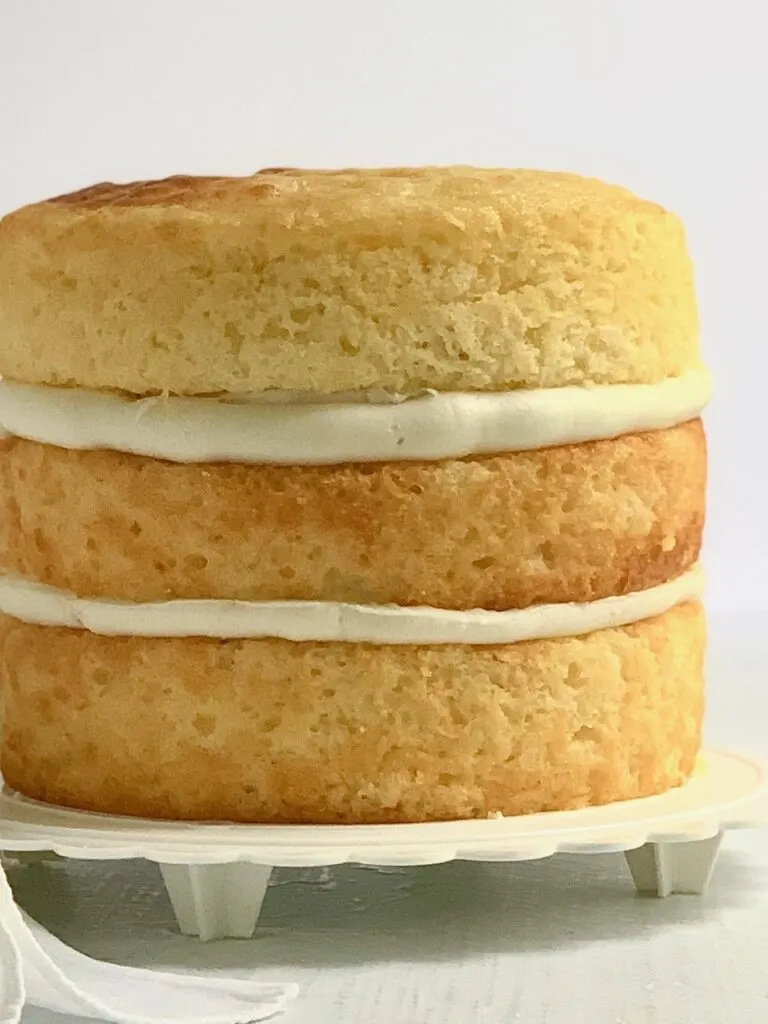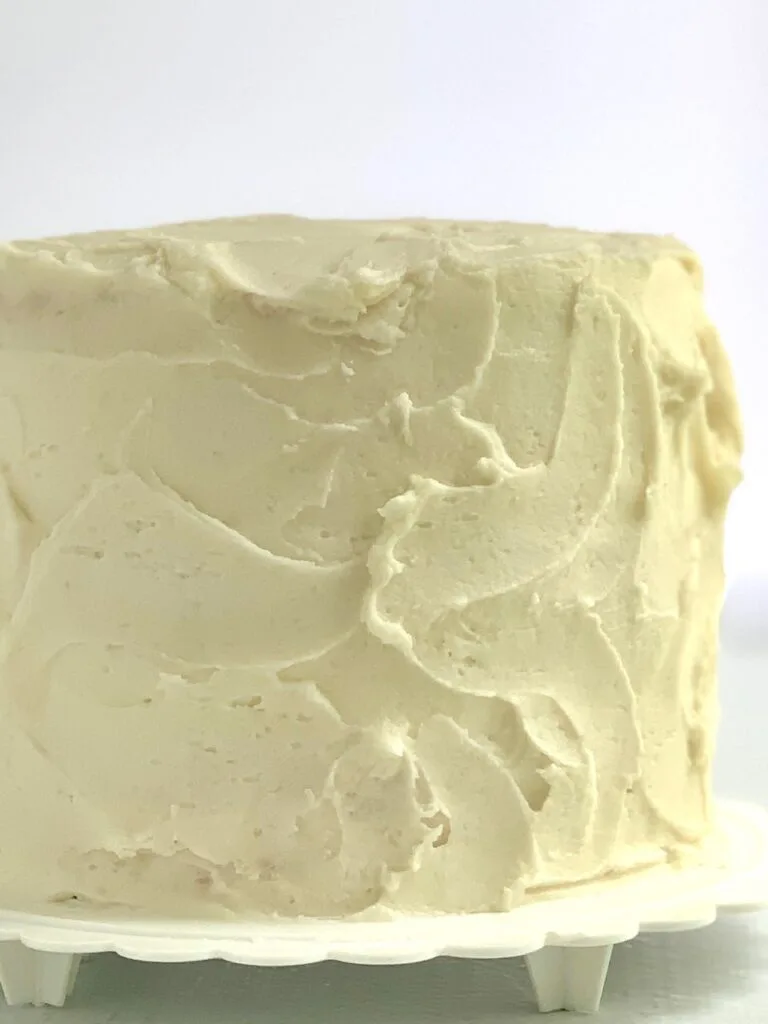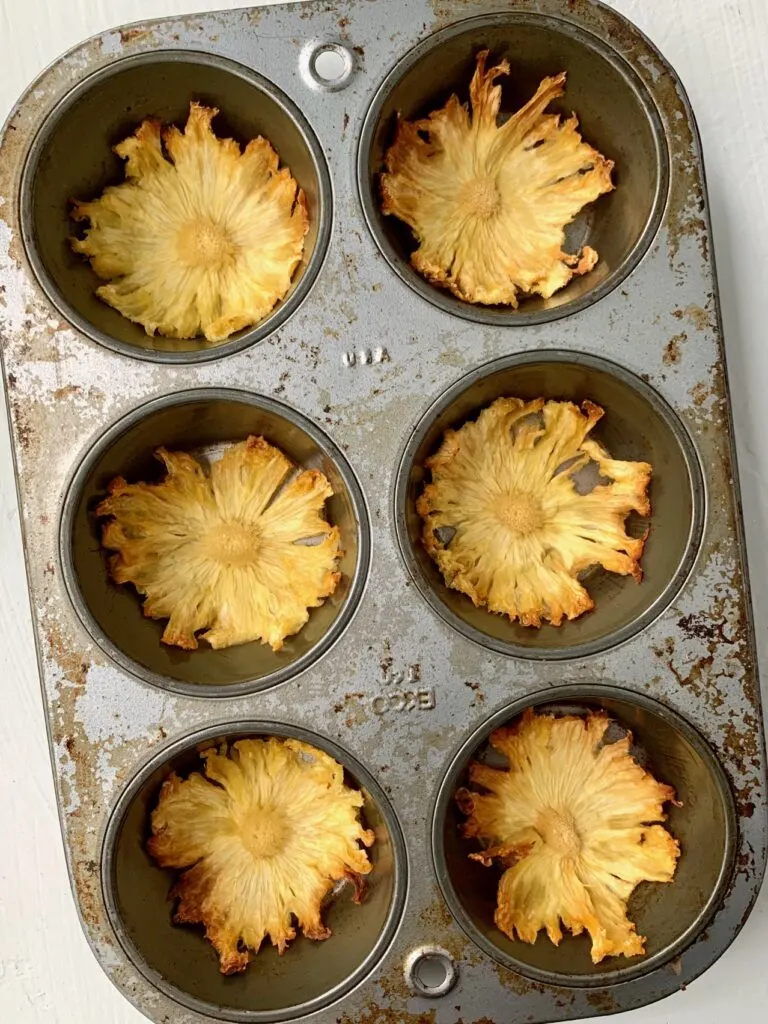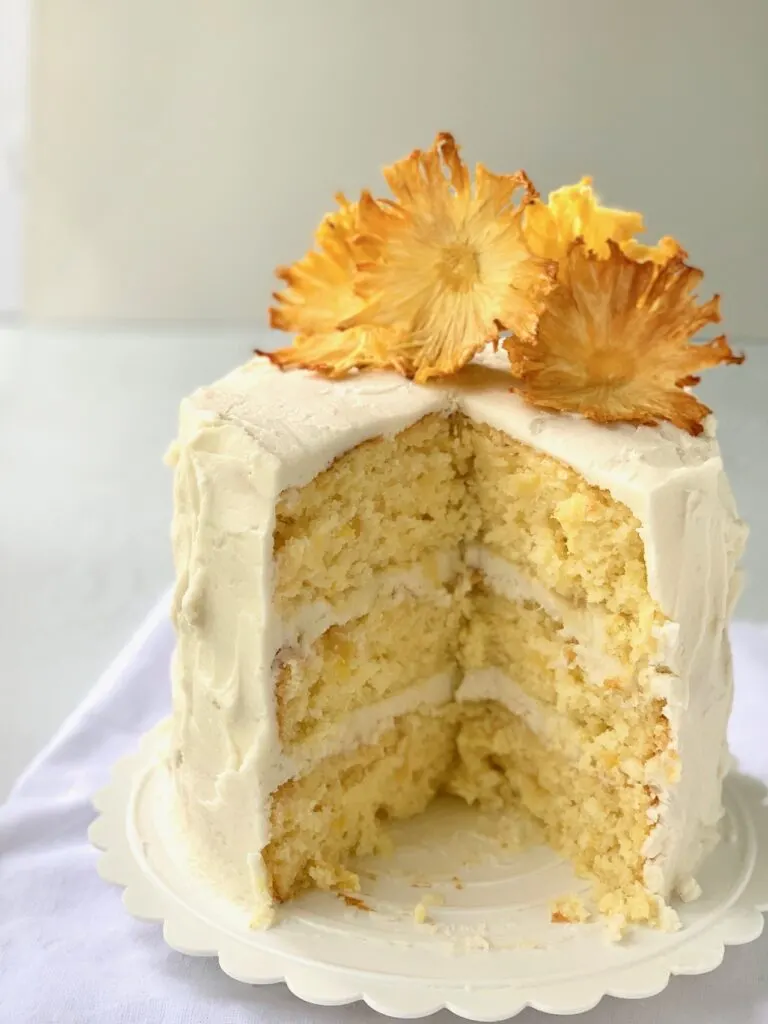 more birthday cake ideas
Sprinkle Birthday Cake-- you've got to check out this gorgeous, easy to prepare cake. Guests will never guess it's gluten and dairy free.
Chocolate Bundt Cake-- this cake is moist, fudgy, decadent, and perfect for any holiday or special occasion.
Oreo Ice Cream Cake-- wow this ice cream cake is a dream come true. You'll find layers of ice cream, crushed oreo-like sandwich cookies, whipped topping, and chocolate ganache. Followers have been raving about the taste of this recipe.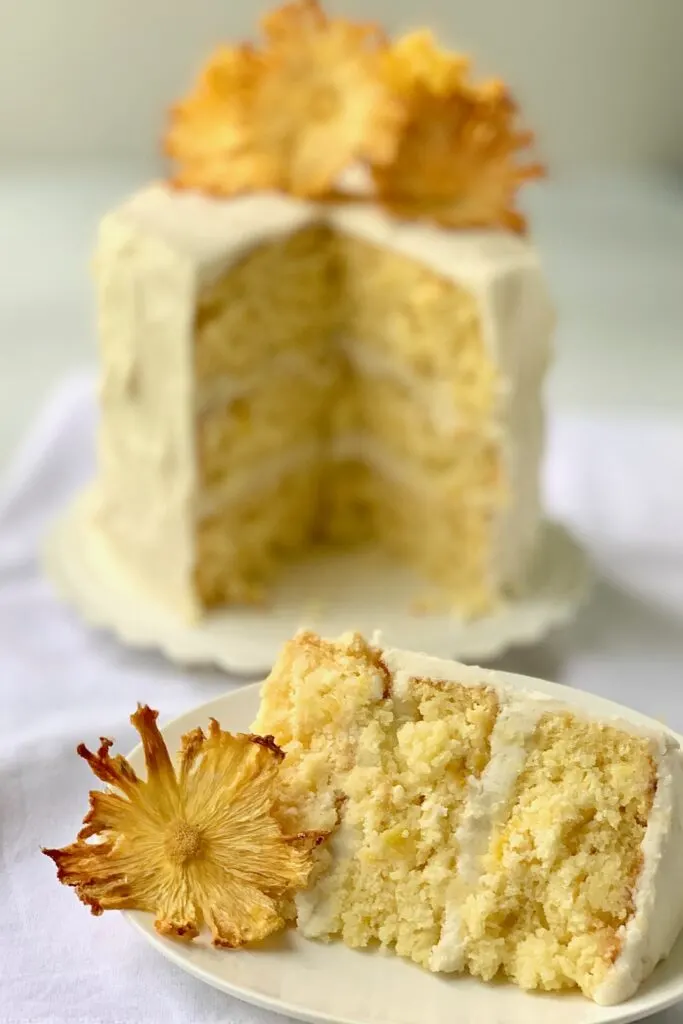 lastly
This is definitely one of the best cakes I have ever enjoyed. Adding crushed pineapple elevates this cake to a whole new level of amazingness. I guarantee you'll enjoy every bite.
You'll find more cake ideas for adults and children on my website here. And I'm adding new, trendy cake ideas often so be sure to check back. Eating gluten and dairy free doesn't mean birthdays are ruined forever.
Be sure to follow me on Facebook, Instagram, and Pinterest. You'll be able to keep up with the best of everything gluten and dairy free.
Eat well and feel well,
Jill
Print Recipe
Pineapple Cake
Ingredients
1

GF DF vanilla cake box mix AND ingredients for cake

see suggestions in post

1

20 oz can

crushed pineapple in 100% pineapple juice

2

c

vanilla buttercream frosting

link to recipe in post

5-6

dried pineapple flowers

link to video in post
Instructions
Baking Cake
Preheat the oven according to the cake box directions.

Using either 3 six inch cake pans or 2 eight inch pans lightly grease the bottoms and set aside.

Follow the directions for the cake mix EXCEPT adding in milk/water. Leave the milk out and replace it with the entire can of crush pineapple (including the juice). Mix well. The cake mix will appear lumpy.

Place cake mix batter evenly into cake pans and transfer to the oven.

Follow the cake baking guide on the cake mix box. Always check the middle of your cake with a cake tester or toothpick to see if it's done. I find this cake typically needs an extra 2-3 minutes in the oven; however all ovens seem to bake differently.

When cake tester comes out clean, allow the cake to cool on a cooling rack. Then remove cakes from pans. If needed you can loosen cakes while carefully sliding a knife around the cake edge.

If your cake tops are not flat, then use a large knife to cut the top of each cake for a flat, even cake.
Frosting Cake
Place your bottom cake layer on a cake plate.

Place a 1 A icing tip into a piping bag. Then fill piping bag with 1 cup of buttercream frosting.

Pipe the outside circle edge of the bottom cake. Then pipe the inside. Use an angled icing spatula if needed to fill in the icing layer. Make sure icing is even.

Place next cake layer on top and repeat. Continue repeating with all cake layers.

Once cake is assembled use an angled icing spatula to lightly apply a thin layer of icing over the entire cake. Then apply a thicker and decorative layer. Optional: decorate cake with a border or decorative designs.

Place the cake in the refrigerator until ready to serve to keep it moist and chilled. The pineapple tastes great chilled. Place dried pineapple flowers on cake as you like using toothpicks to prop them up.

For leftovers- place plastic wrap over cut cake and transfer to the refrigerator. This cake can be baked and iced the day before the event and keeps for 2-3 days afterwards.