Don't let dessert stand in your way of an incredible 4th of July celebration. As a matter of fact plan to load up the dessert table with these delicious desserts. You'll find a variety of easy to make recipes guaranteed to please a crowd.
4th of July desserts
I absolutely love spending the day with my family. In years past we've spent time with extended family and friends BBQ'ing, boating, swimming, lighting sparklers, and watching parades. And no matter what we always end the day with dessert and fireworks.
In this 4th of July dessert roundup you'll find the perfect desserts to enjoy with family and friends.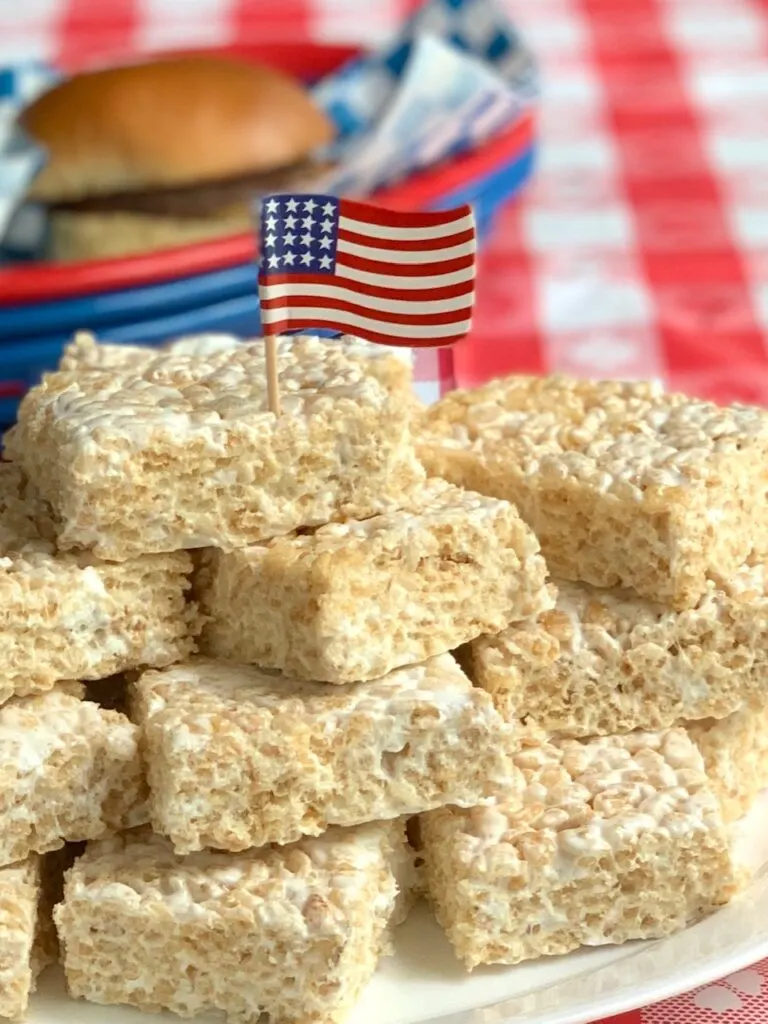 Who can resist these classic ooey gooey treats? With only 3 ingredients you'll find this recipe easy and delicious. Tap the recipe link for safe rice krispie cereal suggestions.
Get ready to impress your family and friends with these individual grab and go treats. Combining fudgy chocolate brownie with whipped topping and fruit-- this is sure to send your taste buds into overdrive.
If you're not camping over the 4th of July, these are the next best thing. S'more cookie bars are the perfect treat to enjoy during the fireworks. You will love the yummy layers of this dessert bar.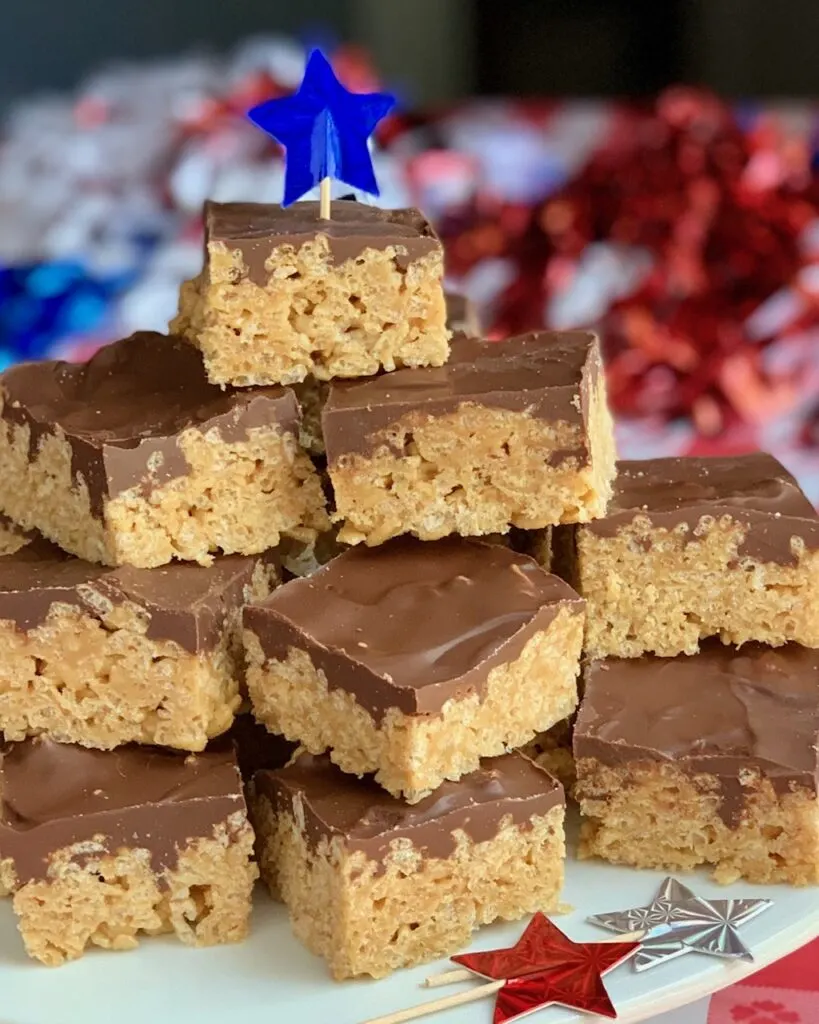 Wow, these bars pack a delicious bite! This recipe combines everyone's favorite peanut butter and chocolate into one addictive bar no one can resist. Not only is this an easy to make recipe, it also puts fun in your 4th of July celebration.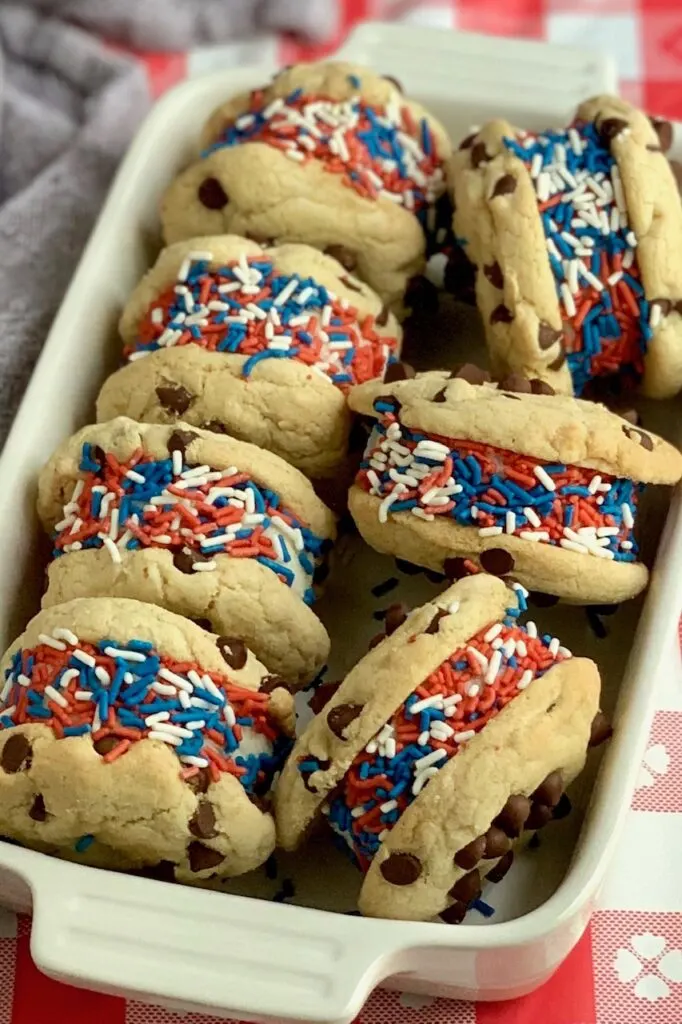 These are the perfect way to cool off on a sizzling hot 4th of July day. Not only is this a favorite among kids and adults, but it can be prepared and frozen ahead of time, allowing you to enjoy the day. For these festive gluten and dairy free patriotic sprinkles shop here.
WOW-- this dessert is absolutely dreamy. Each bite is bursting with sweet flavor from the warm cherries and drizzle topping. Your future self will thank you for baking this dessert pizza just like at the pizza buffet.
You will find yourself head over heels in love with this lemon bar recipe. It's set apart from others with the tangy lemon filling sandwiched between a streusel crust and topping. This recipe is best when baked the day before the big celebration, allowing the bars to be served chilled.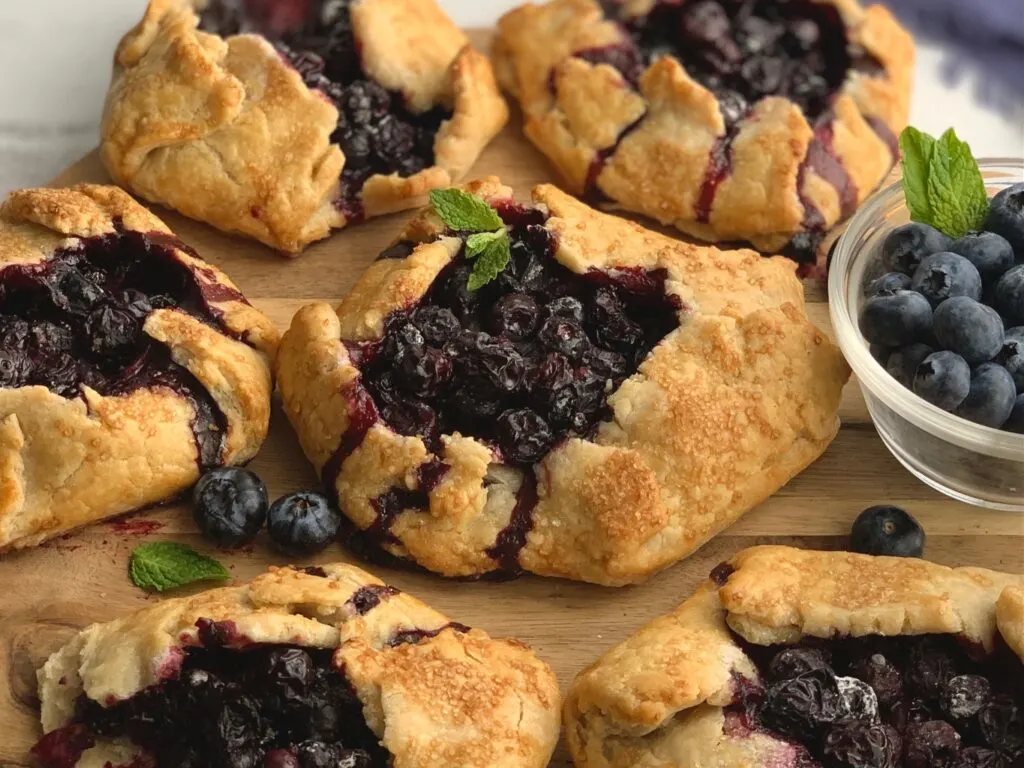 Offering family and guests their own individual mini blueberry galette will create 4th of July memories they won't forget. And this recipe is so easy-- no need to stress over baking the perfect pie crust. Instead this rustic crust serves as the perfect bowl for fresh blueberries and a dollop of cold ice cream.
These chocolate dipped ice cream cones are always a crowd favorite on the 4th of July. Kids and adults alike enjoy the festive flare of these red, white, and blue sprinkled cones. This recipe is an easy way to create a homemade touch on an easy dessert.
Whoa-- this trifle with aww the crowds with it's delicious taste and visual appeal. Each bite is filled with brownie, creamy whipped topping, and fresh fruit. This will be one of the first desserts people will want.
bonus dessert recipes
more summer recipes
lastly
The 4th of July is a holiday filled with fun, traditions, celebrating freedoms, and togetherness.
In this 4th of July dessert roundup you've got the best gluten and dairy free dessert recipes at hand. So there's no need to stress over what to serve or take with you.
Keep up with the latest gluten and dairy free news, recipes, and product reviews on my Facebook and Instagram pages.
And follow along on Pinterest today-- you've got to check out all the new recipes pinned each week.
We don't want you to miss the best of eating gluten and dairy free.
We are wishing you the best 4th of July!
Eat well and feel well,
Jill