There's no doubt you will instantly fall in love with these rich and mouthwatering Chocolate Peanut Butter Layer Brownies. These bars are stacked with 3 layers of heaven.
The bottom layer features a soft, fudgy brownie topped with peanut butter. Then a top layer of sweet chocolate and marshmallow mixture for the perfect brownie treat.
Something like a buckeye ball at Christmas time, these are everything we dream about grabbing off the dessert table.
These are the perfect dessert for chocolate and peanut butter lovers.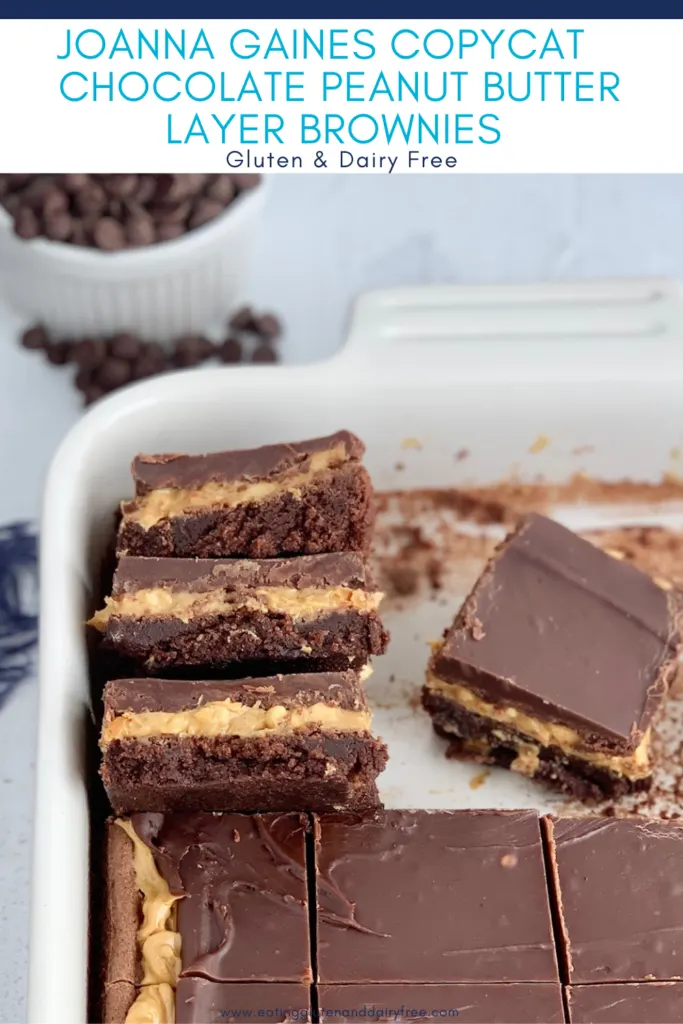 You'll find the original version of this recipe from Joanna Gaines in her Magnolia Table Volume 2 Cookbook.
And you might say we're obsessed with all things Chip and JoJo around our house-- her decorating style, their entrepreneur ways, and definitely all those Magnolia Table Cookbook recipes.
Unfortunately-- most of her recipes are not safe for our gluten and dairy free community.
When we saw her Lucky's Peanut Butter Brownies recipe, I just knew we needed to recreate the recipe using our favorite safe ingredients.
Then in taste test after taste test we added a few other recipe changes to bring you the best dessert bars.
You will absolutely love these decadent and mouthwatering Chocolate Peanut Butter Layer Brownies.
Plan on serving these bars during your next BBQ, holiday gathering, or tailgating event. And keep these in mind for game night, family dessert table celebrations, family dinner, and work parties.
And don't forget to pin them to your Christmas recipes too!
They're so rich and decadent-- everyone will want them often.
So plan on baking a batch right away-- like now.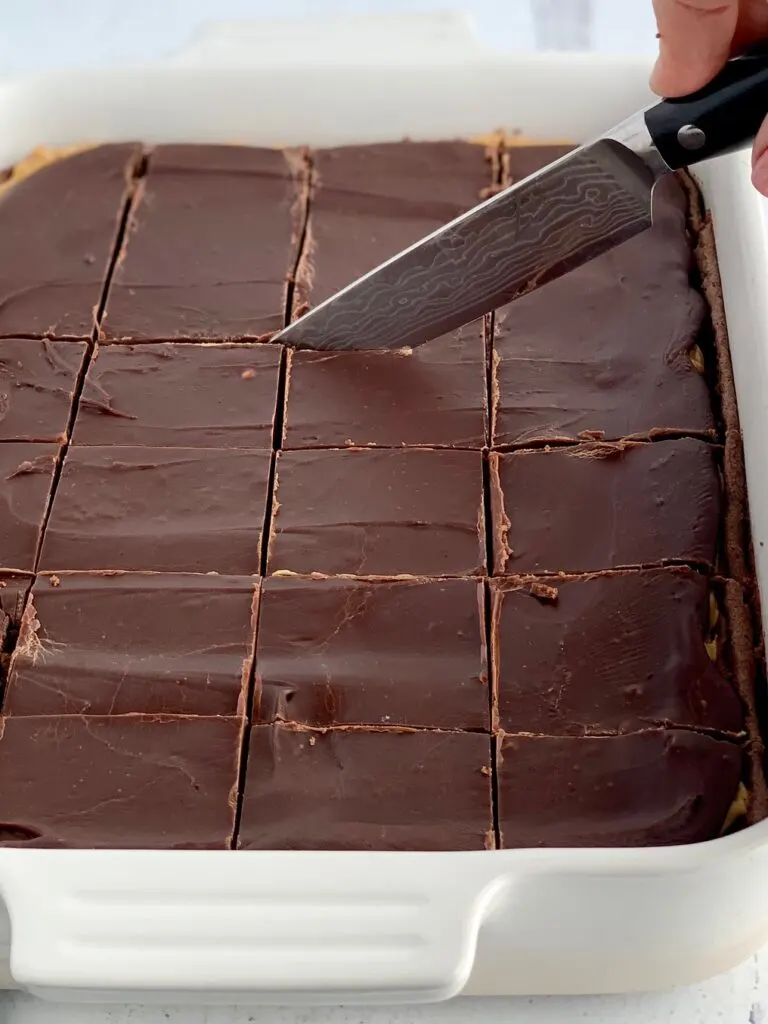 chocolate peanut butter layer brownies ingredient list
dairy free butter-- our go-to is Earth Balance Buttery Sticks in the red box. These are soy free too.
Dutch processed cocoa butter-- we use the Rodelle brand available here for purchase. The original recipe calls for unsweetened cocoa powder. We've found there can sometimes be an acidic aftertaste with unsweetened cocoa powder, so we stick with Dutch process cocoa powder. We reached out to the Rodelle company concerning their ingredient and manufacturing processes. Here is their response: "Rodelle Inc. does utilize raw materials that are considered to be major food allergens recognized by the US Food and Drug Administration and Health Canada. These include: wheat, soy, milk, mustard, sesame, and sulfites. These raw materials are not normally utilized in / on any equipment in common with Rodelle Gourmet Baking Cocoa. Rodelle takes great care to prevent cross contamination by following an allergen control testing program. It is packaged in a room separate from the rest of our facility. Upon completion of any allergen containing product, all equipment is cleaned and visibly checked for cleanliness. The equipment is also swabbed using ATP technologies. All ATP swabs must measure "0†or the equipment is re-cleaned. Periodically, equipment is tested with ELISA technology to validate cleaning as well.â€
granulated sugar
gluten free all purpose flour-- our favorite brand is Bob's Red Mill Gluten Free 1 to 1 Baking Flour. We purchase it in bulk here and save so much money.
xanthan gum-- omit if your gluten free flour blend contains this or gaur gum
salt
eggs-- large and at room temperature
vanilla extract
peanut butter-- creamy or crunchy; we love the crunchy peanut butter taste best in this recipe. We have not tested this recipe with natural peanut butter brands.
powered sugar
dairy free milk-- we use unsweetened almond milk
9x13-inch baking pan
nonstick spray
angled spatula-- this makes spreading the peanut butter and chocolate marshmallow frosting so easy to get around the edges and corners evenly
optional flaky sea salt-- sprinkle on a light layer to boost the flavor of these bars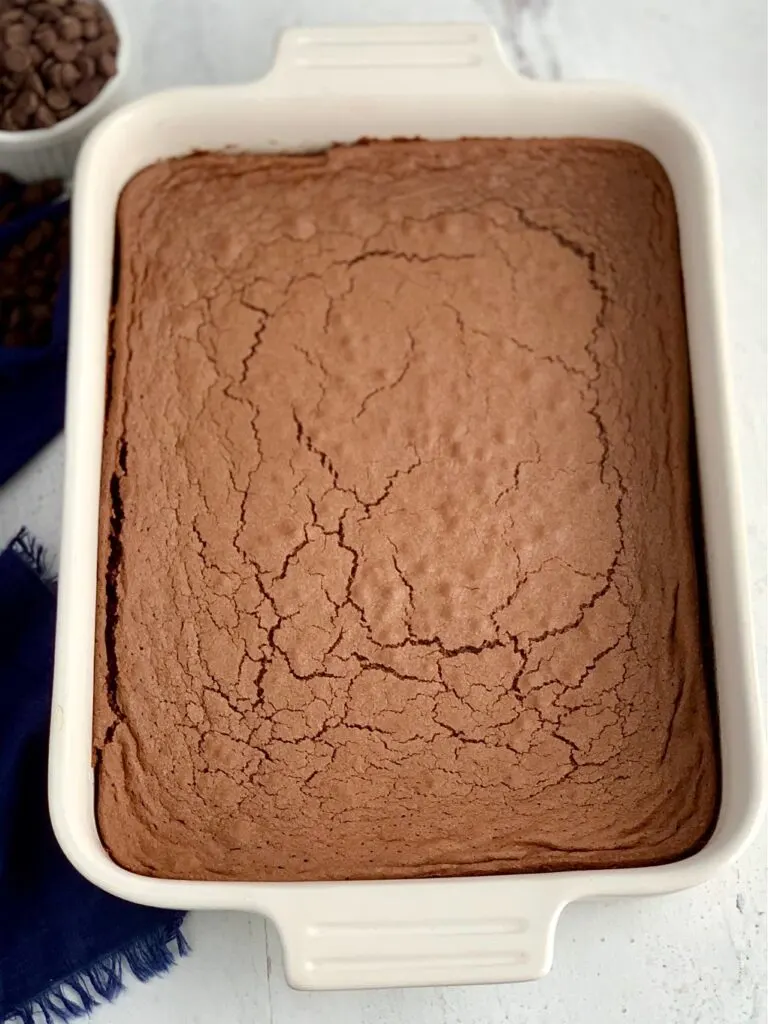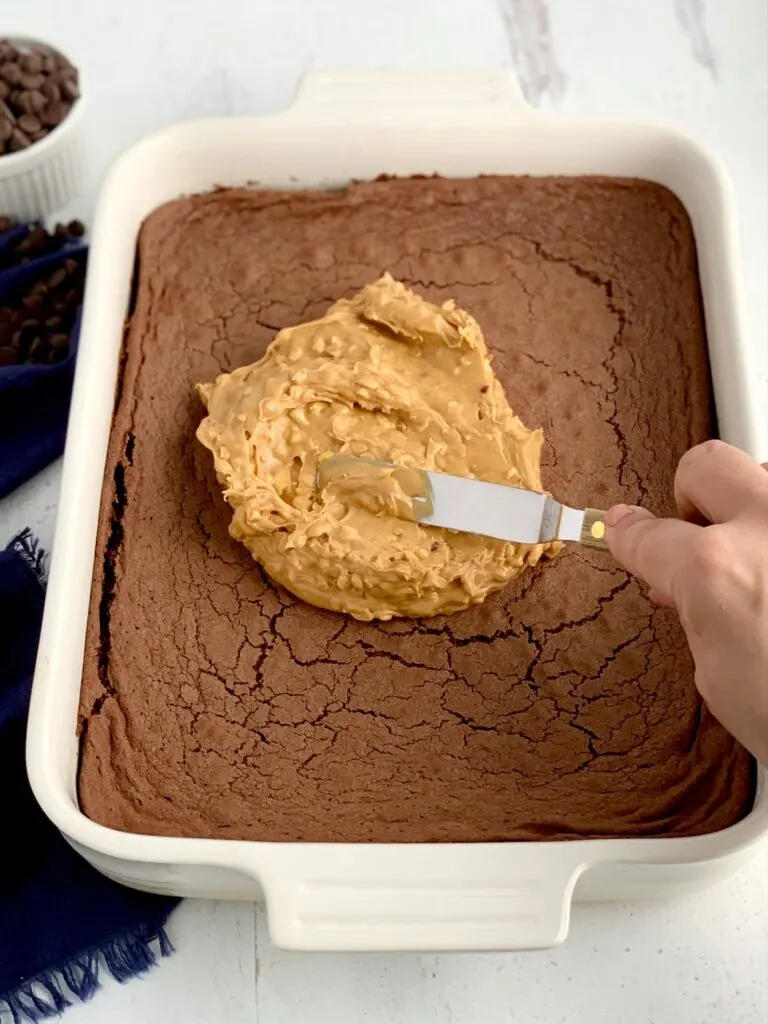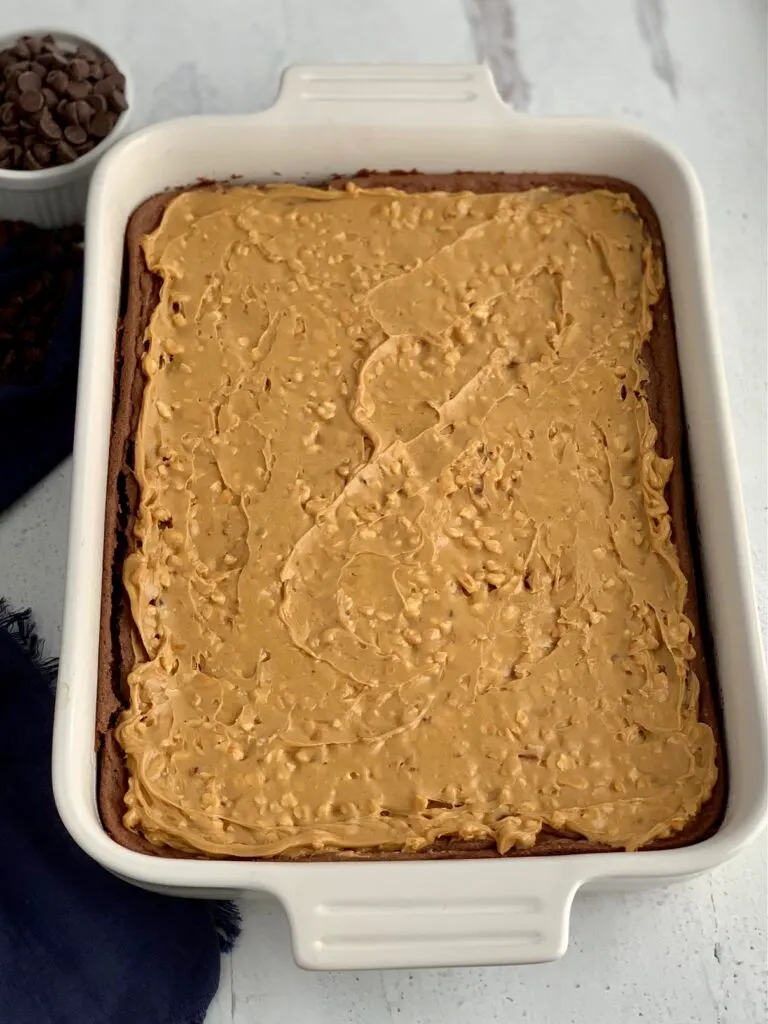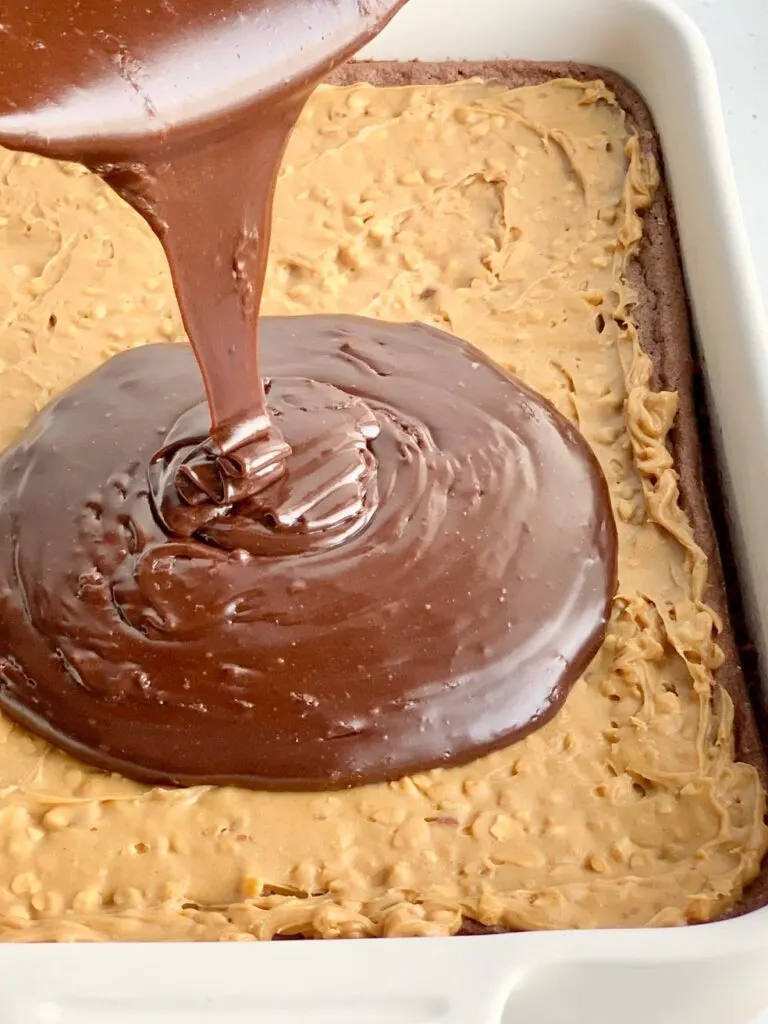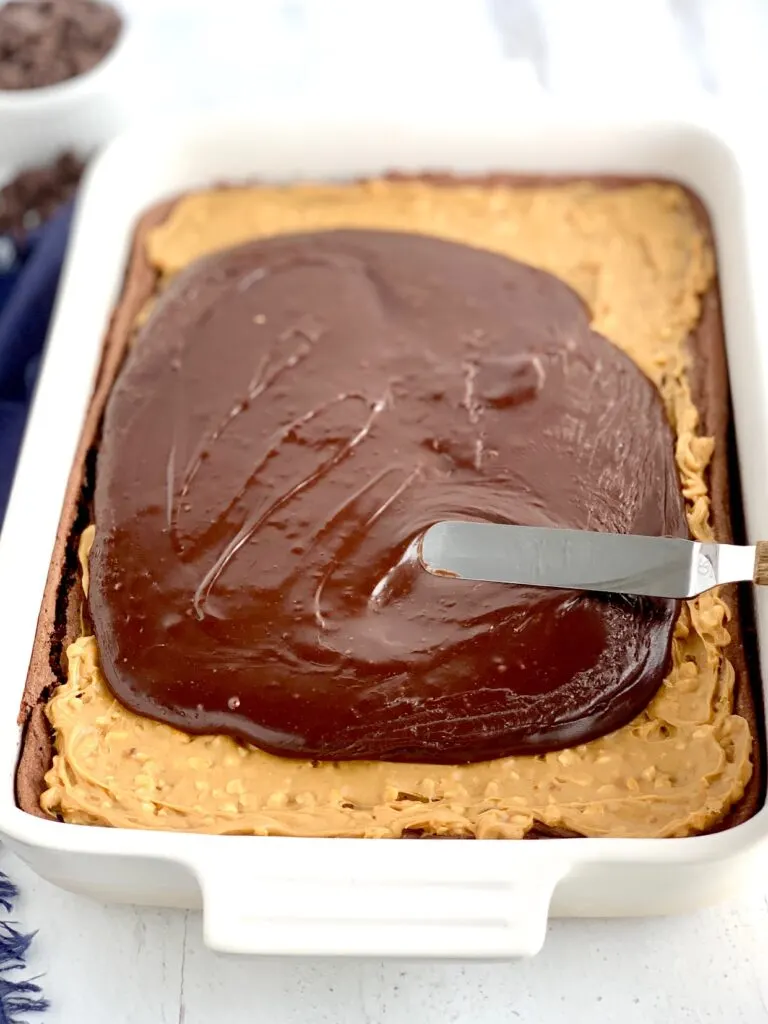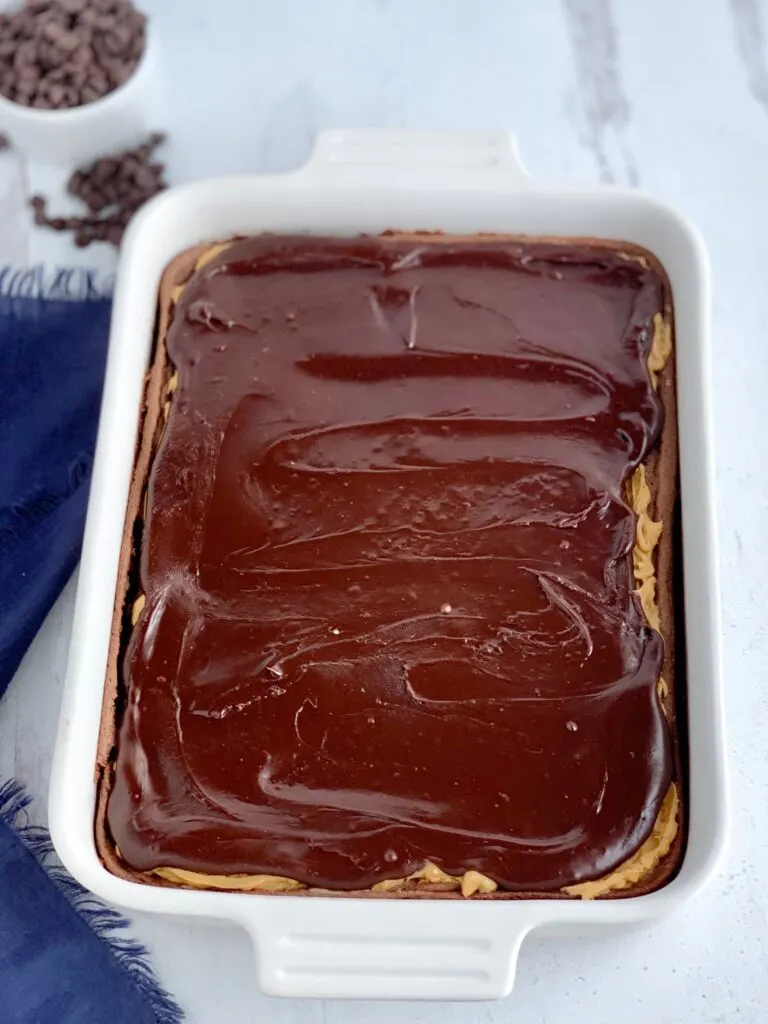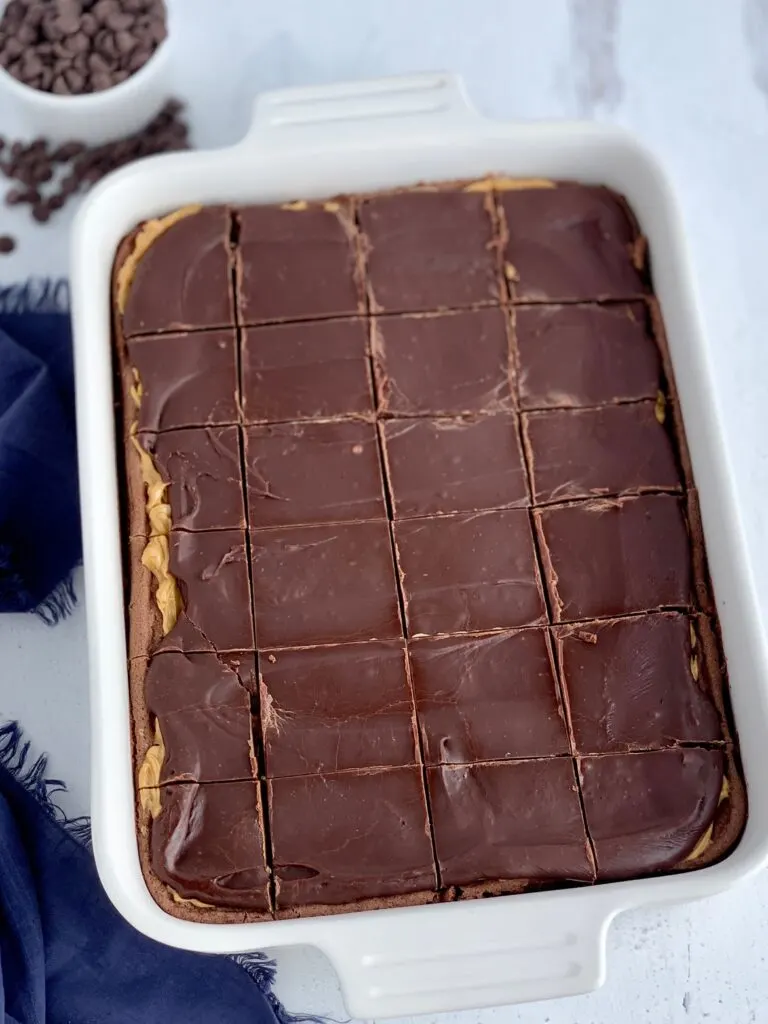 can this recipe be made ahead of time
YES! It's a wonderful part of this recipe and why we bake it so often in our home. We absolutely love recipes we can prepare ahead of time.
Because this recipe calls for a longer prep time while the layers set in the freezer, we usually make this over the course of a day and store it in the freezer until we're ready to serve it.
how is this recipe different from the Magnolia Table Volume 2 Cookbook
Joanna's recipe uses traditional ingredients those of us in the gluten and dairy free community aren't able to bake with.
So our allergen friendly recipe uses only safe ingredients. And we also made a few adjustments to other ingredients.
Lastly-- we've tried this recipe with creamy peanut butter. And I can't believe we're admitting to this, but the recipe was too rich. And the original recipe calls for quite a bit more peanut butter. It was just too much.
So we made the switch to using crunchy peanut butter and using much less.
And by replacing the creamy peanut butter for crunchy, these dessert bars are perfection! Absolute perfection, y'all.
what's the difference between Dutch-processed cocoa and unsweetened cocoa powder
Have you ever bitten into chocolate baked goods and tasted a weird acidic flavor? That is oftentimes from unsweetened cocoa powder.
On the other hand Dutch-processed cocoa is treated with an alkali to neutralize its acidity so you don't have that unfortunate eating experience.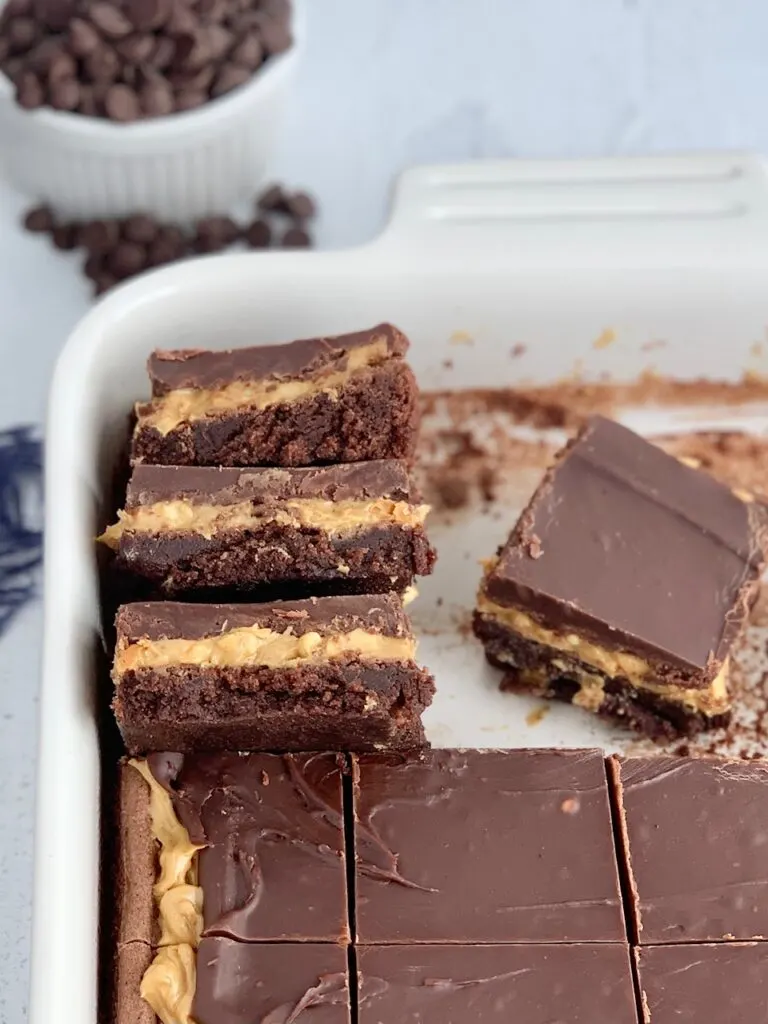 more must have chocolate dessert recipes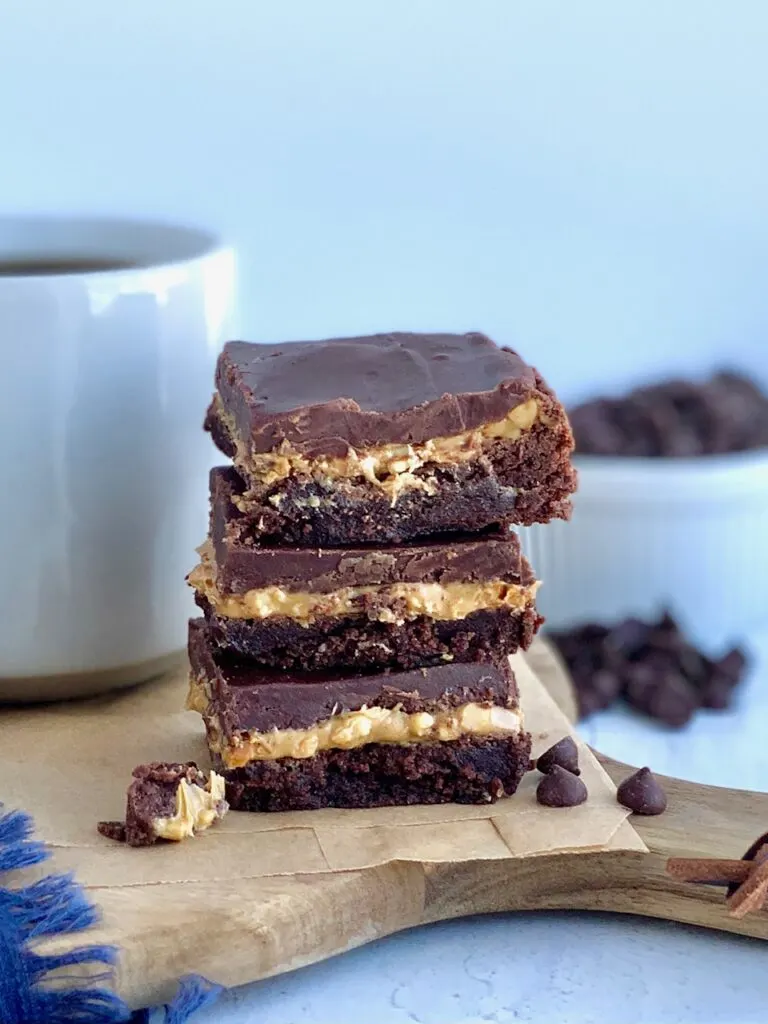 dinner recipes you'll also love
lastly
The hardest part of this recipe is waiting to eat the chilled bars.
For real-- they're the perfect chocolate and peanut butter texture and consistency you'll love every time.
Once you enjoy these bars let us know in the comments if this recipe was helpful.
And follow along on Facebook, Pinterest, and Instagram. Be sure to like and comment often on our posts so you keep seeing them in your feed.
We don't want you to miss the best of eating gluten and dairy free.
Eat well and feel well,
Jill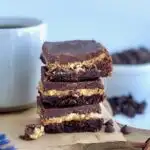 Print Recipe
Chocolate Peanut Butter Layer Brownies
Ingredients
Brownie Ingredients
1

c

dairy free butter

2 sticks, suggestion in post

⅓

c

Dutch-processed baking cocoa

suggestion in post

2

c

granulated sugar

1½

c

gluten free all purpose flour

suggestion in post

½

teaspoon

xanthan gum

omit if flour blend contains this or guar gum

½

teaspoon

salt

4

large eggs

room temperature

1

teaspoon

vanilla extract
Peanut Butter Topping
1⅓

c

crunchy peanut butter

creamy PB works too; do not use natural brands
Chocolate Marshmallow Frosting
½

c

dairy free butter

1 stick, suggestion in post

10

large marshmallows

suggestion in post

4

c

powdered sugar

sifted

¼

c

dairy free milk

suggestion in post

¼

c

Dutch-processed baking cocoa
Instructions
Prepare the Brownie layer
Preheat the oven to 350°F. Spray a 9x13-inch pan with nonstick spray.

Over medium heat combine the dairy free butter and cocoa. After the butter has melted, set aside for 5 minutes to cool.

Next prepare a stand mixer with the paddle attachment. Mix the granulated sugar, gluten free flour, xanthan gum if needed, and salt.

Now add in the butter/cocoa mixture and mix for 2 minutes, scrapping down the sides and bottom of the bowl as needed.

Then add in the eggs one at a time and the vanilla extract. Mix until the brownie dough mixture is well combined.

Transfer the mixture evenly into the 9x13-inch baking pan. Use an angled spatula to get the mixture into the corners and sides of the pan.

Bake 20-22 minutes or until a cake tester inserted into center comes out clean.

Allow the brownies to cool completely on a cooling rack.
Peanut Butter Topping
After the brownies have cooled, spread the peanut butter evenly over the brownies.

Transfer the baking pan to the freezer for at least 30 minutes.
Chocolate Marshmallow Frosting
Over medium heat melt the dairy free butter and marshmallows.

Then add in the powdered sugar, dairy free milk, and cocoa. Whisk until smooth. This may take a few minutes.

Now with an angled spatula spread the frosting evenly over the peanut butter and freeze again for 30 minutes.

Lastly cut the brownies into bars and serve or keep in the freezer. Allow frozen bars to sit at room temperature for 15 minutes before serving.

Refrigerate leftover bars in an airtight container for up to 4 days.