Calling all chocolate lovers to this moist and decadent Chocolate Loaf Cake topped with homemade ganache. Rich and fudgy, this is the perfect cake for breakfasts, birthdays, holidays, and any other special occasion. This is the chocolate dessert of your dreams.
Enjoy slice after slice of this Chocolate Loaf Cake on its own or topped with a dreamy ganache. This is a recipe everyone will request again.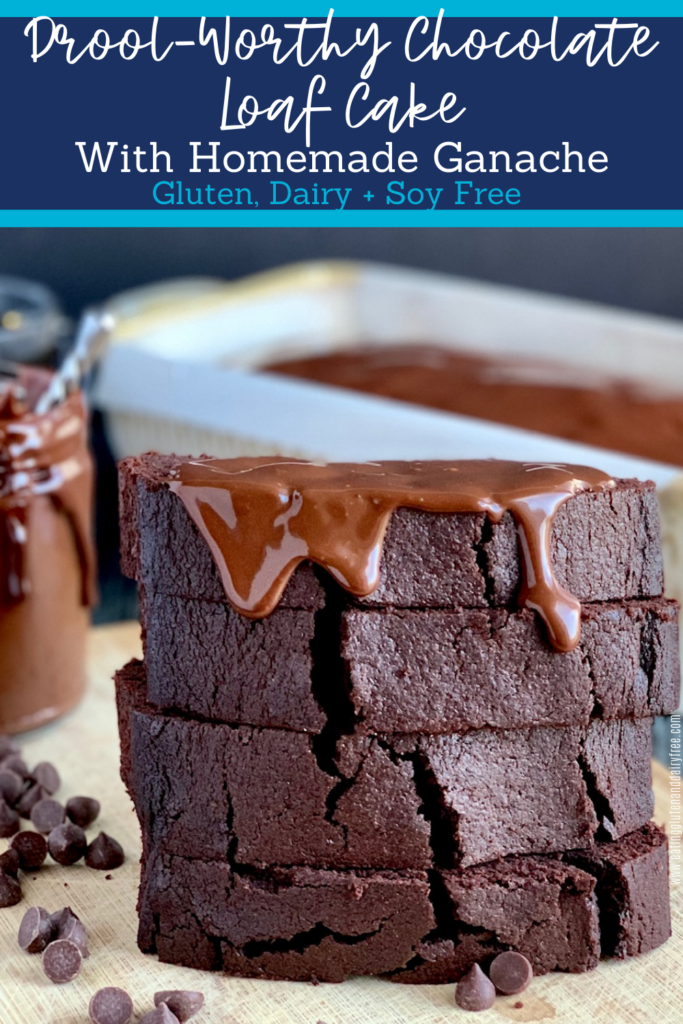 And baking this rich Chocolate Loaf Cake is so much fun. Made from scratch this recipe comes together to form a smooth, thick batter.
Then it rises beautifully in the oven while creating a few little homemade cracks. After this cake transfers from the oven to a cooling rack it falls slightly, but maintains a delicious looking and tasting loaf.
You will have a hard time not cutting into this loaf right away.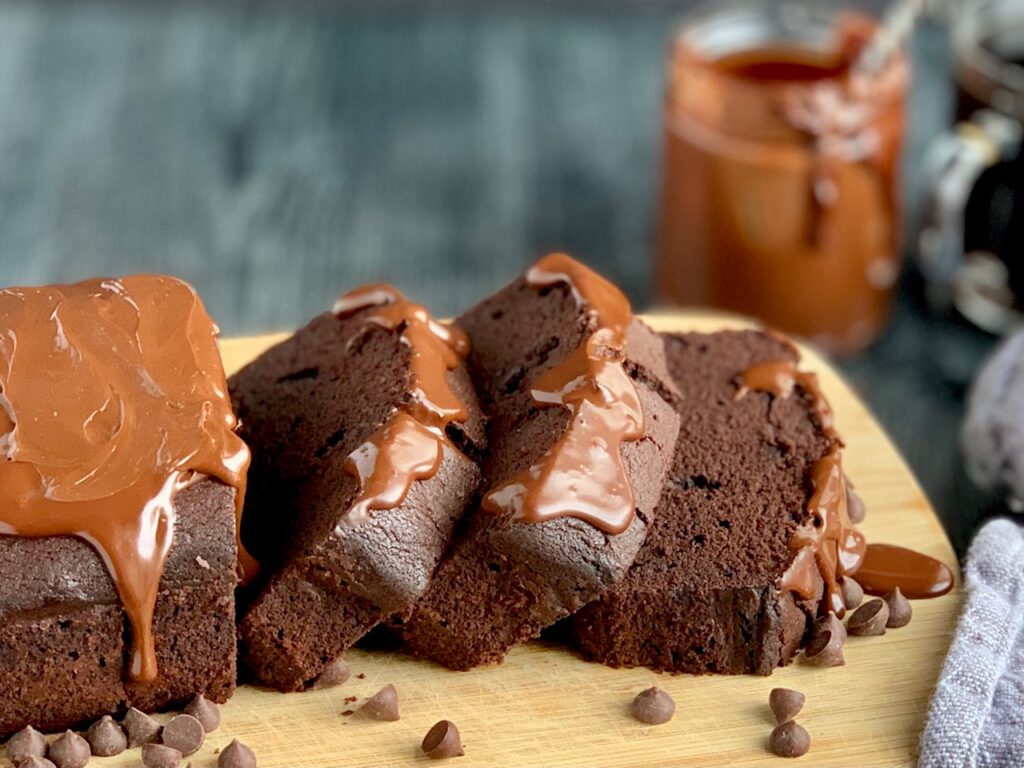 chocolate loaf cake ingredients
dairy free buttermilk— we combine unsweetened almond milk and apple cider vinegar to make our own safe buttermilk; learn more about creating an easy and safe buttermilk below.
gluten free all purpose flour— Bob's Red Mill Gluten Free 1 to 1 Baking Mix is our go-to. We purchase it in bulk here and store it in a cool place. We save so much money buying it in bulk.
xanthan gum— omit if your all purpose gluten free blend contain this or guar gum
Dutch-processed cocoa— We find the Rodelle brand Dutch process cocoa is recommended for the best flavor. It's definitely the best and worth purchasing it here, if not available locally. We reached out to the Rodelle team through email regarding their manufacturing process. Here's their response: "Rodelle Inc. does utilize raw materials that are considered to be major food allergens recognized by the US Food and Drug Administration and Health Canada. These include: wheat, soy, milk, mustard, sesame, and sulfites. These raw materials are not normally utilized in / on any equipment in common with Rodelle Gourmet Baking Cocoa. Rodelle takes great care to prevent cross contamination by following an allergen control testing program. It is packaged in a room separate from the rest of our facility. Upon completion of any allergen containing product, all equipment is cleaned and visibly checked for cleanliness. The equipment is also swabbed using ATP technologies. All ATP swabs must measure "0†or the equipment is re-cleaned. Periodically, equipment is tested with ELISA technology to validate cleaning as well."
baking powder— this loses its potency after 6 months; double check that yours is fresh for this recipe
salt
dairy free butter— we use the Earth Balance Buttery sticks (red box) brand; this is vegan and soy free too. Make sure this is softened, but not melted, in the microwave before placing in the mixing bowl.
granulated sugar
eggs— large eggs at room temperature
vanilla extract
cold brewed black coffee
coconut cream— Let's Do Organic Coconut Cream works perfectly in the chocolate ganache
semi-sweet or dark chocolate morsels— for this recipe we enjoy the semi-sweet morsels best. Our favorite brands are Enjoy Life and the Nestle Toll House Allergen Free brands.
optional— chopped nuts, dairy free chocolate chips, or gluten and dairy free sprinkles add a fun look and taste topped on this loaf
loaf pan— a 9 x 5-inch loaf pan is best with this loaf recipe
parchment paper— line the bottom and sides of the loaf pan with parchment paper and allow it to hang over the long sides of the pan
stand mixer— using a 5-quart stand mixer with a paddle attachment makes this recipe and so many others much easier and faster to prepare your recipes; here's the stand mixer we use.
cake tester— use a toothpick or this professional cake tester to help you know when your baked goods are done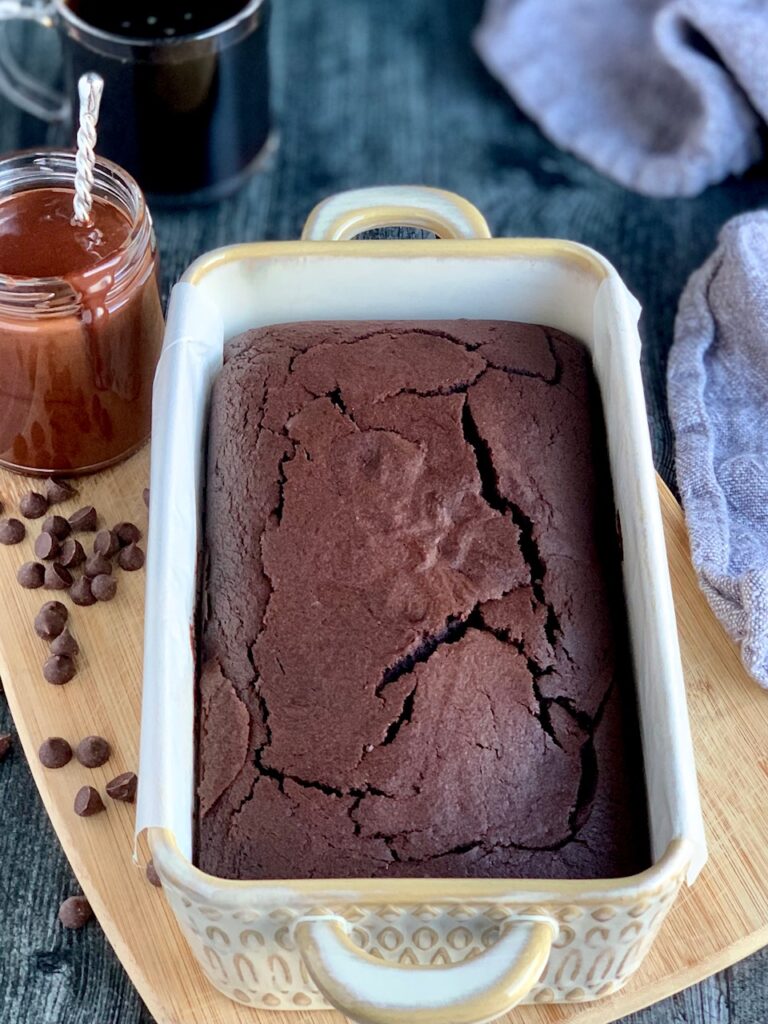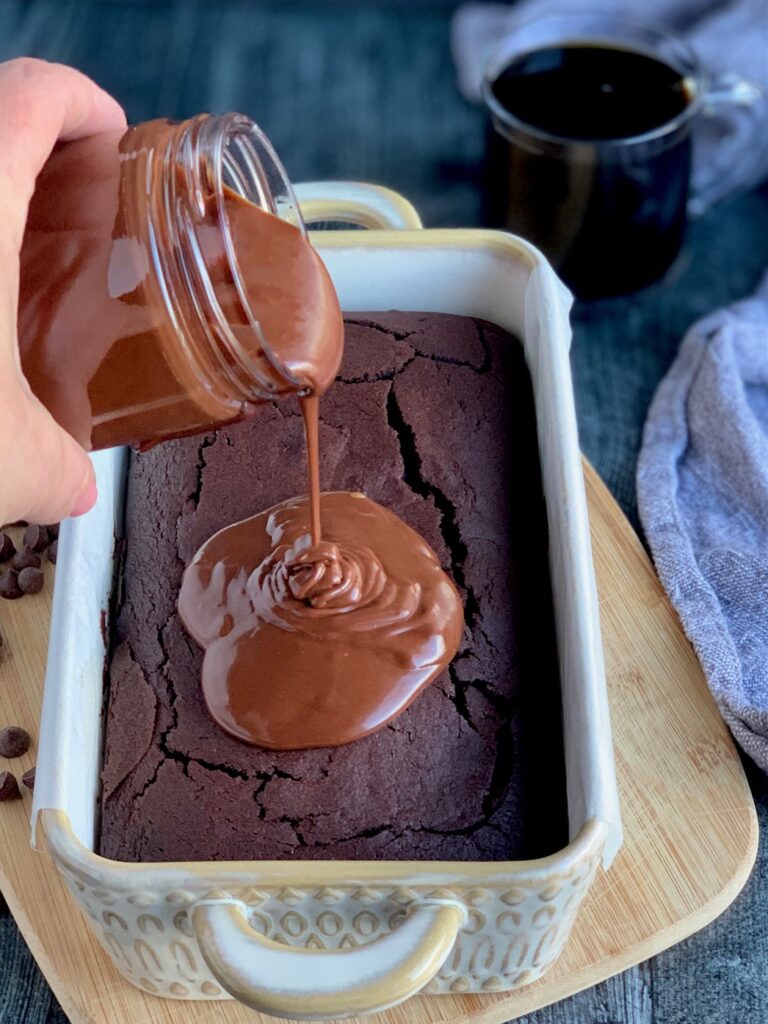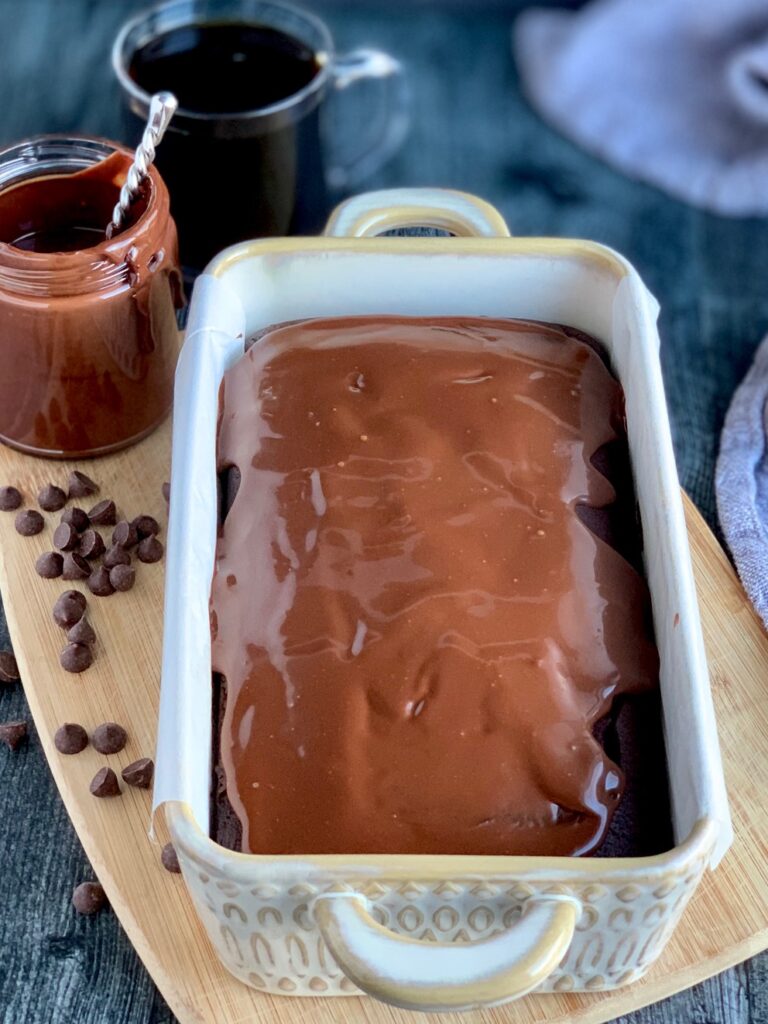 how do you make dairy free buttermilk
Here is a helpful dairy free buttermilk guide that can be equally substituted for traditional buttermilk in any recipe. Substitute with 1 cup of dairy free milk (soy milk, unsweetened almond milk, or coconut milk) plus 1 tablespoon vinegar. Mix and place into the refrigerator for 10 minutes.
In this Chocolate Loaf Cake we use 1/3 cup unsweetened almond milk and 1 teaspoon vinegar.
how do you make chocolate ganache set faster
Cover with plastic wrap and transfer to the refrigerator. Leave it in the fridge for 30 minutes and then check to see if it's thickened to the desired frosting consistency. Remove and frost the loaf cake.
You can also leave this ganache on the countertop to cool and thicken for about an hour. This is our preferred method.
Homemade chocolate ganache is a wonderful topping to breads, cakes, donuts, and cupcakes.
For this recipe you want the ganache to set to a pudding consistency– not too runny or too thick.
can this be baked ahead of time or frozen
This loaf cake can be baked 1-2 days in advance and stored in an airtight container.
It can also be frozen up to 3 months.
We recommend preparing the chocolate ganache the day of serving for the best flavor.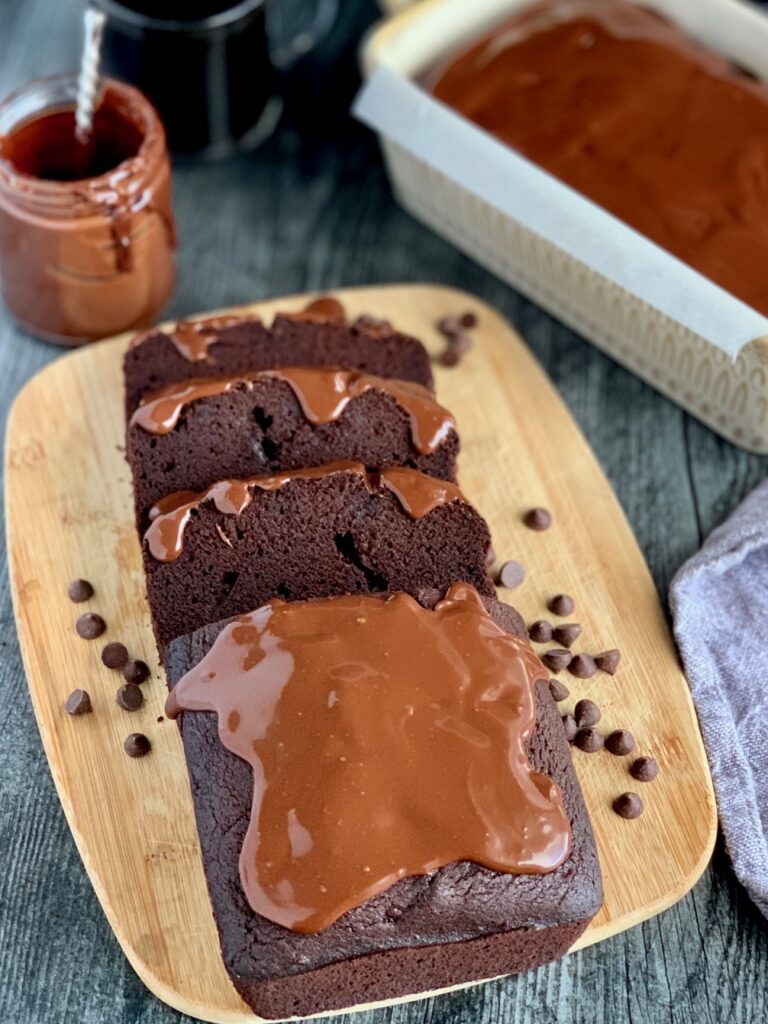 bonus dinner recipes you'll love
more recipes using this homemade chocolate ganache
lastly
This is a delicious, safe way to satisfy even the biggest chocolate craving.
Seriously– no one will ever guess this recipe is gluten, dairy, and soy free.
It's ridiculously good!
You'll find so many other mouthwatering recipes on our website here. Recipes for every occasion such as the 4th of July, Thanksgiving, Christmas, the Super Bowl, and even Valentine's Day.
Follow along on Facebook, Pinterest, and Instagram. Be sure to like and comment often to keep seeing our posts in your feed.
We don't want you to miss the best of eating gluten and dairy free.
Eat well and feel well,
Jill
Print Recipe
Chocolate Loaf Cake
Ingredients
Dairy Free Buttermilk Ingredients
⅓

c

dairy free milk

suggestion in post

1

tsp

vinegar
Cake Ingredients
1

c

gluten free all purpose flour

suggestion in post

1

tsp

xanthan gum

omit if your gluten free all purpose flour blend contains this or guar gum

¾

c

Dutch-processed cocoa

¾

tsp

baking powder

½

tsp

salt

1

c

dairy free butter

softened in the microwave, not melted

1¼

c

granulated sugar

4

large eggs

room temperature

1

tsp

vanilla extract

⅓

c

dairy free buttermilk

recipe above

¼

c

cold brewed coffee
Chocolate Ganache
5.4

can

coconut cream

1

c

semi-sweet chocolate chips

suggestion in post
Instructions
Buttermilk Instructions
Combine the dairy free milk and vinegar in bowl and refrigerate for 10 minutes.
Cake Instructions
Preheat the oven to 325°F. Lightly spray a 9 x 5-inch loaf pan with non-stick spray over the bottom and sides of the pan. With parchment paper line the bottom and sides of the pan, allowing extra to hang over the long sides.

In a large bowl, sift the flour, xanthan gum if needed, cocoa powder, baking powder, and salt. Set aside. It's important to sift these ingredients for a smooth loaf.

Next, in a stand mixing bowl or handheld mixer, cream the butter on medium for a minute. Scrape down the sides often.

Add in the granulated sugar and mix several minutes (3-4 minutes) on medium.

Then add in the eggs one at a time, mixing at least 30 seconds in between each egg. Again scrape down the sides and bottom of the bowl often.

Add in the vanilla extract, buttermilk, and brewed coffee until well combined.

Slowly add in dry ingredients to the mixer bowl. Again scrape down the sides of the bowl well.

Once the batter is well incorporated transfer to the loaf pan.

Bake for 53-55 minutes. Place a cake tester in the center of the loaf and remove. The cake tester should come out clean when this loaf is baked completely.

Transfer the loaf pan to cook completely on a cooling rack. Allow to completely cool before frosting.
Chocolate Ganache Instructions
Pour the chocolate chips into a deep medium size bowl.

Place the coconut cream in a saucepan on medium heat until it is just about to boil.

Remove from heat and pour over the chocolate chips. Allow to sit for 2 minutes.

Then whisk the heated coconut cream and chocolate chips until smooth.

Allow to cool and thicken to a light pudding consistency– not too runny or thick (about 50 minutes.)

Keep the cake loaf in the pan or remove to a pretty plate. Then pour the ganache over the bread loaf; spread around with an angled spatula.

Allow to set, cut, and serve.

Cover leftovers in an airtight container up to 2 days.