FINALLY OUR HOLIDAY COOKBOOK IS HERE!!
Click here to buy Holiday Recipes cookbook ebook now (straight to your inbox) for just $15!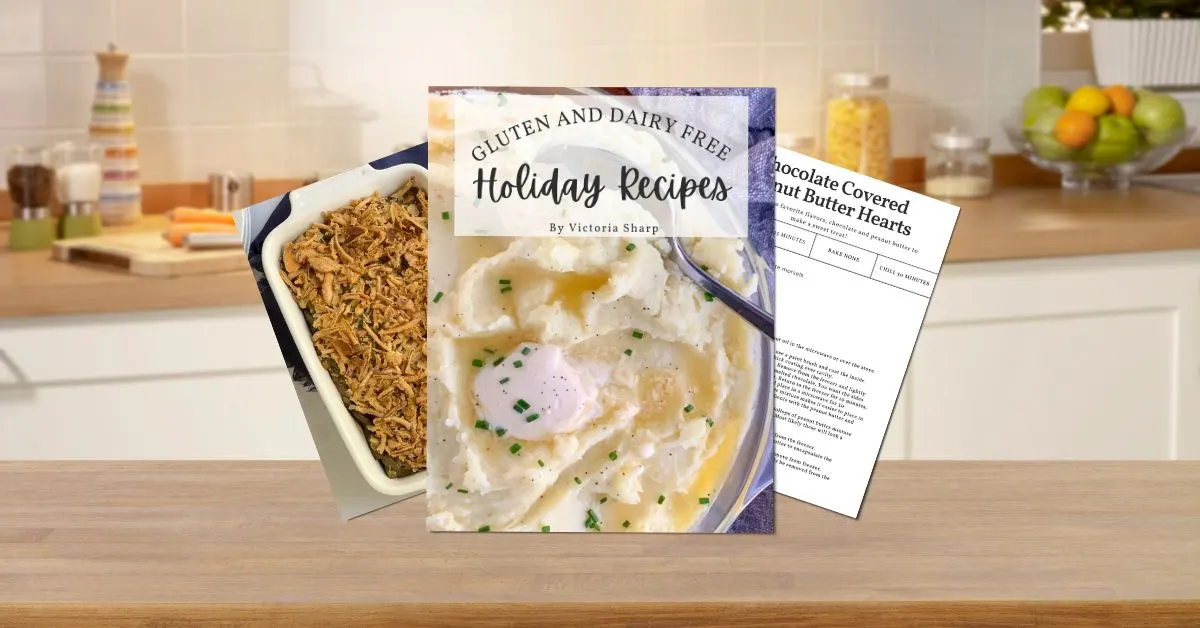 Get creative in the kitchen this holiday season with our new Gluten and Dairy Free Holiday Recipes Cookbook Ebook!
Looking for a way to safely enjoy the foods you love this holiday season? This cookbook has over 50 gluten and dairy free recipes that will have family and friends ranting and raving about how delicious everything was.
A recipe for every holiday all year long- Valentine's Day, Spring, Mother's Day, Summer, 4th of July, Fall, Halloween, Thanksgiving, and Christmas recipes.
The recipes you'll find in this Holiday Recipes Cookbook are:
Valentine's Day
Valentine's Day Meringue Cookies
Heart Shaped Peanut Butter Cookies
Chocolate Covered Peanut Butter Hearts Heart Peanut Butter Blossoms
Spring and Easter
Carrot Cake Donuts
Carrot Cake Bars
Layered Carrot Cake
Carrot Cake Loaf
Lemon Poppyseed Bundt Cake
Lemon Poppyseed Loaf
Lemon Raspberry Cake
Lemon Tart
Lemon Streusel Bars
Chocolate Peanut Butter Eggs
Banana Pudding
Summer and Fourth of July
Pineapple Upside Down Cake
Strawberry Rhubarb Crumble
Blueberry Galettes
Fruit Dessert Pizza
Cherry Pie Bars
Fall and Halloween
Pumpkin Pie Muffins
Pumpkin Bread with Cream Cheese Frosting
Chocolate Chip Pumpkin Bread
Pumpkin Cookies
Pecan Pie Bars
Caramel Apple Cookies
Apple Crumble Cinnamon Rolls
Apple Spice Cake Loaf
Apple Crisp
Apple Fritter Bread
S'mores Dessert Pizza
Mummy Brownies
Candy Corn Rice Krispie Treats
Candy Corn Brownies
Thanksgiving
Smoked Turkey
Green Bean Casserole
Sweet Potato Casserole,
Creamy Mashed Potatoes
Crockpot Stuffing
Butter Tarts
Christmas
Christmas Eggnog Cake
Gingerbread Pancakes
Peppermint Marshmallows
Christmas Tree Brownies
Gingerbread Men Cookies
White Chocolate Chip Cookies
Chocolate Crinkle Cookies
Sugar Cookies
Chocolate Chip Cookies
Oatmeal Chocolate Chip Cookies
Snickerdoodles
Peppermint Dipped Chocolate Cookies
Buckeye Peanut Butter Balls
Pecan Snowballs
Peanut Butter Blossoms
Chocolate Bundt Cake
Chocolate Cream Pie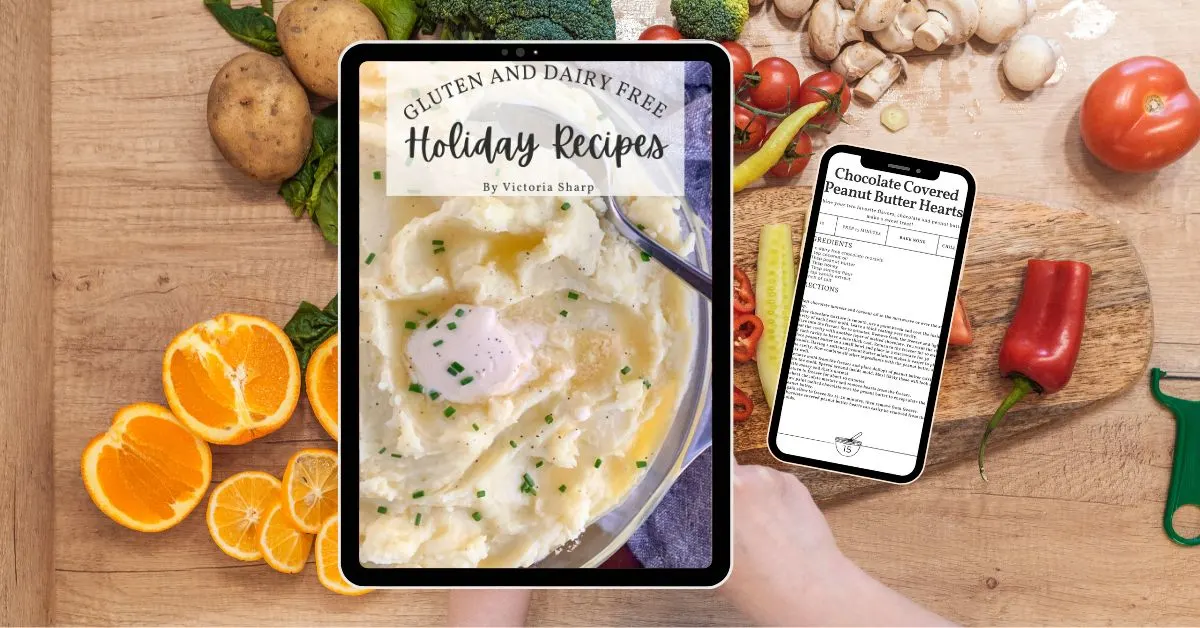 All of the recipes are easy to follow, and made with ingredients that are simple to find in any grocery store.
So get excited to get back in the kitchen and create meals and recipes for any holiday throughout the year using safe, gluten free and dairy free ingredients.
Be sure to pick up your copy of our Gluten and Dairy Free Holiday Recipes Cookbook Ebook now!
This will be delivered straight to your inbox- no physical printed product will be mailed to you. You can use this ebook cookbook on any device or you can print at your local print shop at your expense.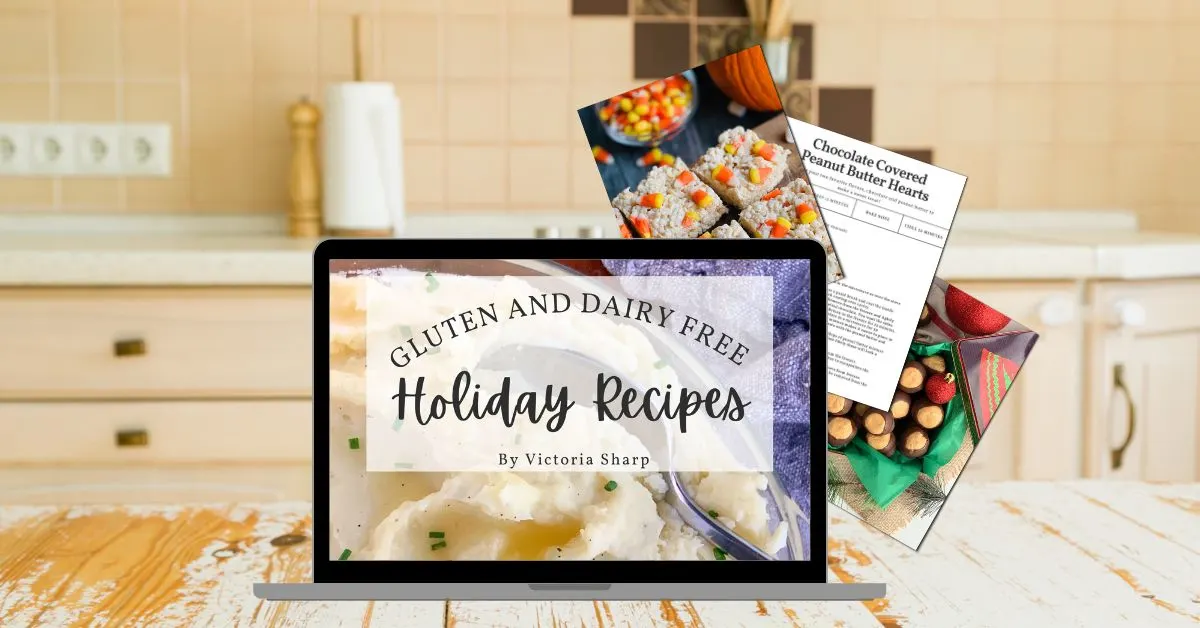 Perfect stocking stuffer, last minute host gift, and the perfect gift for any gluten free and dairy free foodie in your life!
We still have our original cookbook, The Classics, that has some of our top family favorite recipes to enjoy. You can purchase either option of this book below.
WE NOW HAVE TWO OPTIONS FOR YOU TO PURCHASE- A PHYSICAL COOKBOOK OR A DIGITAL EBOOK COOKBOOK FOR THE CLASSICS COOKBOOK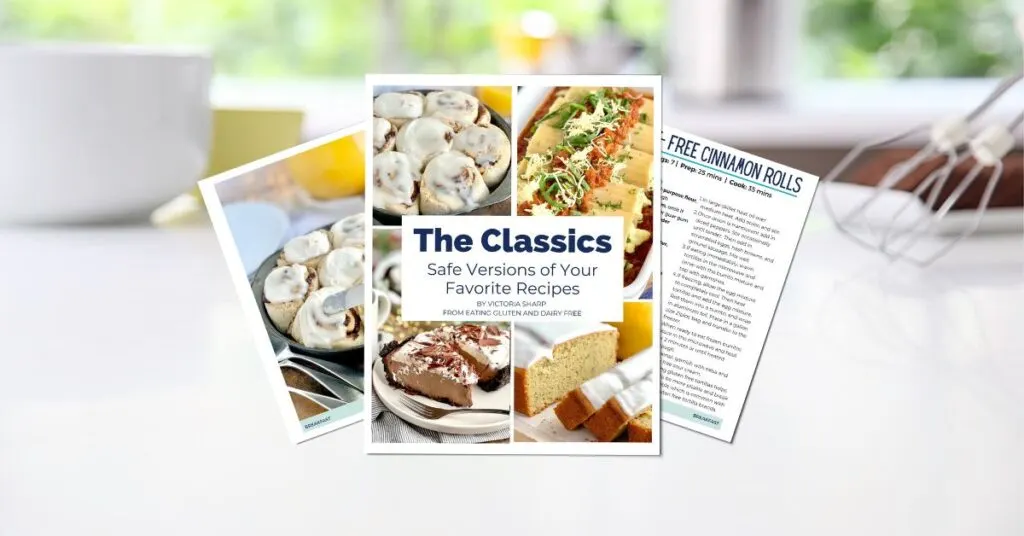 Now you can get the PHYSICAL copy of our COOKBOOK, The Classics right from Amazon!
We have updated our popular digital cookbook, gave it a face lift, and turned it into a physical printed cookbook that you can buy!
Now the cookbook has 20 recipes and some of our favorite brand suggestions! Instead of the 16 recipes you get in the digital book, you'll get 20 now with this BRAND NEW physical copy!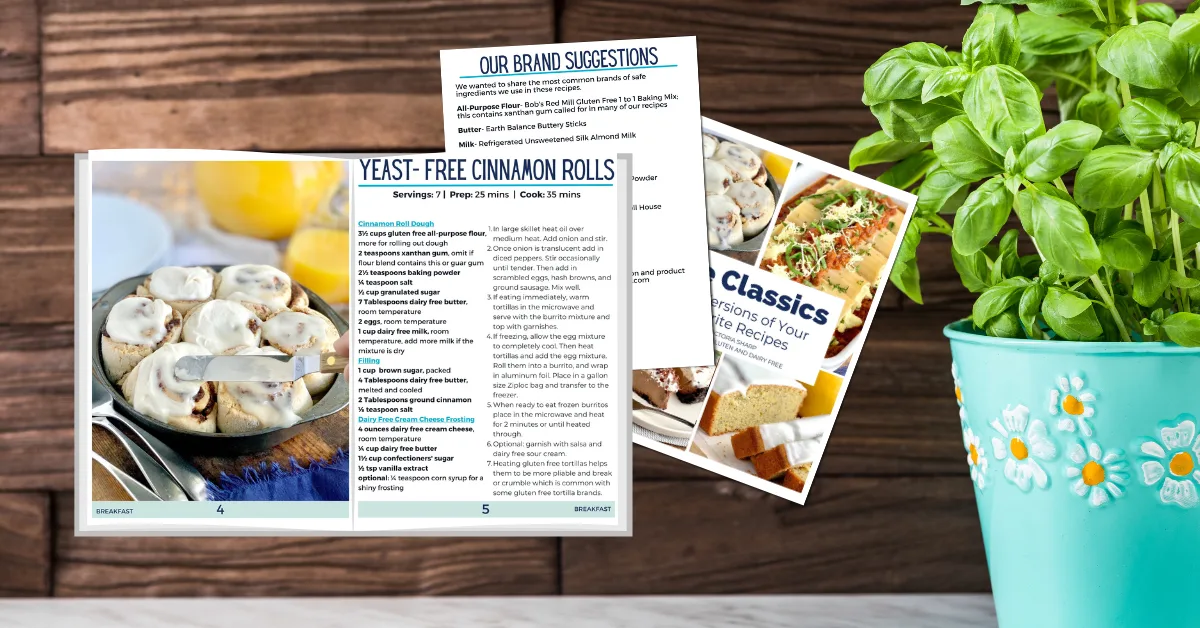 Get Excited to

FINALLY

Enjoy Your Favorite Recipes Again With These Classic Gluten & Dairy Free Recipes
We wanted to share our family's favorite recipes with you so you can share and enjoy them with your family and friends.
Enjoy eating all those desserts, dinners and breakfasts you've been missing out on!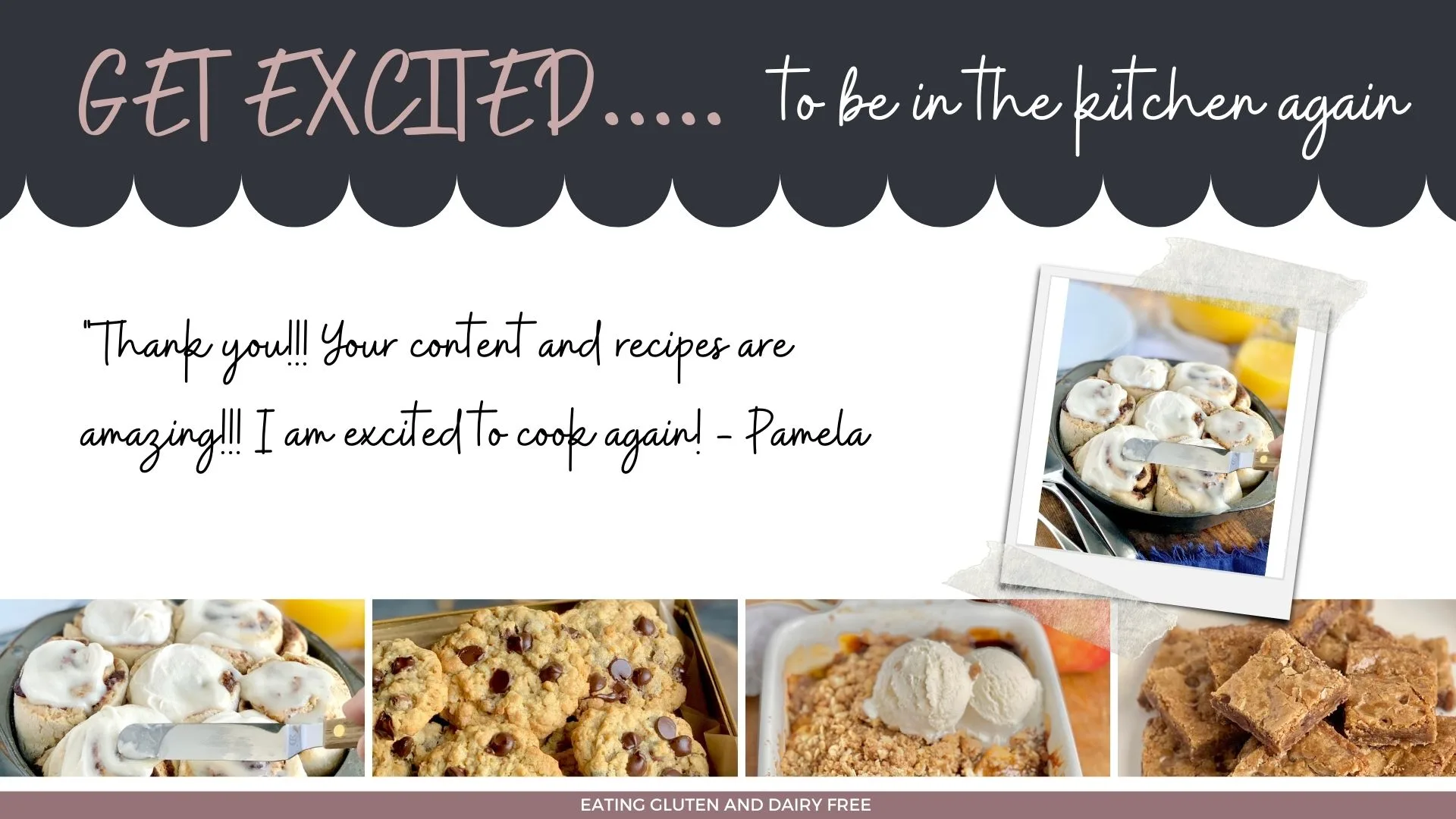 Make all your go-to recipes again with safe ingredients and get to try a handful of new recipes you haven't tried yet!
Let go of all the frustration and fear of eating gluten and dairy free with these tasty, simple recipes.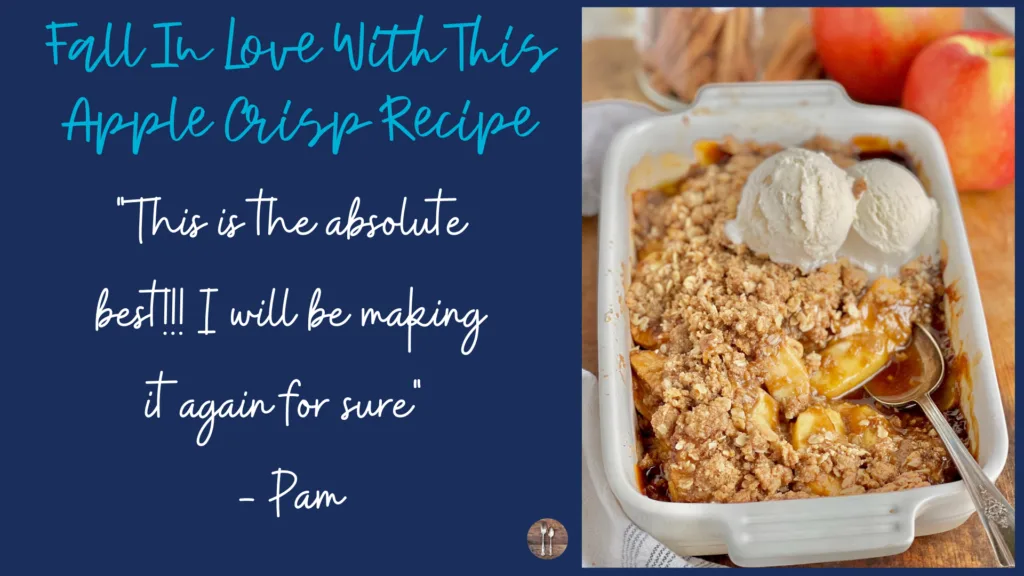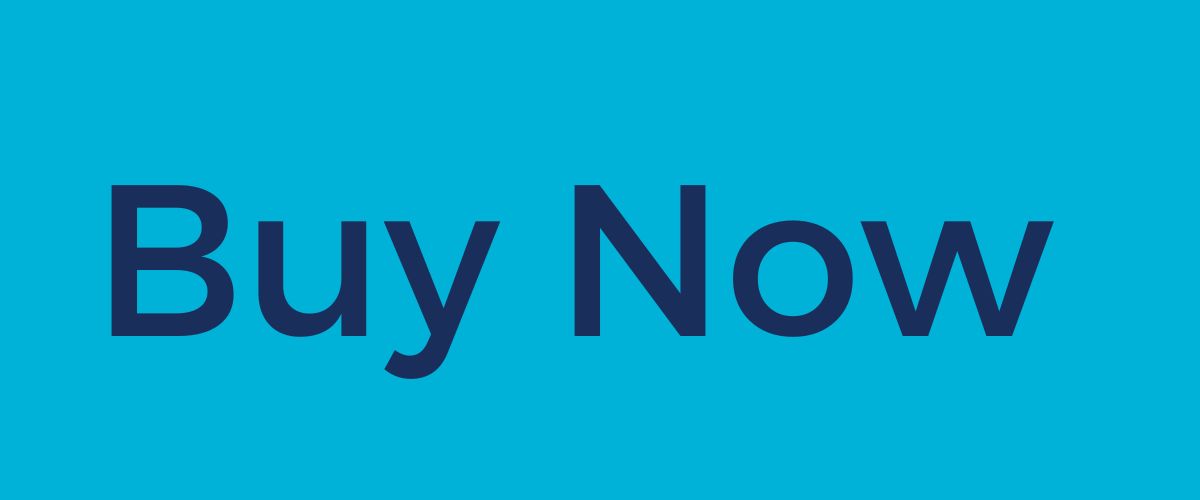 Want the original digital ebook cookbook?
Grab it while it's still available!!!
In this digital download cookbook, you'll get 16 Gluten and Dairy Free Recipes to add to your kitchen menu.
You're just a few clicks away from getting The Classics: Safe Versions of Your Favorite Recipes sent straight to your inbox.
Amaze Family and Friends With These Breakfast, Dinner and Dessert Recipes- and They Won't Even Know They're Dairy and Gluten Free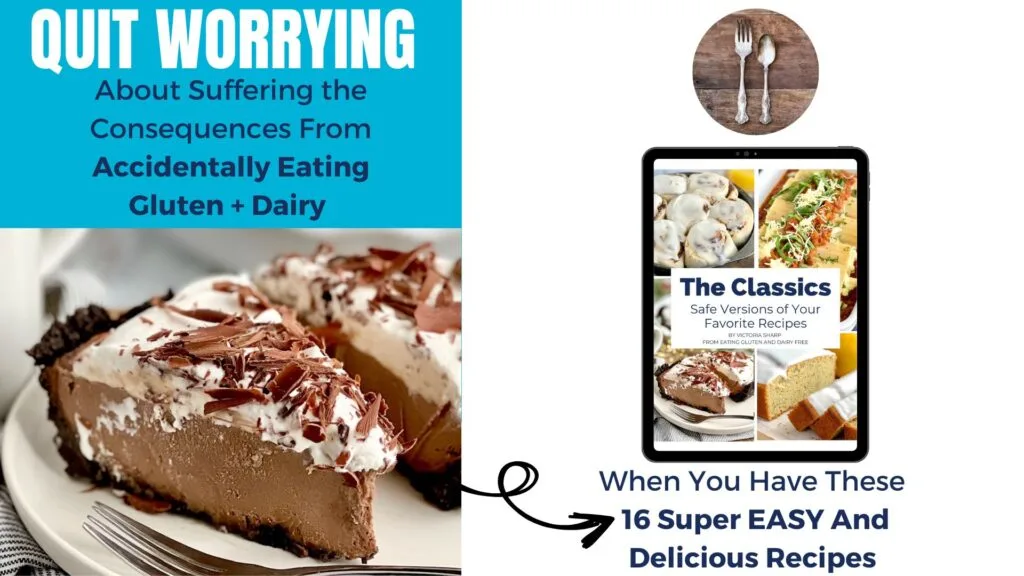 Grab The Classics Safe Versions of All Your Favorite Recipes Cookbook for just $9 today!
Instant Digital Download sent to your email address - Get The Classics Cookbook.