This post may contain affiliate links. Read the full disclosure here
Everyone needs one more gluten and dairy free dinner recipe, right?! Something that's delicious. Even tantalizing. It seems like I can never get enough easy and yet tantalizing recipes. So when I came across a Taco Bake recipe idea with dairy, I decided to give it a revamping. I added in other taco ingredients and took out a couple. I am so pleased I did.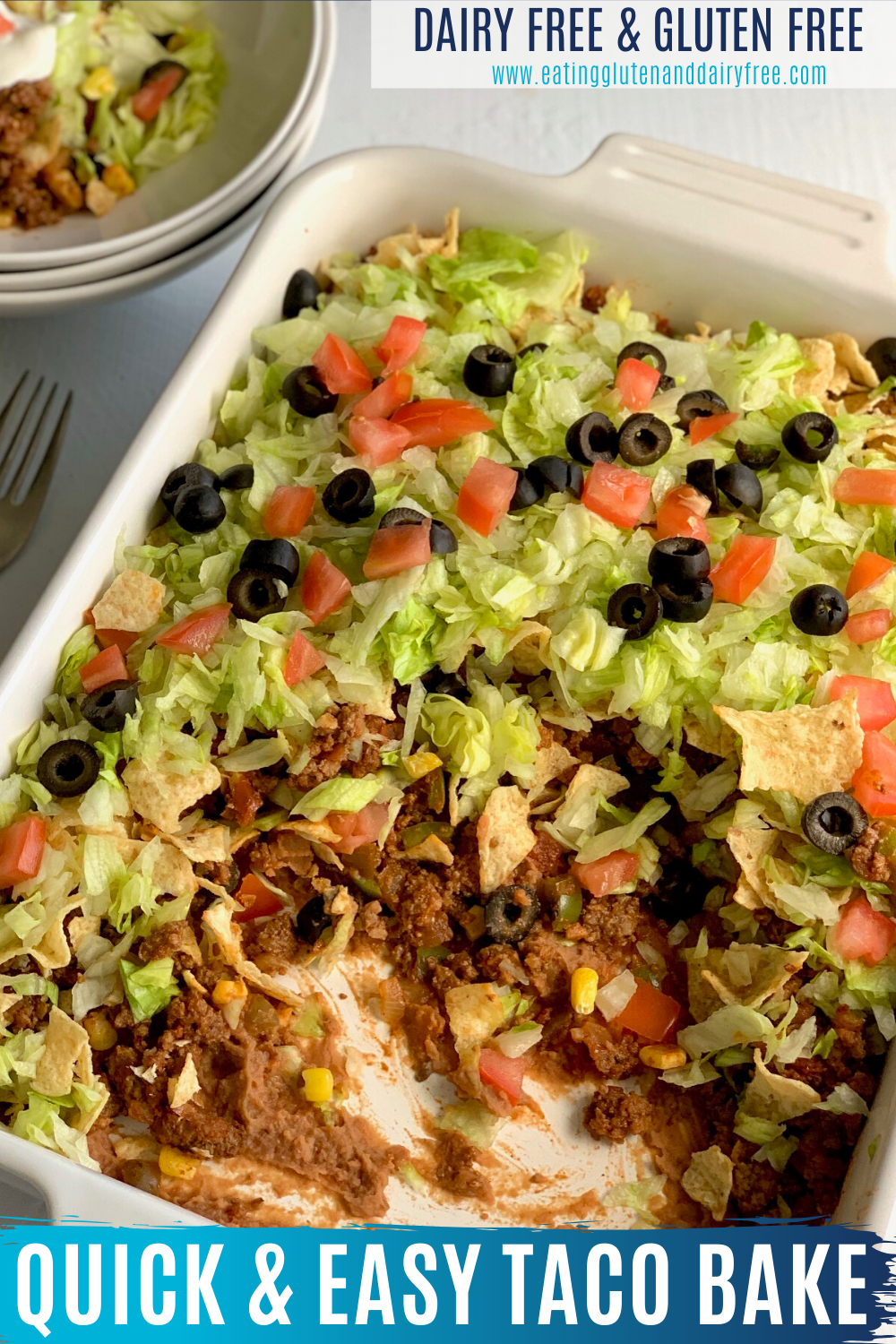 This gluten and dairy free Taco Bake is full of authentic flavor and very filling.  So be prepared to have your taste buds dazzled!
First, the refried beans add a creamy component to this dish making you quickly forget it's dairy free. The festive flavors of the ground beef and salsa are rich in flavor and spice.  This combination is so.so.good.  Okay, who am I kidding? Salsa, bell peppers, and ground beef combined is delectable.
Then add the crunchiness of the salty tortilla chips… oh my, it'll be a dance off, y'all. Top this dish with shredded lettuce, diced tomatoes, green onions, and olives.  Garnish with a dollop of guacamole or dairy free sour cream. This dinner dish has it all.
This taco bake is effortless to make, too!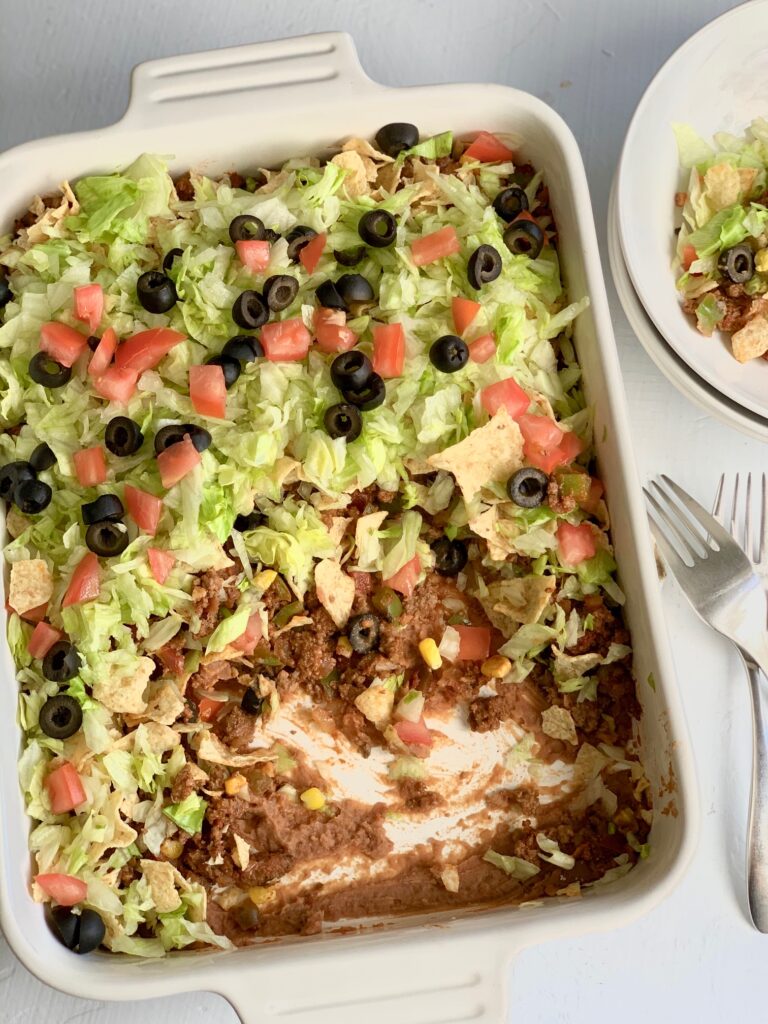 Start to finish in under an hour makes this dish a soon to be favorite.
First, preheat the oven to 350 F. Then, begin to sauté the diced onion in a large skillet on medium heat. Once the onion is translucent, add 1 pound of ground beef to the skillet. While the meat browns, ready the other ingredients.
Evenly spread the refried beans in the bottom of a 9 x 13 dish.  Then, dice the green pepper.  Next, shred the lettuce into bite- size pieces. Dice 1/2 a tomato, more if it's your family's favorite.  Drain and rinse the olives and set aside.  Lastly, thinly cut the green onions.  Set all aside.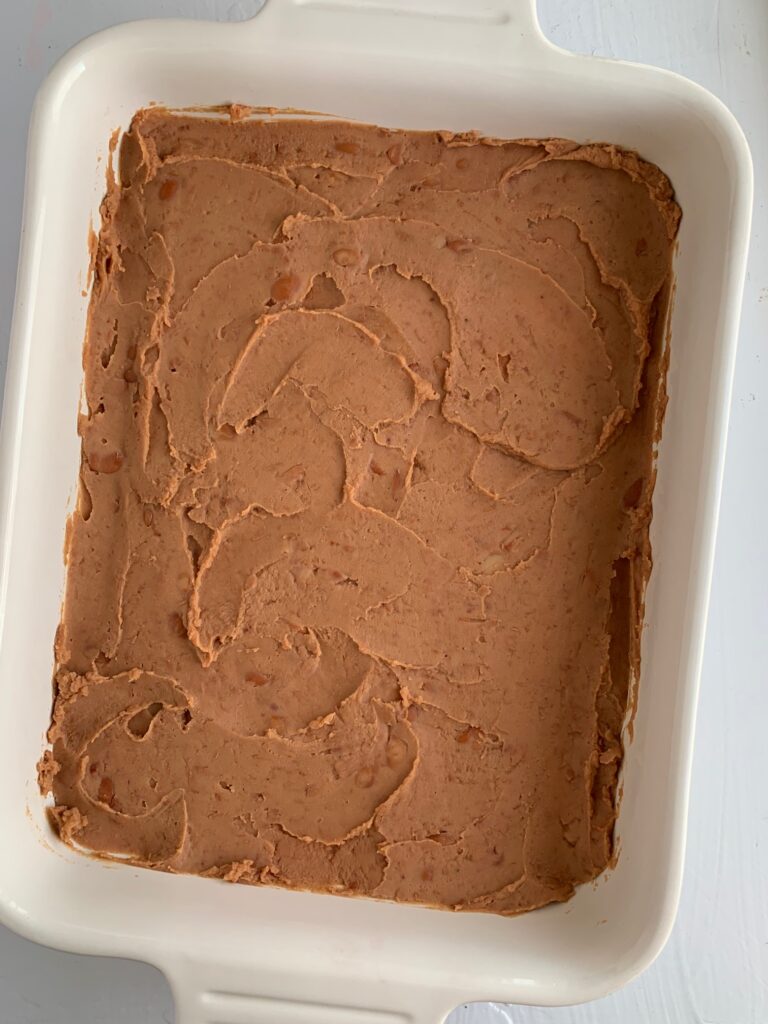 After the beef is browned, drain fat from the skillet. Then, add in the chili powder and cumin followed by adding the diced pepper. Stir well and place a lid on the skillet. Let it simmer for a few minutes until the bell pepper is softened.
When the bell pepper is softened, add the jar of salsa.  Then customize the heat of the salsa and beef to your liking. My kids are skittish about too much heat, so we stick to medium salsa.  But, feel free to bring on the heat if that's your thing.  After you've stirred the salsa well into the ground beef mixture, place it on top of the refried beans.
Then, bake this for 15-18 minutes so it's heated through.
Now starts the most enjoyable part. Or at least it's the best part for this foodie. ♥
Start with a handful of tortilla chips in your hands. Crush them between your hands and drop the pieces onto your taco bake.  Note, I take care not to completely destroy the chips.  And I prefer larger chunky tortilla pieces.  I used about half of a party-size bag.
Now load your taco bake with your favorite taco toppings.  Layer shredded lettuce or spinach all over your taco bake.  Then add handfuls of diced tomatoes and olives.  Lastly, top it off with green onions.  Oh, I love the taste green onions bring to any dish, especially this taco bake. Yaaaauuum.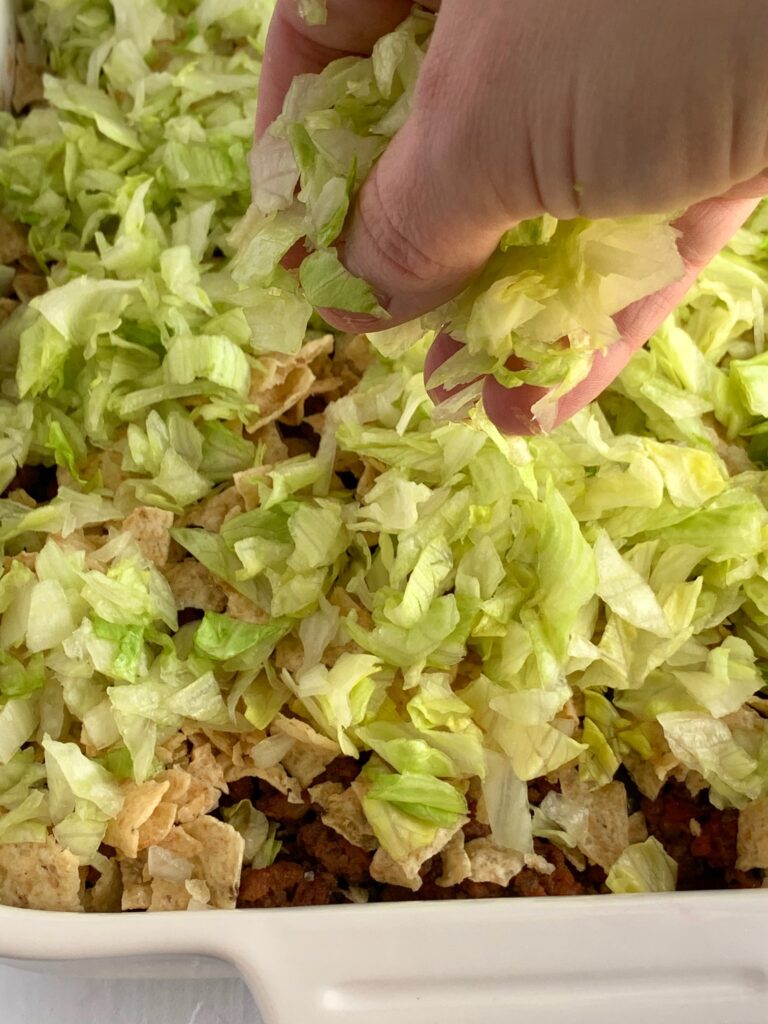 After you've dished up, serve with a dollop of sour cream or guacamole.  Tada! Dinner is served. 
lastly
Enjoy a straightforward and easily done dinner that will dazzle your taste buds.  Enjoy the creaminess of the refried beans paired with the spice of the salsa and ground beef topped off with crunchy tortilla chips and fresh toppings.  This gluten and dairy free meal can be customized to include your family's favorite toppings. Make it your way.
I have other effortless dinner recipes on the blog.  With three young kids, gluten and dairy free dinners need to be quick and easy. However I won't skimp on taste or quality.
Check out these delicious homemade meals–
easy skillet lasagna— one of my favorite recipes I can never get over how fun it is to prepare this meal in a skillet. No boiling water to mess with and the taste is delicious. You won't guess this is gluten and dairy free.
taco tater tot skillet— this is a reader favorite. Everyone loves this flavorful dish. You can prepare it in a skillet or baking dish.
oven roasted salmon— this healthy and quick meal is full of flavor. Serve along side your favorite veggies for a filling meal.
And you'll find more recipes on my website for every occasion including holidays, birthday cakes, buttercream frosting, and even food travel guides for your next trip. So get comfortable and explore– pinning recipes for your upcoming meal and the holiday needs.
Please leave comments below on your best-loved gluten and dairy free Taco Bake toppings!
Eat well, feel well,
Jill
Print Recipe
The Best Taco Bake
Ingredients
1/2

onion, diced

1

lb

ground beef

1

tbsp

chili powder

1

tbsp

cumin

1

green bell pepper, diced

1

15 oz jar

salsa

1

16 ounce can

refried beans

bag of tortillas chips

2

cups

shredded lettuce

1/2

tomato, diced

1/2

2.25 oz. can

sliced black olives, drained and rinsed

2-3

bunches

green onions, cut thin

guacomole, to garnish

dairy free sour cream, to garnish
Instructions
Saute diced onion in large skillet with oil on medium heat.

Once onion is translucent add ground beef to skillet. While beef browns place refried beans in bottom of 9 x 13 dish. Spread evenly. Cut and dice toppings, set aside.

When ground beef is browned, drain fat.

Add in chili powder, cumin, and diced bell pepper. Mix well. Place lid on skillet and simmer until green pepper is softened.

Add salsa to ground beef mixture and stir well. Place on top of refried beans.

Bake for 15-18 minutes until heated well throughout.

Take handfuls of tortillas chips and loosely crunch in hand. Place on top of the ground beef mixture.

Layer with shredded lettuce, tomato, green onions, and black olives to taste.

Serve immediately with a dollop of sour cream or guacamole.