Maybe the Super Bowl is your thing. Or maybe it isn't. Maybe you're only in it for the commercials? Either way, you're bound to need the best Super Bowl Party Foods (all gluten and dairy free of course!)
I enjoy preparing a super amazing food spread Super Bowl night regardless if we watch the game. So I've collected some of my favorite gluten and dairy free Super Bowl food ideas to share with you.
Just 'cause you're cutting out gluten & dairy doesn't mean you have to cut out the food fun!
Everyone can join in on the fun, the food, and the games. ♥Â And there are so many gluten and dairy free delicious appetizers, main meals, and desserts you can make. Because it really is all about the food, right???!
Here are your 9 Super Bowl food recipes sure to score a touchdown:
a flavorful 7 layer Mexican dip
addicting brown sugar and bacon wrapped tater tots
an eye-catching veggie tray with chips and dips sure to please any crowd
the coolest sweet and salty snack board that will have something fun for everyone
a baked potato bar with gluten and dairy free options
a delicious Crock-pot taco soup with tortilla dippers
the gooiest crowd-lovin' pizookie topped with dairy free vanilla ice cream and chocolate topping
easy make-ahead football rice krispie treats
a crowd-favorite combo -- chocolate and peanut butter in these heavenly Oh Henry Bars
Gluten and Dairy Free Appetizers
7 Layer Mexican Dip
There is something magnetic about grocery store 7 Layer Mexican dips that attracts me to them. Every time. And I know we can't eat them; still I fall for it every time. As I'm walking over to scan the beautiful display of 7 layer dips, I say a little prayer they'll have dairy free ones. Yes, insert evil laugh here. We all know the answer to this short- lived fairy tale story... it doesn't have a happy ending.
Until I started making my own.
So awhile back I made my own gluten and dairy free version. And yes... it's quite good!
For this recipe I used:
½ onion diced
1 teaspoon cumin & chili powder
16 oz can refried beans
1 ½ cups store-bought guacamole (you can always make your own)
1 cup dairy free sour cream
half a tomato, chopped
garnished with shredded lettuce, olives, and green onions
First, I sauteed the onion in oil over medium heat. After a couple minutes I added a dash of salt, cumin, & chili powder. Then I added in the can of refried beans and stirred well. I spread this on the bottom of the pie dish.
Next, I smoothed the guacamole on top, followed by the sour cream and tomatoes. The lettuce, olives, and green peppers were placed on last. Serve immediately or refrigerate. Honestly, I prefer this dip best when it's fairly cold.
You can control the heat on this dish. Different flavors of salsa change the depth of flavor. Lastly, a new gluten and dairy free nacho cheese sauce hit the market recently by WayFare. This would add another cream flavor to this dip. I haven't tried it... yet. If you've tasted it, let me know your thoughts in the comments. Serve with a variety of chips and veggies.
So now the grocery store 7 layer dips got nothing on me or you. No more magnetic pull!
Bacon Wrapped Tater Tots
These are literally mouth-watering and addictive. Your taste buds will not know what to do when you chew through three layers of finger-lickin' goodness in these brown sugar, bacon wrapped tater tots.
A few years ago a friend served something similar to these for a progressive dinner. WOW- hers were quite the "appetizing" experience. I knew then I needed these in our lives.
This Super Bowl makes the perfect excuse to celebrate with... tater tots and bacon. To make these you'll need:
a bag of frozen tater tots
gluten free bacon
a small dipping bowl of brown sugar (about ¼ cup)
For this recipe tap here.
Honestly with the brown sugar coating these are already mouth-watering and addictive. Make these tots more "grab" friendly by inserting toothpicks or festive bamboo picks found here.
Veggie, Dip, and Cracker Tray
The gluten and dairy free possibilities with this tray are endless! Prepare yourself for some tough decisions.
•pick a colorful selection of veggies
•add in 3-4 gluten and dairy free dips
•choose 2-3 different cracker choices
Kudos to the food industry who has been working overtime the past couple of years. Creative minds have produced countless new gluten and dairy free foods. Let's be honest... these new foods have not only been an answer to prayer, but they also taste divine!
New veggie and cracker dips hit the grocery stores this past year. And they will add new flavor to your party. Our favorite dips are Costco's organic hummus and Treeline's herb dip. Wowzer's, they are excellent! You'll find yourself eating more veggies than ever with these dips available.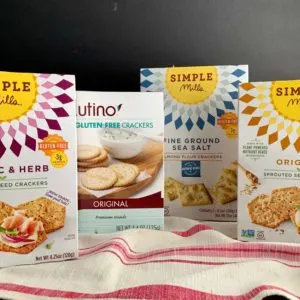 Lastly there is selecting gluten and dairy free cracker choices for your tray. I can't believe the many appetizing choices now. Our family loves savory, salty, and crunchy. So crackers are our thing.
Simple Mills crackers are ♥. Let's just say they are the cat's meow, y'all. Simple Mills has the whole gluten and dairy free cracker thing figured. I've noticed they're coming out with more and more cracker flavors. Sun Dried Tomato Basil is a crowd favorite! Our local Costco recently started carrying a Simple Mills 2 bag box that tastes amazing. They have a Fine Ground Sea Salt flavor my kids go crazy over. Yaaauuum.
Sweet & Salty Snack Board
These can be intimidating to organize. I find it's less intimidating when I break it down into little sections.
use snack choices not requiring silverware or plates
limit ramekins or small bowls to 4-5; too many ramekins will overwhelm the flow of your snack board
think in terms of color arrangement as you place food items
the less gaps there are between foods, the more eye-catchy your board will be.
salty snack suggestions: chips (hello Sea Salt and Vinegar chips), popcorn, toasted almond or cashews. Crackers, trail mix, and sour candies are also fun ideas. Pretzels and pickles add a fun salty punch. There are so many other salty ideas, too. Have fun with this!
sweet snack options are thrilling to plan, too. Probably too thrilling! I'm sure you'll have to limit yourself. Ideas include jelly beans, gummy bears, oreos, and fresh fruit. There are so. many. fresh fruit ideas... strawberries, blueberries, oranges, grapes, and blackberries. Dried fruits like banana chips, apricots, mangos, and blueberries add a delicious taste, too. Gluten and dairy free Vanilla wafers taste just like the real thing. My kids can't get enough of these. Sliced bell peppers will add lots of color to your snack board. They add needed height and healthy taste to the board.
A sweet and salty snack board works fabulously for people with food challenges and those without. It covers so many food options, you're sure to have a favorite for everyone. It's the ultimate appetizer that doesn't leave anyone feeling left out.♥
♦ Dinner
Baked Potato Bar
Wow, you can really score a touchdown with this idea! This is another tasty meal idea if your company is split on food they can safely eat. Again this potato bar works awesome for those who need to stay away from certain foods and those who don't.
You can make this homemade gluten and dairy free chili sauce. I found the chili sauce here. You will know the exact ingredients used instead of guessing the "natural flavors" in the store brand. This sauce tastes great when made a day or two early and reheated.
Possibilities for your baked potato bar include broccoli, bacon, dairy free sour cream, green onions, dairy free cheese sauce. Taco meat, taco toppings including salsa, and crushed tortilla chips are other options.
Crock-pot Taco Soup with Tortilla Dippers
No matter the occasion Crock-pot taco soup is another crowd favorite. The flavor of this soup very authentic. The fire-roasted tomatoes called for in the recipe add some heat, too. This soup can be made a couple days in advance of the big party. Follow this → link for the recipe on my blog.
I'd suggest offering a couple bags of tortilla scoop chips on hand. Or if you have time make homemade gluten free tortilla strips. Nothing says "hostess with the mostess" like homemade tortilla strips. And they're easy to make! We season ours with onion powder, garlic powder, salt, black pepper, and cayenne pepper. They're so addictive and flavorful.
Lastly, garnish with dairy free sour cream and chopped green onions on the top. Your company will be like, "This is a soup touchdown!"
♦Desserts
Pizookie Time
Yes, this is a thing and yes, your company needs this gluten and dairy free dessert. This gooey dessert drizzled in chocolate topping with vanilla ice cream is mouth-watering. It's divine, really, and...
it screams comfort food... as in "I'm here to comfort you whether your team is winning or not."
Serve this fresh out of the oven and with spoons ready in hand. This recipe is found on my blog hereâ†. I also show you in the blog post where to find the gluten and dairy free chocolate topping. Your company will be surprised this pizookie is gluten and dairy free! You've got a crowd winner here!
Rice Krispie Treats
Who knew Rice Krispie treats could be so super bowl festive?! These gluten and dairy free treats are a classic tasty dessert. The recipe is on my blog here. This will give you a game-winning dessert. Cut them into squares and you're good to go.
Or if you're feeling the creative mojo take these a step further. Use a football cookie cutter to cut out the cutest little footballs. I was able score 13 footballs out of the Rice Krispie recipe. Melt ½ cup dairy free chocolate chips (Enjoy Life). Then slowly spread melted chocolate over the top of the Rice Krispie to make a football shape. After the chocolate hardens, complete the football with white frosting or icing. These Rice Krispie footballs will catch everyone's eye.
There is always so much to do the day of a party. It's nice knowing these rice krispie treats can be made a few days in advance. ♥
Your company will enjoy these festive football treats, too.
Oh Henry Bars
Now if you're craving peanut butter with Rice Krispies, check these out. These gluten and dairy free Oh Henry Bars combine our favorites… chocolate and peanut butter! The gooeyness of these treats should get a penalty flag, y'all! They are amazing enough I wrote a whole blog post dedicated to them. Check it out and the recipe here. They are heavenly!
These are also the perfect grab-and-go desserts while watching the game or enjoying family time. These are delectable and addictive! I've made them so many times for parties and gatherings. They're always a hit and you really can't stop eating with just one. The chocolate peanut butter combo is heavenly. It's a rich gooey combination of flavor that tastes so, so amazing. There's nothing like chocolate melting in your mouth with peanut butter. Yaaaauum.
So there you go.
9 great gluten and dairy free Super Bowl food ideas.
You've got every dish covered... appetizers, dinner, and desserts. You won't be empty handed as you head out the door....
Or as you feast at home!
This guide will help keep any food frustrations at bay so you can focus on the game, the commercials, and your company. Enjoy your time with others!
I have many other recipes on my blog that would work for the Super Bowl. Check out Eating Gluten and Dairy Free for more crowd-winning food ideas!
Eat well and feel well this Super Bowl season!
Jill