This gorgeous Fruit Brownie Trifle is not only easy on the eyes but it's incredibly delicious. This gluten free and dairy free brownie trifle is made with layers of our famous homemade fudgy brownies, creamy Cocowhip, and fresh berries.
A brownie trifle is a perfect dessert to bring to get-togethers as it serves a crowd easily.
Everyone will be quick to tell you how gorgeous your allergen-friendly dessert is in the clear glass trifle serving dish and they'll be just as eager to tell you how delicious it was too!
They won't even know it's dairy free or gluten free.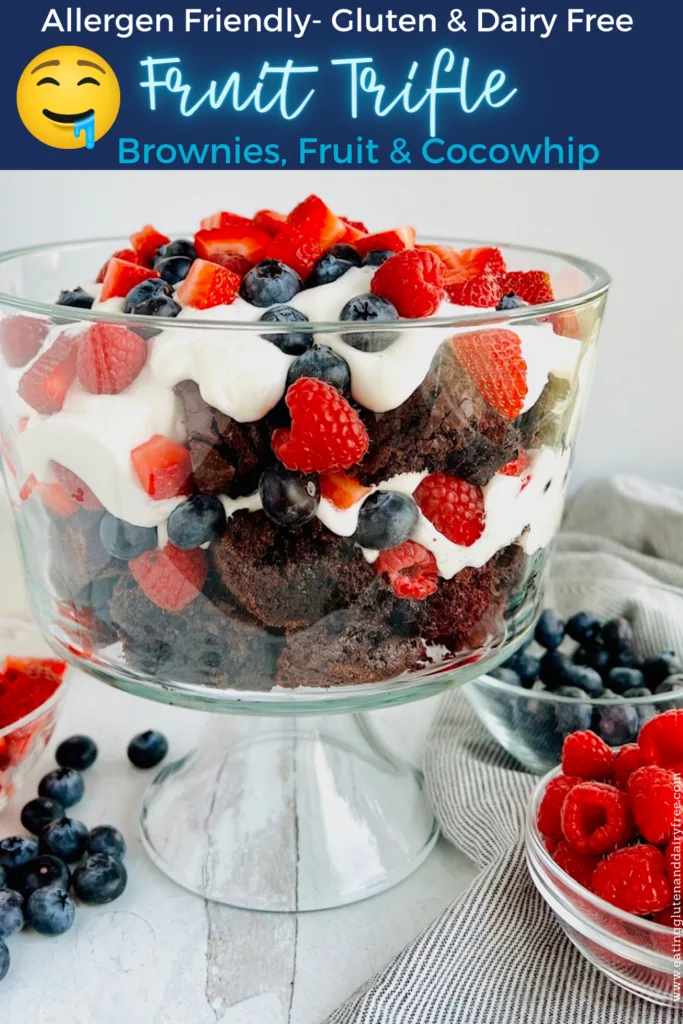 This trifle covers the 3 major dessert food groups:
fruit bursting with fresh bold flavor
rich, fudgy, gooey chocolate brownie
creamy So Delicious cocowhip that fills in the cracks of each bite
Judging off of appearances company would think you spent hours making this.
But no. This dessert comes together pretty quick. In reality, your kids could make it for you! Or you could have them cleaning the house while you create in the kitchen. #choices
Ingredient Notes and Brand Suggestions
gluten and dairy free brownies we bake our homemade fudgey brownie mix for this recipe and our 8x8-inch brownie recipe is the perfect size for this brownie trifle. Be sure to also have the ingredients on hand to make these brownies, see our post linked above to ensure you have all you need. This brownie batter makes super thick brownies and is easy to work with. You can make your own favorite homemade brownie mix or use a brand box mix, too. You will want to make the brownie ahead of time so they can be completely cooled. We suggest making it the day before or the morning of. If you are trifle bowl is large you may want to double the brownie recipe in 2, 8x8-inch pans.
two So Delicious Cocowhip containers (9 ounces each). We store them in the freezer until the night before making the dessert. We take them out of the freezer and place them in the refrigerator to thaw overnight. Here is their allergen statement.
various fresh fruits you can serve this with a flavor combo of blueberries, strawberries, and raspberries. Or serve it with two fruits or just one. I'd suggest staying away from juicy fruits like watermelon or pineapple as they extra juices can soak down to the other trifle layers and will give off a not so perfect texture.
Helpful Tools
8x8-inch pan- you'll need one
mixing bowl- used to make the brownies
measuring cups- to measure ingredients for brownie batter
knife- to cut brownies and fruit
angled spatula- for easily spreading cocowhip layer around
trifle bowl- for serving
FAQ
Can you assemble a trifle the night before?
We suggest assembling your dairy free Fruit Brownie Trifle one or two hours before serving and storing it in the refrigerator until serving time.

The cocowhip is going to be a cold layer so you don't want warm brownies messing with the texture or creaminess of the cold cocowhip or cold cocowhip messing with the firm fudgy brownies.
Can I make the brownies ahead of time?
Yes, in fact, we recommend it so they can completely cool.

The brownies can be baked and stored in an airtight container up to two days ahead of time for this fruit brownie trifle.
How long is this gluten and dairy free trifle good for?
We recommend that you assemble and serve this trifle within an hour or two of making it.

We suggest trying to enjoy it all on the same day you make it or at least within about 24 hours.

Refrigerate any leftovers once you've served them since it uses perishable ingredients.
How to create this delicious brownie and fruit trifle
To assemble the first layer of this trifle, take a knife and cut the brownies into 25 small squares. Layer it around the bottom of the trifle glass.
Next add one whole container of Cocowhip. Spread evenly over the brownie layer with an angled spatula.
Now for the third layer add a single layer of fruit. Spend extra time arranging the fruit evenly over the whipped cream.
Then add another layer of small brownie squares.
Lastly spread your last container of Cocowhip evenly over the top of the brownie crumbles. Then add in the remaining fruit for the last layer. You can also add a couple of fresh mint leaves and a large strawberry to the top for a big pop of color.
Then cover and refrigerate until serving.
Cover and refrigerate any leftovers.
When to serve this trifle dessert
summer BBQ
dessert buffet
church potluck
work parties
family gatherings
super Bowl party
bridal or baby showers
and any other dessert event you can create to serve this ♥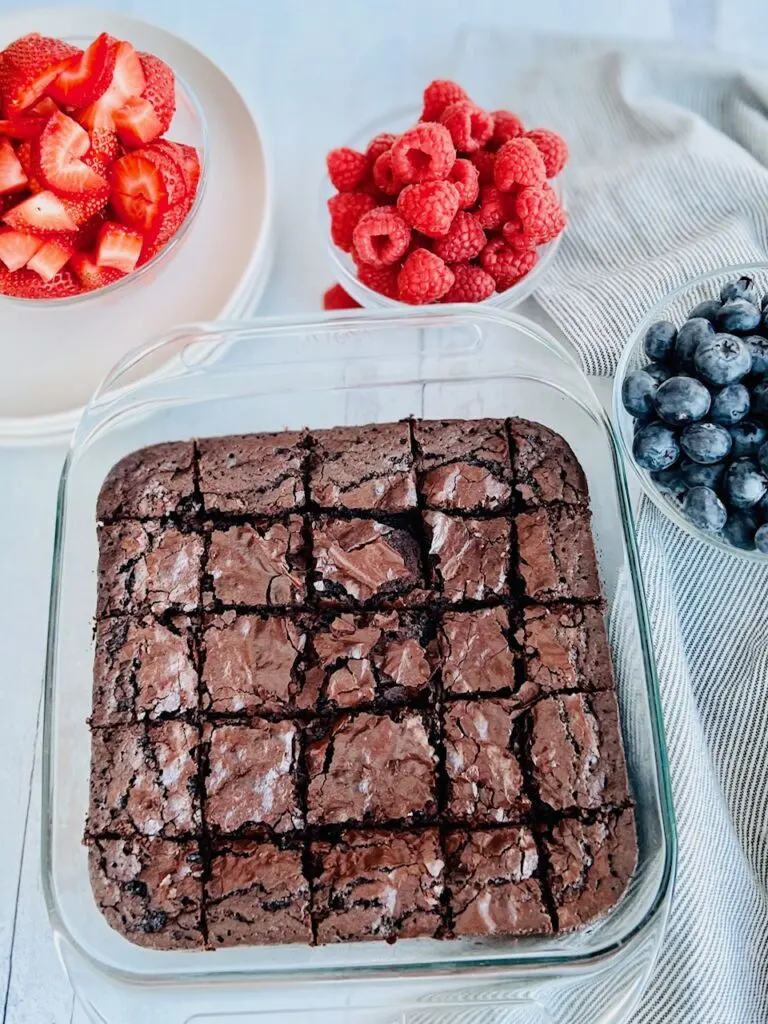 More recipes to enjoy
Lastly
Have fun entertaining company with this gluten and dairy free dessert.
You'll be surprised how easy it is to assemble. And how delicious it is! You won't be able to get enough of it!
Get more of our favorite dessert recipes in our ebook Cookbook, The Classics. And keep your eyes peeled for allllll the best Christmas recipes in one cookbook that should be available soon. It's so nice to have all your allergen friendly, gluten and dairy free recipes all in one spot, ready to use.
And it makes the perfect gift for any last minute gift giving needs (or any upcoming holiday)
Be sure to follow along on Pinterest, Facebook, and Instagram. Like and comment often so you don't miss out on the best of everything gluten and dairy free.
And sign up for my exclusive emails below.
Print Recipe
Gluten and Dairy Free Fruit Brownie Trifle
Ingredients
1

8x8-inch pan

gluten and dairy free brownies

baked and cooled, homemade recipe link in post

2

9 oz

So Delicious Cocowhip containers

thawed and refrigerated

3-4

cups

strawberries, blueberries, raspberries

washed and dried, cut strawberries into bite size pieces

1

sprig

fresh mint, to garnish
Instructions
With a knife cut the brownie pan into 25 small squares. Layer evenly around the bottom of the trifle. Only use ½ the brownie pan. Save the other half for the top layer.

Spread one container of cocowhip onto top of crumbled brownie. Spread evenly.

Place one layer of fruit evenly over cocowhip.

Add rest of brownie on top of fruit. Break into crumbs with your hands. Leave a few small crumbs for the garnish.

Add last container of cocowhip. Spread evenly.

Lastly garnish brownie trifle with remaining brownies. Add a few pieces of fruit. Add a couple mint leaves and a whole strawberry for the wow effect.

Keep covered, and chilled in the refrigerator until serving.