We recently flew from Montana to Ft. Lauderdale, Florida. We were thrilled to be sailing on a cruise out of Miami. On our morning of embarking we
explored downtown Miami and Miami Beach. Following our cruise we stayed overnight in Ft. Lauderdale. During those days we found a few of the coolest and yummiest places to eat for our gluten and dairy free family.
If you'll be traveling through downtown Miami or the Ft. Lauderdale area these 4 places are worth checking out. Let's say this... even if you hadn't been thinking about traveling through this area... do.
Add it to your gluten & dairy free food bucket list now.
Miami is such a beautiful place to eat and visit! We visited three restaurants and a bakery in two days. There were so many more places I had on my list to check out. We ran into a snag when many of the places were closed on Sundays. And wouldn't you know, that's when we were there. Needless to say Miami is on my list of places to go back too!
Four must visit places are...
Lilikoi Organic Living, Miami Beach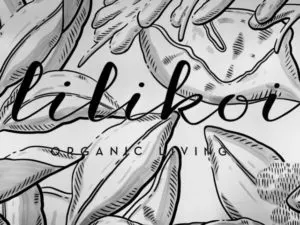 We enjoyed a beautiful and tasteful breakfast here the morning of our cruise. We'd flown into Ft. Lauderdale late the night before. We only had packed food and snacks on the airplane for dinner. By the time we arrived at our hotel in downtown Miami it was late, we were hungry, and so, so tired. The kids and I looked like something straight out of a zombie movie. We dragged ourselves and our five suitcases up to our room and collapsed for the night.
When we arrived at Lilikoi the next morning we were hungry starved and ready to eat our arms off. And lucky for us... everything on the menu looked good! We a difficult time choosing our breakfast. All the choices looked award-winning.
We decided on gluten, dairy free tropical smoothies and quinoa waffles for all. The kids aren't huge pecan fans so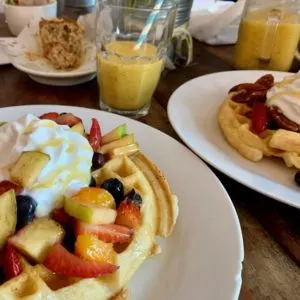 we ordered one without pecans and one with. The quinoa waffles are also topped with coconut whip, fresh organic fruit, and honey. Quinoa waffles were a new thing for us. The kids were a little freaked out by the name. I was excited to broaden our sheltered Montana food experiences! One child was determined these lovely tasting waffles couldn't possibly be delicious... because of the word quinoa. I shouldn't have let them overhear me ordering. The other two kids joined the hubs and I in devouring these. The fruit was fresh and very satisfying. The servings were hearty. Our three young kids shared one smoothie and one waffle with toppings between them. It was the perfect 1, 2 breakfast punch. And... I couldn't resist their vegan and gluten free muffins. We taste-tested a banana one. Yum.. should've grabbed a couple for the ship!
I'd highly recommend this restaurant for its casual environment and delicious food. This restaurant is not 100% gluten free. If you need that, then this wouldn't be your place. I felt they showed urgency in taking care of our food to prevent cross-contamination. Their menu is very gluten and dairy free friendly. Much more friendly than what we're used to in Montana. Their menu offers several gluten free options, so this is something they do work to cater to. Their menu is very detailed to what is gluten free, what is vegan, and what isn't. You can also find
their menu online.
I'd suggest you check this place out!
Under the Mango Tree, Miami Beach
After our cruise I talked the hubs into letting us experience another Miami beach food hot spot. And you might be thinking... you just got off a cruise... how could you even think about eating?! Speaking for our family the gluten and dairy free NCL cruise food was okay. We had lots of food options, but we weren't going to gain weight on the cruise. Nope. Nada. Nothing to write home about for sure.
So the kids and I were looking forward to eating "our kind of food." Foods that excited us. Oh, it's the little fresh things in life. And Under the Mango Tree is all about using the freshest of ingredients. They do the little fresh things of life well.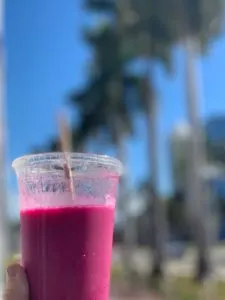 The kids and I might have even fought over the Pink Dragon smoothie. In the end I let the kids feast on it. They devoured it from the back seat of our rental car.
I sunk my eyes into something else. Thinking back I must've been in a dragon food kind of mood. I ordered the Dragon Fruit bowl for me and the kids enjoyed the pink dragon (fruit) smoothie. If you're an acai bowl snob, know this bowl doesn't have acai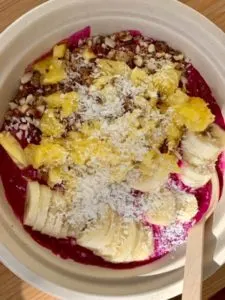 in it. It still tasted amazingly delicious. Dragon fruit is wonderful and it's something you can't get much of in Montana. As in, you rarely find this fresh! This bowl was heavenly. The tropical combination of coconut and pineapple toppings was total awesomeness. I could feel energizing life returning to us as we filled ourselves with such healthy foods! They have other menu options like veggie and spicy kale melts. However, they aren't gluten free.
The café is in Miami Beach and a quick walk to anywhere in that area. Seating was limited inside and parking was a bit tricky outside. So the hubs dropped me off and I placed our order to go. It was so busy! Definitely a place the locals often visit. One of my favorite parts of this café was a heart sign by the cash register. It read:
"Thank you for your time. REAL food takes time."
I want one of those in my home! Anyways... this café was cheery and very earthy. I enjoyed their interesting collection of old National Geographics on the wall while I waited for our food.
If you're in Miami Beach and looking for something fresh... here ya go. Under the Mango Tree has mouth-watering gluten and dairy free options for you!
Bunnie Cakes, Miami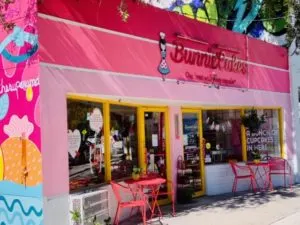 This place is a MUST visit.
Their baked goods are fabulous!
We made the mistake of buying a couple of mini cupcakes and tasting them before we left the bakery. Yes, you guessed it. We ended up buying a lot more! The kids and I were
all googly eyes over the donuts and cupcakes.
They all looked mouth-watering! We had the hardest time picking out flavors. There were so many choices!
You can't imagine the dilemma unless you've been there.
Their cupcake flavors include: dark chocolate, chocolate coconut, cinnamon sugar, vanilla with chocolate, and banana chocolate chip. They have more... those were just a few that caught our eye. My youngest son was ecstatic with his chocolate candy cane sprinkled cupcake.
Three of their fruit flavors that day were guava, passion fruit, and dulce no leche. My daughter and I fell in love with the fruit-flavored ones. They tasted like caramel.
The entire bakery is vegan. Their gluten free selection was very impressive. We were visiting on Christmas Eve and they had gorgeous Christmas cakes available.
The bakery owner is vegan and two of her four children are dairy free. They take special care to prevent cross-contamination; however, it can't be guaranteed. They use different utensils, bowls, and kitchen space when making their gluten free treats. See their website for more details.
The bakery itself is a splash of color. It screams fun! If you've already been there, you know what I'm talking about.
The kids and I were thrilled with this bakery! If you're going to be in the area, check out their events calendar.
They offer decorating workshops.
Our only regret with Bunnie Cakes is... we didn't pick up more. When our plane was delayed on the tarmac for over two hours the next day, we were wishing we had more of these cupcakes! Can you imagine the level of Mom Coolness I would have achieved had I had more Bunnie Cake cupcakes stashed in my carry-on??!!
I even thought of grabbing a little container to go for the airplane ride home when we were there. Next time I will for sure!
We give Bunnie Cakes 5 out of 5 stars! This place is worth your time to visit!
Fresh First, Ft. Lauderdale
This restaurant calls itself a "safe haven for celiacs and is vegan and vegetarian friendly." It's 100% gluten, peanut, and
GMO free according to their site. Of the other restaurants I have highlighted on this post, Fresh First has the largest and most diversified menu selection.
They offer a full breakfast spread. Their lunch spread includes salads, lunch bowls, soups, sandwiches and burgers. We were there for an early and quick breakfast. Our breakfast was delicious. And it's always a relief when I don't have to worry about gluten cross-contamination. As you know it's so difficult to navigate traveling when you have to be so careful with your food. We ordered the waffles and the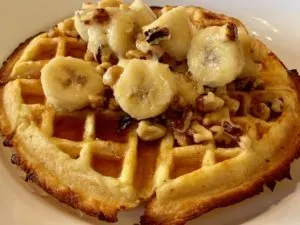 kids split a smoothie. We specified for the waffles to be dairy free. The banana walnut compote on the Belgian waffle was mouth-watering! I was impressed.
Fresh First staff were very aware of their menu ingredients. I felt their menu offered such a wide variety of safe and healthy foods for the whole family. On a different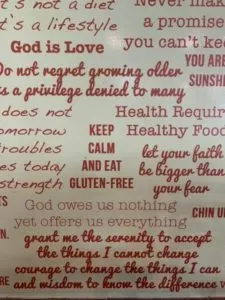 day we would've tried their chicken apple sausage and egg & quinoa hash. I was drooling over their lunch menu. The raw nut chili tacos and sweet potato burger sounded amazing!
This restaurant also has an inspiring atmosphere. One whole wall has inspiring quotes, scripture, and wise sayings. I would love to decorate one of my office walls to match it.
Ft. Lauderdale is a beautiful place to spend time as well. Did you know it has 23 miles of beach? ♥ The beach is gorgeous, and we saw less crowds than at Miami Beach. We enjoyed driving over the countless bridges looking at the massive yachts, too. We definitely want to spend more time exploring and relaxing in this area.
⇒And that's a Miami food travel wrap, y'all!
Again, I'd eat at any of these four places again. Miami has many other gluten and dairy free restaurant gems, too. I'd say one has endless gluten and dairy free food options in this area. As always I used the Find Me Gluten Free app. when researching places ahead of time. I find it's a helpful resource when eating in the US.
Enjoy eating gluten and dairy free in Miami!
The kids and I say, "Have a blast in Miami and save some Bunnie Cakes cupcakes for us!"
Eat well, feel well, and travel well!
Jill