Yes... you read that post title correctly. There is such a thing as gluten and dairy free peanut butter cups. And guess what... these things are to die for. Creamy peanut butter sandwiched between 2 layers of chocolate.
Each bite is decadent.
Let's put it this way. If I was sent to a deserted island for 30 days with only one survival item... please let it be these peanut butter cups. They will satisfy any sweet tooth, any chocolate craving, and they'll keep me sane. I'm sure these could keep me alive for 30 days.
I'm so serious you might find a batch or two of these in my freezer. And you should have them in your freezer, too.
They're like an essential item in an emergency kit. In a world of band-aids and gauze for life's boo boos, these peanut butter cups can do their own healing and repairing.
Remember... I picked these as my one deserted island survival item.
Because....
Yes, they are that good. When has a peanut butter and chocolate combo been anything but amazing?! These mini packed treats have three layers of goodness. The peanut butter oozes out of each bite. The cold chocolate melts in your mouth.
Yes, they are that easy to make and store. They can be formed and in the freezer in less then 20 minutes. They can be stored for months in the freezer.
Yes, they are the cure all of cure-all's... for anything.
But just because they're in my freezer doesn't mean we're eating them all day long.
Though the thought is beautiful.
These gluten and dairy free peanut butter cups are fun to share with others, too.
Try gifting them to friends. Maybe hand deliver these to a friend who just delivered a baby when you dropping off a meal. Or gift them to a friend changing jobs or careers.
Give them to friends with a note to store them in the freezer and pull out as desired.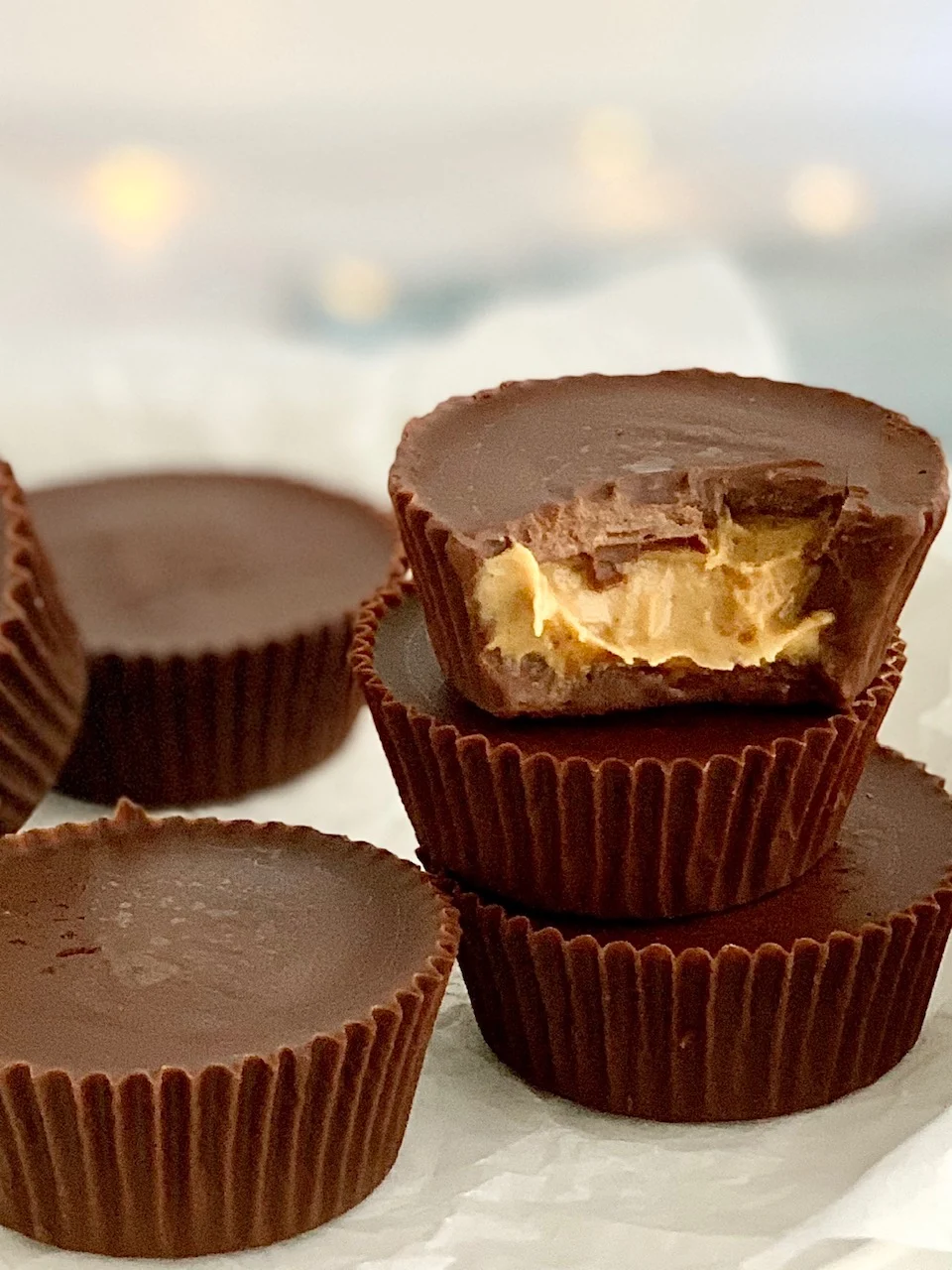 recipe notes
dairy free chocolate-- Enjoy Life Semi-Sweet Chocolate Chips, Nestle Toll House Simply Delicious Semi-Sweet Morsels both work well too.
You can make these in two different sizes. I prefer making mine in the mini muffin pan. They work just as well in a regular muffin pan too. A recipe for a traditional size peanut butter cup is in the notes of the recipe card.
more gluten and dairy free recipes
brownie cookie sandwiches-- these are absolutely heavenly. You'll want to pin this recipe now.
grilled shish kabobs-- these are the perfect year round dinner meal. Full of fresh veggies and moist meat marinaded in the most flavorful combinations. Plan on this recipe soon.
lastly
For now you have some freezer stocking to do. Enjoy these drool worthy gluten and dairy free peanut butter cups!
Eat well and feel well,
Jill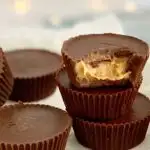 Print Recipe
Gluten and Dairy Free Peanut Butter Cups
Ingredients
½

c.

creamy peanut butter

¼

teaspoon

coconut oil

1

tablespoon

coconut oil

1

tblsp

coconut flour

2

tblsp

honey

¼

teaspoon

vanilla extract

10

oz bag

dairy free chocolate chips
Instructions
Place muffin liners in mini muffin tin.

In a small bowl combine peanut butter and 1 tablespoon coconut oil. Soften in the microwave for 20 seconds. Then add in coconut flour, honey, and vanilla extract. Stir well to combine. Set aside.

Add ¼ teaspoon coconut oil to small saucepan. Add 10 oz dairy free chocolate chips. Turn stove top on low and slowly melt. Stir often.

Remove chocolate from heat when melted. Fill the muffin cup ⅓ of the way up with melted chocolate.

Drop a spoonful of the peanut butter mixture on top of the chocolate.

Lastly, cover with remaining melted chocolate. Tap muffin tray on counter top to even out peanut butter cups.

Place in the refrigerator for a few hours, or the freezer for an hour to set. Then remove peanut butter liner. Store gluten and dairy free peanut butter cups in an airtight container.

These taste best when eaten cold, even straight out of the freezer. Freeze up to 4 months.
Notes
To make traditional size peanut butter cups-- this recipe will make 7 peanut butter cups.
Place 7 muffin liners in a regular muffin tin. Cut the peanut butter recipe in half however prepare the same amount of melted chocolate and coconut oil as the recipe calls for.