You know what the best treat in the entire world is this time of year?! Reese's Peanut Butter Eggs! Is it even possible to visit the grocery store and not see these delicious treats lined for sale throughout the store?
And to be honest for several years Easter was the holiday I was most bummed about eating gluten and dairy free– all because of these decadent treats that I missed so much.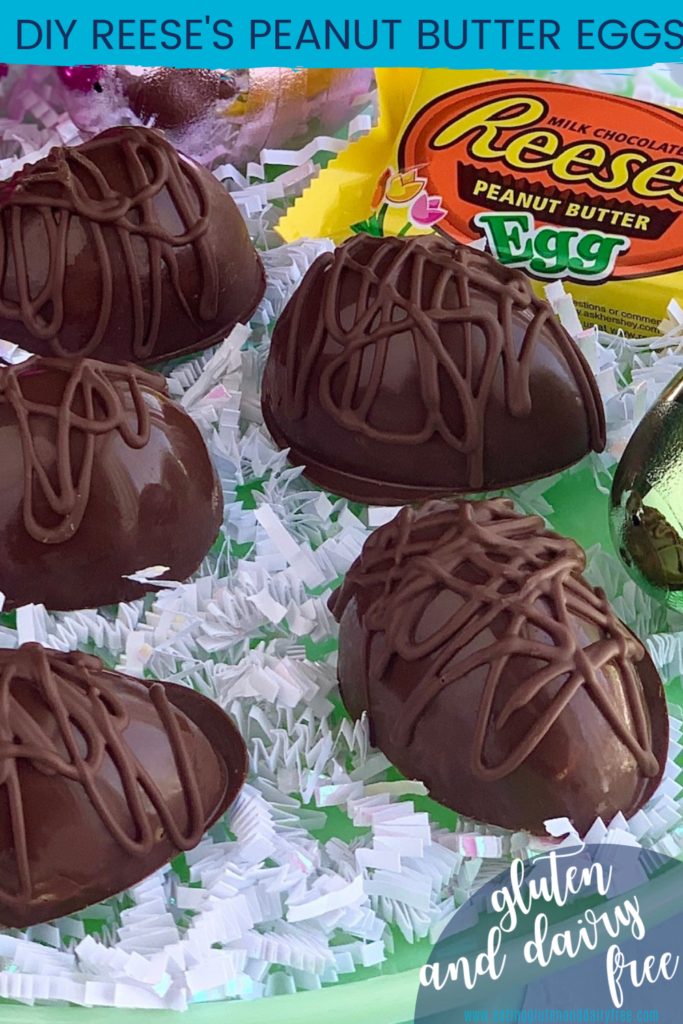 So for the past several years I've tried countless recipes to find the perfect homemade Reese's Peanut Butter Egg recipe. I concluded using powdered sugar in the filling was the difference maker. I love, love, love this recipe. And not just me, but my kids too.
Homemade Reese's Peanut Butter Eggs recipe notes
first the egg mold is a must to keep this recipe easy. This recipe is geared towards this specific mold. If using another mold, you might need to alter your measurements (i.e.– melt more or less chocolate, etc.) I use this silicone egg mold. UPDATE– currently this mold is having shipping delays due to the COVID-19 virus.
second the dairy free chocolate I recommend is either Simply Delicious semi-sweet chocolate chips or Enjoy Life semi-sweet chocolate chunks. I can find both at Walmart, Amazon, or health food stores.
and I use cheap kid paint brushes to spread the melted chocolate mixture evenly over the egg cavity
lastly if you're going to drizzle the homemade Reese's Peanut Butter Eggs in chocolate I highly recommend using a mini squeeze bottle to get this perfect look. And to be honest, I use these mini squeeze bottles every week so they're a great investment. I've had the same bottles for years– they're easy to clean out with a kitchen scrub brush.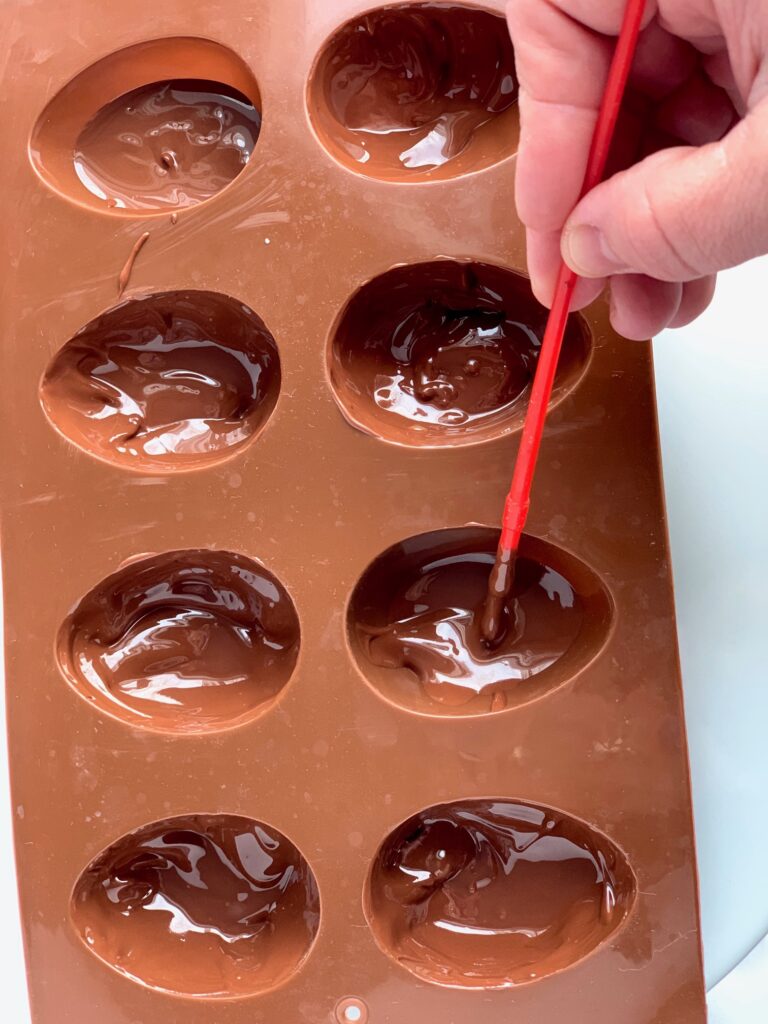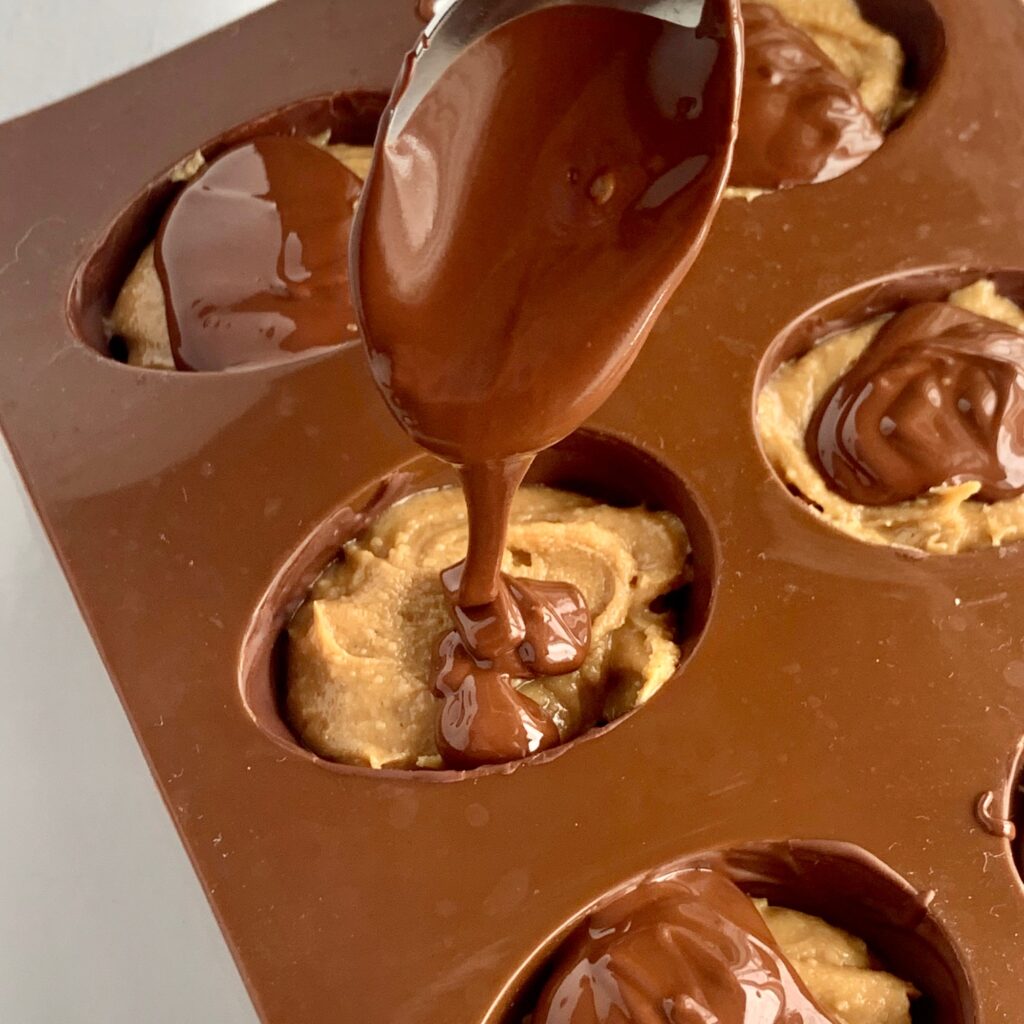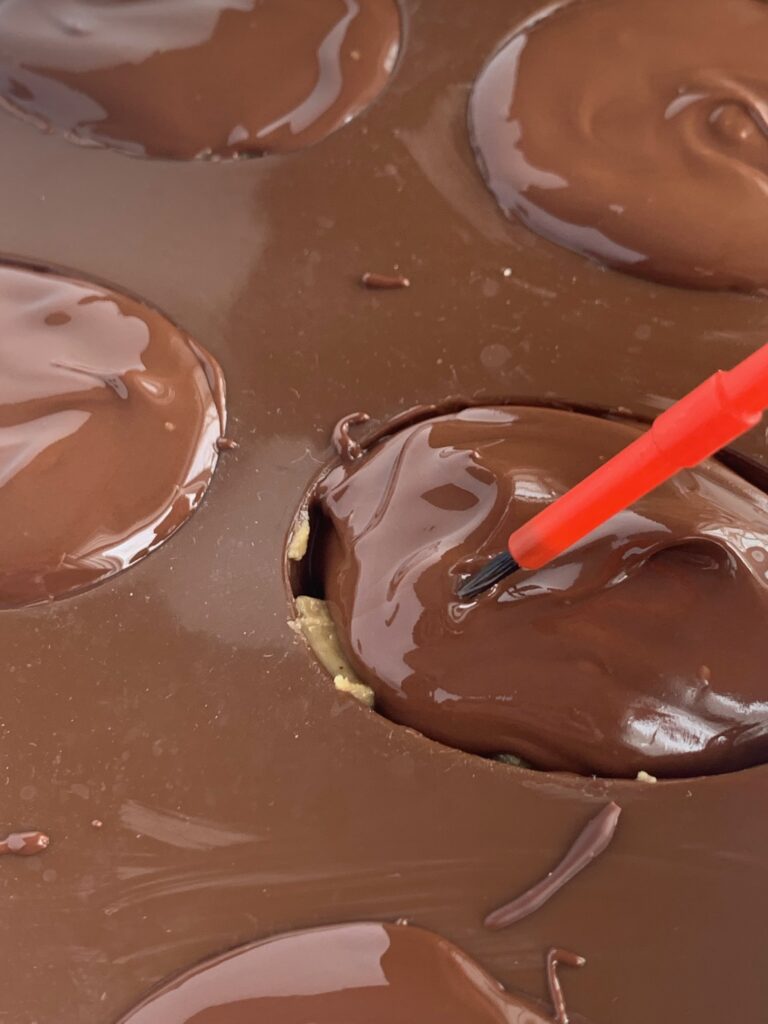 More gluten + dairy free Easter Recipes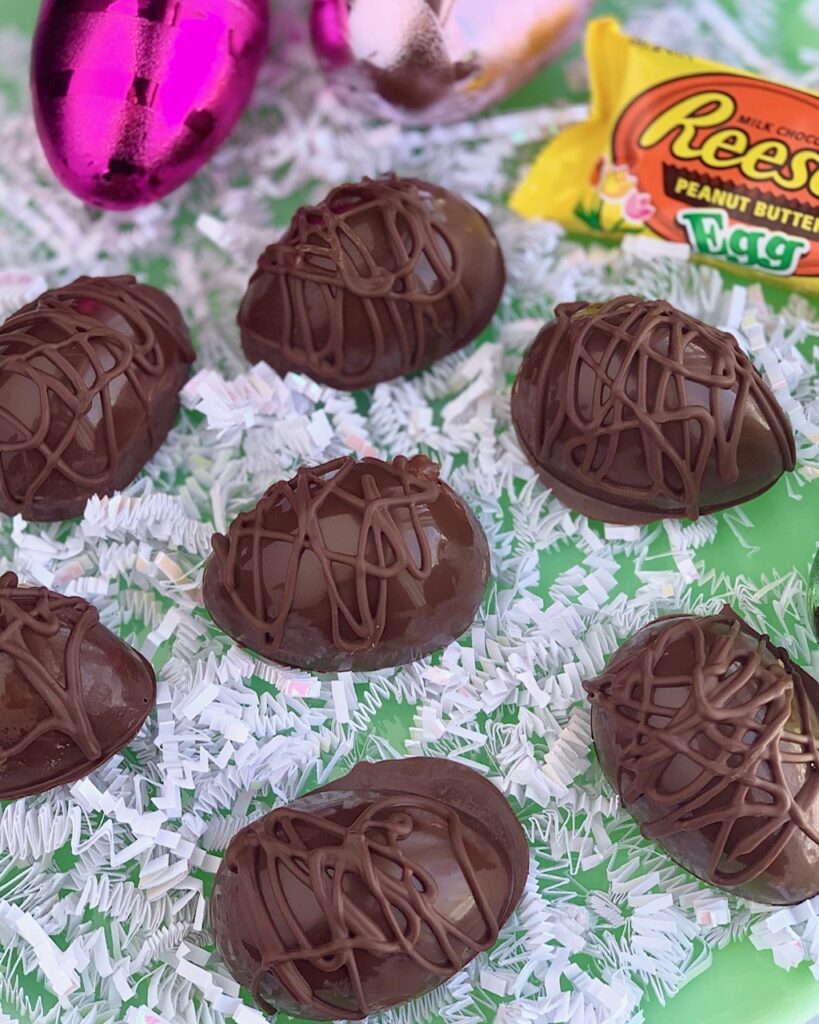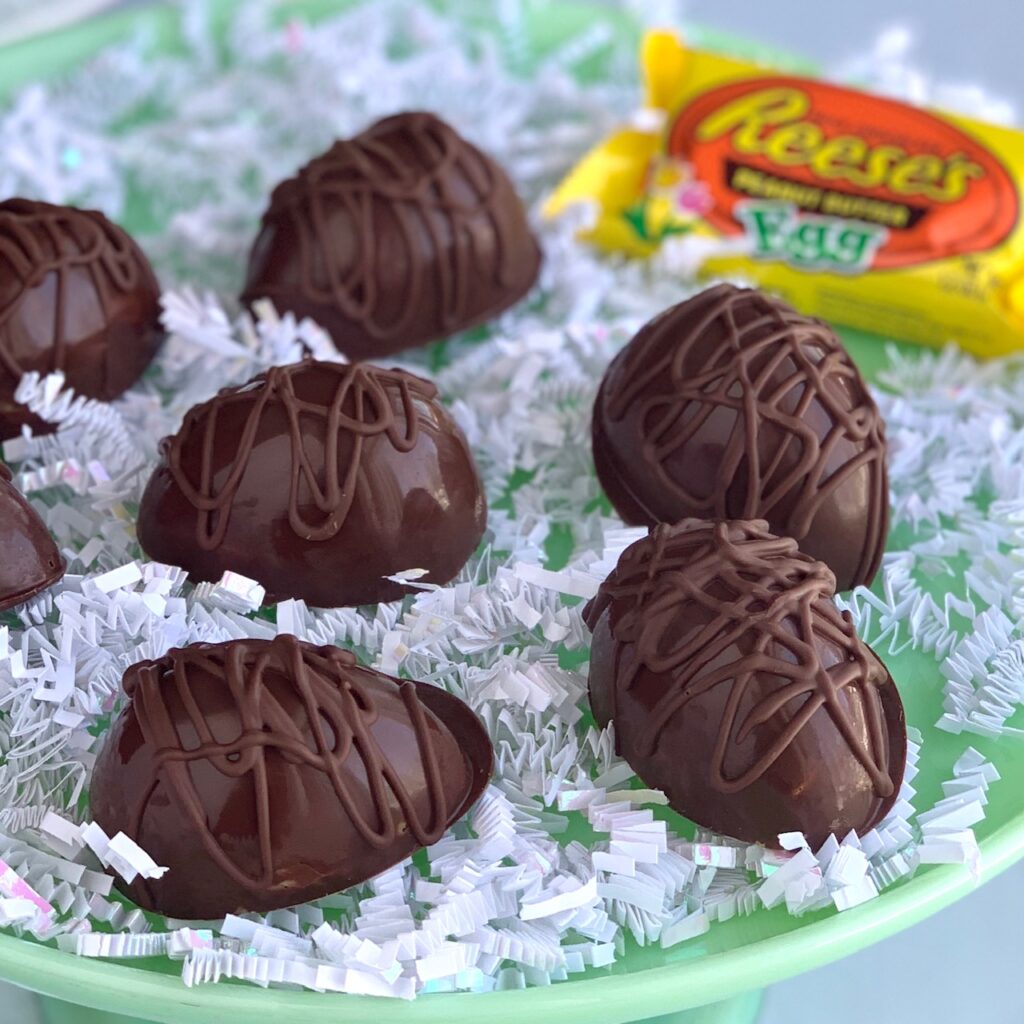 Lastly
You will just love this homemade Reese's peanut butter egg recipe too. I can't imagine going through the Easter season without a batch… or two of these. Also it's important to note I was inspired for this recipe from a similar version found at Joy Food Sunshine here.
My easy to follow homemade recipe will make your Easter holiday complete. Chocolate and peanut butter is the world's best food combo and these decadent treats won't disappoint.
Please do me a favor and let me know in the comments if you found this Easter recipe helpful. And let's connect on Facebook, Instagram, and Pinterest.
Eating gluten and dairy free is fun, festive, and delicious!
Eat well and feel well,
Jill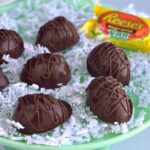 Print Recipe
Homemade Reese's Peanut Butter Eggs
Ingredients
Chocolate Egg Outside Coating
½

c

semi-sweet dairy free chocolate chips

½

tbsp

creamy peanut butter

¼

tsp

coconut oil
Egg Filling
½

c

creamy peanut butter, softened

¼

c

coconut oil, melted

1

c

powdered sugar

1

tbs

dairy free milk

unsweetened almond milk works great

½

tsp

vanilla extract
Instructions
Melt all of the chocolate egg outside coating ingredients together in the microwave or over the stove top on low. Stir often.

Once melted place a ½ tbs of melted chocolate mixture in each egg cavity. Using a paint brush, paint the cavity with melted chocolate. After you've covered all the cavities, re-brush the cavities with the chocolate that has settled to the bottom. Set in the refrigerator or freezer.

Prepare the peanut butter filling– mix together all of the filling ingredients in a small bowl.

Once the chocolate has hardened place 2 teaspoons of the peanut butter filling into each egg cavity. The mixture will be thick and easily molded in the cavity. You will fill the cavity ¾ full leaving room for the last coating of melted chocolate.

Place the remainder of the melted chocolate by the ½ tablespoon on top of the filling. Spread with a paintbrush to coat all of the filling well and seal it in.

Allow eggs to harden, remove from the cavities, and place in an airtight container up to a couple days.
Optional Drizzle
Melt more dairy free chocolate and coconut oil, place in a mini squeeze bottle or with a spoon, drizzle across each egg.
Notes
Keep in mind as dairy free chocolate goes through extreme heat to cold changes it makes the eggs more prone to getting white spots. While you can safely eat the chocolate with white spots, it won't look quite the same. I'd recommend preparing these the day of your event or consume them within a day or two of making.