This post may contain affiliate links. Read the full disclosure here
Wow— have you noticed all the gluten and dairy free Easter basket treat ideas this year? I've never seen so many choices before. In other words I've had fun shopping online and in local grocery stores for the best Easter basket treat ideas.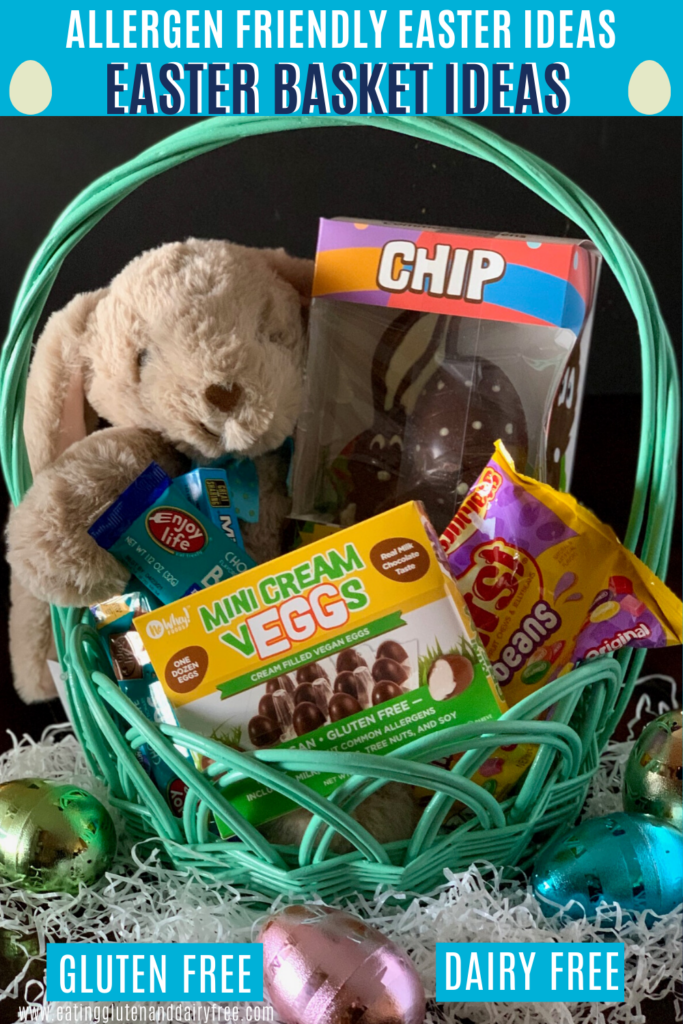 Years ago when I started eating gluten and dairy free Easter treats where a no no. As in there were no options. Now days through online shopping you can take your pick of Easter basket treat ideas. In this post I specifically want to highlight several allergen friendly brands who tailor to the allergen community. While most of these suggestions are free from the worry of cross contamination not all are. Always read labels as company's can change their manufacturing practices or ingredients without notice. You will find I've also included brand links for your convince.
Easter Basket Ideas
Milk Chocolate-Like Bunny–from No Whey (free of the 8 common allergies). This bunny is nostalgic of the chocolate bunnies I received as a kid in my own Easter basket. The milk chocolate bunnies are large and hollow just like you'd find when browsing the isles of the grocery store. My kids have enjoyed these the past two years. Purchase "Chip" from the No Whey website or on Amazon here.
Mini Cream vEGGs— from No Whey and free of the 8 common allergies. These cream filled vegan eggs are mouthwatering. Seriously I am not exaggerating– you need these too, they're not just for kids! You can purchase them from their website or off Amazon here.
Enjoy Life Chocolate bars— 3 varieties are rice milk, dark chocolate, and rice milk crunch
Enjoy Life Easter Chocolate Mini variety pack
Red Licorice Scottie Dogs from Mom's Place Gluten Free. My family loves these cute little licorice Scottie dogs! Purchase on their website or off of Amazon here.
Sour Gummy Rabbits from Mom's Place Gluten Free. These make an awesome addition to any Easter basket.
Packaged Gum Balls— Tree Hugger Variety Pack of Bubble Gum available here on Amazon. Another kid-approved classic that is also nut free and vegan.
Honey Sticks— my kids absolutely enjoy every drop of these little treats. They're the perfect on-the-go snack too. I buy them in bulk on Amazon here.
Peeps–while these are gluten and dairy free, they may come into contact with it in the manufacturing process. See their allergen statement here.
Hu Kitchen Chocolate Bars— these decadent bars are pricey, however perfect for a teen or adult Easter basket
Amanda's Own Confections also has several Easter Basket Treat Ideas. They are worth checking out online.
Mike and Ike's— there may be gluten cross contamination during manufacturing review out their allergen statement here
Sour Patch Kids— keep in mind there may be a risk of gluten cross contamination during manufacturing
Starburst— always consider the possibility of cross contamination
Swedish Fish— consider the risk of cross contamination in the manufacturing process
Lastly keep in mind No Whey also has chocolate lollipops, more bunnies creations, and other Easter related chocolates available on their website and on Amazon. You'll definitely want to snoop around their website for other holiday and every day treats. I highly recommend this allergen friendly brand!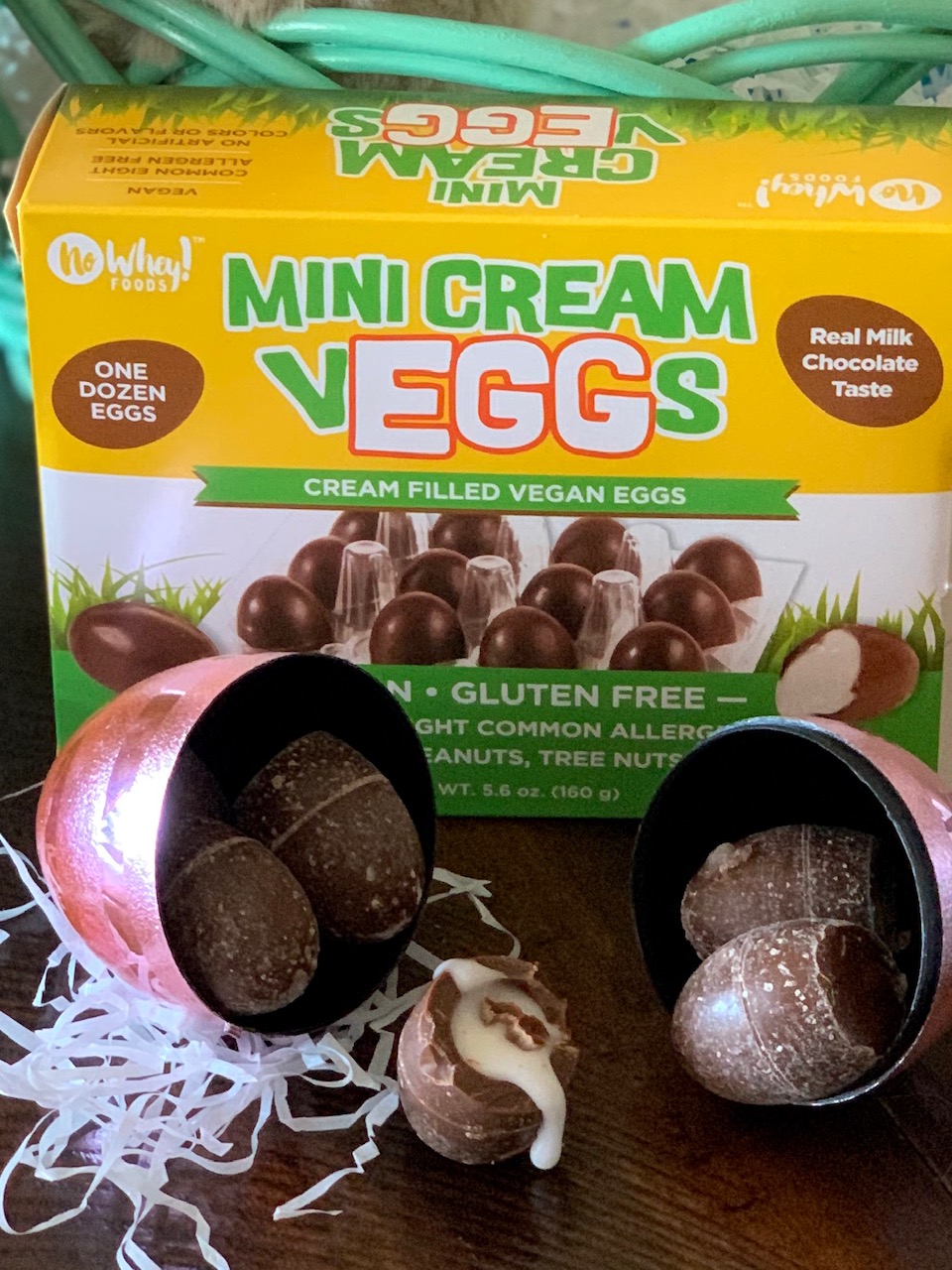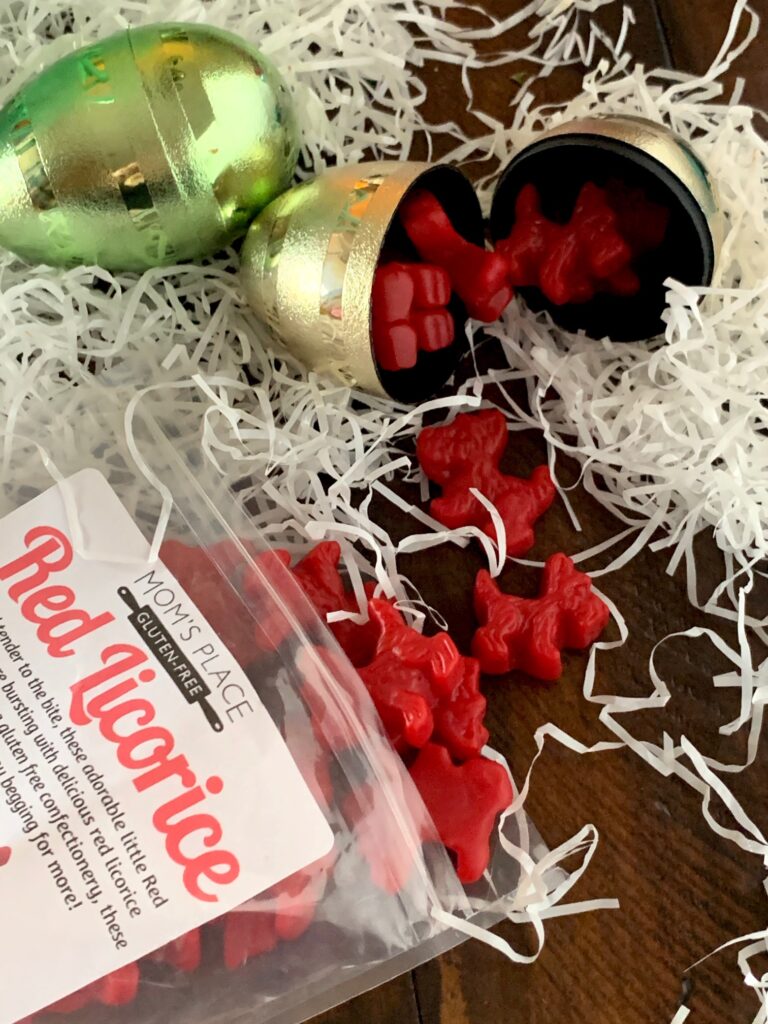 more Easter ideas
veggie pasta salad— combine fresh veggies, gluten free pasta noodles, and tangy Italian dressing for a budget friendly side dish
homemade mashed potatoes— this recipe is the creamiest and perfect for your Easter dinner
chocolate bundt cake— this easy recipe is decadent and oh so moist. Family and friends won't even guess it's gluten and dairy free.
Lastly
As you can see this post is filled with delicious Easter basket treat ideas. AND each suggestion is not only gluten and dairy free you'll also notice many products are soy, egg, and nut/peanut free too. You will find the links you need to order these straight to your home! It really doesn't get any easier or tastier then that.
Do me a favor– let's connect on Facebook, Instagram, and Pinterest too. That way you won't miss any last minute Easter finds, recipes, or tips. Be sure to check out more holiday recipes and product suggestions on my website.
Eat well and feel well,
Jill