Who's ready to enjoy a delectable dessert that's also easy on the bank account?
Not only are these homemade brownie bites fudgy and chewy, but they can be topped with all your brownie favorites too. Yes, you can truly have it all with this dessert.
And the best news yet-- these don't taste free from anything! o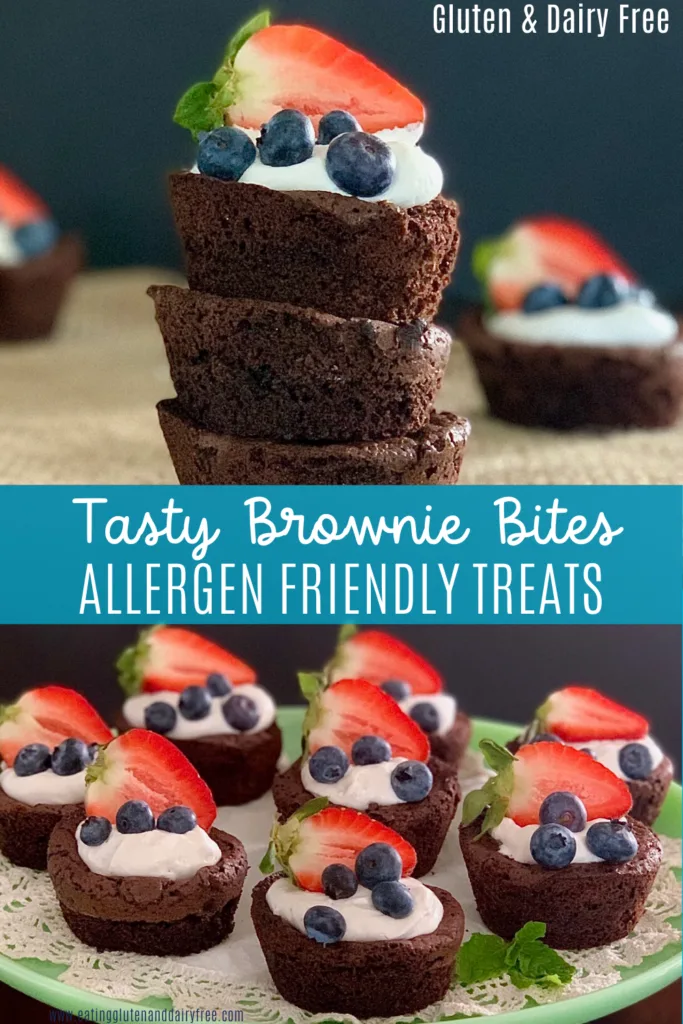 It's no surprise these homemade brownie bites will be the hit of the party. These are an easy grab and go off the dessert table favored by kids and adults.
bake these for your next
family game night or any family gathering
Mother's day brunch
birthday party
Valentine's treats
4th of July BBQ
New Year's Eve countdown party
work or church potluck
Graduation celebration
Super Bowl party
Father's day get-together
baby or bridal shower
Galentine's party
and the list could go on and on with these delicious gluten and dairy free treats
recipe notes for perfect bites
first your favorite boxed brownie mix. My family loves, loves, loves the fudgy taste of the King Arthur brownie mix. No joke, I've never heard of anyone not loving this brownie brand. Now keep in mind they are a little more expensive than some gluten free brands. My trick-- ordering them off Amazon in bulk (6 boxes). Each brownie box is much cheaper than purchasing in stores, and I always have some on hand for last minute company or events.
second the toppings-- my favorite is So Delicious Coco Whip. Y'all hear me talk about this wonderful product all.the.time. on my social media accounts. Sorry, not sorry. I would eat it on everything if I could. You could also consider an easy and decadent chocolate ganache recipe found on my website here.
next top these brownie bites with your favorite fruits, sprinkles, or chopped nuts
I've found all muffin pans, ovens, and brownie mixes bake slightly different. The key is filling your muffin cavity only ¼ of the way. This will give you a delicious brownie bite that isn't hard and crispy at the top yet an under-baked bottom.
importantly-- when you remove the brownie bites from the oven, they will continue baking in the muffin pan. You want this. Allow them to cool for 3-4 minutes in the muffin pan, then gently remove to a cooling rack. If needed use a sharp knife to loosen the brownie edges from the muffin cavity. If bites continue baking in the pan longer then 4 minutes, they're likely to get quite hard.
lastly-- another reason I love preparing these for gatherings is the brownie bites can be baked a day or two ahead of time and stored in an airtight container. Then top with your favorites just before serving.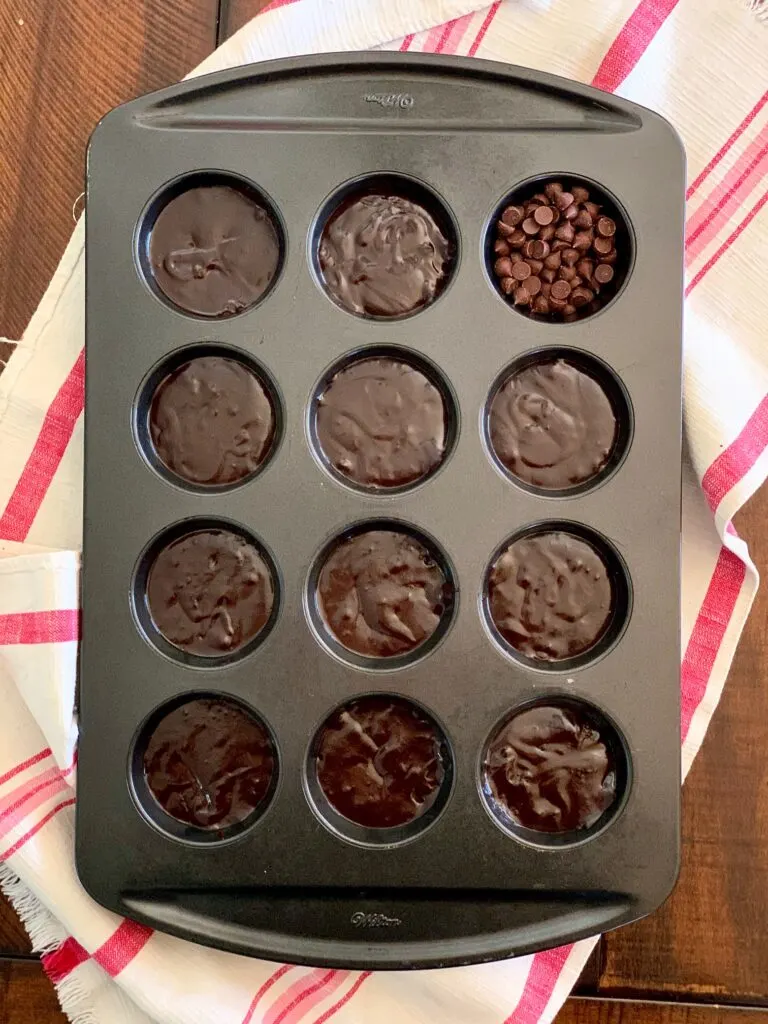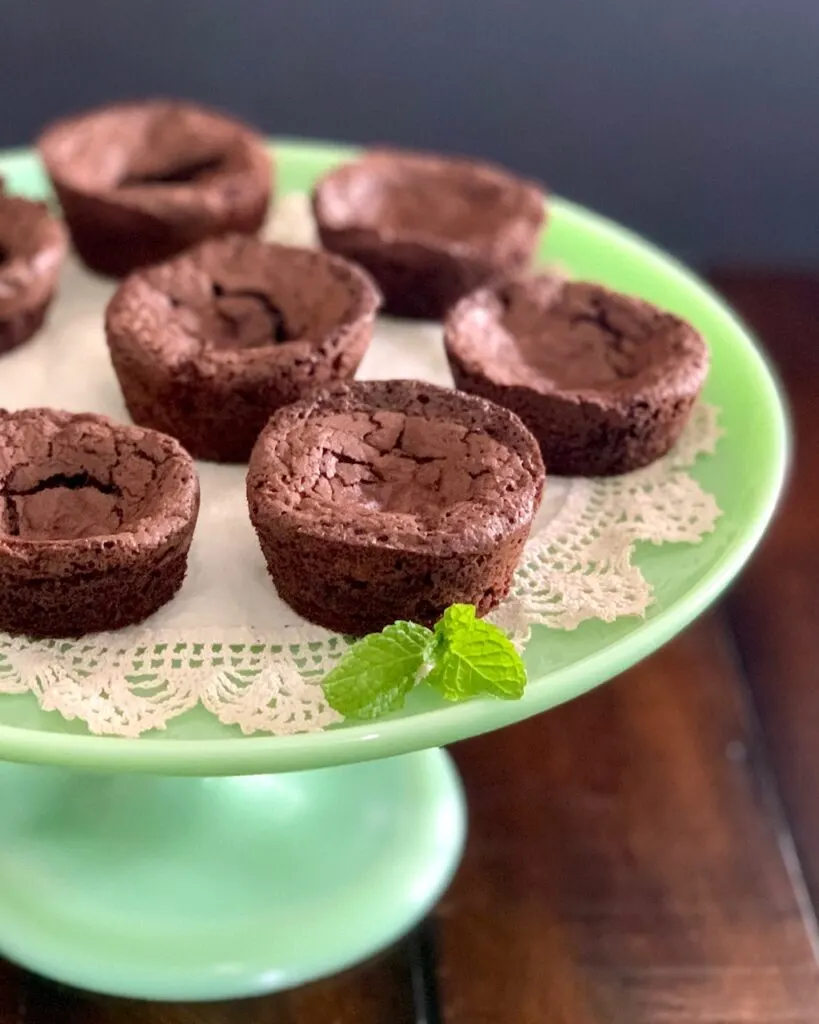 more brownie dessert ideas
walnut brownie sundae-- this is another easy recipe that's ready in minutes. Top this brownie sundae with your most loved dairy free ice cream and toppings.
ultimate peanut butter brownies-- yummm this recipe has been loved by my Instagram family. And you'll love the peanut butter and chocolate combo too. Every bite is amazing.
irresistible fruit brownie trifle-- this recipe is very similar to this homemade brownie bite recipe except it's beautifully served in a trifle bowl to showcase this dessert in layers.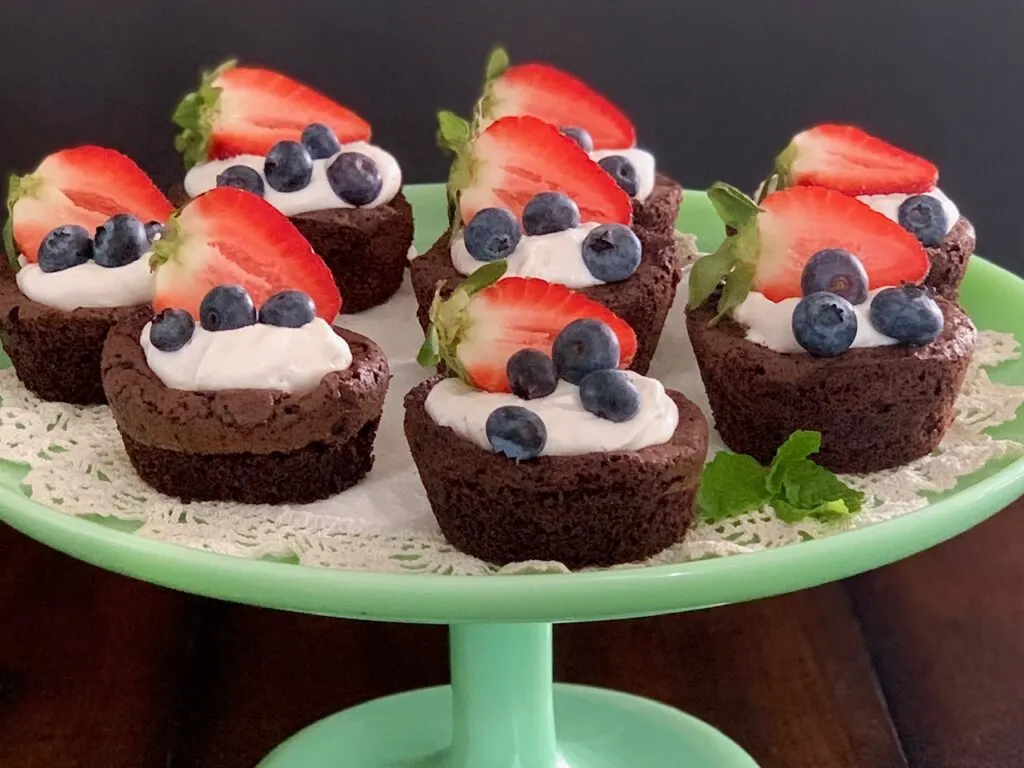 lastly
Let it be known this dessert will go fast from any dessert table. The chocolaty brownie flavor combined with the creamy whipped topping and fresh fruit make for a fantastic dessert combo.
Check out more brownie recipes on my website and on my Pinterest boards. Did you know I have a Pinterest board just for gluten and dairy free brownies? Yes-- my family can't get enough brownies, y'all.
Do me a favor and let me know in the comments if this recipe was helpful for your dessert needs. Also be sure to follow me on Facebook and Instagram for the latest and greatest in all things gluten and dairy free.
And sign up for our exclusive emails.
Follow along on Facebook, Pinterest, and Instagram. Be sure to like and comment often so our posts keep showing up in your feed.
We don't want you to miss the best of eating gluten and dairy free.
Eat well and feel well,
Jill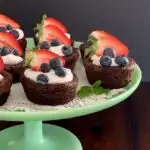 Print Recipe
Homemade Brownie Bites
Servings:
16
brownie bites
Ingredients
1

box

gluten + dairy free brownie mix prepared

see brand suggestion in post

1

c

dairy free whipped topping, divided

So Delicious Coco Whip is awesome. Or homemade ganache is perfect too.

Strawberries, blueberries, or raspberries
Instructions
Heat oven to 350°F. Spray the inside of 16 large muffin cavities or use cupcake liners.

Prepare brownie batter according to the box directions.

Using a spoon or ice cream scoop fill each muffin cavity ¼ full. This is important; don't over fill.

Then place in the oven for 23-25 minutes. I find different ovens and pans heat differently.

Remove from the oven and allow brownies to finish baking on a cooling rack 3-4 minutes.

After 3-4 minutes carefully remove brownies from the pan and place on a cooling rack. You may need to use a knife to gently release the brownies from the pan.

Once the brownies have cooled place a heaping tablespoon of So Delicious Coco Whip or other whipped topping in the middle of each bite. Then top with seasonal fruit.

Serve immediately or cover and refrigerate for 3-4 hours. If needed brownie bites may be baked the day before and topped with whip and fruit just before serving.
Notes
Another topping idea is chocolate ganache. You'll find a delicious recipe on my website. There is a direct link to the recipe in this post.