This post may contain affiliate links. Read the full disclosure here
Can you believe this decadent chocolate cream pie is gluten and dairy free? Look at all those delicious pie layers. This truly is the ultimate chocolate dessert.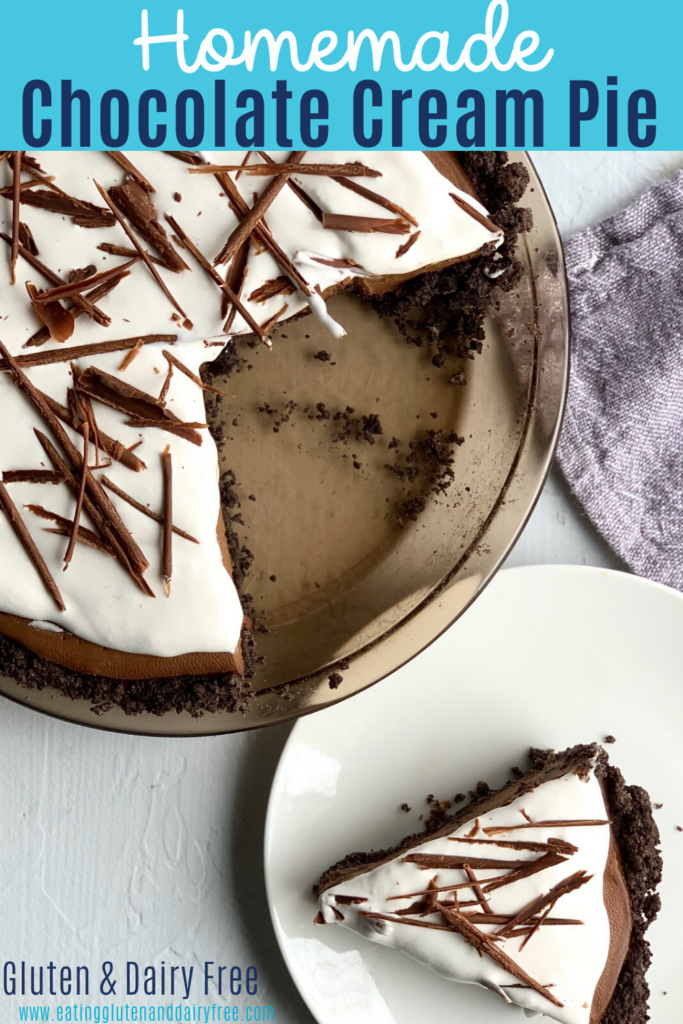 First this amazing chocolate cream pie is filled with a mouthwatering chocolate cream filling layered over a 2 ingredient oreo crust. Then it's topped with a sweet and creamy whipped topping and chocolate shavings.
But the awesomeness doesn't stop there.
This pie crust and filling can even be prepared a day or two before your special event. And if you're a planner like me– you love recipes that can be prepped ahead of time.
With this in mind you'll be excited to know this chocolate cream pie recipe works for about every occasion. It's perfect for celebrating Mother's Day, Father's Day, the 4 of July, Thanksgiving, Christmas, and even birthdays.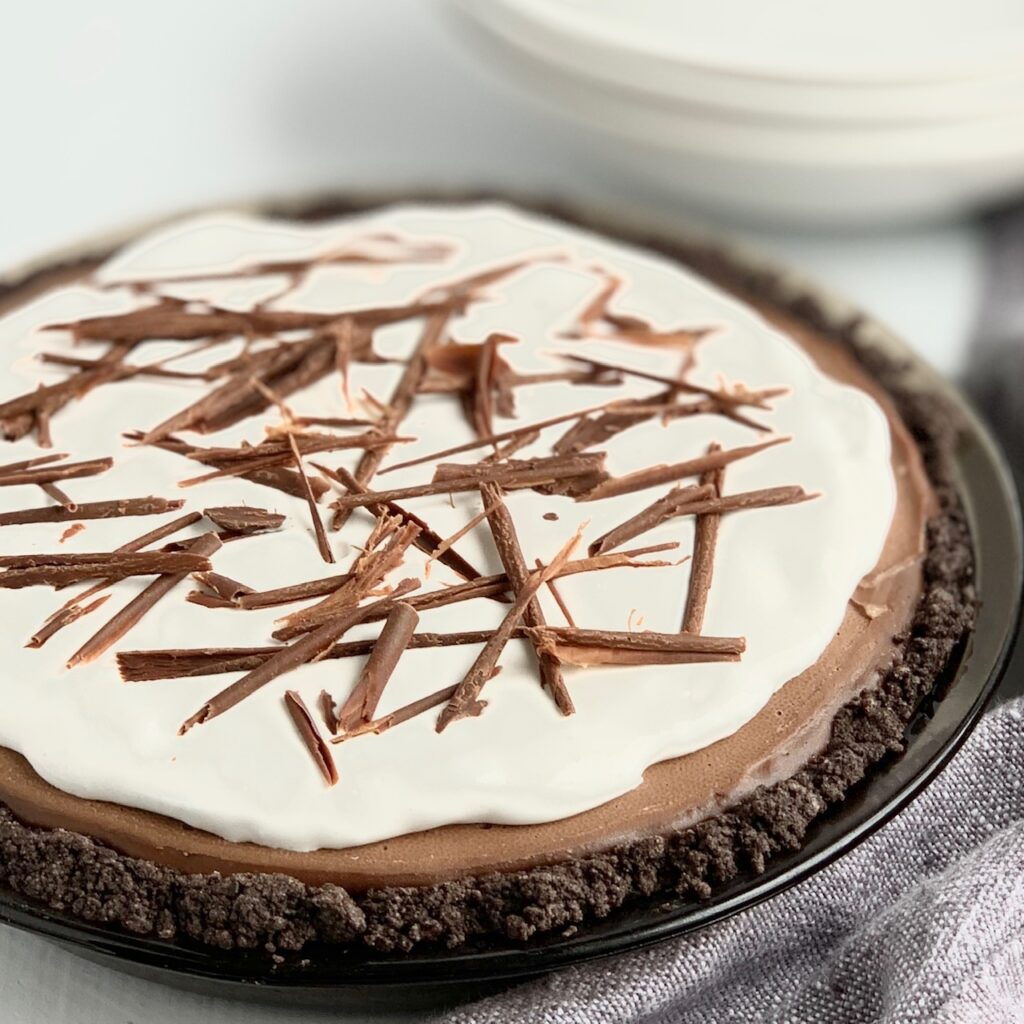 recipe notes and tips
first, you will need a 9-inch pie crust, prepared and fully baked. And what if I told you this recipe has 3 delicious crust options?! My favorite is the gluten and dairy free oreo sandwich cookie crust pictured. You will find everything you need to bake this easy crust in the recipe card below. Another crust choice is a Wholly Gluten Free Pie Shell. These certified GF pie shells are available in the freezer section of grocery stores and free of the top eight allergens. Lastly another easy crust option is the certificated GF and vegan Mi-Del graham cracker crust.
for the homemade 2 ingredient "oreo" sandwich crust I'd recommend using either KinniToo's chocolate sandwich cookies or Glutino vanilla creme cookies. For those with reactions to dairy cross-contamination in the manufacturing process, I'd purchase the KinniToo's. And Earth Balance Buttery sticks work like a dream in this oreo crust recipe. Lastly one container of either brand of cookies has 21 cookies in it. However this recipes calls for 25 cookies. If needed you can just use 1 container, but keep in mind to achieve a crust that comes up on the sides you'll need 25 cookies.
second this chocolate cream filling is a chocolate lover's dream. The talking point of this amazing cream filling is the Silk Dairy Free Heavy Whipping Cream. Be sure to shake this product well before adding it to your recipe. I purchase this product at Walmart and other large chain grocers. If this cream isn't available to purchase locally, substitute with dairy free milk.
And keep in mind I recommend the crust and chocolate cream filling be prepared and placed in the refrigerator the night before you need it. At minimum this pie filling needs 4-6 hours to set, but longer will give you a better pie filling.
next top your chocolate cream pie with your favorite dairy free whipped cream. I keep a tub of So Delicious cocowhip frozen topping on hand in the freezer just for this recipe.
and dairy free chocolate shavings are the final layer to this pie. While this step is optional, you'd be surprised how easy this is to make. And they help your pie look absolutely gorgeous. You'll find step by step instructions how to prepare the shavings in the recipe card. Use any dairy free semi-sweet chocolate chips such as Enjoy Life (buy in bulk to save money here here) or Simply Delicious brands.
for this recipe I use a 9 inch pie plate and using an angled spatula makes spreading the cocowhip easy peasy
lastly I altered this recipe to make it gluten and dairy free from Tastes Better From Scratch.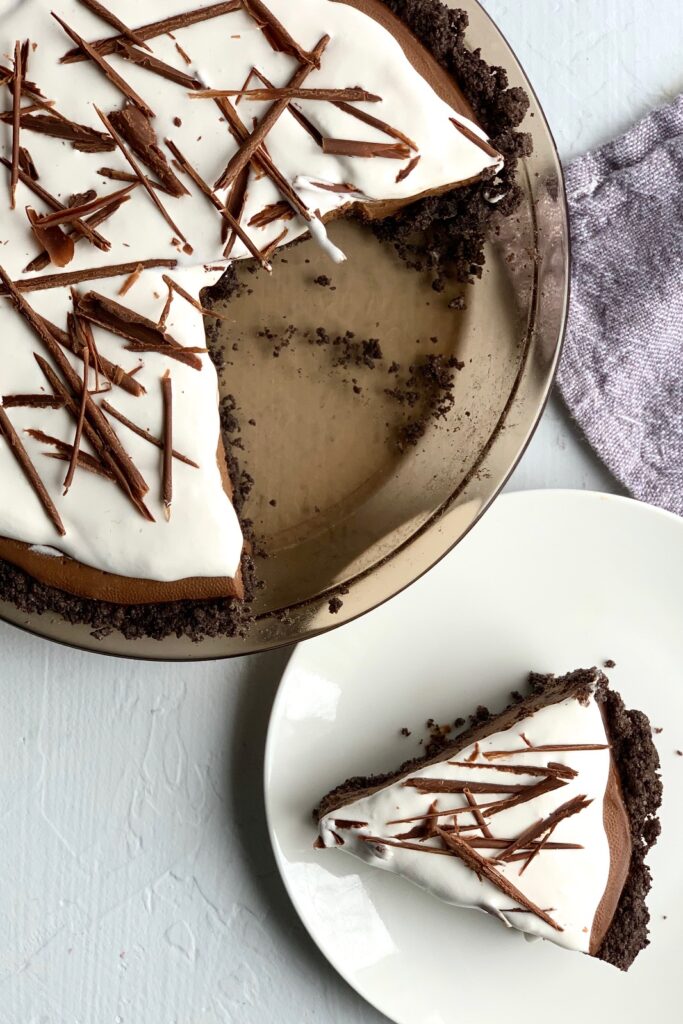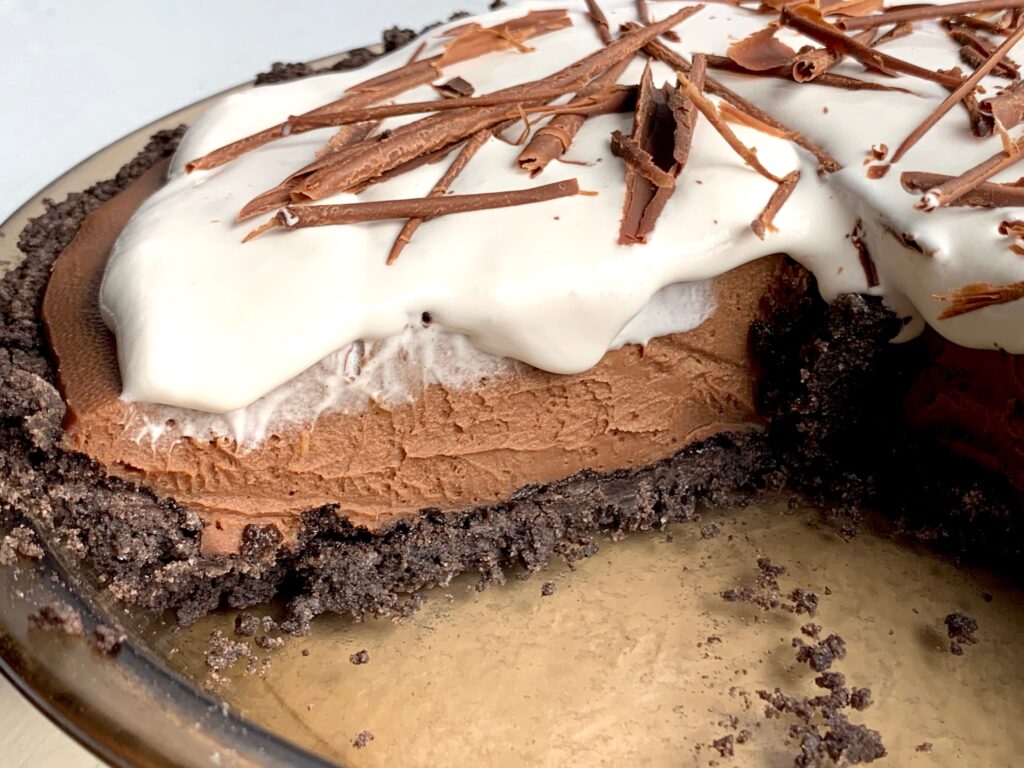 more gluten + dairy free recipes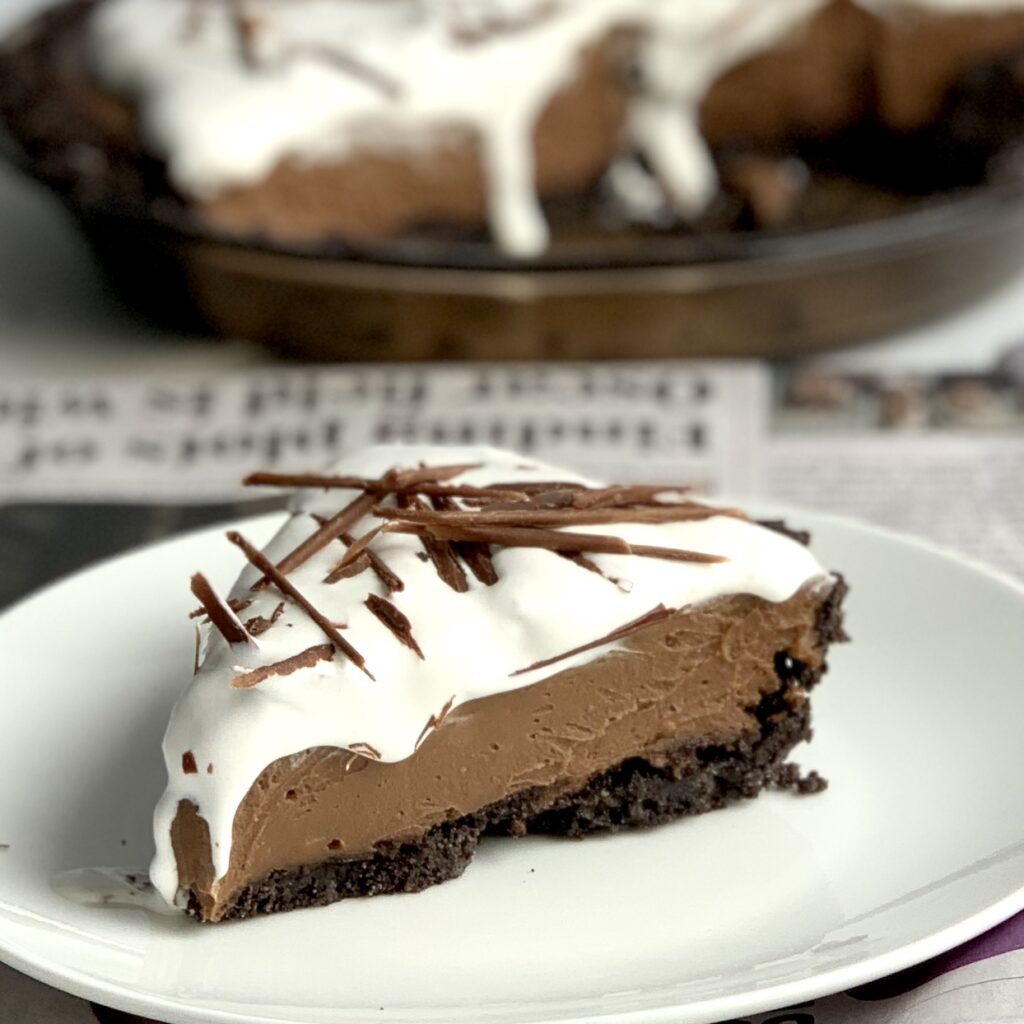 From Instagram- "My boyfriend and I made this for Thanksgiving. It was delicious! I love your page."
lastly
You will be swooning over every bite of this chocolate cream pie. Seriously– what's not to love? This pie is smooth, creamy, and decadent. You will have a hard time guessing this dessert is gluten and dairy free.
You will find more mouthwatering gluten and dairy free recipes on my website. Be sure to snoop around and make yourself at home. These recipes are created and shared just for you. Also featured on the website are food travel guides and daily living tips for thriving in today's world.
Please please please let's connect on Instagram, Facebook, and Pinterest. And be sure to tag me on Instagram when you make and share one of my recipes. I wanna see all your #eatingglutenanddairyfree food pics!
Eat well and feel well,
Jill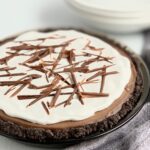 Print Recipe
Chocolate Cream Pie
Ingredients
Oreo Crust
25

Gluten and dairy free "oreo" sandwich cookies

see suggestions in post

5

tbsp

dairy free butter
Chocolate Cream Filling
⅓

c

granulated sugar

2

c

dairy free heavy whipping cream

see notes in post

½

c

dairy free milk, unsweetened almond milk works great

6

egg yolks

2

tbsp

cornstarch

arrowroot works too

6

tbsp

dairy free butter, Earth Balance works well

9

ounce

dairy free chocolate chips

1½

tsp

vanilla extract
Whipped Topping & Chocolate Shavings
1

container

dairy free whipped topping, So Delicious tastes wonderful

⅓

c

optional: dairy free chocolate chips for the chocolate curls
Instructions
Oreo Crust:
Preheat the oven to 350°F.

Place the oreo sandwich cookies in a food processor and pulse until they are fine crumbs.

In a large bowl melt the butter, then place the oreo crumbs into the melted butter and mix well.

Lastly press the crumb mixture evenly over the bottom and sides of a 9-inch pie plate. Bake for 10-12 minutes, remove from the oven and allow to cool completely.
Chocolate Cream Filling
In a medium saucepan over medium heat, whisk the sugar, heavy whipping cream, and milk well. Bring to a simmer, whisking frequently.

Meanwhile in a small bowl, place the egg yolks and cornstarch and whisk until smooth.

Once the saucepan mixture is simmering, add two spoonfuls of the hot liquid into the egg yolks and whisk. Add a two more spoonfuls of the hot liquid into the egg yolks and whisk again.

Then slowly whisk the egg yolk mixture into the saucepan. Whisk constantly until the moisture begins to thicken and comes to a gentle boil.

Then lower the heat to low and whish the chopped butter, chocolate chips, and vanilla extract into the pudding mix until smooth.

Pour filling into the cooled crust and smooth over with an angled spatula.

Place a piece of plastic wrap over the top of the pie and refrigerate overnight or at least 4-6 hours.

The crust and filling can be made 1-2 days ahead of time and refrigerated.
Whipped Topping and Chocolate Shavings
Just before serving evenly spread the So Delicious Cocowhip topping or whipped topping of your choice over the pie with an angled spatula.

For the chocolate shavings melt ⅓ c dairy free semi-sweet chocolate chips in the microwave over low heat on the stove top. Once melted pour chocolate onto wax paper. Allow to completely cool. With a knife scrape layers of chocolate into shavings and rolls. Place atop of the chocolate cream pie, slice, and serve.

Cover and place any leftover pie in the refrigerator.