Here's the secret to sweet, tender and firm French Toast Sticks that soak up the pure maple syrup and melty butter perfectly every time. You'll love how crispy on the outside these are.
Bonus-- this recipe works for French Toast Sticks as pictured or even follow the same steps for traditional French Toast.
And if you are tired of soggy French toast sticks or frustrated watching your expensive gluten free bread break into pieces when you dip it in the egg mixture you need this recipe too.
I was and so I decided to beat the french toast stick crumbles. This breakfast meal is a classic and I wasn't content with what I was getting.
After posting about it on Instagram, I realized broken bread sticks was frustrating for you too.
So who's ready to kiss broken french toast sticks goodbye-- for good?
This recipe and secret tip will give you delicious classic, foolproof French toast sticks every.single.time.
Crisp and crunchy French toast sticks on the outside yet soft on the inside. These are perfect for your weekend breakfast or brunch plans.
Ya'll, I wish I'd known this tip years ago too.
Now my rench toast not only tastes delicious, but has the perfect size sticks too.
This is a breakfast meal my kids can't get enough of! They beg for this meal.
recipe ingredients + notes
gluten and dairy free bread-- common brand names Udi's or Canyon Bakehouse both work awesome in this recipe
eggs
dairy free milk-- use your go-to milk; ours is unsweetened almond milk
cinnamon
granulated sugar
dairy free butter-- Earth's Best Buttery Sticks (baking sticks that are soy free too) are perfect for buttering your griddle and topping your French toast with
maple syrup
griddle-- this is very close to the one we use. We even prepare our bacon and pancakes on it.
or this camping griddle
the secret to perfect French toast sticks
The secret to the perfect gluten and dairy free French toast sticks is this--- always bake your bread before placing it on the griddle.
Can you believe it?
Such an easy 10 minute trick gives you the perfect breakfast! For baking instructions read through our recipe card below.
French toast topping ideas
homemade warm, chocolate ganache-- click here for an easy and decadent recipe
creamy So Delicious Cocowhip-- this is one of our favorite toppings
fresh strawberry compote
golden maple syrup
berry syrup
fresh fruit
powdered sugar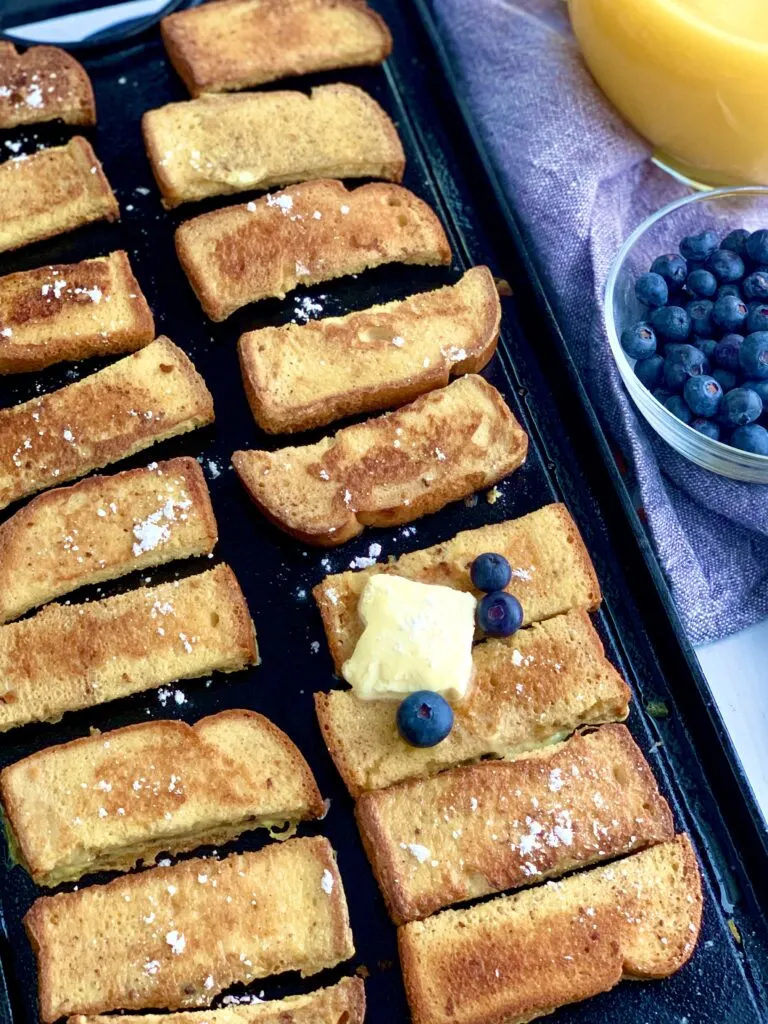 more gluten + dairy free breakfast recipes you'll love
breakfast burritos-- you definitely want to have these in your freezer for an easy and filling grab and go breakfast
oreo donuts-- have you tried these yet?! Combine our favorite GF DF oreo sandwich cookies and chocolate for the perfect donuts. These are amazing.
cinnamon swirl waffles-- are the perfect Saturday morning treat. Elevate your waffle game with this cinnamon swirl recipe.
lastly
This is the only French toast stick recipe you'll ever need. Because now you've got the best recipe and the secret tip for French toast success.
After you devoured a plate of French toast sticks drizzled in homemade ganache and sprinkled with powdered sugar, grab a morning cup of coffee and snoop around our website.
You find recipes for every occasion and holiday. Including Thanksgiving and Christmas.
Also go ahead and connect with me on Facebook, Instagram, and Pinterest. Like and comment often so you keep seeing our posts in your feed.
We don't want you to miss out on the best of eating gluten and dairy free.
Eat well and feel well,
Jill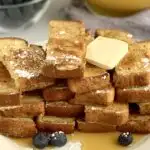 Print Recipe
French Toast Sticks
Ingredients
6

slices

GF DF bread

4

eggs

½

c

DF milk, unsweetened almond milk tastes great

1

teaspoon

cinnamon

½

tablespoon

vanilla extract

1

tablespoon

sugar

DF butter (for greasing the griddle, or use nonstick spray)

optional topping ideas: DF butter, maple syrup, So Delicious Cocowhip, homemade chocolate ganache, strawberry compote, seasonal fruit, berry syrup, powdered sugar
Instructions
Place 6 slices of bread on a large baking sheet and bake for 6 minutes.

Remove from the oven, flip each slice over and cut into thirds. Place back in the oven for 4 minutes.

While toast is in the oven heat griddle.

In a shallow baking dish (I prefer to use a pie pan) whisk together eggs, milk, cinnamon, vanilla extract, and sugar.

After toast sticks are removed from the oven and have set for 5 minutes, rub butter stick over griddle or spray with nonstick spray.

Then dip all sides of toast sticks into egg mixture and set on griddle.

After toast sticks have browned flip to other side for another 2-3 minutes. Serve immediately with toppings.

For leftovers cover and refrigerate 2-3 days.
Keep scrolling down to sign up for our exclusive emails.