Sautéed Shrimp and steamed Broccoli coated and tossed in a velvety, alfredo sauce over tender pasta noodles ready to serve in under 25 minutes is always a winning combination. You will taste the buttery, garlicy, and cheesy sauce coated over perfectly seasoned shrimp and slightly crunchy broccoli for a meal made in heaven.
Best of all here is a comfort food recipe you probably used to order when eating out, but now you can safely enjoy at home. It looks so fancy yet is so lazy to make!
And honestly-- this is a wonderful dinner recipe when you are short on time and needing to throw togerther a meal quickly. We like to keep frozen shrimp in the freezer just for this grab and go meal.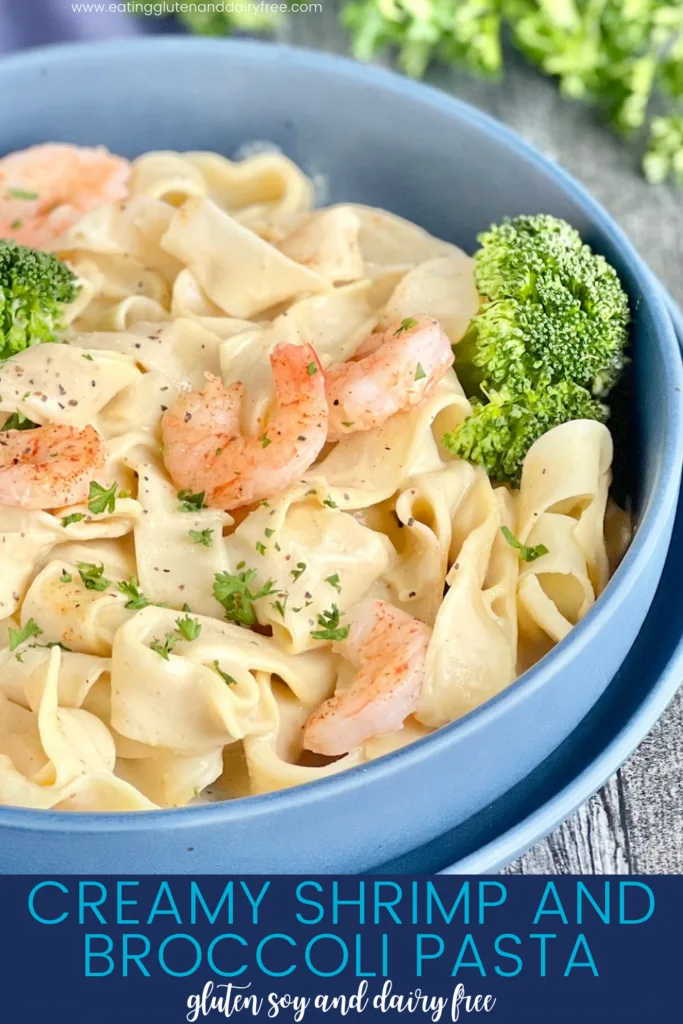 Simply put this creamy alfredo sauce used in our Shrimp and Broccoli Pasta recipe is one of our favorite pasta sauces. We have enjoyed this homemade sauce for years. Bonus-- here is our Sun-Dried Tomato Alfredo Sauce recipe too. It is a must-pin as well.
And are you surprised the gluten and dairy free Shrimp and Broccoli Pasta add-ins are seriously endless?
For instance you can add in so many delicious additions such as sautéed chicken, crispy bacon pieces, sun-dried tomatoes, spinach, sautéed cherry tomatoes, diced mushrooms, or even crab.
creamy shrimp and broccoli pasta ingredients
dairy free butter-- we use Earth Balance Buttery Sticks
medium-sized shrimp-- peeled and deveined, frozen and thawed can be used too
grapeseed oil-- or use your go-to cooking oil
broccoli-- fresh or frozen. We like to steam our broccoli while preparing the alfredo sauce
gluten free all-purpose flour-- Bob's Red Mill Gluten Free 1 to 1 Baking Mix thickens well in this recipe. We purchase it in bulk here to save money.
chicken stock/broth-- we suggest Pacific Foods; you can learn more here
canned unsweetened coconut milk-- this is not the same as refrigerated coconut milk. Here is what you want. In a pinch you can also use refrigerated unsweetened almond milk; however, the sauce will not be quite as rich and velvety.
Dijon mustard-- we stock Annie's Organic; here is their manufacturing statement
nutritional yeast-- the Bob's Red Mill Certified Gluten Free brand is recommended
garlic powder-- the McCormick brand of spices is recommended
kosher salt
ground pepper
gluten free pasta noodles-- long noodles are best; keep scrolling for our suggestions below
optional add-ins-- sautéed chicken, sun-dried tomatoes, spinach, sautéed cherry tomatoes, diced mushrooms, or even crab
garnishes-- crispy bacon pieces or fresh chopped parsley are wonderful in this dish
frequently asked questions
what is the difference between shrimp and scampi
Some people say the difference is size.
In many parts of the United States, small and medium shrimp are sold simply as shrimp. While large, extra-large, and jumbo shrimp are called prawns.
And in Canada and the US, scampi refers to a dish of large shrimp that are cooked with garlic and butter or cooking oil.
what gluten free pasta noodles can be used
We recommend any gluten free long noodles for this recipe such as thick tagliatelle, thin capellini, and spaghetti. Even the fun bowtie pasta works in this recipe.
And if you are looking for a special pasta noodle treat, check out Charlie's Table certified gluten artisanal pastas. We enjoy all of their pastas fresh or thawed from the freezer.
can frozen shrimp be used
Yes. Nothing is easier than grabbing a bag of shrimp from the freezer to thaw for this dish. Make this step even easier by purchasing pre-peeled and deveined shrimp.
To thaw a bag of frozen shrimp quickly, place it in a bowl of cold water for 20 minutes.
what sides go with this meal
There are endless vegetable sides such as maple glazed roasted carrots, steamed green beans (our favorite), oven-roasted asparagus, or sautéed zucchini. And a side salad is always a win. If you need gluten and dairy free ranch dressing recommendations, read here.
Or if you love carbs like we do, toast and butter breadsticks, dinner rolls, or baguettes with dairy free butter, Italian seasonings and ground garlic.
more quick and easy meals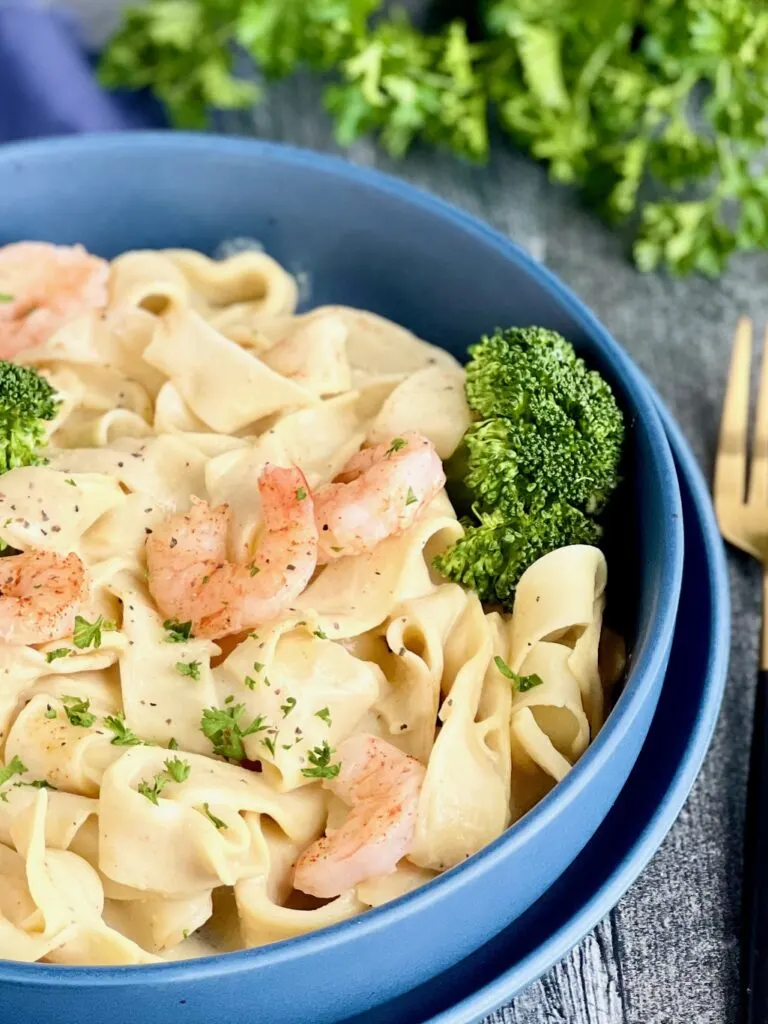 2 dessert ideas to enjoy after this meal
no bake cookies-- delicious bits of chocolate peanut butter covered oats formed into round-shaped cookies everyone loves
coffee blondies-- falling somewhere between cookie bars and brownies, these bars are soft and chewy
lastly
It should come as no surprise you will enjoy the bold flavors of this dish. Sautéed Shrimp and Broccoli Pasta with our alfredo sauce is so, so delicious! A busy day shouldn't stop you from enjoying a delicious homemade meal.
Plus this is a recipe you will find yourself enjoying year-round. And it works doubling this dish and sharing as a fancy meal with extended family or a large gathering of friends.
And did you know we have recipes for every occasion and holiday on our website, Eating Gluten and Dairy Free?
Also you should definitely save our Fall Desserts, Thanksgiving Day Roundup, Christmas Desserts, Mother's Day Brunch recipes, and our delicious 4th of July lineup.
Plus we have shared cake tutorials and our decadent vanilla buttercream recipe, yum.
Be sure to follow along on our Facebook, Pinterest, and Instagram. Like and comment often to keep seeing our posts in your feed.
We don't want you to miss the very best of eating gluten and dairy free.
Eat well and feel well,
Jill
Print Recipe
Shrimp and Broccoli Pasta
Ingredients
12

oz

gluten free pasta noodles

4

tablespoon

dairy free butter

1

lb

medium-sized shrimp

peeled and deveined, add more if desired

2

tablespoon

cooking oil

1

large head

broccoli

chopped into florets, steamed

2

tablespoon

gluten free all-purpose flour

⅓

c

chicken stock/broth

14

oz

canned unsweetened coconut milk

1

teaspoon

Dijon mustard

¼

c

nutritional yeast

½

teaspoon

garlic powder

salt to taste

ground black pepper to taste

garnishes-- crispy bacon crumbles and fresh cut up parsley
Instructions
Cook the pasta according to package directions.

Steam the broccoli; set aside.

Meanwhile, melt the butter in a large saucepan over medium heat.

Add the peeled and deveined shrimp to the skillet. Season with salt. Cook until the shrimp is pink and opaque with occasional stirring.

Remove the shrimp to a plate and set aside; leave butter mixture in the pan. Add the cooking oil and heat.

Add the flour to the skillet and briefly fry.

Then add in the chicken stock and coconut milk. Whisk to remove any clumps.

Continue stirring until the sauce begins to boil and starts to thicken.

Remove the sauce from heat and it will continue to thicken.

Stir in the Dijon mustard, nutritional yeast, garlic powder, salt, and ground black pepper.

Add the sautéed shrimp, steamed broccoli, and cooked pasta into the skillet to warm through. Toss and coat the sauce over shrimp, broccoli, and pasta noodles.

Garnish and serve immediately.

Cover and refrigerate any leftovers.