Buckeye Balls are a classic Christmas dessert. Imagine a smooth and creamy peanut butter center nestled inside of a chocolate dipped coating. And these don't just taste decadent -- they're also incredibly quick and easy to make. You'll want to write these down on your dessert list now.
I haven't met a Christmas dessert yet I didn't like. But these take dessert table sweets to a whole new level of yumminess. The chocolate and peanut butter combo is a favorite of mine anytime of the year. They're comparable to a glorified version of my peanut butter cup recipe. However these have twice the peanut butter. With this in mind, all peanut butter lovers should make a double batch... one for you and one to share.
buckeye ball recipe ingredients
creamy peanut butter
vanilla extract
confectioners' sugar
coconut oil or shortening
toothpicks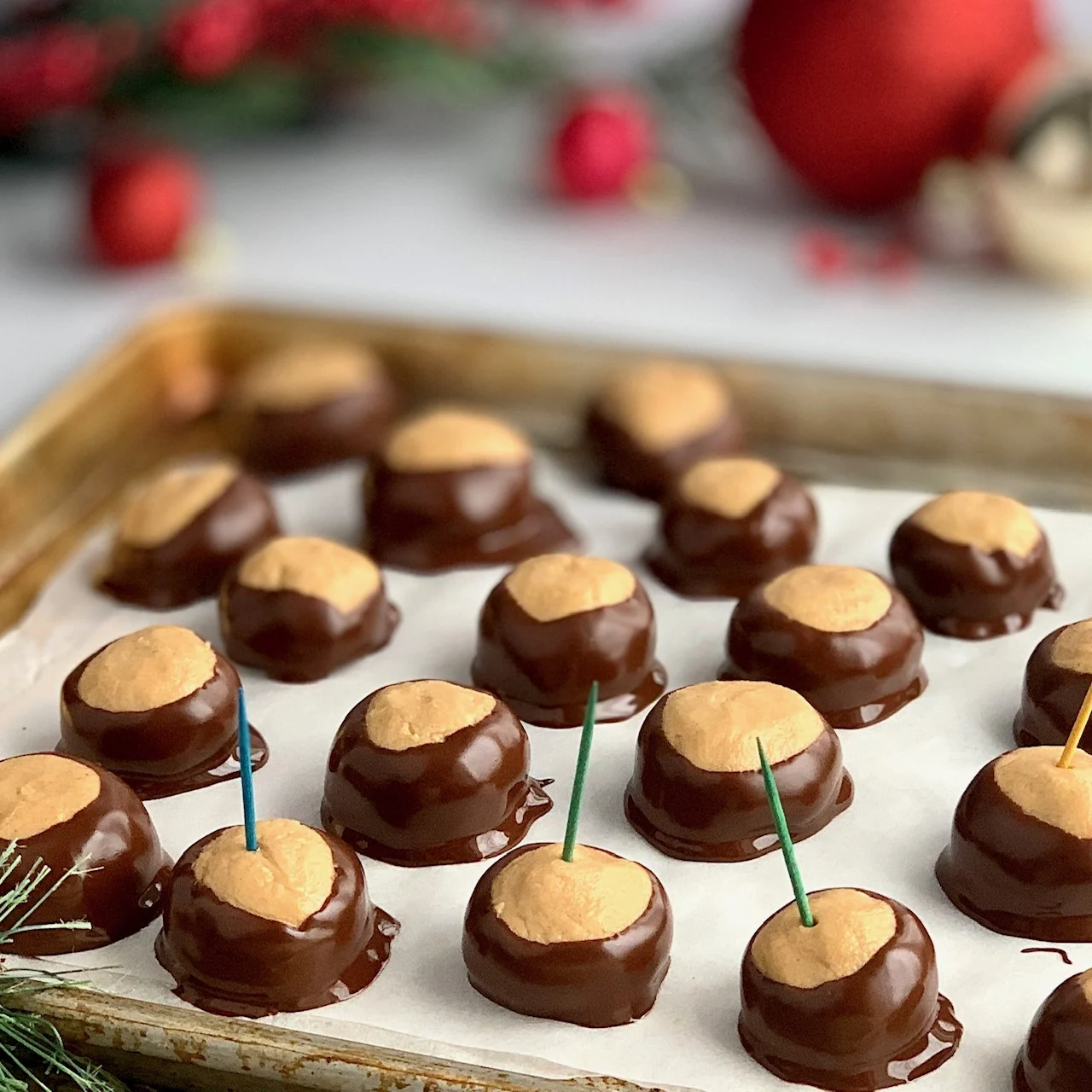 more Christmas desserts and cookies
As you can tell just because you're eating gluten and dairy free this Christmas doesn't mean you'll be eating hard, tasteless cookies. You have countless allergen safe recipes at your fingertips. You'll definitely want to pin this Buckeye Balls recipe for the holiday season.
It's equally important to bring up you probably have these simple ingredients in your pantry. Or am I the only one stockpiling creamy peanut butter and chocolate morsels? And the recipe is so easy the kids can help too!
For similar allergen safe recipes follow me on Pinterest and check out my Christmas board for more inspiration. Thank you and Merry Christmas.
Eat well and feel well,
Jill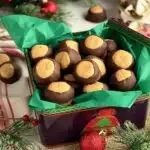 Print Recipe
Buckeye Balls
Ingredients
½

c

dairy free butter, Earth Balance Buttery Sticks work great

softened

1½

c

creamy peanut butter

1

teaspoon

vanilla extract

3

c

confectioners' sugar

1

tablespoon

coconut oil or shortening

11

oz bag

dairy free semi-sweet chocolate morsels

or about 2 cups

4-5 toothpicks
Instructions
Place parchment paper or silicone mat on large baking sheet and set aside.

With a hand mixer in a large bowl, beat butter and peanut butter until smooth.

Add in vanilla and powdered sugar ½ cup at a time. This mixture will be thick as it comes together. Scrape down the bowl often.

Form balls from 2 tablespoon of dough. Roll the mixture between your hands and place balls on the baking sheet.

Place baking sheet in the refrigerator for an hour to harden or the freezer for 20 minutes.

After an hour melt dairy free chocolate chips and coconut oil in the microwave or over the stove top on low heat.

After chocolate is melted remove 4-5 buckeye balls at a time from the refrigerator.

Stick a toothpick in the middle of the buckeye and dip it in the melted chocolate. Swirl it around in the chocolate as needed. Carefully scrape off extra chocolate from bottom of buckeye balls. Then place onto parchment paper.

Remove toothpick and gently smooth over peanut butter where the hole was.

Transfer back to the refrigerator for 30 minutes to set.

Place in an airtight container up to a week. Keep refrigerated when not serving.