Who's ready to enjoy the best gluten and dairy free Christmas desserts yet?! Y'all have got to check out this delicious Christmas dessert board. There is a little of everything on it. And no one will go home hungry after grazing on this at your next Christmas party or on Christmas Day.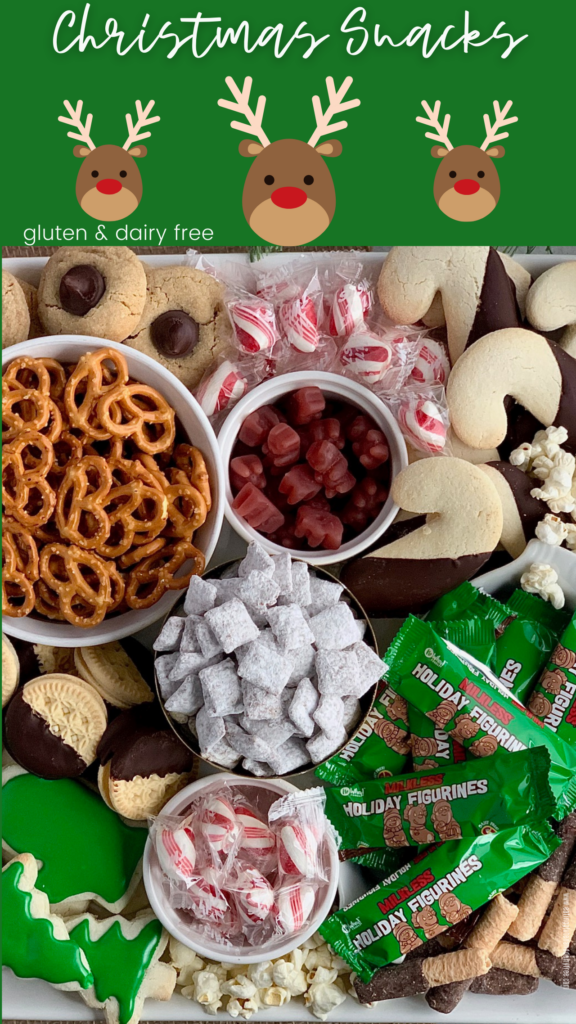 This board is perfect for all party guests and family members. And did you notice all our bases are covered? This Christmas dessert board has loads of chocolate, peppermint, cinnamon, even chewy, salty, crunchy, and decadent treats to choose from. I'd say this is the board of our dreams this Christmas season.
Check out all these festive Christmas themed desserts we have to work with.
Christmas dessert board ideas
chocolate chip kiss cookies are always a must on my Christmas baking list. Everyone will love these classic cookies with a dairy free Hershey kiss.
the soft sugar cookies frosted or dipped in dairy free chocolate. These are always a must on my dessert board.
YumEarth candy canes or candy cane pops
popcorn
No Whey milkless holiday figures. If you're unfamiliar with this online brand, check them out here. They're free from eight common allergens. Woot woot!
No Whey Chocolate Christmas Suckers are always a hit
chocolate or vanilla dipped oreo sandwich cookies. The KinniToos or Glutino brand can be purchased on Amazon if not available locally. Don't forget to add Christmas sprinkles after you've dipped them in melted chocolate too. My kids really like these and they're so easy to dip.
puppy chow (muddie buddies) is always a crowd favorite anytime and anywhere. Combine melted chocolate and peanut butter; then pour it over Chex cereal and dust with powdered sugar. Wow, this makes for one yummy dessert.
pretzel rods or twists from Snyder's of Hanover are awesome to balance the sweetness of the board and add some salty crunch
cinnamon gummy bears by Wholesome are certified gluten free; however, keep in mind they are manufactured in a plant that also processes wheat and dairy
dark chocolate dipped coconut rolls by Sprout's. These can be purchased at Sprout's Supermarket or on Amazon here.
No Whey peppermint no no's are fun to place in a bowl. They're similar to an M&M.
chocolate peppermint cookies taste wonderful and add instant Christmas flare to any dessert board.
oh Henry bars are perfect on a Christmas board
Amanda's Own Confections has a variety of packaged Christmas chocolates free of the top fourteen allergens. You can purchase one of my favorites here.
rice krispie treats are always a classic party food
Enjoy Life winter chocolate mini's variety pack, ricemilk chocolate, or ricemilk crunch (similar to a Nestle Crunch Bar and our favorite)
and many more of your favorite Christmas cookies and local festive treats.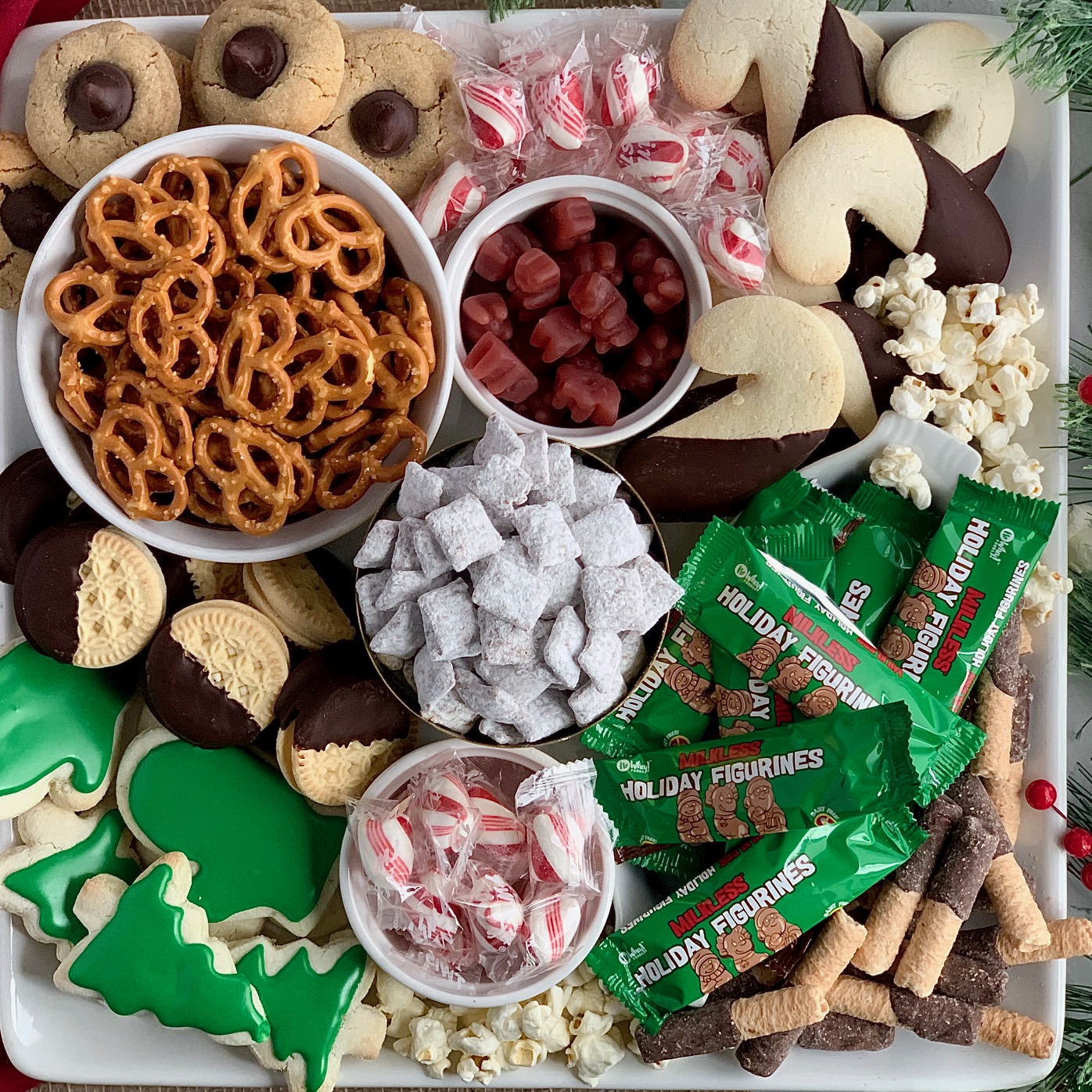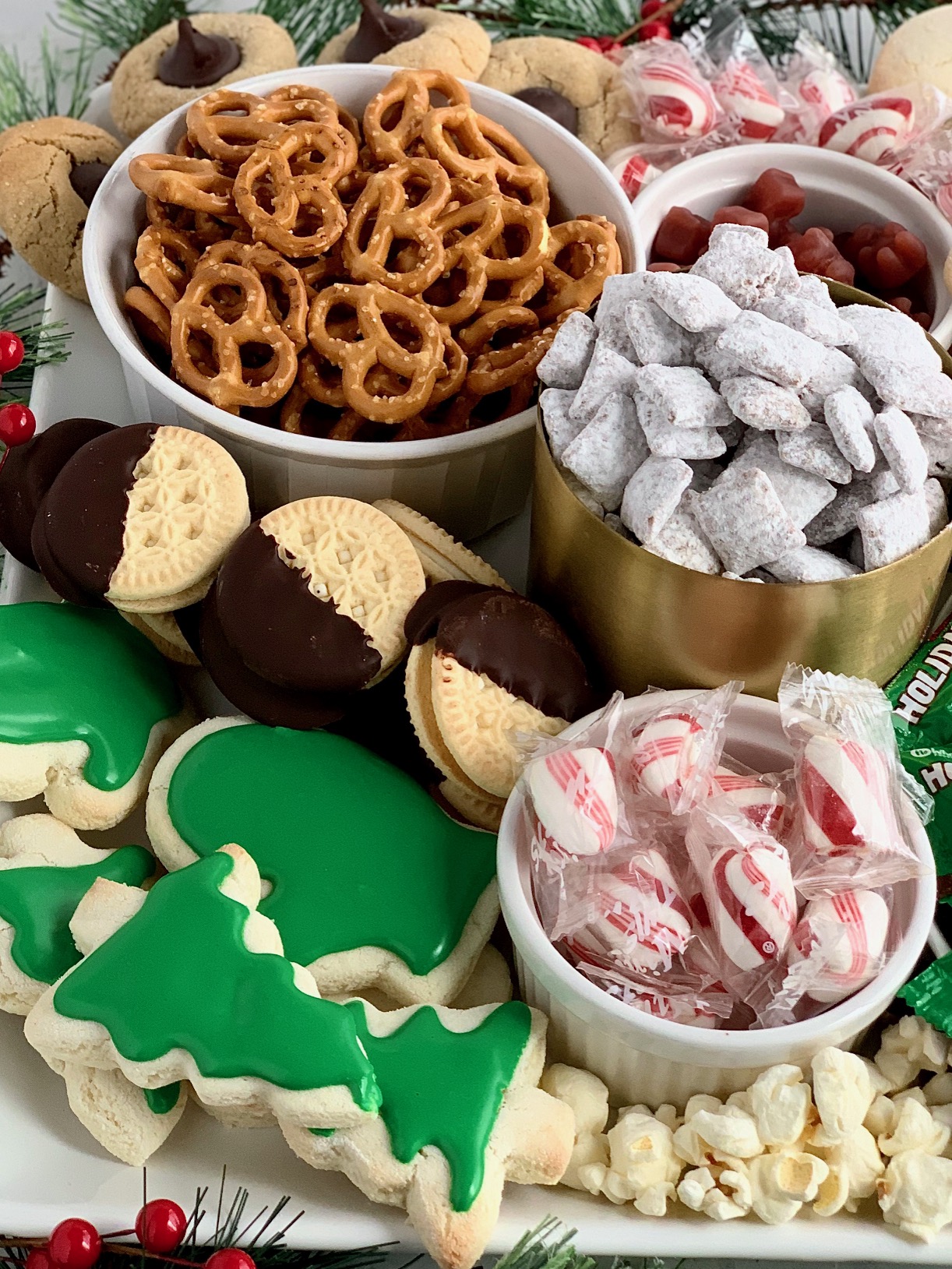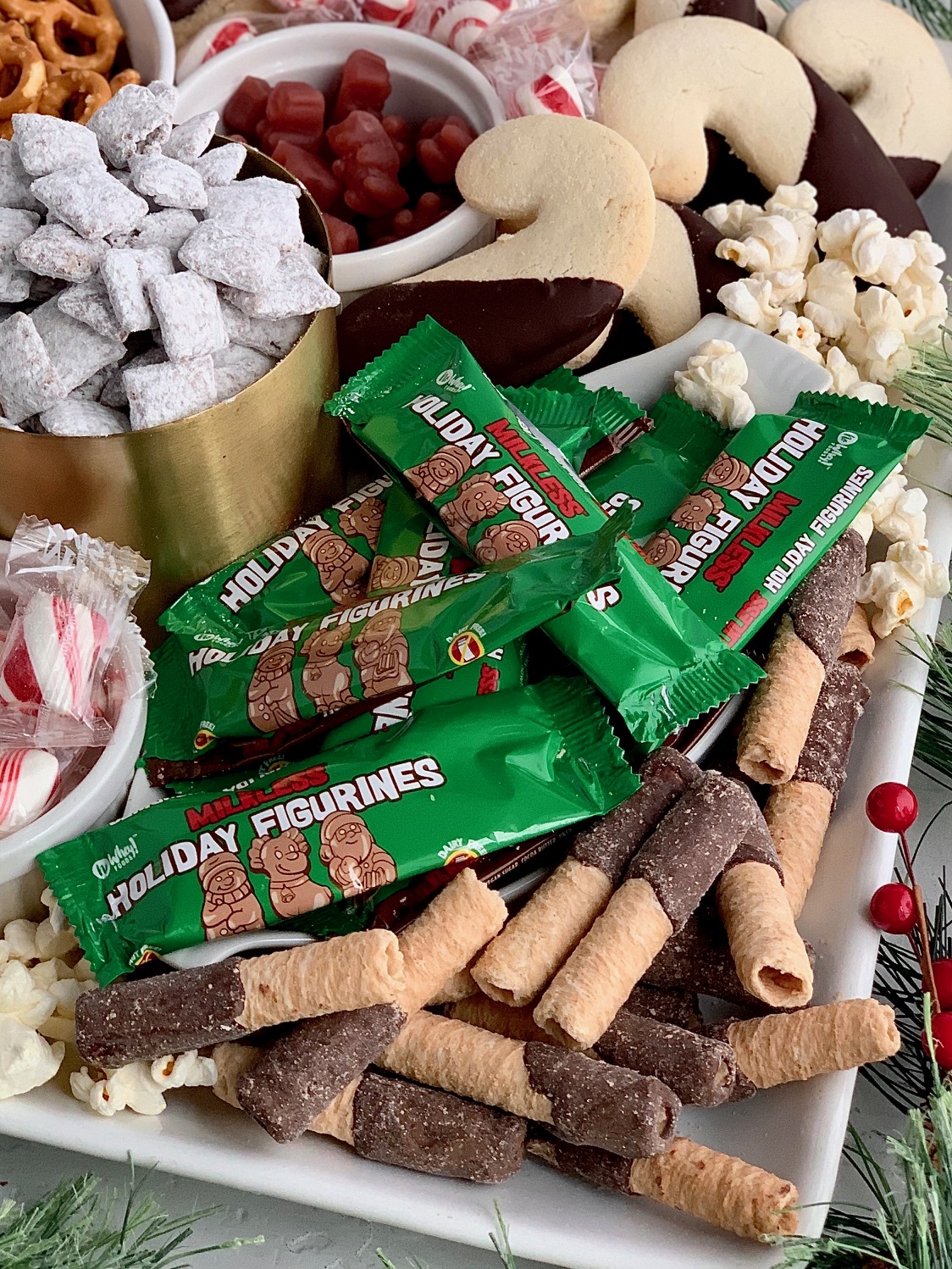 On another Christmas note, let's talk allergen friendly advent calendars. This is a wee bit off topic, but something we as the gluten and dairy free community can celebrate this Christmas season. There are a few on the market you can choose from. No Whey Chocolate and Amanda's Own Confections both offer gluten and dairy free calendars to enjoy. While there are other brands available, I can't recommend either of these two brands enough. Both are wonderful companies offering a safe and yummy product.
Lastly as you can see Christmas can be the most wonderful time of the year… even if you're eating gluten and dairy free. Go ahead make your own Christmas dessert board and celebrate!
Be sure to tag me on Instagram if you use my Christmas dessert board idea or another one of my recipes. I love, love, love seeing your Eating Gluten and Dairy Free food pics. Be sure to tag me and use the hashtag #eatingglutenanddairyfree.
If you're looking for more Christmas inspiration, checkout my Christmas board on Pinterest.
Eat well and feel well this Christmas season,
Jill