This post may contain affiliate links. Read the full disclosure here
It's easy for me to decide if I'll even try a gluten and dairy free sugar cookie. If it's hard or even has the resemblance of a hard sugar cookie… nope. Nada… won't even try it.
Honestly, I'm a pretty flexible person until it comes to sugar cookies. Then there are no compromises. What could be more disappointing than buying hard sugar cookies at the bakery? Doesn't it feel like a horrible trick when the sugar cookies looked soft through the bakery display case, but at home it's discovered they're hard. I am not sure why anyone eats hard ones. Maybe you dip them in your hot chocolate? Like biscotti?
The recipe I found doesn't even come close to a hard sugar cookie. Actually, they don't come any softer.
I've always had a love for soft sugar cookies.
Back when I was in high school, I'd make a recipe from my m0m's cookbook over winter break. This was waaaay before Pinterest. It was the only recipe I could get my hands on at the time. Unfortunately, this recipe was a hard sugar cookie version. I didn't even know I liked soft ones then, or that they made soft ones. But I knew I didn't like hard ones. I wouldn't eat the sugar cookies I was making. Neither would my family. Lol, maybe no one was eating the ones I passed out, too!
And it didn't matter how long they were in the oven. This wasn't a case of over-baked sugar cookies. And this was back when I used gluten and butter. This wasn't a gluten and dairy free recipe gone bad.
But because they were so fun to make and decorate I couldn't help myself. It was like painting on a blank canvas with every cookie. Enjoying art as much as I do, I made batch after batch to pass out. Oh, my poor high school friends and sports teammates. They must have felt obligated to take one of my horrible-tasting cookie creations. I remember them being as hard as rocks. Seriously. Why did my mother let me continue this baking insanity?! Actually, I think she nicely tried to distract me one year with other cookie recipe ideas. But I was enthralled with cookie cutters and decorating. Sigh.
Old high school friends, I hope you're not still holding my sugar cookie baking crush against me. I was wrong to keep baking hard as rock cookies and giving them to you. I'm so sorry. But…
I've changed. And found the recipe of my dreams, y'all!
This recipe will give you the softest sugar cookie.
I actually didn't find it until I went gluten and dairy free. How crazy and exciting is that? Each bite is perfect. It tastes like there's a bit of heaven in every bite. You have to try for yourself. I promise I'm not a crazy high school baker anymore. The sweet white rice flour and dairy free sour cream in this recipe makes for a spectacular combo. They provide all the magic!
In other words when my kids see me rollin' out this cookie dough it turns into a dance-a-thon at our house. I hear a bunch of, "I wanna do it," and, "What cookie cutters are we using?" and then the dramatic, "When can I have one?!"
A sugar cookie recipe from Two Peas and Their Pod inspired this softest sugar cookie recipe.
I've tweaked the recipe with substitutions to make this gluten and dairy free.
soft sugar cookie recipe notes:
After experimenting with different sweet rice flour brands I found Bob's Red Mill Sweet Rice Flour works the best. Next I use Tofutti dairy free sour cream. Use what dairy free version you have available in your area. Unfortunately not all dairy free sour creams are created equal. You might need to experiment with your first batch if Tofutti isn't available.
This softest sugar cookie recipe does require some time. The dough needs to chill 2 hours or overnight. I typically chill it overnight. And even then I sometimes need to pop the tray back into the refrigerator to chill. The dough can soften quickly while using the cookie cutters. Keep in mind it's much easier to work with this cookie dough when it's cold.
frosting– I suggest icing these sugar cookies with the Buttercream Frosting recipe found here on my website
sprinkles– Sweets Indeed specializes in allergen friendly sprinkles. Purchase Christmas sprinkles here.
These cookies work for any occasion. I usually make a batch around Thanksgiving time. I use Thanksgiving cookie cutters on half the batch. The other half I use Christmas cookie cutters and freeze them after baking. These freeze incredibly well. You'd never know they'd been frozen. A day or two before Christmas I defrost them.
On Christmas day my kids enjoy a friendly competition of "Who Frosted it Best?"
I supply various cookie decorating toppings for them. We jam out to Christmas music and their imaginations run wild. They decorate with Christmas themed frosting colors and an assortment of Christmas sprinkles. It's quite the competitive party with lots of friendly kid trash talk. My daughter has already been plotting her ideas for this year's competition.
Back to the post though… these cookies work wonderfully for Valentine's day, the 4th of July, or school parties.
Any excuse you can think to make these sugar cookies, just do it.
You won't be disappointed you baked these.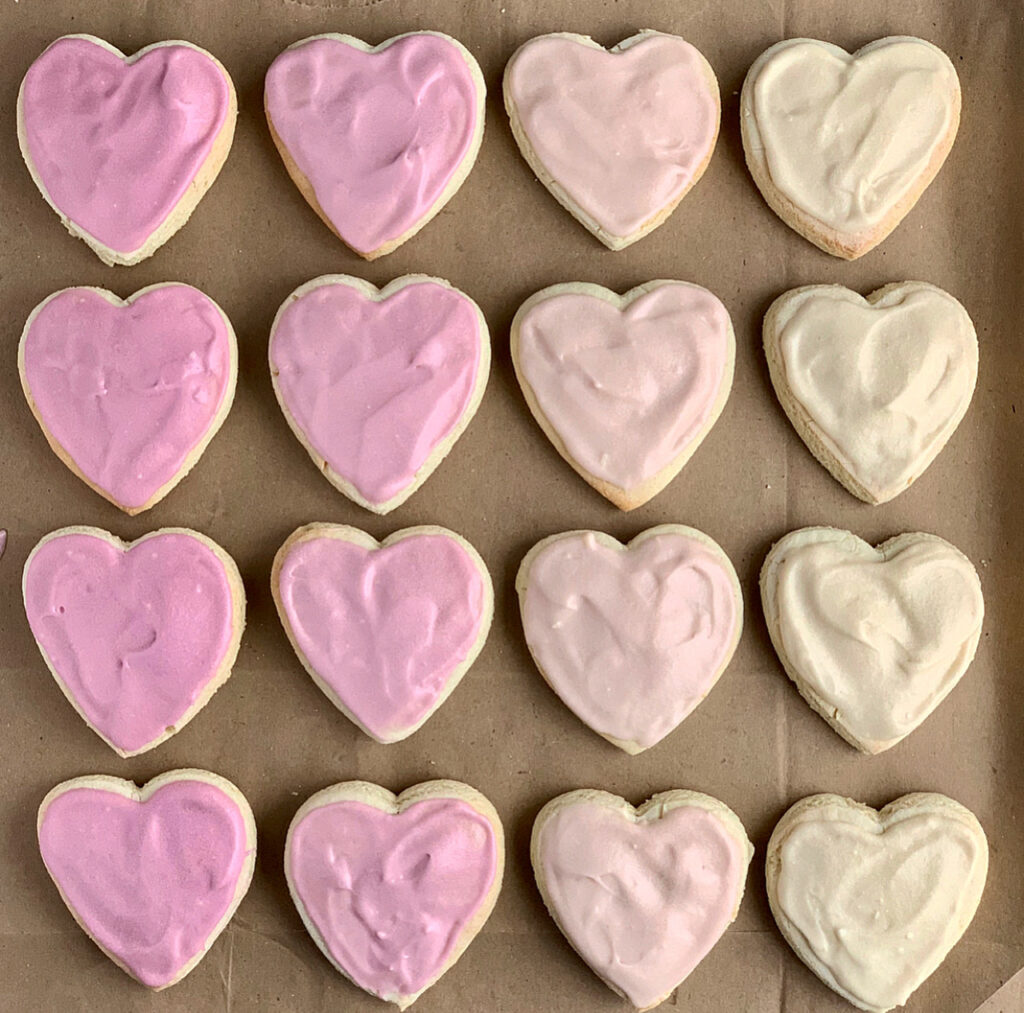 Grab yourself a cookie cutter and create away! Give these ombre sugar cookies a try for Valentine's day. Or stars on the 4th of July.
lastly
Your family will freak. Coworkers will assume they're bakery bought. And extended family will want the recipe. Go for it. Create. You won't believe they're gluten and dairy free! They're so, so amazing.
And if baking is your jam consider my old-fashioned sour cream donuts. Surprisingly this donut recipe is very straight forward and easy to follow. You'll fall in love with these dense and cakey frosted breakfast favorites. Click here for the recipe.
Eat well and feel well!
Jill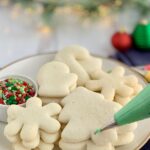 Print Recipe
Softest Sugar Cookies
This recipe makes 4-5 dozen depending on your size cookie cutter.

Ingredients
7

cups

sweet rice flour mix, I like Bob's Red Mill Sweet Rice Flour

1

tsp

baking soda

1

tsp

baking powder

1/2

tsp

xanthan gum

1

tsp

salt

1

cup

coconut oil, not melted

2 1/2

cups

sugar

4

eggs

4

tsp

vanilla extract

1 1/2

cups

dairy free sour cream
Instructions
In a standup mixing bowl, beat coconut oil until creamy then add sugar. Beat until mixed.

Add the eggs one at a time, beating until well mixed.


Add the vanilla extract and sour cream until combined.


Then place the flour, baking soda, baking powder, xanthan gum, and salt in the mixer. Using a spatula beat down the sides of bowl and stir the very bottom of the bowl.

Cover with plastic wrap and place the bowl in the refrigerator to chill for 2 hours or overnight.

After chilling, preheat oven to 425° F.

Place parchment paper on baking sheets.

Divide the dough into 2 large balls. With the first dough ball roll into 1/4 inch on a lightly floured surface. Use your favorite cookie cutters on the dough.

Set a timer for these to bake for 6-7 minutes, or until cookies are slightly browned on the edges.  Place on cooling rack immediately after removing from oven. These cookies will continue to bake and turn hard if left on baking sheet to cool.

After cooled, frost and enjoy or freeze up tp 3 months.
Notes
The Buttercream Frosting recipe works wonderful for decorating these cookies.