This old fashioned family favorite recipe is made with ingredients you already have on hand. Delicious bits of chocolate peanut butter covered oats formed into round shaped cookies everyone loves. They taste rich, wonderful, and they melt-in-your-mouth.
Clearly if there are such things as cozy cookies-- these are it.
And you can never go wrong with this recipe. Especially when it's so easy and there is no bake time.
These gluten and dairy free cookies are always a hit of the party, any time of the year.
So pin this recipe for your Christmas cookie list, summer BBQ plans, and next celebration.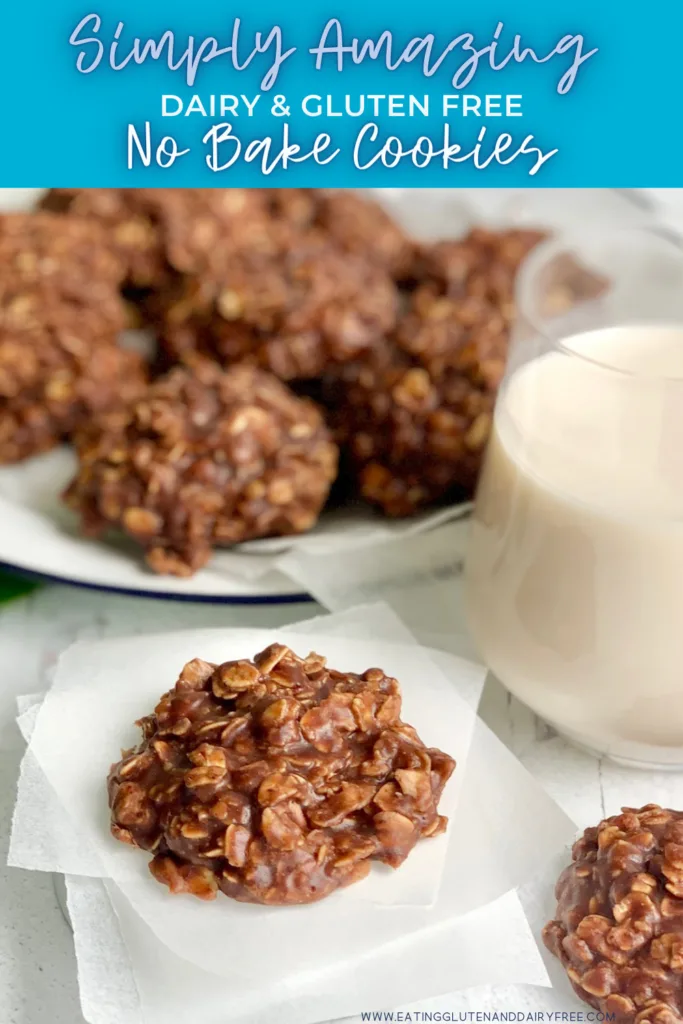 Growing up these where always a fun cookie often found at neighborhood parties, showers, and youth group get togethers.
They were also one of the first cookies I put on my plate.
And let's be real-- who could ever stop after just one?! No, these were the cookies no one could say no to or eat just one.
No Bake Cookies have been a favorite for years and they'll continue to be. They'll always be the crowd favorite.
Furthermore the best part is there is no bake time. You don't have to stress about burning these cookies.
Did we already mention this recipe comes together really quickly?!
Clearly you want to grab these cookie ingredients and whip up a batch today.
no bake cookie ingredients and recipe tips
dairy free butter-- we keep Earth Balance Buttery Sticks on hand for this. We purchase the soy free and vegan option.
dairy free milk-- our go-to is this dairy free milk. We do not use the shelf stable dairy free milk you find on the grocer store isle; it seems more watery and doesn't set. Instead use the refrigerated dairy free milk.
creamy peanut butter-- we have not used natural peanut butter mixtures in this recipe. We prefer the Jiffy brand peanut butter. For allergies you can use almond butter too.
vanilla extract
certified gluten free quick oats-- if needed you can also use gluten free old fashioned rolled oats in this recipe. The quick oats tend to help the cookies hold together better. We use which ever we already have on hand. We recommend the Bob's Red Mill certified gluten free oats. Here is their allergen FAQ. This brand of oats does is manufactured in a facility with soy.
kosher salt
parchment paper-- line your baking sheets with parchment paper
baking sheets-- we like these pans for our cookies, baked or not
medium cookie scoop-- use this or 2 spoons to drop the No Bake Cookie dough onto the parchment paper
cookie plate-- serve your yummy cookies and other treats on this gorgeous dessert stand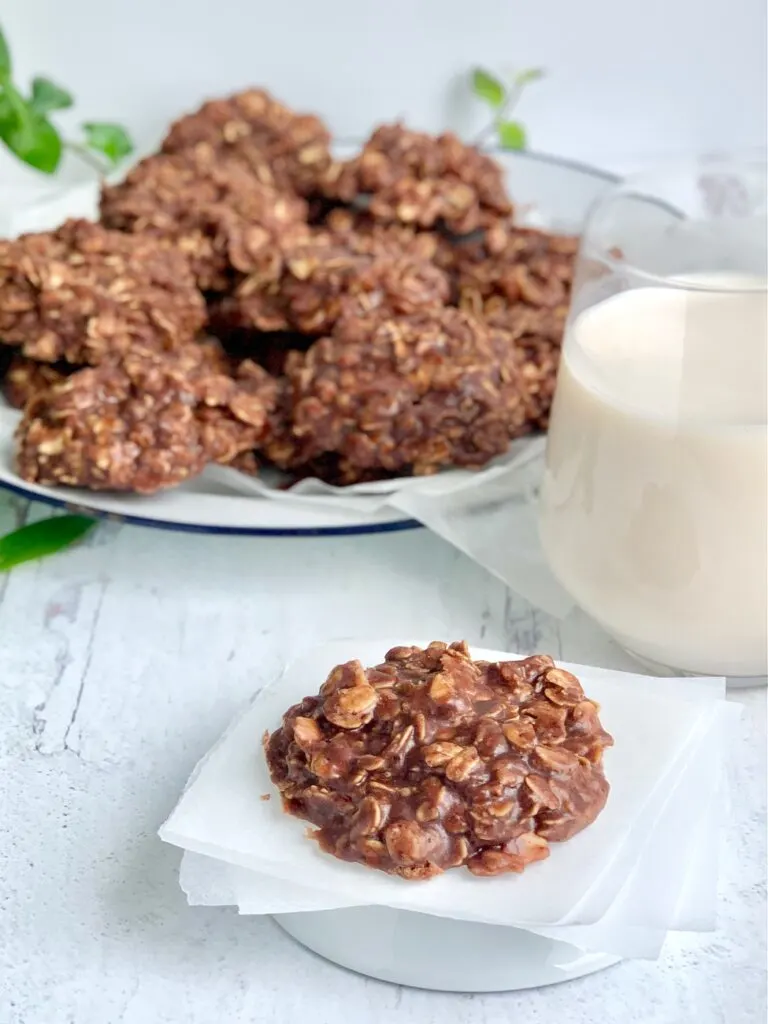 are oats gluten free
First oats do not contain gluten, however many people can't eat them because they are so easily contaminated with gluten in the manufacturing process (imagine the same machinery harvesting oats from a farmers field as wheat).
Next be sure to use oats that are pure, uncontaminated and labeled certified gluten free. Here is the brand of certified gluten free quick oats and old fashioned rolled oats we use.
Here is Bob's Red Mill allergen FAQ and manufacturing practices.
Side note-- the Bob's Red Mill brand does manufacture their certified gluten free oats in a facility with soy.
what's the difference between old fashioned rolled oats and quick oats
This is such a great question that is often asked.
Gluten free old fashioned rolled oats are whole oats that are rolled to flatten while gluten free quick oats are cut into smaller pieces.
The smaller, quick oats help the cookies hold together better.
Pursiung this further you can use either in this recipe. The quick oats are most recommended as they help the cookies to stay together.
However we use what we have on hand.
where do I store no bake cookies
Store No Bake Cookies at room temperature in an airtight container up to a week.
We do not recommend storing them in the refrigerator. Also do not place these cookies in a hot car for the day, etc.
why did my cookies not set
First, nothing is more frustrating than preparing No Bake Cookies that don't harden or are too runny to serve.
If your cookies are too soft and not setting up properly that most likely means the cookie mixture wasn't boiled long enough.
And if they are hard and crumbly the mixture was boiled for too long.
So for these classic cookies to harden properly the mixture must be boiled for 1 full minute. Start your timer once the entire chocolate mixture is fully boiling.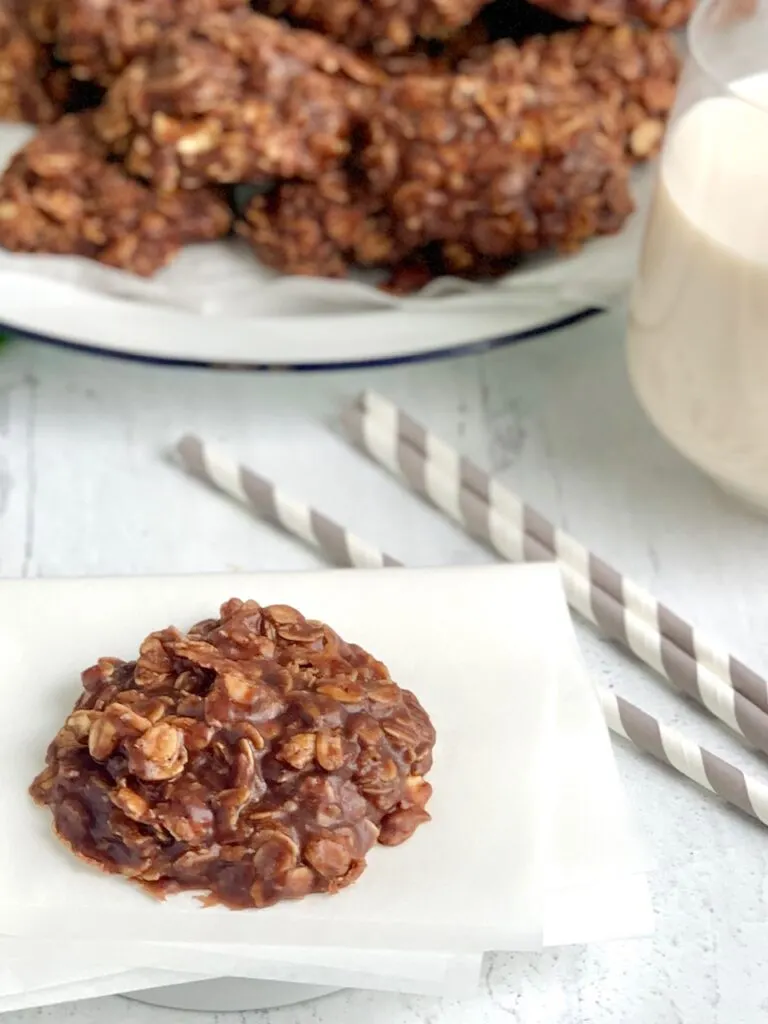 more cookie recipes you will love
lastly
With just a few ingredients from your pantry you can whip up these classic No Bake Cookies just like Grandma used to make.
While we cook and bake everyday-- these gluten free and dairy free cookies are one of our favorites!
While this recipe is easy and good-- these cookies are clearly 100% loved.
Have you checked out more of our recipes? Snoop around our website and start meal planning today. You'll love this Grilled Shish Kabob recipe and marinade and creamy Manicotti recipe with spinach ricotta filled shells. YUM.
Be sure to follow along on Facebook, Pinterest, and Instagram.
We don't want you to miss the best of anything gluten and dairy free.
You'll find new recipes, product alerts, favorite brand giveaways, and "free from" life style tips for every day living.
Eat well and feel well,
Jill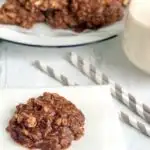 Print Recipe
No Bake Cookies
Ingredients
½

c

dairy free butter

1 stick, suggestion in post

2

c

granulated sugar

½

c

dairy free milk

suggestion in post

¼

c

unsweetened cocoa

1

c

creamy peanut butter

2

teaspoon

vanilla extract

¼

teaspoon

kosher salt

3

c

gluten free quick cook oats

suggestion in post
Instructions
Line 2 baking sheets with parchment paper and set aside.

In a medium-sized saucepan heat together the butter, sugar, milk, and cocoa over medium heat. Whisk this mixture often to help the butter melt.

Bring the mixture to a hard boil for 1 minute. We always set a timer for this step as it's the key to these cookies turning out.

After 1 minute whisk in the peanut butter, vanilla extract, and salt.

Immediately add in the oats to the peanut butter mixture and stir until combined.

Using 2 spoons or a medium-sized cookie scoop, drop the cookies onto the parchment paper.

Allow the cookies to cool completely and harden on the countertop.

We don't recommend refrigerating them to harden. Store cookies in an airtight container for up to a week at room temperature.