We've got Italian comfort food at its best with this stuffed Manicotti filled with soft spinach and creamy ricotta filling in a pan of perfectly seasoned ground beef and marinara sauce. Top with fresh parsley and dairy free cheese for an incredible meal the whole family will love.
Spinach stuffed Manicotti is what dinner dreams are made of.
Rich, filling, cozy, and comfort food at it's best.
This gluten and dairy free meal is surprisingly super easy to make, yet it looks like you spent hours in the kitchen.
Do you miss ordering Manicotti off the dinner menu at fancy Italian restaurants?
We sure do.
Now we can safely enjoy this meal at home! And you can too.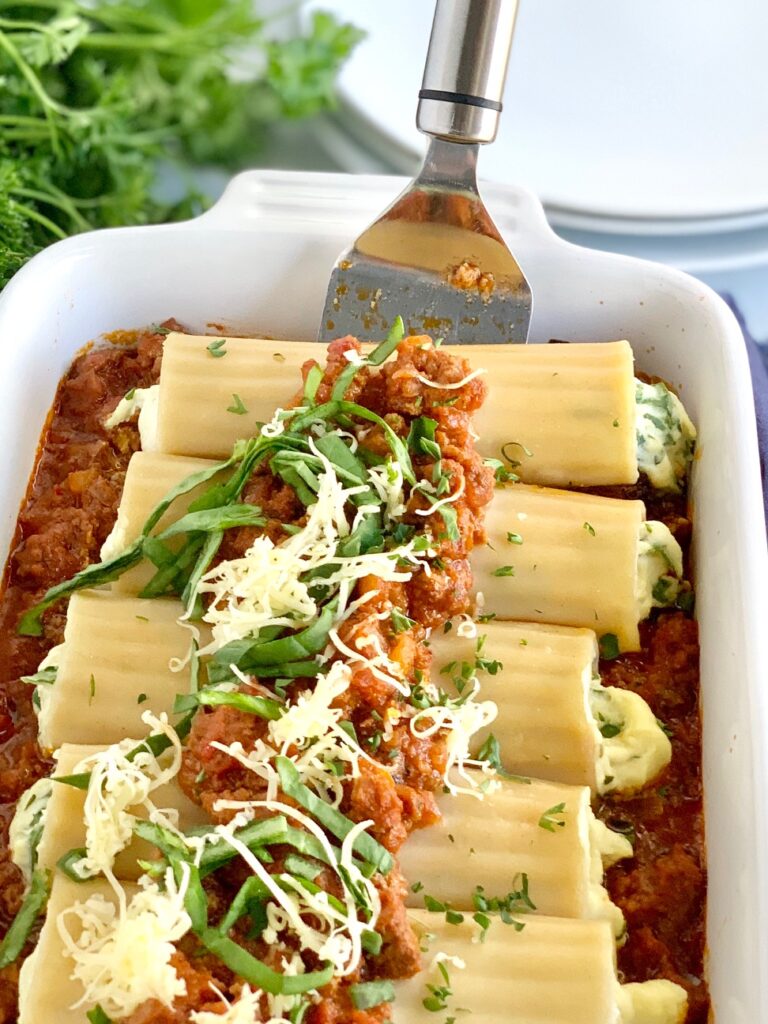 manicotti ingredients and recipe tips
grapeseed oil— vegetable or olive oil works too
diced onion
garlic clove— minced
ground beef— Italian sausage or ground turkey works too. Meat is optional as most manicotti recipes do not call for meat. It's a favorite in our home so we add it in.
marinara sauce— we use Rao's Marinara sauce
manicotti pasta noodles— our go-to is Jovial Manicotti pasta. It can be purchased here.
dairy free ricotta— you can use a homemade recipe, or our favorite is the creamy Kite Hill Ricotta found in the refrigerated section of the grocery store
large egg
fresh spinach— you can omit this or add in even more
granulated sugar
ground parsley— always double check your spices are gluten and dairy free
kosher salt
ground pepper
optional fresh Italian parsley— for garnishing over the baked dish before serving
dairy free cheese— use your favorite dairy free shredded mozzarella and parmesan cheese to top this yummy manicotti. We haven't found a brand we are absolutely in love with yet for this recipe. We lightly topped our Manicotti in these pics with shredded Chao slices
baking dish— 9×9-inch baking dish works, but we love using our 12×9-inch Le Creusent baking dish best. 6 gluten free manicotti shells fit perfectly in this dish. When doubling this recipe, use a 9×13-inch baking dish.
serving spatula— we use this serving spatula in the kitchen at least once a week if not more
aluminum foil— place foil over your dish before transferring it into the oven. It will keep the noodles from drying out during the bake time.. This is an important step not to overlook.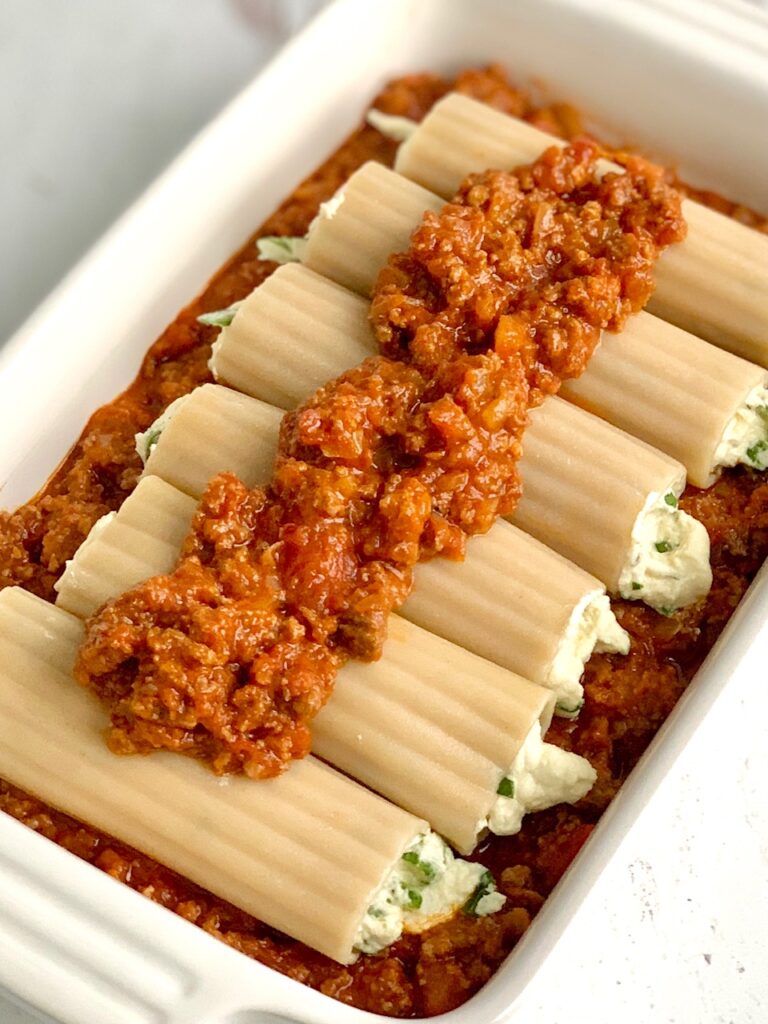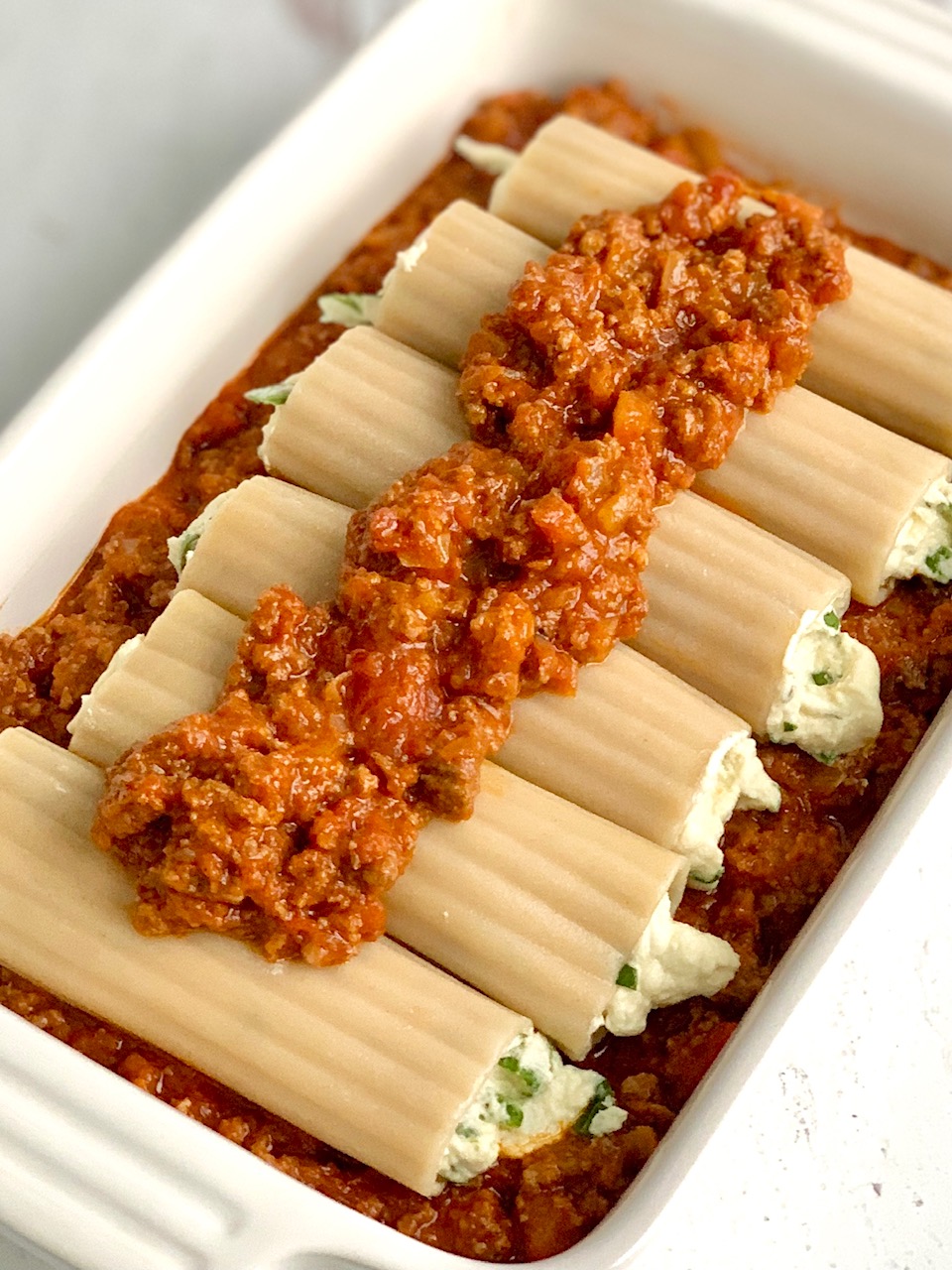 where do you buy gluten free manicotti pasta
We use the Jovial Manicotti pasta shells. If they aren't available locally, you can purchase them here on Amazon.
These are produced in a dedicated gluten free facility and have a great taste and texture. You'll think you've ordered a dish from a high-end restaurant.
do you cook manicotti shells before filling them
Yes. Only a few minutes in boiling water and these shells are ready to be filled.
We slightly undercook them. They're not only easier to fill without falling apart, but they'll also continue to cook and soften as they're baked.
An important manicotti food hack– after you've removed the shells from the boiling water and rinsed them in cold water, place them in single file on a plat
e. The manicotti tend to stick together as they dry and the rip when pulling them apart. This hack prevents that and makes it easier to fill them.
how do you fill manicotti shells
There are two methods to fill your shells.
Our favorite is to use a Ziploc bag or piping bag. Transfer the ricotta mixture into the bag and cut the corner off. Squeeze the mixture out of the piping bag into each end of the shell. This is the easier and less messy way to fill your shells.
Another way is to fill the shells with a small spoon.
what do you serve with manicotti
There are so many different side dishes which flavor well with this dish. We enjoy a side salad with warm garlic breadsticks or sliced baguettes.
Our go-to breadsticks are from My Bread Gluten Free Bakery And we also toast these baguettes and dinner rolls from Udi's often.
And a side of steamed broccoli or green beans is another favorite.
can this recipe be assembled ahead of time
Yes. Cover and refrigerate up to 8 hours, then bake as directed. We do not suggest freezing this dish as gluten free noodles can become soggy.
However oftentimes we make up batches of ground beef and marinara sauce and store them in the freezer. This helps to cut down on meal prep time.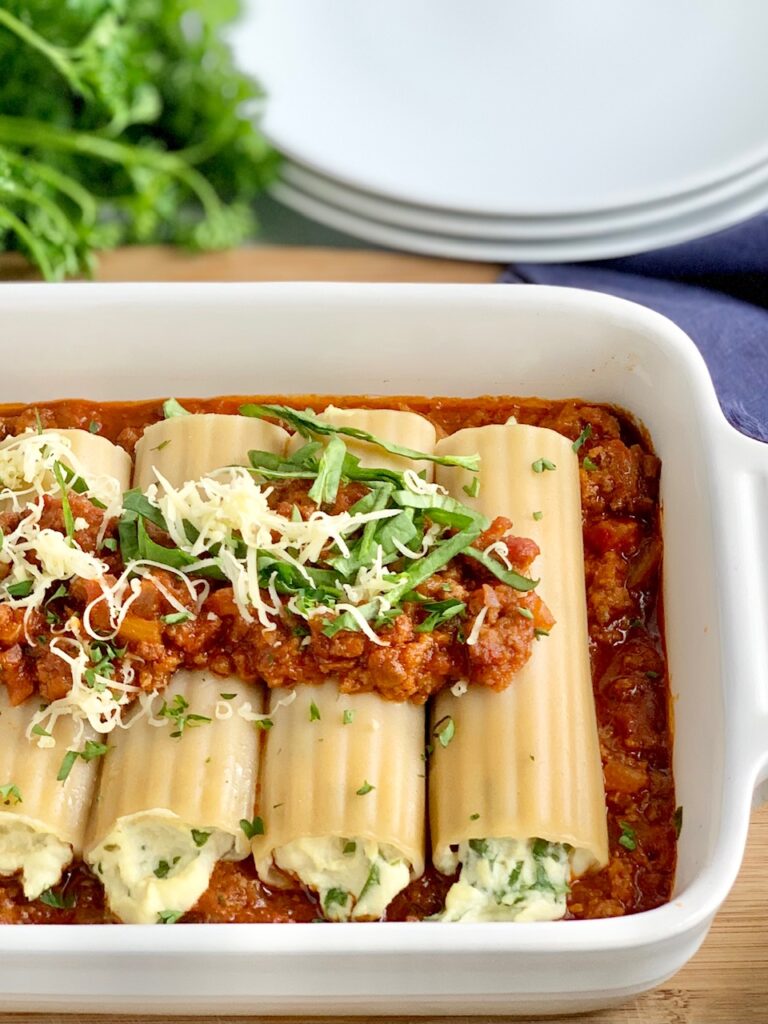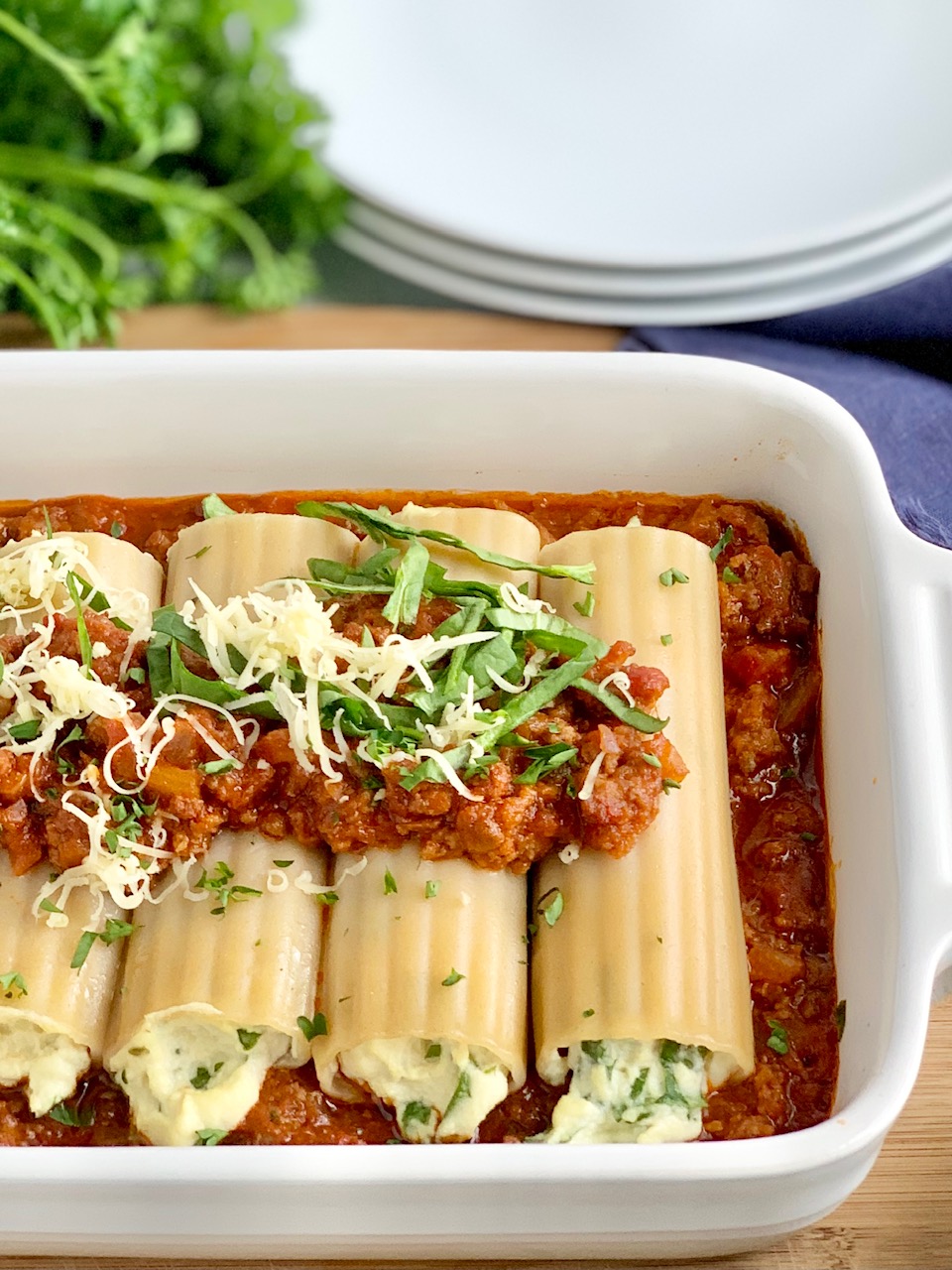 more delicious pasta dinner recipes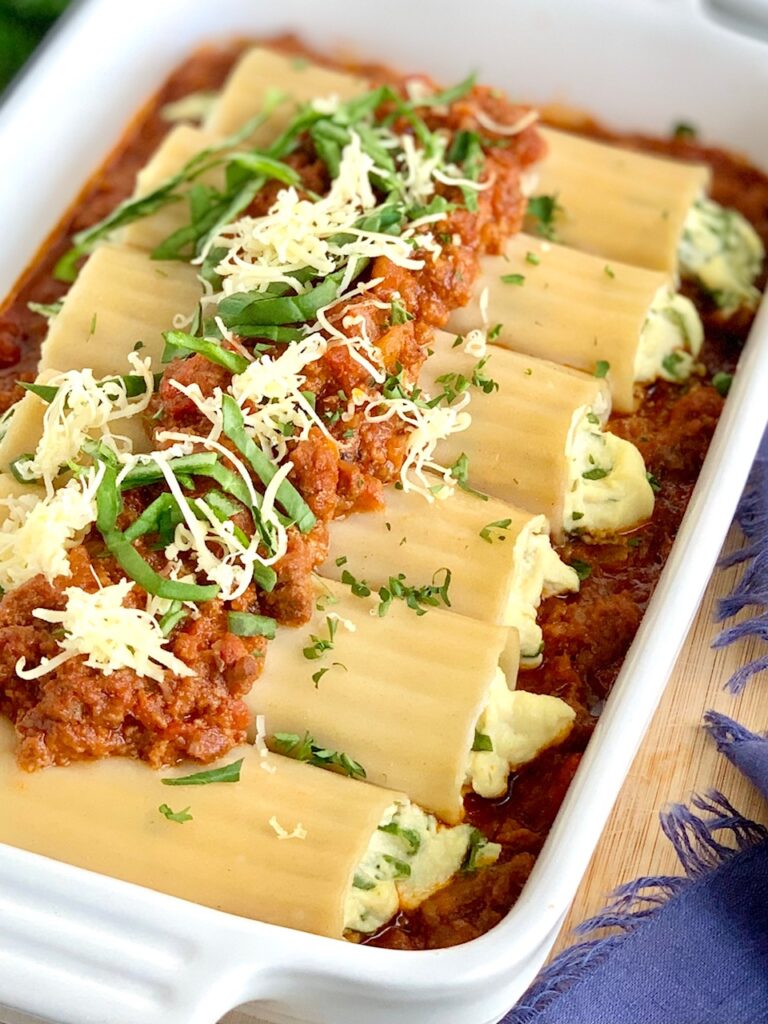 lastly
This Manicotti recipe has flavored ground beef with a creamy spinach ricotta stuffed into tender manicotti shells covered with a delicious pasta sauce and baked to perfection.
You will find this classic recipe to be comfort food your family loves.
And you'd think it took hours in the kitchen to prepare. But the recipe comes together easily with just a few steps.
Have you snooped around our website yet for more must-have recipes?
Did you know we have kid-inspired recipes too? Like this homemade playdough recipe that is so easy to make.
And this post with over 50 snack ideas for kids— adults! We've even included fun dipping sauces our kids love.
Sign up for our exclusive emails below.
Be sure to follow along on Facebook, Pinterest, and Instagram. Like and comment often so we keep showing up in your feed.
We don't want you to miss the best of eating gluten and dairy free.
Eat well and feel well,
Jill
Print Recipe
Manicotti
Ingredients
Pasta Sauce Ingredients
1

tbsp

grapeseed oil

olive or vegetable oil work too

½

onion

diced

1

clove

garlic

minced

½

lb

ground beef

Italian sausage or ground turkey work, or you can omit

14

oz

marinara sauce

suggestion in post
Ricotta Filling Ingredients
6

gluten free manicotti pasta noodles

suggestion in post

8

oz

dairy free ricotta

suggestion in post

1

large egg

¾

c

fresh spinach

cut into thin pieces with kitchen shears

1

tbsp

granulated sugar

½

tbsp

ground parsley

dash salt

dash ground pepper

¼

c

optional– add in your favorite dairy free shredded parmesan or mozzarella cheese to the ricotta filling.

optional garnish– fresh Italian parsley, more dairy free cheese
Instructions
Preheat the oven to 400°F.

Heat the oil in a large skillet over medium heat. Then sauté the onion and garlic until the onion is translucent.

Add in the ground beef and brown.

While the beef is cooking, prepare the manicotti noodles according to the package. Prepare noodles slightly undercooked.

Drain noodles and wash under cold water. Transfer noodles to a plate and arrange noodles side by side without overlapping or touching each other. This will prevent them from sticking together and tearing.

Once the meat has cooked all the way through and no longer pink, drain the fat. Stir in the marinara sauce, and allow to simmer for 20-25 minutes while you prepare the ricotta. Stir occasionally.

In a small mixing bowl combine the ricotta, egg, spinach, sugar, ground parsley, salt, and pepper. Optional: add in ¼ cup of your favorite dairy free parmesan or mozzarella cheese.

Then transfer the mixture to a half gallon Ziploc bag. Cut a corner off and pipe the ricotta mixture into each end of the tender manicotti pasta shell.

Reserve ½ c. of the marinara meat sauce for a topping, and place the remaining sauce in the bottom of the baking pan. Then arrange each manicotti noodle on top of the meat sauce.

Next top with the remaining meat sauce over over the noodles. Top with more dairy free cheese.

Cover the dish with aluminum foil and transfer to the oven for 20 minutes or until the sauce is bubbling on the sides.

Remove from the oven and allow to rest for 5 minutes as you garnish with more dairy free cheese, fresh spinach and Italian parsley. Serve and enjoy.

Cover and refrigerate leftovers up to 3 days. This does taste best right out of the oven.

The pasta sauce can be prepared ahead of time; we would not suggest freezing this dish as the pasta noodles become soggy.