These Super Easy Soft Sugar Cookies have been a family favorite baking recipe over the past several years. These Gluten Free Dairy Free Sugar Cookies bake so soft and fluffy and the dough is wonderful to work with, making them perfect for cookie cutting and decorating with your favorite allergen friendly icing.Â
The thought of not being able to enjoy fluffy Sugar Cookies anymore once we went Dairy and Gluten-Free was enough to make anybody sad. So, we knew we had to come up with the perfect Gluten and Dairy Free Soft Sugar Cookie Recipe. And these cookies do NOT disappoint.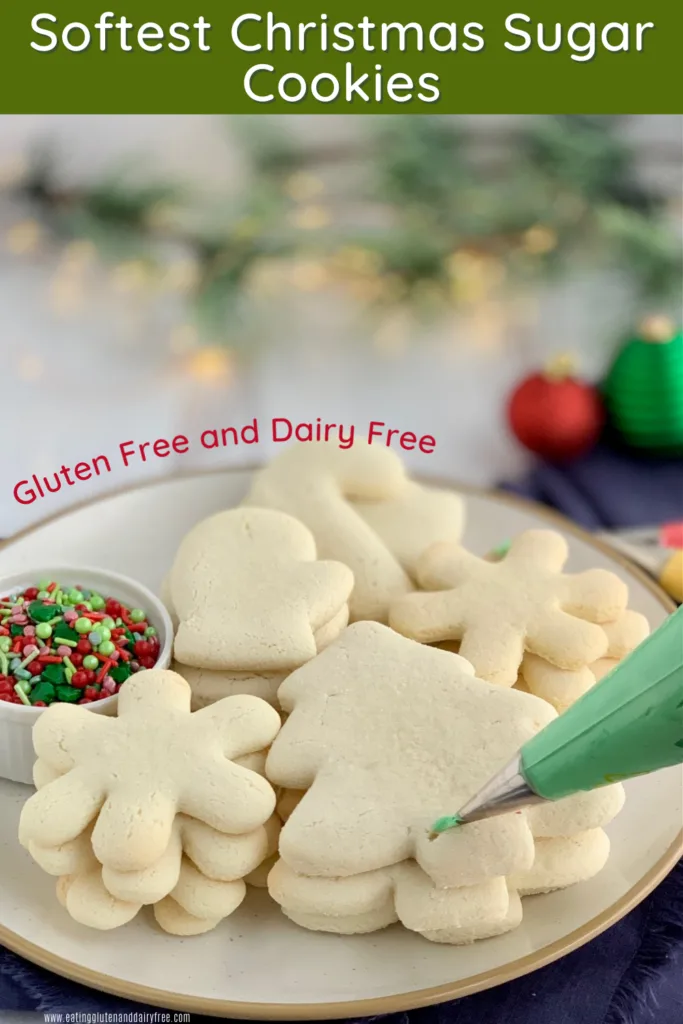 Gluten Free Sugar Cookies are great for holiday baking, birthday parties, celebrations and just everyday cookies. They're really the perfect versatile cookie dough recipe. You can use any shaped cookie cutter to make them your preferred shape and with a little icing and dye if necessary, you can create a beautifully soft cookie creation for any holiday or occasion.
Baking and enjoying Sugar Cookies has always been a favorite pastime. Even back in high school, you could find me baking homemade sugar cookies but that recipe lacked severely in comparison to this allergen-friendly sugar cookie recipe. Not to mention they were as hard as rock cakes. Sorry old high school friends, I promise this Sugar Cookie recipe is much better.
This easy cookie recipe is armed with special ingredients to really make fluffy Gluten-free Dairy Free Sugar Cookies- you wouldn't believe it has dairy free sour cream and sweet white rice flour to really bring these cookies to life.Â
A sugar cookie recipe from Two Peas and Their Pod inspired this allergen friendly softest sugar cookie recipe.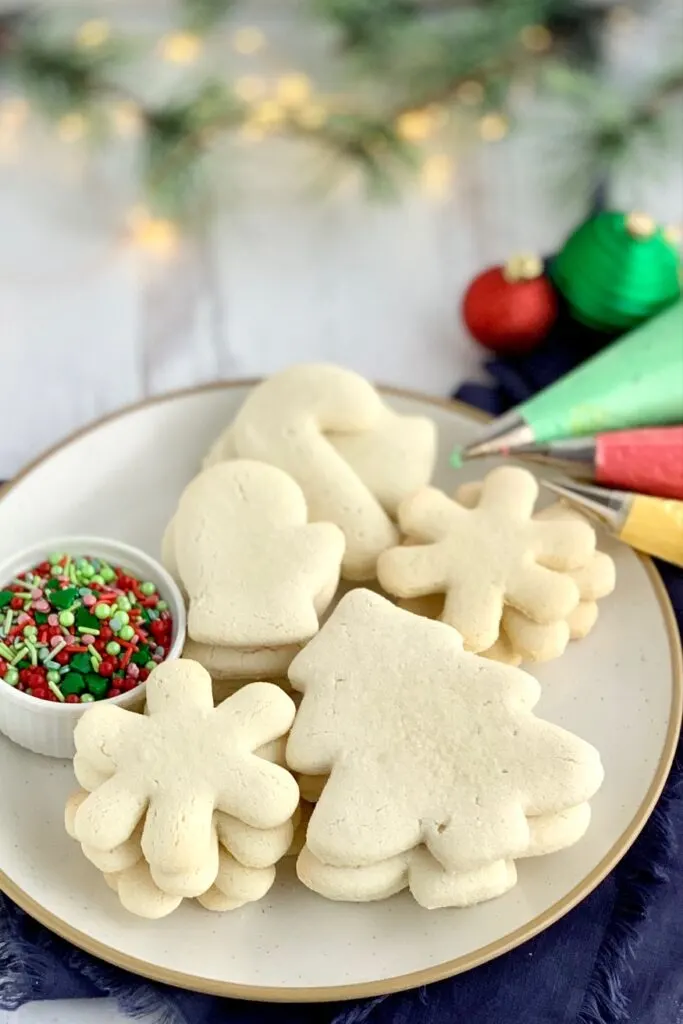 sugar cookie ingredients
rice flour mix-- we prefer Bob's Red Mill Sweet Rice Flour and this brand is one of our soft cookie secret ingredients. It really makes all the difference in fluffiness and softness of your cookies. Â
baking soda-- it's important to keep in mind that this loses its potency after the container has been opened for 6 months. We suggest labeling the container with the date when it is first opened.
baking powder-- the same note with this ingredient, label when you first use it so you know that you have 6 months to use the rest before it loses potency.Â
xanthan gum-- if your flour mix has this or guar gum in it, you can omit this
salt-- we like kosher salt
coconut oil--Â this is good to help get the right consistency that you'd get from using butter, but butter substitute sticks don't always give you what you're looking for, so this is essential
granulated sugar
eggs
vanilla extract-- be sure to check that your extract is allergen friendly, gluten and dairy free. They like to hide gluten in there in some brands, so here is our go-to safe brand.
dairy free sour cream- for this specific recipe, our go to brand is Tofutti. Try to get this specific brand if it is available to you in your area. Unfortunately, not all brands are created equal and this brand has been the one that we have tested and works the best for this specific recipe, compared to the others.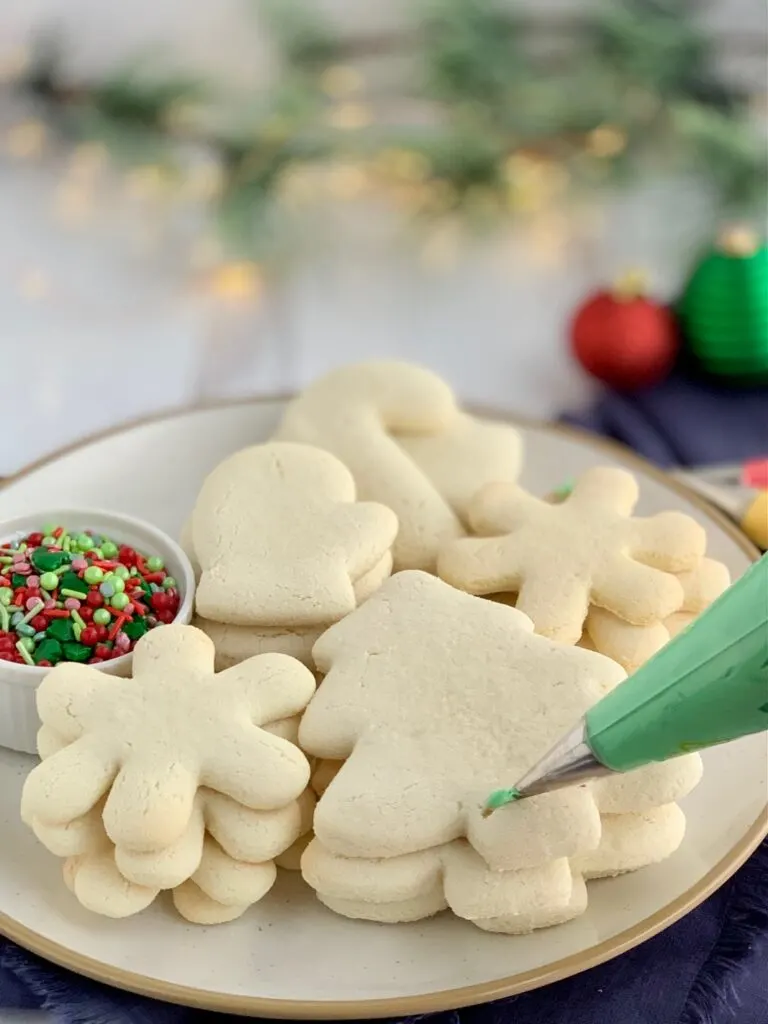 kitchen gadgets to make these cookies easier to make:
rolling pin
parchment paper
stand up mixer
frequently asked questions
can you freeze these soft sugar cookies
You sure can freeze these sugar cookies. We recommend letting the cookies cool, wrapping them in plastic and then placing them in an air tight container or freezer safe bag when you're ready to freeze them.
Make sure to label them and write the use by date on them- these cookies are good in the freezer for about 3 months.
You'd never know these cookies were frozen, just pull them out a day or 2 before you want to enjoy them so they can defrost and you'll be good to go.
can you ice or frost soft sugar cookies
Absolutely you can! Icing these soft sugar cookies takes them to a whole new, amazing level. This is one of our favorite ways to make these cookies for all the different holidays and occasions throughout the year.
We recommend using our reader favorite vanilla buttercream recipe. It's a highly rated frosting and icing recipe, people love it. Or you can use royal icing.Â
can you use different flour?
We have tested this recipe with various kinds of gluten free and dairy free flour and we stand behind our recommendation of a sweet rice flour mix. It consistently performs the best and helps give you super soft sugar cookies each time you bake them.
tips for creating the softest sugar cookies every single time
This recipe does require some time. Typically the dough needs 2 hours or overnight to chill in the refrigerator. Even then, sometimes we find our dough needs to be popped back in the fridge for some more chilling time.
This dough softens fast, especially when using the cookie cutters. If you find that your doguh is giving you trouble, pop it back in the fridge for a bit. It's the easiest to work with when it's cold.
If decorating with icing, which we totally recommend, we suggest using our Buttercream frosting.
If choosing to decorate with sprinkles, we recommend Sweets Indeed sprinkles. They specialize in allergen friendly sprinkles. You can purchase Christmas sprinkles here. They also offer other holiday and occasion sprinkles that you may find useful if making these sugar cookies at other times throughout the year.
Get a fun assortment of cookie cutters to use all year round. We like grabbing Thanksgiving cookie cutters, Christmas cutters, heart cookie cutters, and whatever else we can find.
more cookie recipes you'll love
lastly
Everyone always thinks of Soft Sugar Cookies when baking for Christmas and cookie exchanges and they're smart for doing so. But, sadly so many people don't know the secrets to make soft, Gluten and Dairy Free Sugar Cookies. This recipe will not disappoint in those aspects.
If you're looking for other family-friendly holiday baking ideas, we know your kids will love our Gingerbread House recipe - no more searching the stores for an allergen-friendly kit or paying ridiculous prices. Have fun making some other DIY treats and sip on some delicious Hot Chocolate Bomb Drinks while making your Gingerbread Houses.
If you need a few more holiday baking ideas, check out our Christmas Dessert recipes post. It's full of allergen-friendly, Gluten Free and Dairy Free recipes that you can make and enjoy with all your family and friends.
Eat well and feel well!
Jill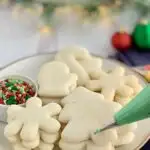 Print Recipe
Softest Sugar Cookies
This recipe makes 4-5 dozen depending on your size cookie cutter.

Ingredients
7

cups

Bob's Red Mill Sweet Rice Flour

you will need 2, 24 oz bags

1

teaspoon

baking soda

1

teaspoon

baking powder

½

teaspoon

xanthan gum

1

teaspoon

salt

1

cup

coconut oil

not melted

2 ½

cups

granulated sugar

4

eggs

4

teaspoon

vanilla extract

1 ½

cups

dairy free sour cream
Instructions
In a standup mixing bowl, beat coconut oil until creamy then add sugar. Beat until mixed.

Add the eggs one at a time, beating until well mixed.


Add the vanilla extract and sour cream until combined.


Then place the flour, baking soda, baking powder, xanthan gum, and salt in the mixer. Using a spatula beat down the sides of bowl and stir the very bottom of the bowl.

Cover with plastic wrap and place the bowl in the refrigerator to chill for 2 hours or overnight.

After chilling, preheat oven to 425° F.

Place parchment paper on baking sheets.

Divide the dough into 2 large balls. With the first dough ball roll into ¼ inch on a lightly floured surface. Use your favorite cookie cutters on the dough.

Set a timer for these to bake for 6-7 minutes, or until cookies are slightly browned on the edges. Place on cooling rack immediately after removing from oven. These cookies will continue to bake and turn hard if left on baking sheet to cool.

After cooled, frost and enjoy or freeze up to 3 months.
Notes
The Buttercream Frosting recipe works wonderful for decorating these cookies.