This post may contain affiliate links. Read the full disclosure here
If you're frantically looking for festive Christmas cookies to enjoy this season look no further. These rich, soft and chewy chocolate peppermint cookies dipped in warm, melted white morels, and sprinkled with crushed candy canes will be just what you want.
In reality family and friends will be shocked you can enjoy something so festive and delicious.
And did I mention just how delectable these cookies are?! These chocolate and peppermint cookies melt.in.your.mouth. Moreover they leave the most delicious after taste.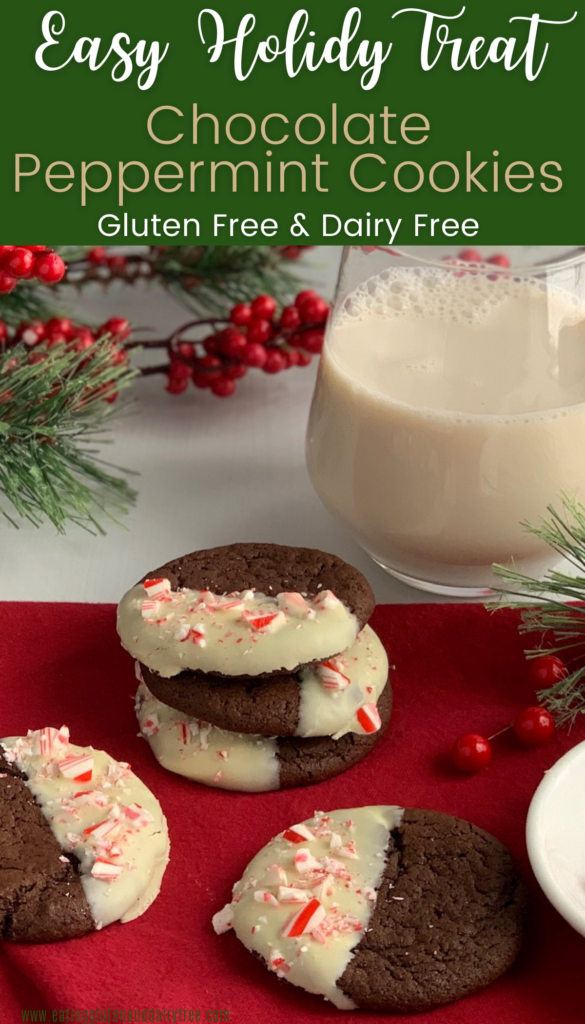 Let me emphasize the chocolate and peppermint combo is to perfection in this recipe. Specifically these will be one of your go-to Christmas cookies to share this year and every year there after.
recipe notes
first as the recipe notes the cookie dough will need to refrigerate for 20-30 minutes. This will help you roll the dough into small balls easier as the dough won't be sticky. Likewise I also stick the dough batter back into the refrigerator in between oven batches.
second these chocolate peppermint cookies are delicious on their own even without the white chocolate and candy canes. In case you can't safely enjoy those ingredients just avoid them. The chocolate and peppermint in these cookies will have you singing fa la la la la all on their own.
lately I've been experimenting with a new to me gluten free all purpose flour. Josie's Best Gluten Free Mixes was recommended to me by other allergen friendly food bloggers. Let's just say I will definitely bake with this mix again. The flour packaging states this mix can be used at a 1:1 ratio in place of traditional flours. And it is manufactured in a dedicated gluten free facility. You can check out this flour on Amazon here. I value the taste and texture it provides in this recipe. Bob's Red Mill Gluten Free 1 to 1 Baking Mix also works well.
and I get lots of questions about my dairy free butter of choice. I buy these Earth Balance Buttery Sticks. They are something I can never be without. And we use the soy free sticks.
Nestle Toll House recently started manufacturing dairy free Simply Delicious White Morsels you can use in this recipe for dipping your cookies.
and if you're looking for allergen friendly candy canes consider YumEarth. Check out their allergen statement here. Their candy canes are manufactured and packaged in a dairy and wheat free facility. You can purchase them here.
peppermint flavor is the key to these festive cookies. YUM
lastly xanthan gum can be omitted in this recipe if your flour blend has it listed as an ingredient. Otherwise it's a must add in for recipe.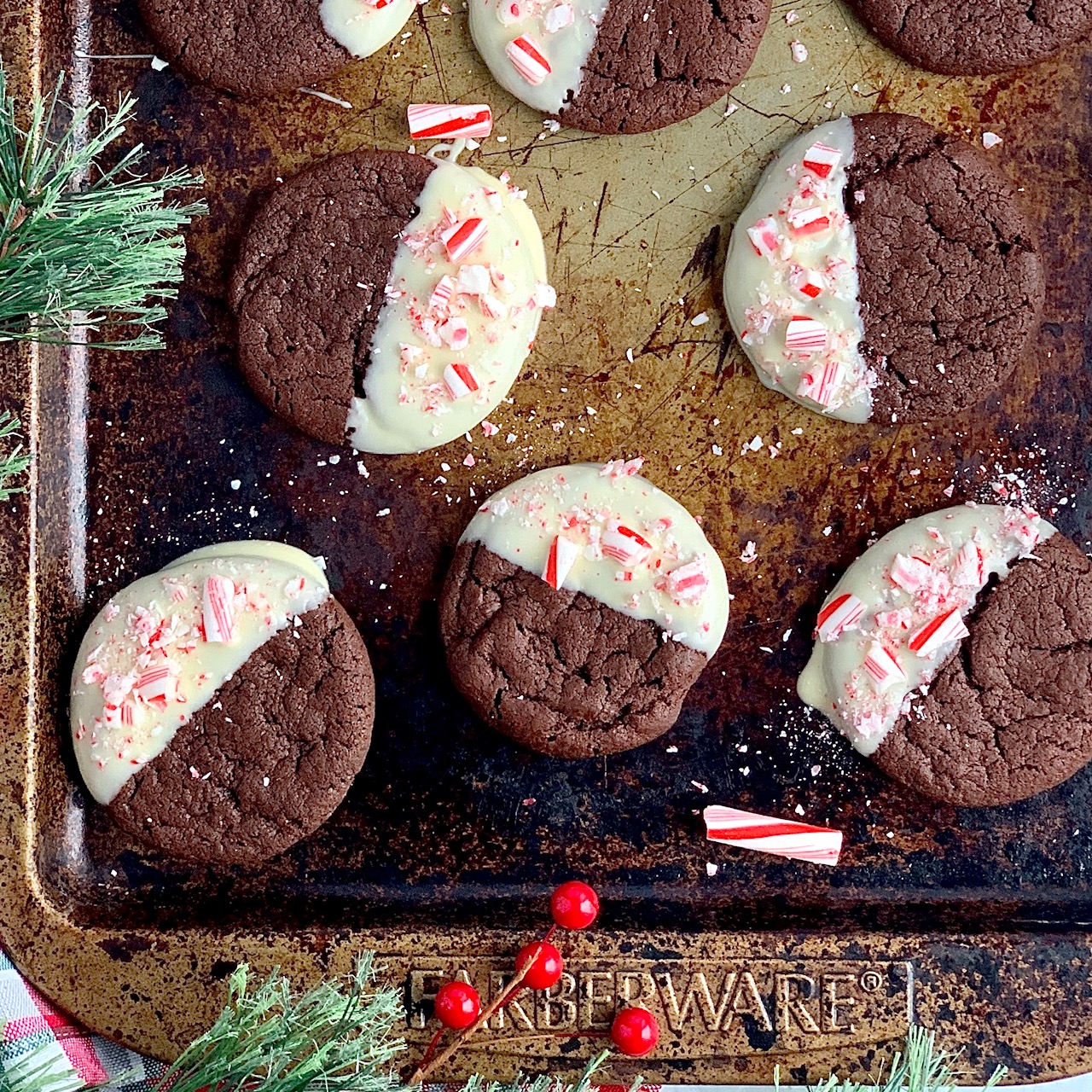 more recipes perfect for Christmas
Not only do these chocolate peppermint cookies look absolutely 100% festive they taste wonderful too. Because if this I want to point out I gained inspiration for my allergen friendly recipe from Cooking Classy's classic recipe found here. While her recipe isn't gluten and dairy free I was able to successfully make the substitutions needed to perfectly bake these delicious Christmas time cookies.
Again it's worth mentioning these cookies are rich, soft and chewy. And everyone will enjoy the chocolate and peppermint aftertaste. It's like a good party that just doesn't end.
With this in mind pin this recipe and add these to your Christmas baking list.
Lastly would you comment below if you're a chocolate peppermint cookie fan too? And let's connect on Pinterest. My gluten and dairy free Christmas food board is loaded with the best recipes just for you. Follow me now.
Happy baking!
Eat well and feel well,
Jill
Print Recipe
Chocolate Peppermint Cookies
Ingredients
1⅔

c

gluten free all purpose flour

1

c

unsweetened cocoa powder

1

tsp

xanthan gum, omit if your gf flour already has this

1

tsp

baking soda

½

tsp

salt

½

c

dairy free butter room temperature, not melted

1¼

c

granulated sugar

¾

brown sugar

2

eggs room temperature

2

tsp

vanilla extract

1

tsp

peppermint extract

2

cups

dairy free white morsel chips

¼

c

broken candy canes
Instructions
Line cookie sheets with parchment paper or silicone mats and set aside.

In a medium bowl combine flour, cocoa powder, xanthan gum, baking soda, and salt. Mix well.

In a large bowl or electric stand mixing bowl cream butter and sugars well.

Next mix in eggs one at a time; then add in vanilla and peppermint extracts.

Slowly add in the flour mixture until just combined.

Allow dough to rest in the refrigerator for 20-30 minutes; otherwise it's very sticky to handle.

Preheat oven to 350°F. Remove dough from the refrigerator.

Scoop dough out by a rounded tablespoon and roll into a ball. Place onto covered cookie sheet. Space cookie balls about 2 inches apart. 12 balls will be the perfect fit on a standard size cookie sheet.

After the cookie sheet is full slightly flatten each cookie and place in the oven.

Bake cookies 1 sheet at a time for 8 minutes. Set a timer for these. Cookies will look under baked, but will finish baking on the cookie sheet when cooling. After cookies have cooled 3-4 minutes, transfer them to a wire rack.

After cookies have cooled another 15-20 minutes, melt dairy free white chocolate either in a microwave or over the stove top. Prepare parchment paper for the next step.

Dip half of cookie into the white melted chocolate, then place on parchment paper to set. Sprinkle crushed candy cane pieces over melted chocolate cookie. Allow to set about 10 minutes before serving. Cookie can also be baked a day or two in advance of dipping them in white morsels.

Cookies must be stored in an airtight container for up to a few days.