Leftover mashed potatoes is a rare event in our home. But when it does occur, enjoying fried mashed potato pancakes always comes to mind.
What is better than leftover mashed potatoes after they've been dredged in gluten free bread crumbs, fried and smothered with dairy free sour cream, diced green onions, and bacon. Y'all, these flavors are wonderful together.
And you can enjoy them for breakfast, lunch, supper, or even as an appetizer.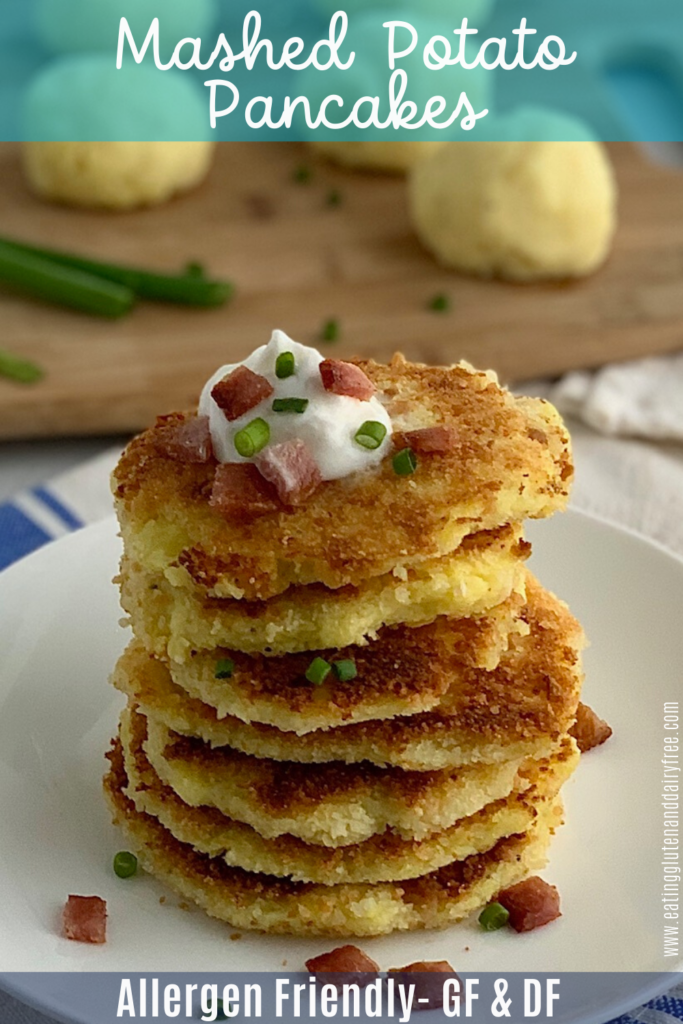 Surprisingly this recipe will only take minutes to pull off.
First when I prepare mashed potato pancakes, I always use my perfect mashed potato recipe found here. You'll find you won't need to add much to this already thick potato mix.
However add in any extra spices or salt and pepper to your liking. And if you have a favorite dairy free cheese, shred some and add in in. If by chance the mashed potato mixture is too loose and won't hold its shape, add in a tablespoon or two of gluten free flour to thicken it up.
Then roll the potato mixture into 1/4 cup size balls, flatten with your palm and dredge in a plate of gluten free bread crumbs. Let it be known this last step is optional, but we enjoy the little extra crunch of Ian's gluten free panko breadcrumbs with our mashed potato pancakes.
After these mashed potato pancakes have fried nicely on both sides to a golden brown color, top with your favorite dairy free sour cream. Currently our go-to brand is WayFare and I find it in the refrigerated section of the grocery store. I also enjoy smothering my potato pancakes in bacon and diced green onions.
It's important to keep a few ingredients in mind if you're using a different mashed potato recipe. First if your mashed potatoes weren't made with an egg, go ahead and add one now. And you will most likely need to add gluten free flour to thicken up the dough.
And I want to note I would not suggest this recipe for instant mashed potatoes.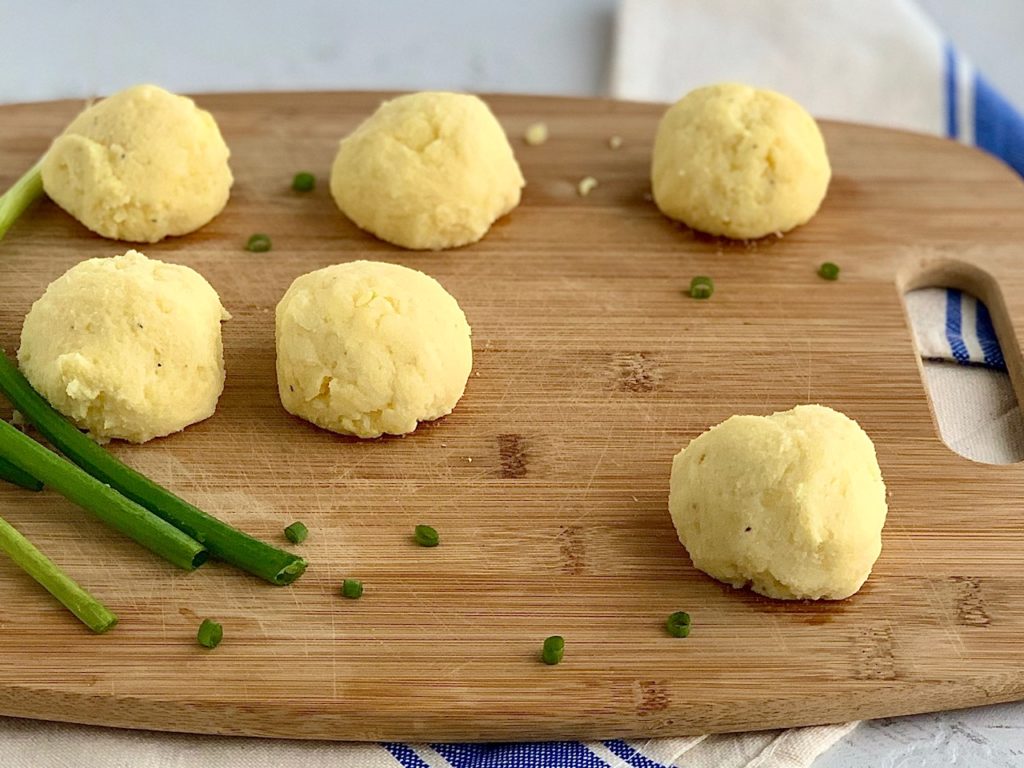 more mashed potato recipes
the perfect mashed potatoes you need. The hubs helped me perfect this recipe years ago with a secret ingredient. You will enjoy these creamy potatoes.
a shepherd's pie recipe you'll fall in love with. This delicious filling and creamy potato topping combine to form the ultimate comfort meal.
So the next time you have leftover mashed potatoes, fry them into the most delicious pancakes. You will love this new meal idea so much you'll find yourself making extra mashed potatoes with this recipe in mind.
Most importantly if you're new to my blog, welcome. Grab a cup of joe, put your feet up and enjoy pinning new gluten and dairy free recipes. Honestly, there's never been a better time to eat gluten and dairy free. Nowadays we have delicious new products and recipes at our fingertips.
Lastly be sure to tag me in your Instagram food posts when using one of my recipes. I love seeing y'alls food pics! Also pin this recipe and follow me on Pinterest. There are new gluten and dairy free pins and boards added to my site weekly.
Eat well and feel well,
Jill
Print Recipe
Mashed Potato Pancakes
Ingredients
oil for frying

3

c

mashed potatoes, refrigerated

1

egg

optional see post for details

½

shredded dairy free cheese

optional

seasonings such as parsley or dill and salt and pepper to taste

1-3

tbsp

gluten free flour if potatoes are loose and not holding their shape

add one tbsp at a time

½

c

dairy free bread crumbs, optional

Ian's panko breadcrumbs work great

topping ideas: gluten free bacon, dairy free sour cream, and green onions
Instructions
Pour oil into a large non-stick pan or griddle over medium heat. You want the oil to cover the entire pan well.

In a large mixing bowl, combine refrigerated mashed potatoes, spices. And an egg if needed and cheese.

Combine the mixture well.

If the mixture is loose or not holding its shape add in a tbsp of gluten free flour. Add in another if needed.

Roll mixture into small balls (about ¼ c). Take each ball, flatten with the palm of your hand.

Dredge patties on both sides in gluten free bread crumbs.

Place directly into hot pan or griddle.

Fry until golden brown on both sides, usually 4-5 minutes per side.

Add in more oil as needed.