Want to know the secret ingredient to whipping up the dairy free mashed potatoes of your dreams? I have it in this post for you. This recipe will give you the PERFECT mashed potatoes every time. They're creamy and so delicious.
We love entertaining friends and family and serving these homemade mashed potatoes. This has been our go-to recipe for years. And it's definitely a family favorite.
No one ever guess they are gluten, dairy, and soy free.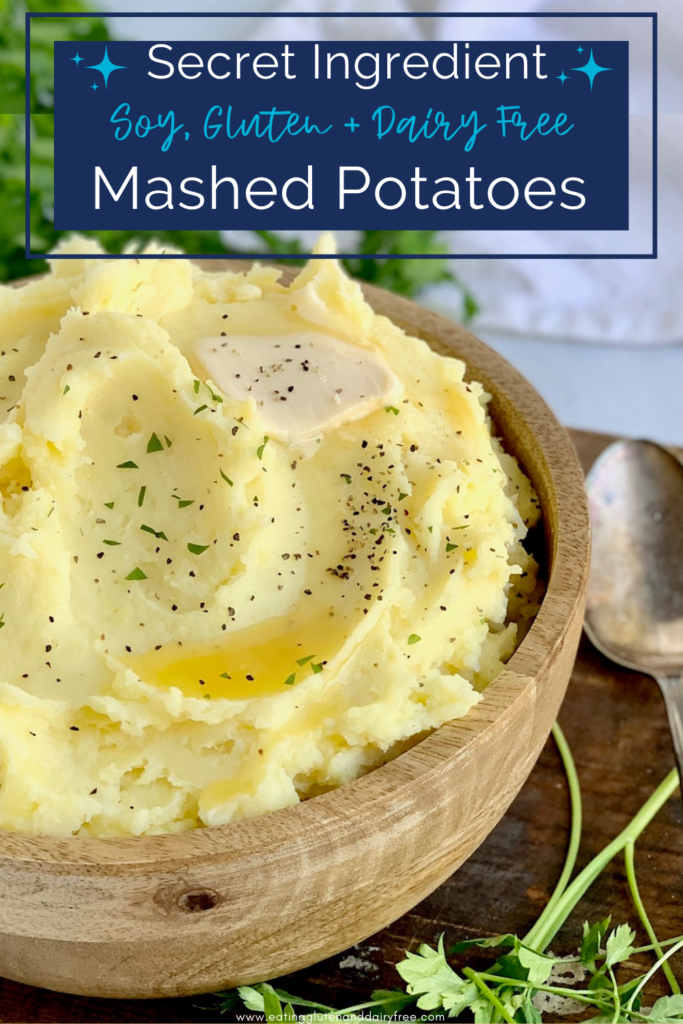 This is a classic recipe perfect for your next holiday, a special family meal, and everything in between.
We enjoy this perfect mashed potato recipe every chance we get… served alongside meatloaf, pulled pork sandwiches, shish kabobs, crock-pot roast, and as a side dish for every holiday.
But before revealing the secret ingredient I must make a confession. As much as I'd like to take credit for the secret ingredient, I can't.
There, I said it…the secret ingredient to the perfect mashed potatoes did not originate with me.
Nope. Nada. Nilche. Not me.
Interestingly enough it was the hubs with this brilliant recipe hack.
He insisted years ago our mashed potatoes have an egg. And despite my initial hesitancy, he was spot on. Adding an egg really brings this side dish to the perfect, creamy consistency and taste it needed all along.
And since this is… kind of the hub's recipe, I will add in his 2 mashed potato rules…
number one… do not let the potatoes get too soft when boiling. Check them often.
and his second rule for the perfect mashed potatoes… do not over mix the potatoes with the mixer.
perfect mashed potato ingredients
potatoes— yukon Gold potatoes are the perfect potatoes for this dish, use your favorite
egg— the secret ingredient to the perfect mashed potatoes
dairy free milk— we use unsweetened almond milk, or dairy free milk of choice
kosher salt
pepper
dairy free butter— Earth Balance Butter Sticks work great in this recipe
optional add-ins— fresh garlic, chives, diced green onion, dairy free sour cream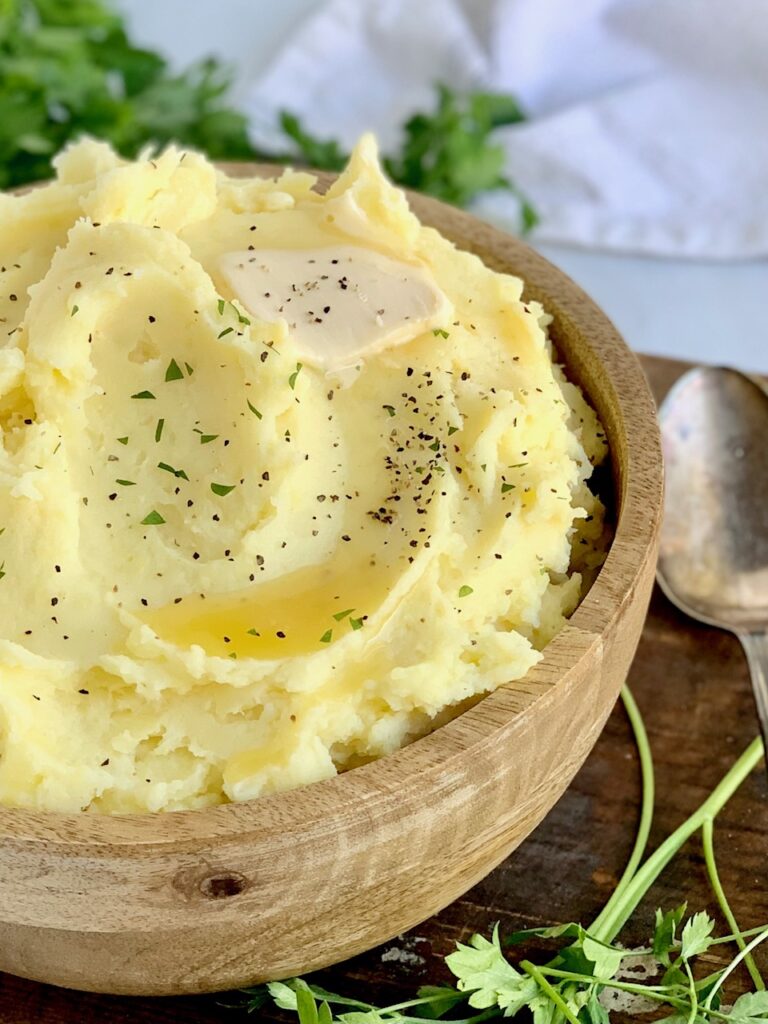 And it's important to remember eating gluten and dairy free doesn't mean the end of delicious tasting food.
Actually I've experienced just the opposite. I would encourage you to check out more of my recipes.
more delicious gluten + dairy free recipes
Thanksgiving recipes— everything you need for an amazing Thanksgiving meal is in this post, including desserts
yeast free cinnamon rolls— light and fluffy with a gooey cinnamon sugar middle topped by a luscious cream cheese frosting. And as an added bonus– there is no rise time, no punching down dough, and no failed gooey globs that didn't turn out.
the best chicken pot pie— you won't believe it's gluten and dairy free. Prepare yourself for a decadent buttery crust and delicious filling.
what readers are saying about this recipe
Katie on Facebook- "These are so good. I made them awhile back."
Victoria on Facebook- This is the best recipe I have found for Dairy Free Mashed Potatoes by farrrrrrr! 10/10 would definitely recommend these."
lastly
This perfect mashed potato recipe will give you the best mealtime potatoes every. single. time.
Stir in your favorite toppings to enjoy creamy mashed potatoes the whole family will love.
Follow along on Facebook, Pinterest, and Instagram. Be use to like and comment often so you don't miss our posts in your feed.
We don't want you to miss out on the best of eating gluten and dairy fee.
Eat well and feel well,
Jill
Print Recipe
The Perfect Mashed Potatoes
Ingredients
4-5

large

Yukon Gold Potatoes

washed, peeled, cut into smaller equal size pieces

1

egg

2

tbsp

unsweetened almond milk or dairy free alternative milk, add another tbsp if potatoes need it.

2

tbsp

dairy free butter

suggestion in post

salt and pepper to taste

optional add-ins and toppings: fresh garlic, diced green onions, fresh chives, dairy free sour cream, bacon
Instructions
In a large pot filled 3/4 of the way with water, and add the potatoes. Bring to a boil over medium high heat.

Continue to cook until potatoes are fork tender. Plan on 20-30 minutes. Don't over boil the potatoes.

Place potatoes in a large mixing bowl. Add dairy free milk, salt, pepper, dairy free butter, and an egg. If you're adding in additional seasonings or toppings do so now.

Mix with a hand mixer at medium speed until combined. Add an additional 1 tbsp dairy free milk if potatoes seem dry.

Be careful not to over beat the potatoes. Their texture changes when over beat.

These potatoes can be easily stored in the refrigerator and reheated as leftovers.
Keep scrolling to sign up for out exclusive emails below.