These juicy and delicious grilled shish kabobs are the PERFECT summer meal. You'll definitely want to fire up the grill for this easy dinner idea. Load each kabob with your favorite meats, veggies, and get the barbie going.
And while there's no shortage of shish kabob recipes out there, I ran into trouble years ago finding a recipe that was gluten and dairy free. And let me put the emphasis on gluten free because the flavors I enjoy most in my meat marinades, such as soy sauce, Dijon mustard, and Worcestershire sauce, aren't always naturally gluten free or manufactured without the risk of cross contamination. Thankfully in this recipe you'll find all the safe ingredients you need for a mouthwatering grilled marinade every time.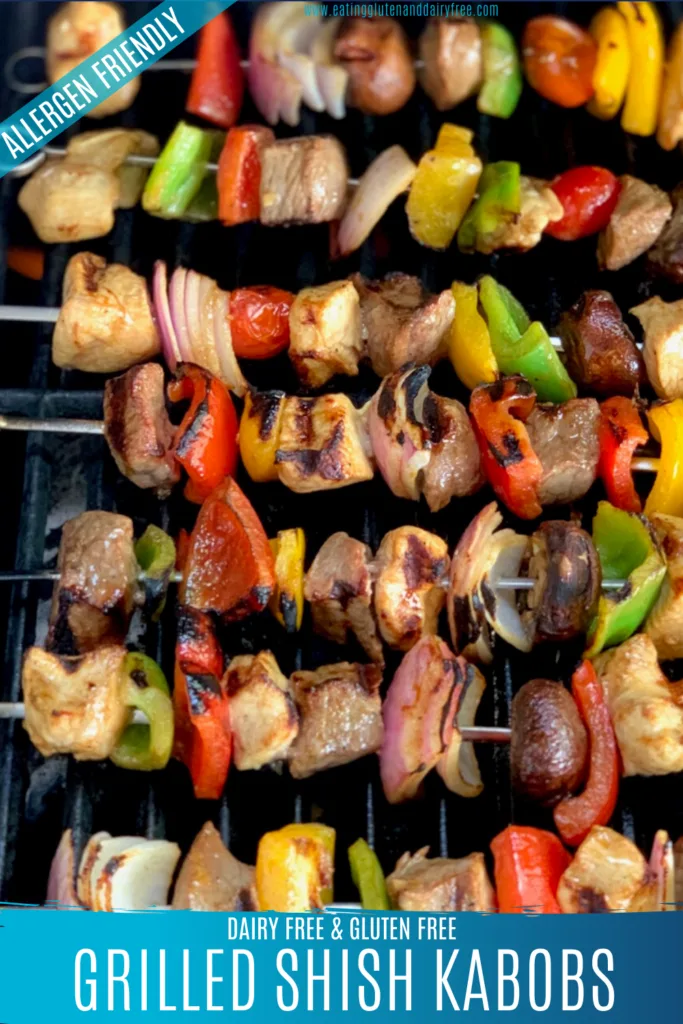 After searching for a few years we found a traditional recipe from The Fresh Cooky that could be adapted to gluten and dairy free.
And then meal became an instant hit for our family.
So much so that this has become our favorite steak marinade for the past few years too. Hey, when you find something this good, you just go with it.
Moreover this has become a Christmas dinner must, summer weekend BBQ must, and birthday dinner must too.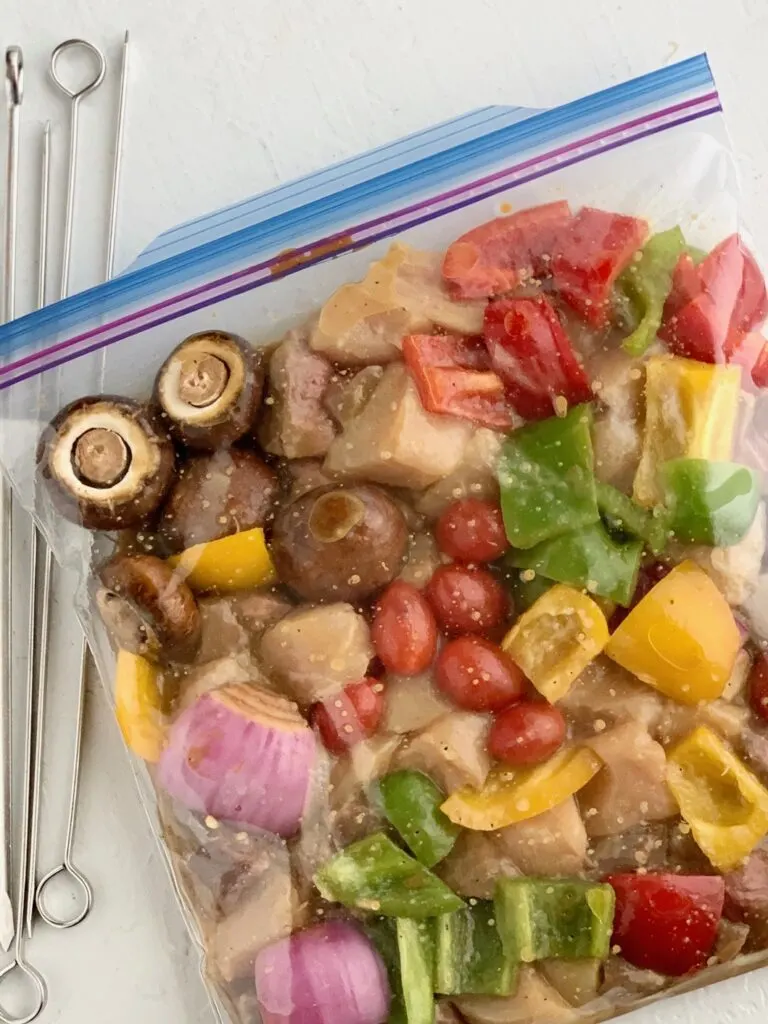 safe grilled shish kabob marinade ingredients
GF Soy Sauce-- San J GF Soy Sauce can be purchased here
GF Worcestershire Sauce-- locally Lea & Perrins is safe and we use it in several recipes. In Canada check out French brand.
Dijon mustard-- keep in mind the tradition Grey Poupon brand doesn't list gluten as an ingredient; however there has been lots of concerns regarding cross contamination in their manufacturing process. Or Annie's Organic Dijon Mustard and here is their manufacturing statement
oil-- grapeseed oil is our go-to
fresh minced garlic
salt
pepper
build-your-own shish kabobs ideas
Your options for shish kabobs are endless!
But you'll always find bell peppers on our kabobs. The chicken and steak combo is a favorite too. Either way you can use what you have on hand for this recipe.
Do you use kabob ideas not listed below? Go ahead and comment below what you grill with.
chicken
steak (sirloin is our favorite cut)
shrimp
onion
pineapple
bell peppers
mushrooms
tomatoes
zucchini
sliced sections of corn on the cob
brussels sprouts
small Yukon potatoes-- skip marinating these and place directly onto the skewers once heated until just tender in the microwave
shish kabob grilling tips
skewers--use wood skewers or these awesome 12" long stainless steel skewers. If using wood skewers, allow them to soak in water for 30 minutes before threading.
basting brush-- makes last minute basting on the grill super easy
cut your veggies so they are the same size as your meat to encourage even cooking, ideally an inch thick
loosely thread your veggies and meat on the skewers versus mushing everything tightly together. This will help the kabobs to cook evenly instead of having charred edges but raw on the inside.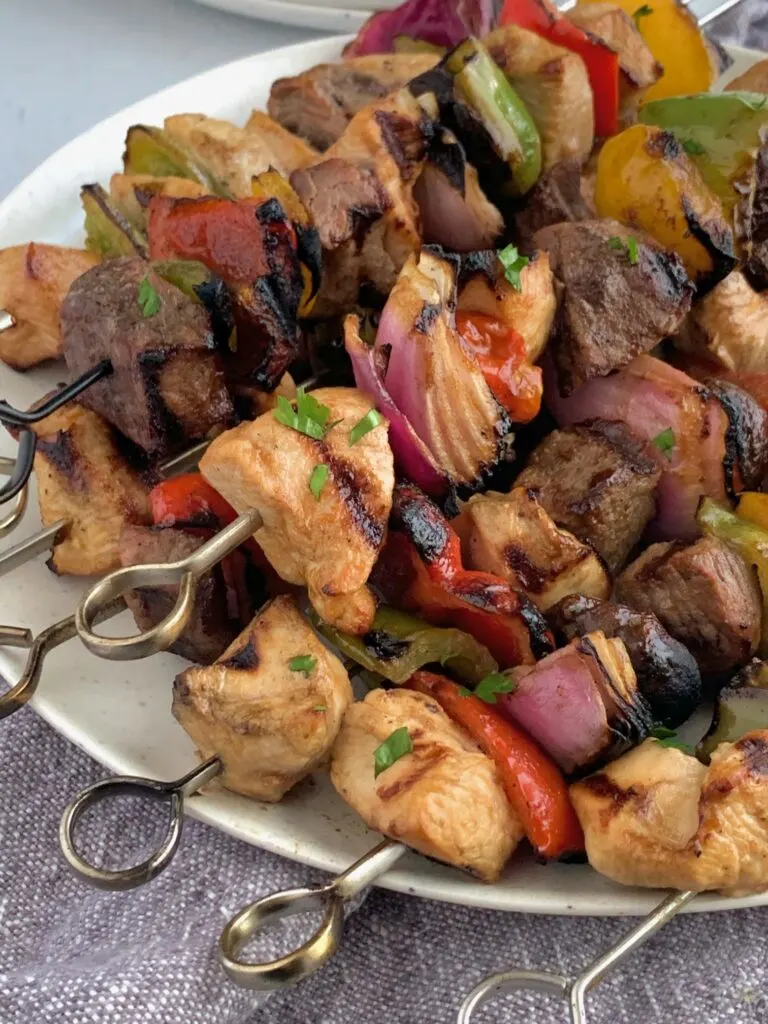 more gluten + dairy free meal ideas
homemade sloppy joes-- this yummy recipe is perfect for busy summer nights and it doesn't require the oven
delicious French dip sandwiches-- pair this with my easy Au Ju recipe and you'll absolutely love this delicious meal
grilled Hawaiian BBQ chicken pizza-- you'll find this post includes an easy guide to making and grilling your homemade pizza crust to perfection. Then top it with mouthwatering Hawaiian BBQ chicken or your own topping favorites.
lastly
This grilled shish kabob recipe has been a family favorite for years now.
And if you're looking for a tried and tested recipe-- this is it. We enjoy this meal so much we often serve it to company alongside a bed of rice, corn on the cob, and with a fruit salad.
Everyone always raves about this meal everyone can enjoy.
You'll find many more delicious gluten and dairy free meals on my website. Please make yourself at home. There's no need to stress about eating gluten and dairy free anymore.
And the best way to keep up to date on everything gluten and dairy free is to subscribe to my email and follow me on my social media accounts.
Follow along on Facebook, Pinterest, and Instagram. Like and comment often to keep our posts in your scroll.
You won't believe how good eating gluten and dairy free can be.
Eat well and fell well,
Jill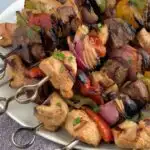 Print Recipe
Grilled Shish Kabobs
Ingredients
Marinade
1

cup

oil

¼

cup

GF soy sauce

see post for suggestions

¼

cup

GF Worcestershire sauce

see post for suggestions

¼

cup

Dijon Mustard

see post for suggestions

2

large

cloves of garlic, crushed and chopped

1-2

teaspoon

pepper

pinch of salt
Kabobs
1

lb

steak (sirloin), cubed 1 inch thick

1

lb

chicken, cubed 1 inch thick

1

onion, cut into large chucks

1

green bell pepper, cut into 1 inch pieces

1

red bell pepper, cut into 1 inch pieces

1

yellow bell pepper, cut into 1 inch pieces

optional: shrimp, mushrooms, zucchini, pineapple, tomatoes, brussels sprouts, corn on the cob, small potatoes
Instructions
In a medium size bowl, whisk together all marinade ingredients. Set aside ½ cup of marinade in a container and refrigerate for basting. Place remaining ingredients in a gallon size Ziploc bag,

Then place all kabob ingredients into the bag and close. Gently roll bag to coat all well. Place in the refrigerator for 4 hours to 24 hours.

Assemble kabobs with a variety of veggies and 4-5 pieces of meat per kabob. Spray grill with nonstick spray and grill kabobs over medium heat (375°F), turning and basting with remaining marinade on both sides.

Once meat is cooked through (4-5 minutes each side) remove from the grill and place on a serving plate. Cover with aluminium foil for 2-3 minutes before serving.

Store any leftovers in an airtight container in the refrigerator 2-3 days.
Notes
If using small potatoes on kabobs--skip marinating these in the Ziploc bag. Instead place them in the microwave until just tender. Then thread them directly onto your shish kabobs.