These luscious lemon streusel bars are a sure way to win friends and influence others. What sets this lemon bar recipe apart from others is how the creamy and tangy lemon filling is sandwiched between a sweet, crumble streusel.
And trust me when I say this one is the best. Combining the lemon filling which includes fresh squeezed lemon and grated zest with a streusel topping into one bar-- wow, you'll be blown away. This is definitely a dessert match made in Heaven.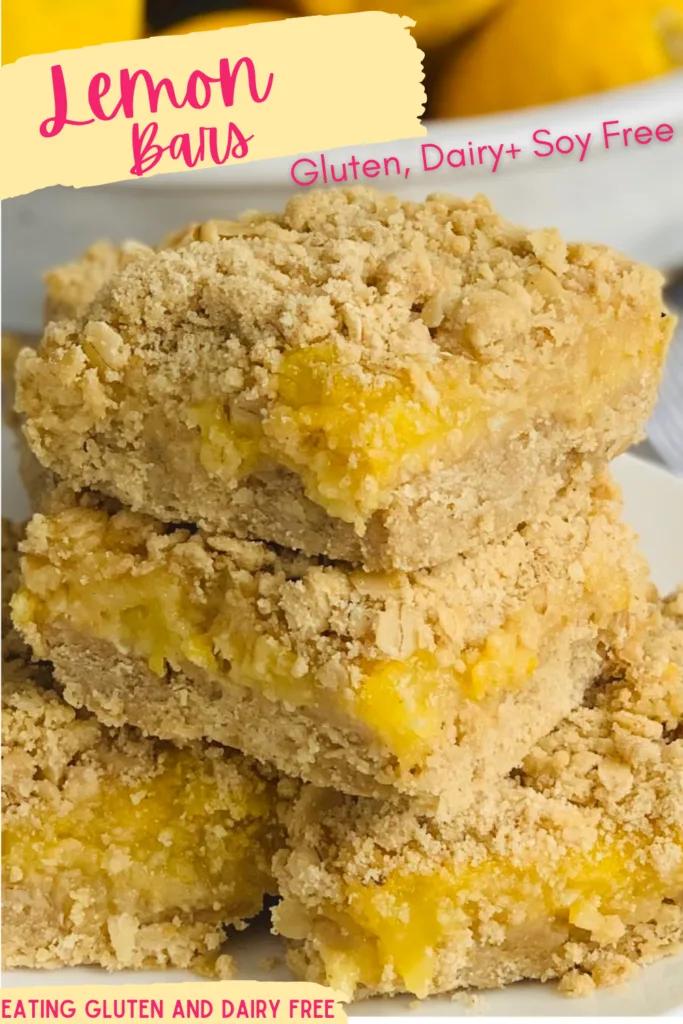 In fact this delicious recipe is a must for our family. We are head over heals in love with fresh lemon--anything lemony. As in lemon poppy seed bread, lemon bundt cake, lemon tart with the most delicious lemon curd, and especially this lemon streusel bar recipe.
These lemon streusel bars are quick and easy to make. Combined with a streusel crust and topping while enjoying a layer of fresh lemony filling-- you will be completely addicted to these bars after just one bite.
And since these bars can be made 1-2 days a head of time they are perfect for your next family gathering, work party, baby shower, or BBQ.
lemon streusel bar recipe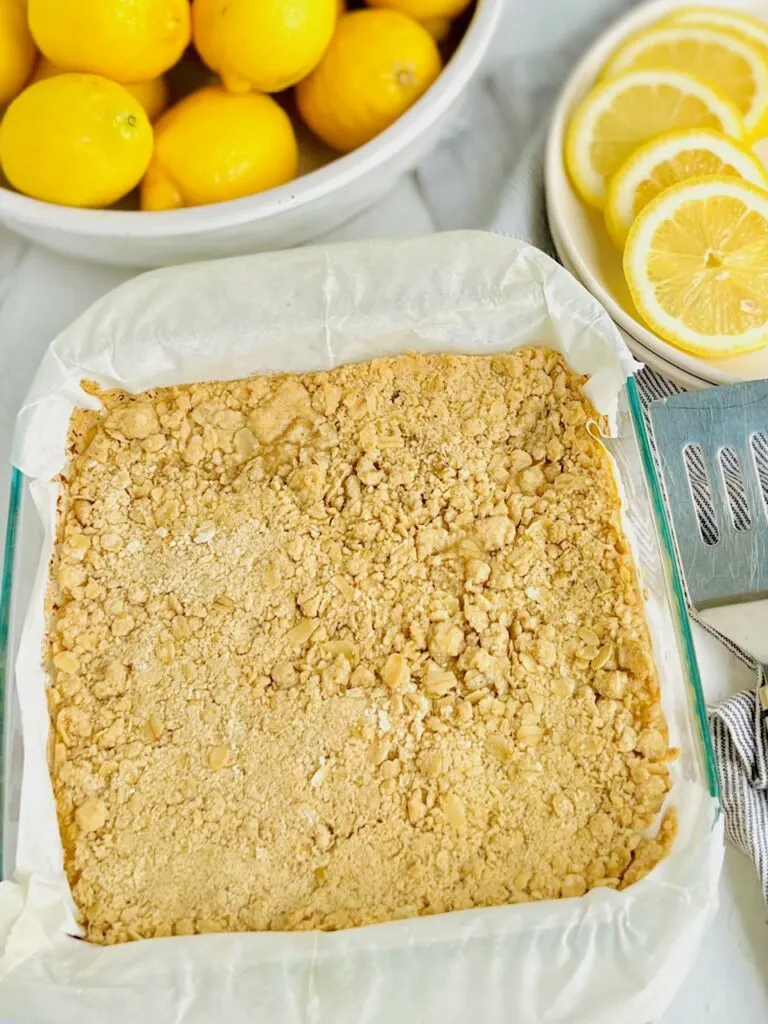 frequently asked questions
can these bars be baked ahead of time
Yes! These bars can be baked, cooled, and refrigerated 1-2 days ahead of time. Most often we will bake a batch the night before be need them and refrigerate them until serving.
how do we store these bars
Tightly cover and refrigerate bars, these will last up to a week in the refrigerator-- thou ours never last more than a day or two at the most. They are so good!
where can I find more of your recipes
We love sharing our gluten free and dairy free recipes with you. First, check out our cookbook,
The Classics. This will give you 16 of our most raved about recipes instantly downloaded and available for you. Plus you will find more recipes for every occasion and holiday here.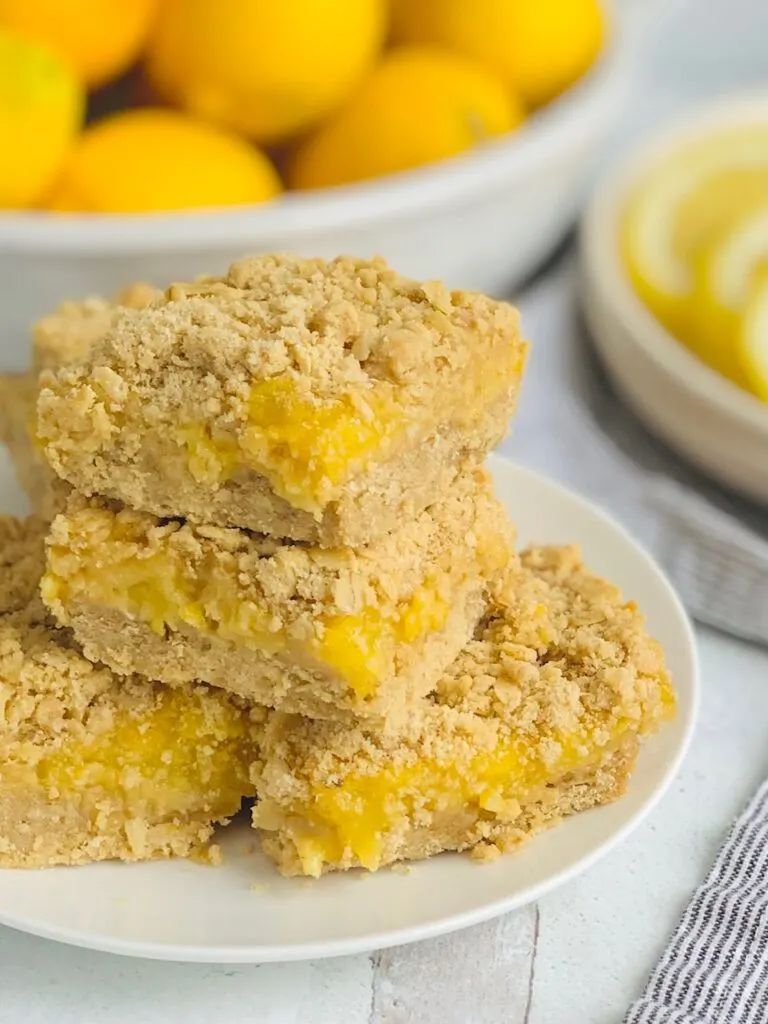 more dessert recipes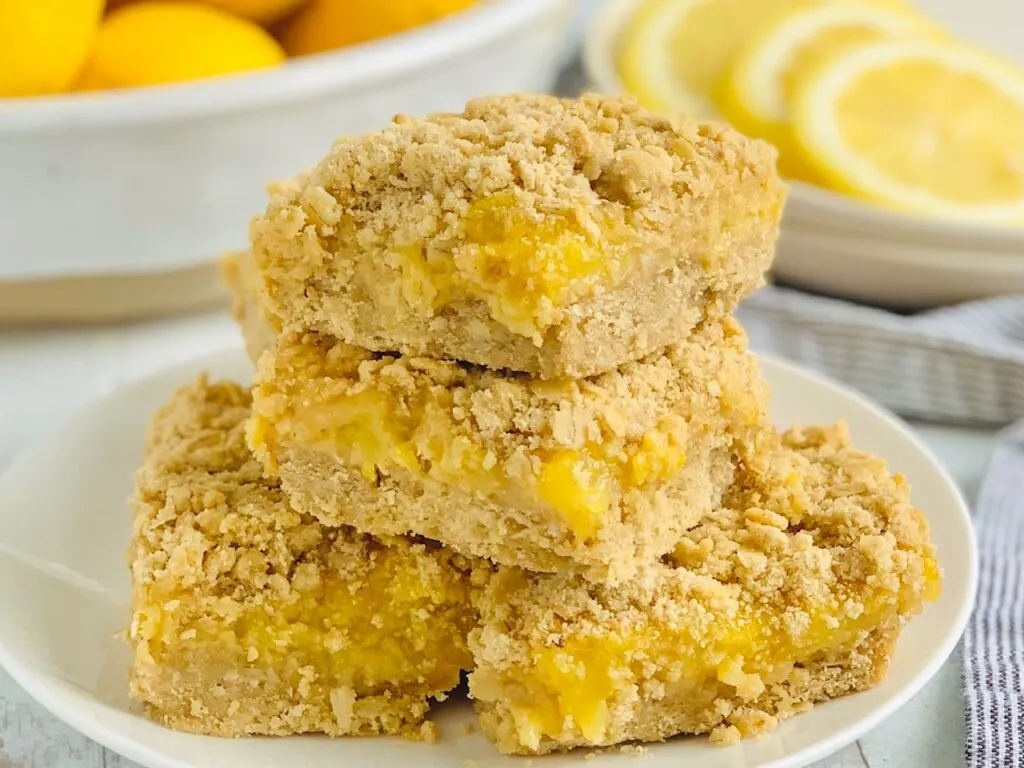 lastly
You must add these to your bake list... like now. And I'm not kidding or exaggerating-- if you love lemon, you've just found your new favorite lemon recipe.
There are so many more delicious recipes on our website, Eating Gluten and Dairy Free. Did you know there are over hundreds of gluten free and dairy free recipes alone? And don't forget our food travel guides.
Be sure to follow along on Facebook, Pinterest, and Instagram. We share with you the best of eating gluten and dairy free You will be the first to know about our new recipes, product alerts, and tips for living your best while eating free from gluten and dairy. We don't want you to miss out on the very best!
And as always when you make one of our recipes take a picture and post it on Instagram with the hashtag #eatglutenanddairyfree. We love, love, love your food pics and will leave a comment.
Eat well and feel well,
Jill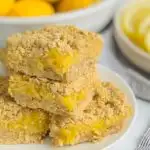 Print Recipe
Lemon Streusel Bars
Ingredients
Streusel Crust
¾

c

DF butter, softened

see post for suggestions

1¼

c

packed brown sugar

2

c

GF DF all-purpose flour

see post for suggestions

1½

c

GF old fashioned rolled oats
Lemon Filling
¾

c

sugar

2

tablespoon

GF DF all-purpose flour

2

eggs

3

teaspoon

lemon zest

½

c

juice of 2 large lemons- only use fresh lemon juice, nothing bottled
Instructions
Place parchment paper in 9x9" glass baking dish.

In a large bowl combine all crust and streusel ingredients. Mix well with a pastry blender until mixture resembles coarse crumbs. Reserve 1 ½ cups of streusel; set aside. Place remaining streusel in dish and press it down onto the bottom of the dish to create a crust. Set aside.

For the filling, mix all ingredients well, then pour onto the crust.

Place baking dish into the oven for 20 minutes.

Remove from oven and sprinkle top of bars with remaining streusel. Then gently pat streusel into filling and bake 12 more minutes.

Remove from oven and cool completely. These lemon streusel bars are best after they've been refrigerated overnight or for 6 hours. Cut into bars and serve.

Cover and refrigerate any leftovers for 3-4 days.