Buttery, crunchy, and oh so tangy and sweet, these mouthwatering slices of Lemon Tart are absolutely delicious and borderline addictive. This tarts looks like you spent all day preparing it in the kitchen, but you won't. The tart crust and lemon curd comes together quickly with minimal, basic ingredients.
And for real-- this elegant gluten free and dairy free Lemon Tart tastes amazing and looks like you purchased it from a bakery. This recipe has the perfect balance of sweet, sour, and lots of butter.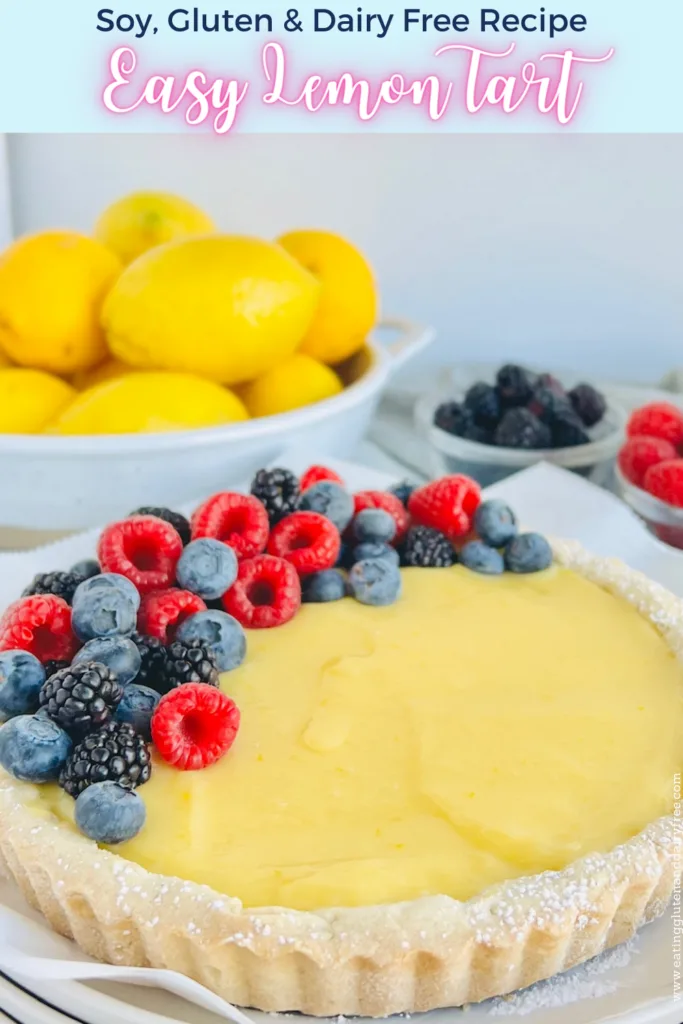 You will feel like you are dining at an outside café in France with this tart. It has shallow sides, a crumbly, sweet, cookie-like crust, and classic lemon curd filling with just enough butter to make it creamy and not too sour.
And while this recipe might seem intimidating or overwhelming, this couldn't be any further from the truth. Because honestly, this tart recipe is easier to prepare than many other dessert recipes. The instructions are easy to follow, and the hardest part is not eating all the lemon curd by the spoonful before you are ready to assemble your dessert.
Plus if lemon is your thing, consider our Lemon Poppy Seed Bundt Cake, Lemon Streusel Bars, and Lemon Poppy Seed Bread. We love tangy and sweet lemon recipes. It seems as if something lemony is always being baked and enjoyed.
lemon curd filling ingredients
lemon tart crust ingredients
kitchen gadgets and essentials for this recipe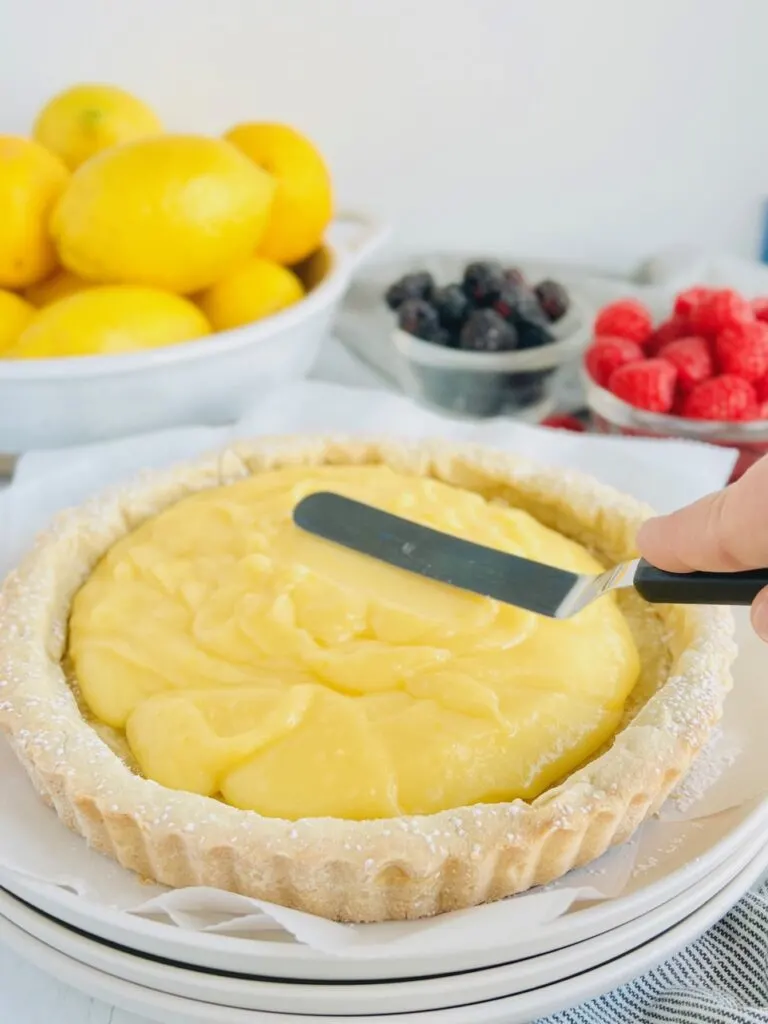 frequently asked questions
what size tart pan should be used with this recipe
We use this 9-inch tart pan for this recipe. This will give you 12 beautiful slices to serve. If using an 11-inch tart pan we suggest preparing 1 ½ times this recipe and same for the tart filling. Mini lemon tarts can also be made with these mini tart pans. Prepare the recipe as directed below and adjust the bake time. Plus this 9-inch tart pan is the ideal pan size for a homemade quiche.
can the lemon curd be prepared ahead of time
Yes. And this is one of the many brilliant reasons why this recipe is a favorite of ours... because we love preparing food ahead of time before the business of dinner parties, brunches, and gatherings sets in. You can prepare this lemon curd and the doughy crust ball up to 4 days ahead of time and keep in the refrigerator.
will the tart have a soggy bottom
After this delicious lemon tart is assembled, the tart bottom may become slightly soggy after a day or so. We suggest filling the empty tart with the lemon curd within 5-6 hours of serving and refrigerating. And top with fresh fruit just before serving so the fruit juices don't run on the curd.
will the lemon curd thicken
Yes! This curd will continue to thicken as it refrigerates. We suggest refrigerating the curd for at least 6 hours or overnight for a thick, rich lemon curd you will absolutely love. This will even keep well in an airtight container for up to 4 days before transferring to the tart-- though it will be hard. You will want to eat this lemon curd by the spoonful after it has thickened in the refrigerator!
do I store this in the refrigerator
Once you have assembled the lemon curd, tart, and fresh fruit together we suggest serving it right away. Cover and store leftovers in the refrigerator.
what fruit is best garnished on top
Any nice sweet fruit that doesn't have release juice. Our favorites include: blackberries, blueberries, raspberries, and sliced strawberries. We top the gluten free and dairy free lemon tart with fruit just before serving.
more dessert ideas you will love
3 bonus dinner ideas to try this week
It should come as no surprise how excited our family is for mealtime. And this week is no different with grilled teriyaki chicken with mini sweet peppers, cowboy hamburger soup, and our copycat Applebee's chicken oriental salad on the menu.
lastly
There is no doubt this Lemon Tart is all that and more. Not only does it look absolutely gorgeous on the table, it tastes so rich, tangy and sweet. This will dazzle your taste buds. And we assure you-- this recipe comes together easily, even for beginning bakers in the kitchen.
Our website, Eating Gluten and Dairy Free, offers 100% gluten free and dairy free recipes for every occasion and holiday. Go pin and print recipes now.
Follow along on Facebook, Pinterest, and Instagram for new recipe alerts, product information, and tips for living your best while eating gluten and dairy free. Plus sign up now for your exclusive emails filled with more bonus content and recipe suggestions.
Eat well and feel well,
Jill
Print Recipe
Lemon Tart
Ingredients
Lemon Curd Filling
3

large

eggs

¾

c

granulated sugar

1

tablespoon

lemon zest

½

c

fresh squeezed lemon juice

½

c

dairy free butter, 1 stick

cut into small cubes

fresh fruit for topping the tart
Fully Baked Tart Crust
1¼

c

gluten free all-purpose flour

spoon and level method

½

teaspoon

xanthan gum

omit if your gf all-purpose flour contains this or guar gum

½

c

powdered sugar

¼

teaspoon

kosher salt

10

tablespoon

cold dairy free butter

cut into small cubes

1

large

egg

½

teaspoon

vanilla extract
Instructions
Lemon Curd Filling
In a medium-sized saucepan over medium heat, whisk the eggs, sugar, lemon zest, and lemon juice. Whisk constantly for 10-15 minutes until the lemon curd becomes thick and coats the back of a wooden spoon. The curd will continue to thicken as it cools and is refrigerated.

Remove from heat and immediately strain through a sieve or mesh strainer using a wooden spoon to push the curd through. Discard what is left in the strainer.

Then whisk in the butter a few cubes at a time.

Allow to cool to room temperature, then cover and refrigerate up to 4 days.
Tart Crust
In a large bowl, combine the flour, xanthan gum if needed, sugar, salt and butter with a pastry cutter or food processor.

Then add in the egg and vanilla extract and combine. The dough will be very workable and soft. Gather the dough into a ball.

Place dough on a large section of plastic wrap and flatten to form a small, thick disc. Wrap completely in plastic wrap and refrigerate for one hour or up to 4 days.

When ready to bake the tart, remove from the refrigerator and allow to sit on the counter for 15 minutes.

Preheat the oven to 375°F. Spray the inside of the tart pan with nonstick spray, Set aside.

On a slightly floured surface, roll the dough out into an 11-inch circle, and place tart into the 9-inch tart pan.

Gently push dough into flutes along the side of tart pan. Then trim off any excess dough.

With a fork gently stab the bottom of the crust to prevent the crust from bubbling and rising.

Cover the bottom and inside edges with a layer of parchment paper. Then add in either pie weights, dry rice or beans evenly to the bottom of the pie.

Transfer to the oven and bake for 20 minutes. Remove weights and parchment paper and return to the oven for 8-10 minutes more, until the sides are lightly golden brown.

Then transfer from the oven to a cooling rack and allow to cool completely; then spread the lemon curd evenly throughout the cavity and top with fruit.

Cover and refrigerate until ready to serve. Cut into small slices and serve. Cover and refrigerate any leftovers.