Plenty of greens, veggies, tangy Bleu cheese, and perfectly grilled thin slices of steak make this Steak Salad a healthy, go-to dinner recipe you cannot say no to. Each bite is absolutely mouthwatering, light, and yet filling.
Moreover this is a restaurant-quality recipe with juicy steak over fresh crunchy salad greens. Also added to this dish are freshly prepared veggies and tangy blue cheese crumbles topped with a homemade balsamic vinaigrette that is all that and more! Say goodbye to boring salads with this recipe.
Equally important to note is just how much you can tweak this recipe to include your salad topping favorites. For instance, adding in buttery croutons, grilled sweet corn or avocado slices add another layer of wonderful flavor and nutrients.
You will never guess this is a gluten and dairy free recipe.
Enjoy this filling meal all on its own or with a side of our delicious creamy mashed potatoes. This combination is wonderful together. Another idea is warm buttery dinner rolls, seasoned breadsticks, or slices of French baguettes fresh out of the oven.
Not only can this homemade 20-minute meal be enjoyed for lunch or dinner, but you can make this recipe for one or a household of hungry guests. Plus you have easy steak options to choose from. For instance you can grill your steak outside on the barbeque, or bring it indoors and pan fry it over the stovetop, which means this is a recipe you can enjoy year-round.
The reason this recipe moves along so quickly is because you prepare the dressing and veggies while the steak is prepared.
Our favorite dressing to drizzle over this delicious Steak Salad is our homemade Balsamic Vinaigrette dressing. Keep in mind you can also use your favorite dairy free Ranch dressing [learn about our favorite Ranch dressing here] or even an Avocado Dressing pairs well.
steak salad ingredients
cooked steak-- thinly sliced. Use your favorite cut of beef, or whatever happens to be on sale at the moment such as New York strip steak, Flank steak, or Sirloin. Grilled chicken can also be substituted in this recipe.
steak seasoning-- we use the McCormick Montreal Steak Seasoning when grilling the meat
dairy free bleu cheese crumbles-- this is our go-to brand. However, if this brand or another dairy free brand is not available locally, you will be relieved to know this salad recipe is wonderful without it.
salad greens-- use your favorite greens. We prefer a colorful mix of flavors and textures with spinach, baby romaine, green leaf, butter lettuce, and red leaf.
purple onion
sliced cherry tomatoes
optional salad toppings-- such as homemade gluten and dairy free buttery croutons, thin slices of avocado, cucumbers, or grilled sweet corn
balsamic vinaigrette dressing ingredients
grapeseed oil-- we use this oil for all our recipes, or add your favorite oil of choice
balsamic vinegar-- here is our safe go-to brand. Keep in mind some brands will have "malt" listed in the ingredients. Typically malt is barley-based and not gluten free.
fresh minced garlic
Dijon mustard-- this adds a lovely tangy flavor; we use Annie's Dijon mustard, and here is their FAQ/allergies brand page
honey
kosher salt
ground black pepper
add in additional dried or fresh herbs for bonus flavor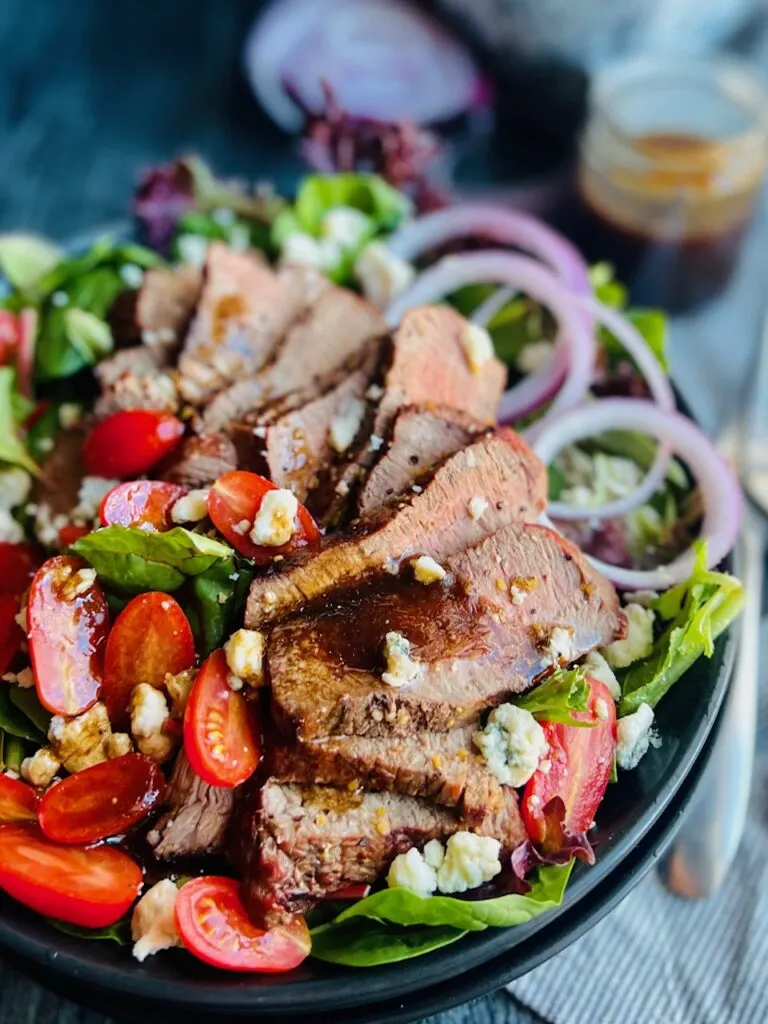 frequently asked questions
can other meats be substituted
While grilled steak is our favorite in this recipe, we also enjoy nice thin slices of grilled chicken. It melds well with these salad ingredients and dressing choice too.
need to know steak temperature guide
rare with a cool red center-- 125 degrees Fahrenheit
medium-rare with a warm red center-- 130-135 degrees Fahrenheit
medium with a rosy pink center-- 140-145 degrees Fahrenheit
medium-well with a slightly pink center-- 150-155 degrees Fahrenheit
well showcasing a brown center-- 160 degrees Fahrenheit
We recommend using a digital meat thermometer. It takes the stress out of grilling! And this is one of hub's favorite gadgets ever.
can this dressing be prepared ahead of time
Yes. We enjoy preparing a large jar of this gluten free and dairy free dressing to enjoy over the course of several days. Store this dressing in a mason jar or dressing bottle up to a week in the refrigerator. Allow the dressing to sit at room temperature for 20 minutes just before serving, then shake well or whisk ingredients.
more easy dinner recipes to try
grilled shish kabobs-- loaded kabob sticks with your favorite meats, veggies, and a mouthwatering marinade we use all the timeÂ
oven roasted salmon-- drizzle our wonderful 7 ingredient glaze over our salmon and pop it into the oven for a quick meal
teriyaki chicken-- this homemade teriyaki chicken recipe is mouthwatering and paired with grilled pineapple and sweet peppers for another filling meal idea
And for more delicious, easy salad recipes pin our copycat Applebee's Oriental Chicken Salad with a mouthwatering dressing. Plus our Wedge Salad is always a hit at BBQ's, summer get-togethers, or on Valentine's Day.
BONUS DESSERT Recipes-- we enjoy serving a small dessert after the last empty dishes of Steak Salad have been cleared from the table. We think this salad coupled with our 5-star Fudgy Brownies is an absolute winning combination. Another idea friends and family enjoy is our warm Apple Crisp recipe served with a scoop [or two!] of dairy fee ice cream.
lastly
Our Steak Salad recipe with dairy free Bleu Cheese is just as healthy as it is delicious. And what can beat a healthy, filling meal ready in under 20 minutes?
This is a wonderful recipe to enjoy year-round by either grilling the steak or pan frying it over the stove top. And this is a wonderful way to use up fresh produce before it goes bad.
Did you know we have safe recipes for every occasion and holiday on our website, Eating Gluten and Dairy Free? We have also shared our favorite homemade playdough recipe, plus tips and tricks to getting foods safely through TSA for your next flight.
And follow along now on our Facebook, Pinterest, and Instagram pages where we share new recipes, product alerts, favorite brand giveaways, and tips to living your best while eating free from gluten and dairy. Plus another way never to miss out on the latest and greatest news is to sign up for our exclusive emails.
Eat well and feel well,
Jill
Print Recipe
Steak Salad
Ingredients
Steak Salad
3

large

cooked steaks

thinly sliced

1

tablespoon

steak seasoning

5

cups

salad greens

1

small

purple onion

sliced

10

ounces

sliced cherry tomatoes

sliced in half

⅓

c

dairy free bleu cheese crumbles

optional toppings-- buttery croutons, sliced avocado, cucumbers, grilled sweet corn
Balsamic Vinaigrette Dressing
½

c

grapeseed oil

¼

c

balsamic vinegar

1

clove

minced garlic

1

teaspoon

Dijon mustard

2

teaspoon

honey

½

teaspoon

Kosher salt

¼

teaspoon

ground black pepper

optional-- additional dried or fresh herbs
Instructions
Sprinkle steak seasoning over steaks and grill or pan fry over the stove top. See post for recommended steak grilling temperatures.

While grilling the steaks, prepare the salad by placing salad greens on the plate. Top with remaining veggies.

Prepare salad dressing and set aside.

Once steak is cooked, thinly slice and add to top of salad with bleu cheese crumbles and drizzle with dressing. Enjoy immediately.

Refrigerate leftovers, preferably with steak in a separate container than greens and veggies.