This Instant Pot Gumbo recipe is packed full of flavor and is a quick and easy dish to make as the Instant Pot takes all of the effort away. You have to try it!
When it comes to finding a dish that is satisfying, filling, and something the whole family will enjoy then this Instant Pot Gumbo is going to become part of your meal rotation for sure. Super tasty and full of flavor it is a great meat-free dish to enjoy.
However, you can also change things up and add meat or fish to this as well. How great is that?
We love an Instant Pot dish and this one goes from preparation to a completed dish in as little as 20 minutes. Speedy and delicious, this easy gumbo recipe is going to be a huge hit in your family, what's not to like?
If you love the idea of a meat-free dish and are looking for other comforting recipes then you have to try this Potato Corn Chowder recipe. It is a hug in a bowl and perfect for a winter's evening when it is cold and raining outside.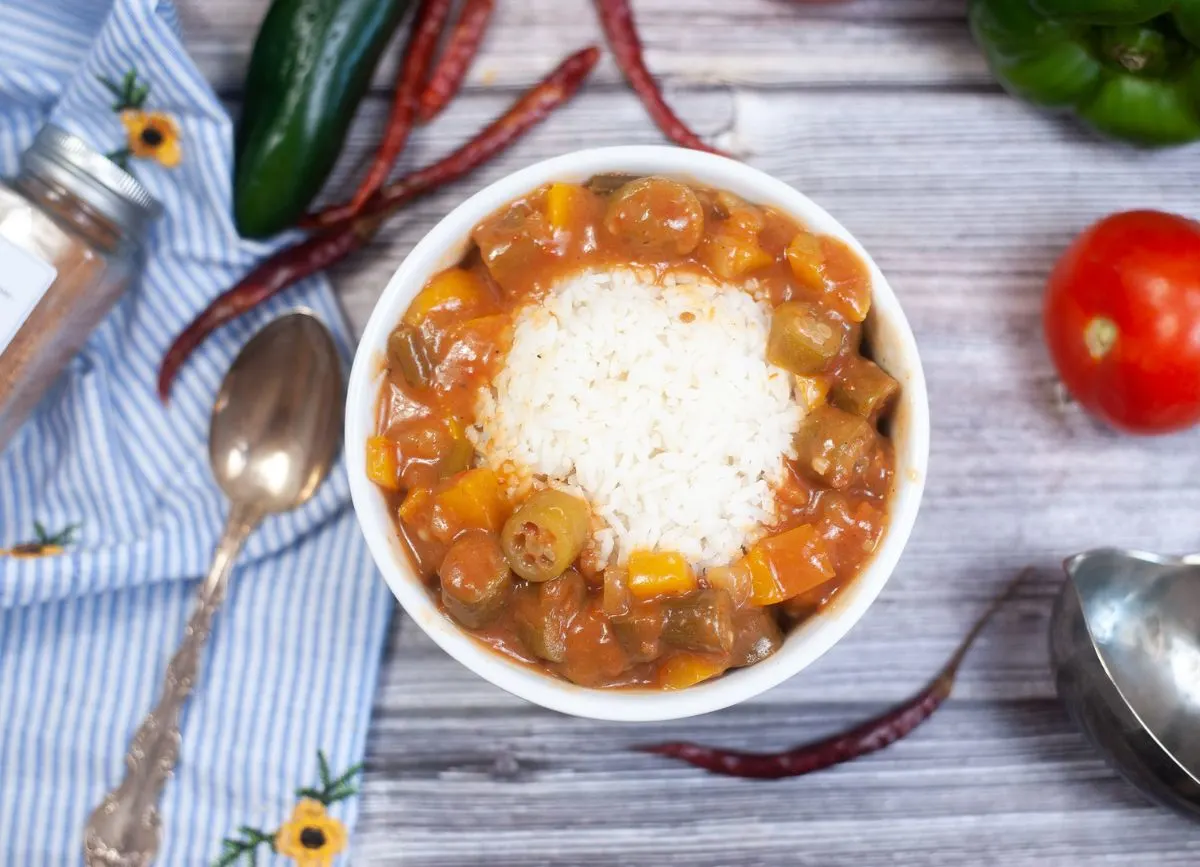 Why You'll Love The Instant Pot Gumbo
Super delicious - this gumbo is full of flavor
Vegetarian - A perfect dish for a meat-free meal
Kid-friendly - They will love the flavors and dipping bread into this dish
Easy to make - The Instant Pot does all of the hard work for you.
Ingredients Needed
Olive oil-- you can also swap this out for grapeseed oil, coconut oil, or avocado oil
Bell pepper
Onion
Minced garlic
Dairy-free butter-- we used Earth Balance Buttery Sticks
Gluten-free flour-- We prefer Bob's Red Mill Gluten Free Baking Flour. We buy it in bulk here which saves us some money. Just for your information, this mix does contain xanthan gum in the blend. You will need to add xanthan gum if yours doesn't contain it or guar gum
Creole seasoning -- check for hidden allergens. If you want to use what we use, we use this brand here as it's gluten and dairy free.
Worcestershire sauce-- The Lea and Perrins brand is gluten-free and dairy-free in the US
Hot sauce
Canned crushed tomatoes
Vegetable broth -- if using meat in your gumbo we suggest chicken broth instead
Helpful Tools
Instant Pot
Wooden spoon
Measuring Cups and Spoons
How To Make Instant Pot Gumbo
Turn on your Instant Pot and set it to saute mode. Once the insert is hot, add the oil and onions and saute them until onions turn translucent. This typically takes 3-5 minutes.
Add in bell peppers and saute for another minute or two.
Next, add in your garlic and saute for another minute.
Once finished sauteeing the vegetables, remove them from the Instant Pot and set aside.
Add butter to the Instant Pot while still on saute mode. Melt the butter. Then whisk in the flour to make a roux.
Add in your cooked vegetables and stir.
Toss in the creole seasoning, Worcestershire sauce, hot sauce, frozen okra, tomatoes, and broth of choice.
Set the Instant Pot to HIGH pressure and cook for 5 minutes.
Once the timer finishes, perform a quick release of pressure by changing the valve over to release.
Serve gumbo while it's still warm as is, or over a bed of rice or other choice. Serve and enjoy.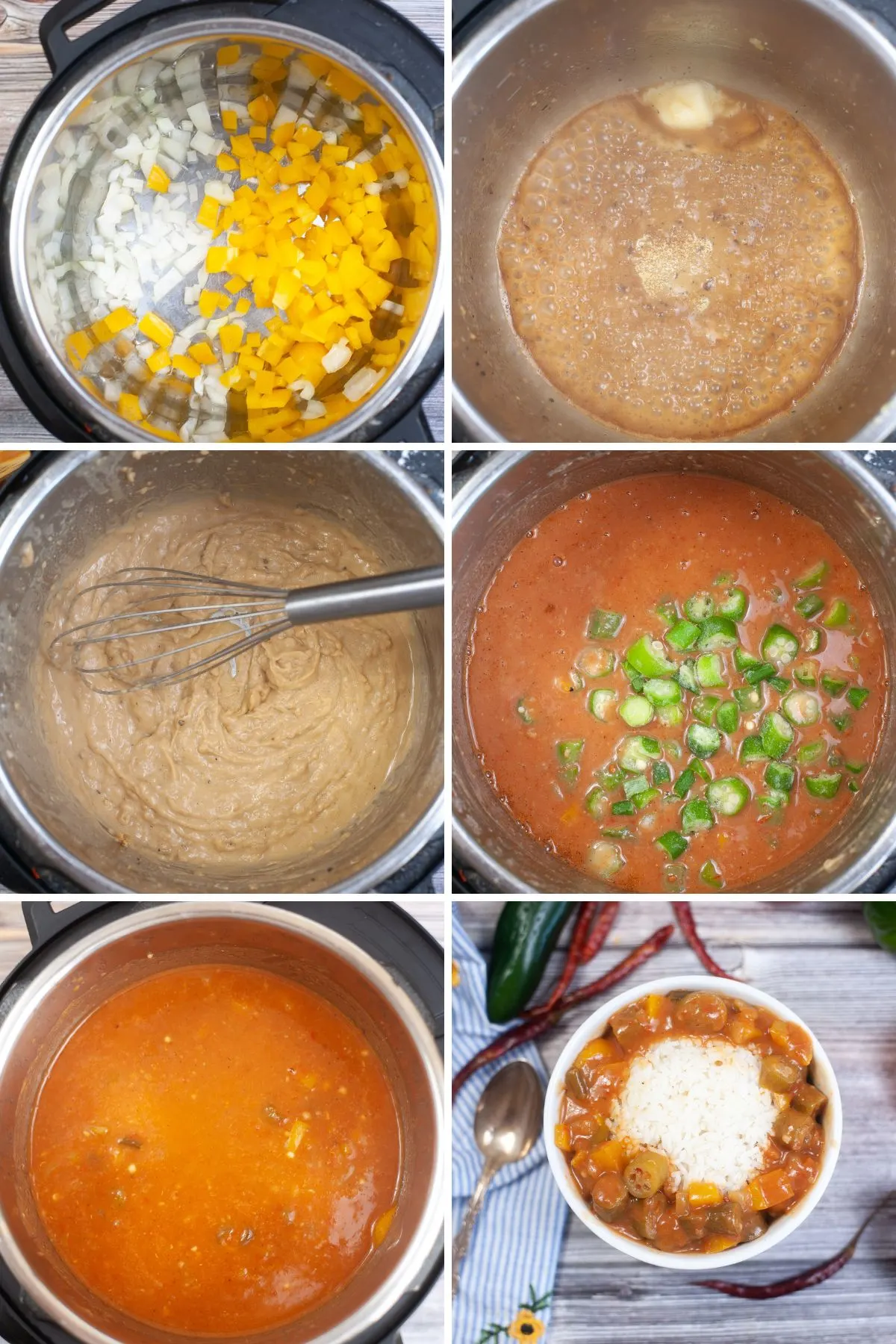 Recipe Variations
Want to add meat? When it comes to meat the type of sausage we recommend adding 1 lb of andouille sausage.
You will need to add your sausage before step one with a little bit of oil on sauté mode.
Cook for about three minutes allowing it to cook as well as brown.
Then remove and set aside and continue with step one by sautéing your onions.
Add before turning the instant pot on.
A sausage gumbo is quite traditional.
You could also look to create a chicken gumbo. Chicken thighs would work great with this sort of dish.
Want to add fish? Who wouldn't want to try seafood gumbo? We recommend adding 1 lb of fresh shrimp peeled and deveined. You will want to add your shrimp when starting step six with the other ingredients.
Looking for something less spicy? You could use cajun seasoning instead of hot sauce. Cayenne pepper will also work well.
What else could I add to the gumbo? Green bell pepper, Green onions, zucchini, mushrooms, carrots, etc. It really is a versatile dish. The addition lentils will also work great.
Can I make this vegan? You could add your chosen plant-based protein or simply stick with this Instant Pot vegetarian Gumbo option and look to ensure that all of the ingredients are vegan-friendly.
Tips & Tricks
When it comes to pressure cooking you need to ensure that you are careful when you do a quick release of the pressure. The steam being released will be very hot and could burn you. We like to toss a dish towel over the vent to help absorb it as it releases.
You could use the Slow Cooker instead of this Instant Pot version. You would simply need to add all of the ingredients to the slow cooker and then let it do its thing all day. Yum!
While there are different varieties of gumbo you can't go wrong with this recipe. You can add other ingredients to it to make it your own but the flavors will carry through.
If you don't have minced garlic you could use garlic powder instead.
Think about switching out the hot sauce for chili powders if you don't have any in your pantry.
When making your roux, you can change the consistency if you need to. You want a roux that is similar in consistency to gravy. If it's too thick, add a splash of the broth to thin it out. If it is too thin, whisk in more flour, only using one teaspoon at a time until it gets to the consistency you want it to be.
Storage
If you have any leftovers or want to store this gumbo for another day it will last in the refrigerator for up to three days. Let it cool completely then add it to an airtight container to store in the refrigerator.
You could freeze this gumbo for another day. Again let it cool and add it to an airtight container before freezing. It will last for up to two months.
FAQ
What typically makes a gumbo?
A traditional gumbo consists of a strongly flavored stock, either vegetable or meat-based, a thickener, and also the creole. A creole is bell pepper, onion, and celery.
In this recipe, we are using creole seasoning which will give that authentic flavor. As well as adding onions and bell peppers to this recipe.
What does gumbo taste like?
The exact flavor of any vegetarian gumbo is very dependent on the ingredients used to make it. Gumbo tastes of strong flavors. There is a distinct flavor from the creole seasoning and it is tomato based so there is a distinct tomato flavor in it as well.
It is super tasty and a hearty dish. Perfect for a cold day.
Can you make this ahead of time?
Yes, you can make this ahead of time. It will last in the refrigerator for up to three days. Let it cool completely once you have cooked it and then store it in the refrigerator.
You may find the flavors intensify the longer that it sits. You could also just prepare all of the ingredients up to a day before you need to cook this gumbo recipe.
What should I serve with this Instant Pot Gumbo?
When it comes to the best gumbo you need some epic sides. Some of the great side dishes to serve with your gumbo include:
gluten free cornbread
white rice, brown rice, or even cauliflower rice
a side of mushrooms or toss them into the gumbo!
chips
Anything works well with this recipe but it is also a popular dish to dip some crusty gluten free bread into it.
Other dinner and side recipes
Crockpot Taco Soup - This Crockpot Taco Soup is bursting with flavor. Made with juicy chicken, tender onion and peppers, tomatoes, beans, peppers, and more.
Cowboy Hamburger Soup - Making a bowl of this flavorful, warming Cowboy Hamburger Soup is so simple. You'll love how this recipe.
Spanish rice - This easy Spanish Rice recipe will bring all your Mexican food dreams to life with its fluffy texture and perfect, authentic flavor.
Where can I get more recipes?
Want more easy, classic recipes that are made with gluten and dairy free ingredients? Then look no further because we have put together 15 of our classic, reader favorite recipes all into one place for you!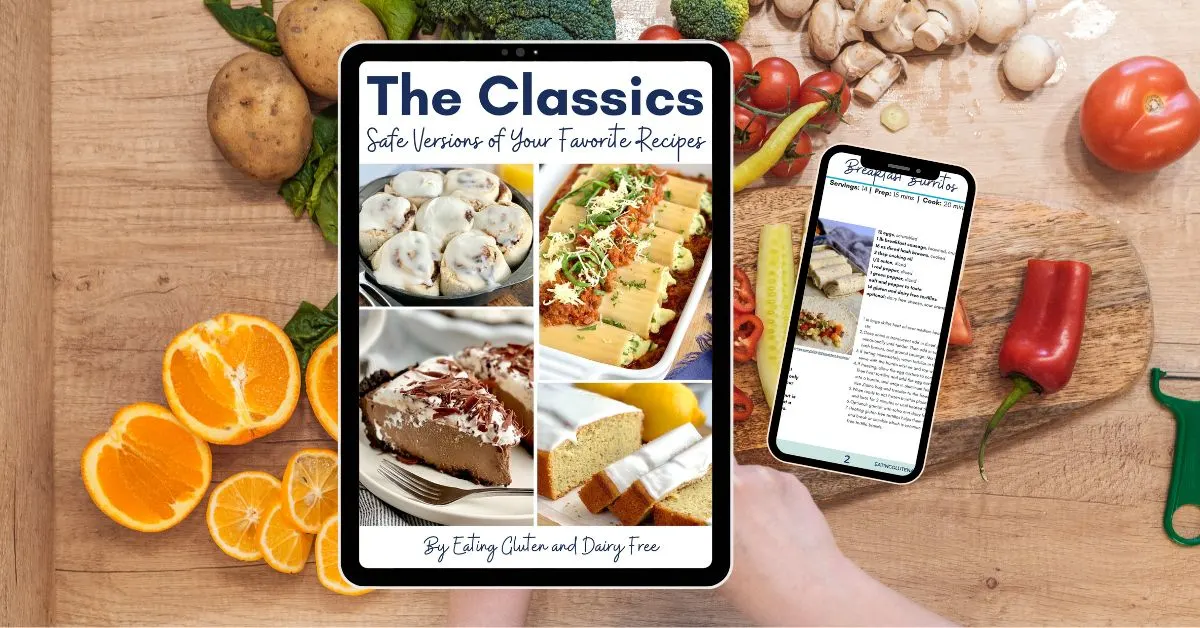 Check out out digital download cookbook, The Classics. Grab your copy today and it will be sent straight to your inbox so you can have it on your device, or send it off to your local print shop to get a paper copy ready and on hand at your fingertips.
It also makes the perfect last minute gift for any foodie in your life!
Thanks for following along with us. Feel free to search around the site for more gluten and dairy free recipes. You'll find snacks, desserts, breakfast ideas, lunch ideas, and of course, more dinner recipes all over the place.
Don't miss our travel tips and kitchen hacks to help make your time easier in the kitchen while making all the best gluten and dairy free recipes!
Eat well and feel well,
Victoria
Make sure to follow us on Instagram and Pinterest to keep up with all our new recipes. Tag us if you make the recipe on IG or share your thoughts by commenting on the pin on Pinterest. If you try this recipe, feel free to give it 5 🌟 below
Eat Well and Feel Well
Pin It For Later