This post may contain affiliate links. Read the full disclosure here
For several years my kids and I ate our tacos, enchiladas, and even our quesadillas with a little tinge of sadness. The reason was quite silly in fact… we kept watching the hubs eat his Mexican food with amazing Spanish rice. Of course it was from a box, but who cares. It looked yummy and smelled delicious. The kids kept asking me why they couldn't have Dad's rice. Inside I was asking the same question. Our Mexican food was good. But it was missing something… Spanish rice.
Finally one day I had an "ah ha" moment.
You know the kind… when it seems the heavens have opened up and you know the answers to all your problems.
Or in this case, determination to figure out how to make gluten and dairy free Spanish rice we could all enjoy.
I was dumbfounded. Why hadn't I figured this out years ago?!
The hub's store-bought boxed Spanish rice had gluten in it. For some reason I assumed it would be time-consuming and tricky to make without. I couldn't have been any more wrong. This recipe is quick, easy, and adds so much texture and flavor to your dish.

I found that using long grain rice and fresh cilantro sets this recipe apart. Long grain rice gives it more of that Spanish rice texture versus the sticky rice we use in our Asian dishes. Adding fresh chopped cilantro before serving also put the flavor of this dish over the top.
Hello…y'all be grabbin' your sombrero and joining the mariachi band!
Our Mexican dinner nights completely changed! The kids and I went from sad to "Hey, it's a fiesta, everyone!" The hubs likes it too. So I ditched buying him the store-bought box brand. I make enough for all of us. No more sad Mexican dinner nights at our house. Hello gluten and dairy free Spanish rice!
Ready for more exciting news about this recipe?!
I find one batch is enough for 2 meals for a family of 5. Yes, y'all read that right. Now you have an excuse to indulge in more Mexican food! Cue the mariachi band again! This recipe keeps well in the refrigerator for up to a week. That gives you plenty of time to have plenty of Mexican meals…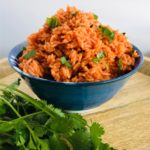 Print Recipe
Gluten & Dairy Free Spanish Rice
This adds perfect texture and flavor to any Mexican dish! Serve it as a side or add it to your favorite recipe. Get your fiesta on with this Spanish rice.

Ingredients
2

cups

long grain rice

rinse under cold water

1/4

cup

oil

8

oz

tomato sauce

1

tsp

salt

2

cloves

minced garlic

3

cups

gluten free chicken stock

1

cup

water

1

tsp

cumin

1/4

tsp

black powder

1

tsp

chili powder

5-8

stems

fresh cilantro

Chop into small pieces
Instructions
Place oil in large frying pan on medium heat.


Add in rice when oil is hot. Saute rice 5-6 minutes.


Add in rest of the ingredients, except the cilantro. Bring mixture to a simmer, cover, and reduce heat to low. Cook for 15-20 minutes. Stir occasionally until rice is cooked. Add in fresh cilantro and stir.


Remove from heat. Serve as a side dish or add it to your favorite taco, burrito, or enchilada recipe. Serve with a sprig of fresh cilantro.

Now I know you're ready to get your fiesta on. Grab your sombrero and get cookin'! Enjoy this homemade gluten and dairy free Spanish rice recipe. It adds texture and flavor to every Mexican dish.
It's the perfect excuse… to have more tacos! More burritos! And more enchiladas!
Let me know what your favorite Mexican dish is in the comments! Our favorite is enchiladas with shredded chicken, peppers, and Spanish rice.
Eat well, feel well, and get your fiesta on y'all!
Jill