Three years ago I made gluten and dairy free puppy chow for a fun Christmas snack.
At the time my family was heading out of town to stay at a remote family cabin. The trip required I had most of our food prepared ahead of time to take with us... soups, frozen food for the slow-cooker, and a dessert.
While brain storming for a Christmas snack that could turn into a family tradition, I remembered my love for puppy chow as a teenager.
So on a whim I decided to remake the recipe and take a batch with us.
Are your kids selective eaters? Mine can be super "selective" about their snacks and desserts. Honestly they can be real picky about any food. Please tell me you relate to this?!
So naturally I was a wee bit nervous they wouldn't enjoy the puppy chow as much as I did.
Thankfully my moment of spontaneity turned out well.
My oldest son, then 4, found his new favorite Christmas snack that year. Gluten and dairy free puppy chow. And wouldn't you know it's now turned into a Christmas tradition. Three years later my kids still squeal when they see the ingredients stacked by the stove.
They know what time it is... chow time.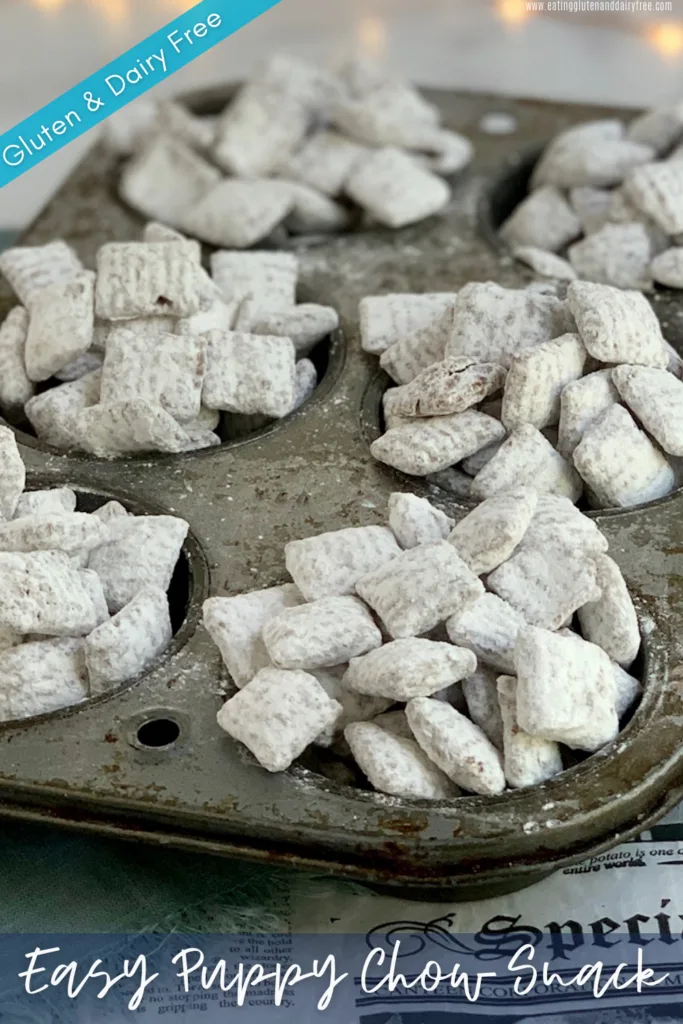 And as my daughter gets older, we both enjoy her helping more and more in the kitchen.
This recipe is super kid friendly and one of her favorites to make.
She can measure the ingredients and stir everything in the stovetop pan. Her favorite job is shaking the powered sugar and cereal together at the end.
The boys are now wanting to get in on this recipe action, too. I think we're going to be making double batches soon so all 3 can help. Have mercy on our house!
You probably have the ingredients on hand. If not, they're easy to find at the store. This recipe is super quick to make!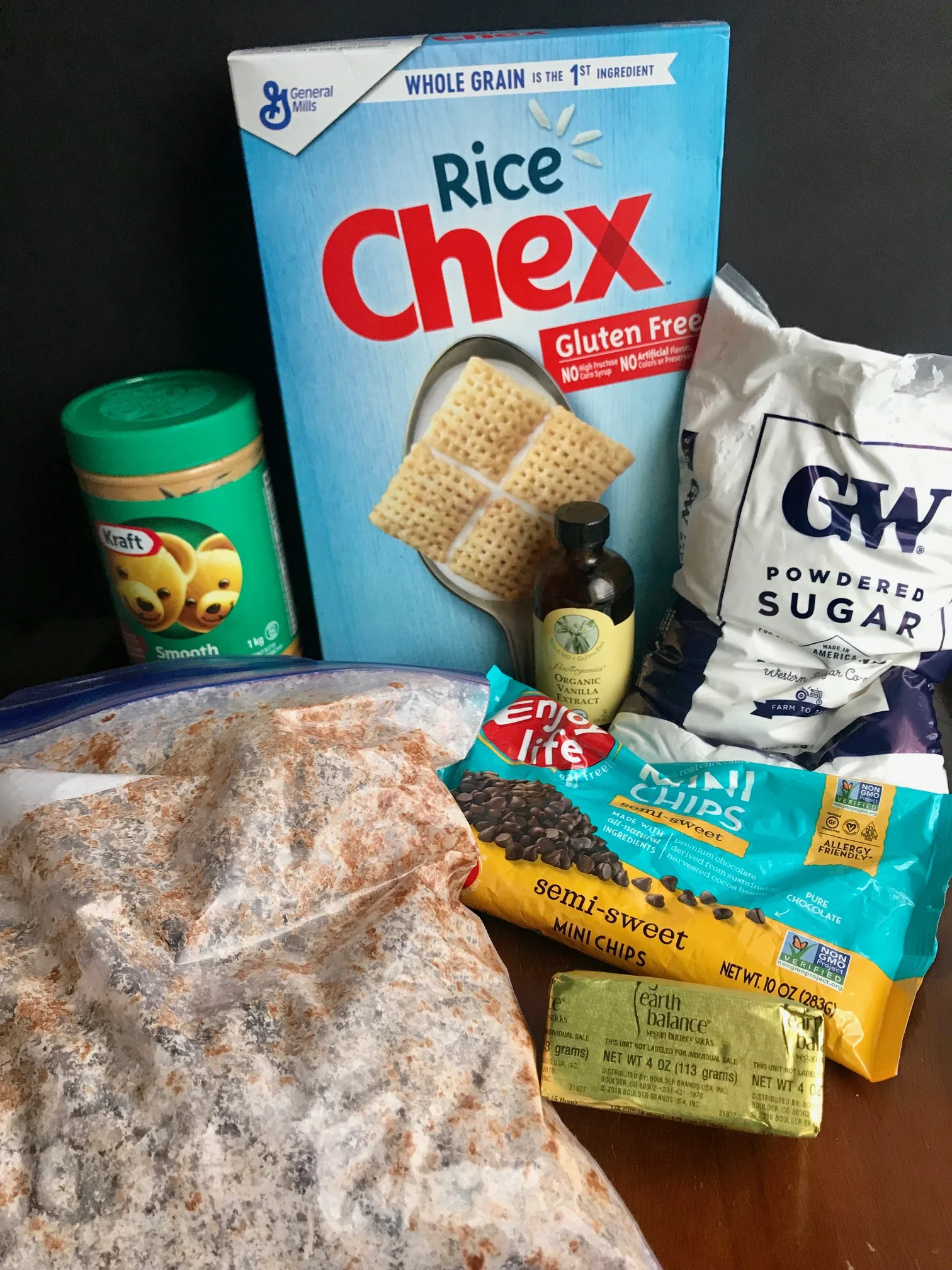 In a medium stovetop pan melt the peanut butter, dairy free chocolate chips, and dairy free butter. Measure the Rice Chex in between stirring the chocolatey peanut butter goo. Place the cereal in a large container with a lid, set aside.
Beware... at this point anyone in your home will storm the kitchen to investigate what you're making.
The smell of the chocolate and peanut butter melting is so, so inviting. You might even be tempted to stand back for a minute...or three... and smell the amazingness.
I won't judge if you do; just make sure the mixture keeps getting stirred.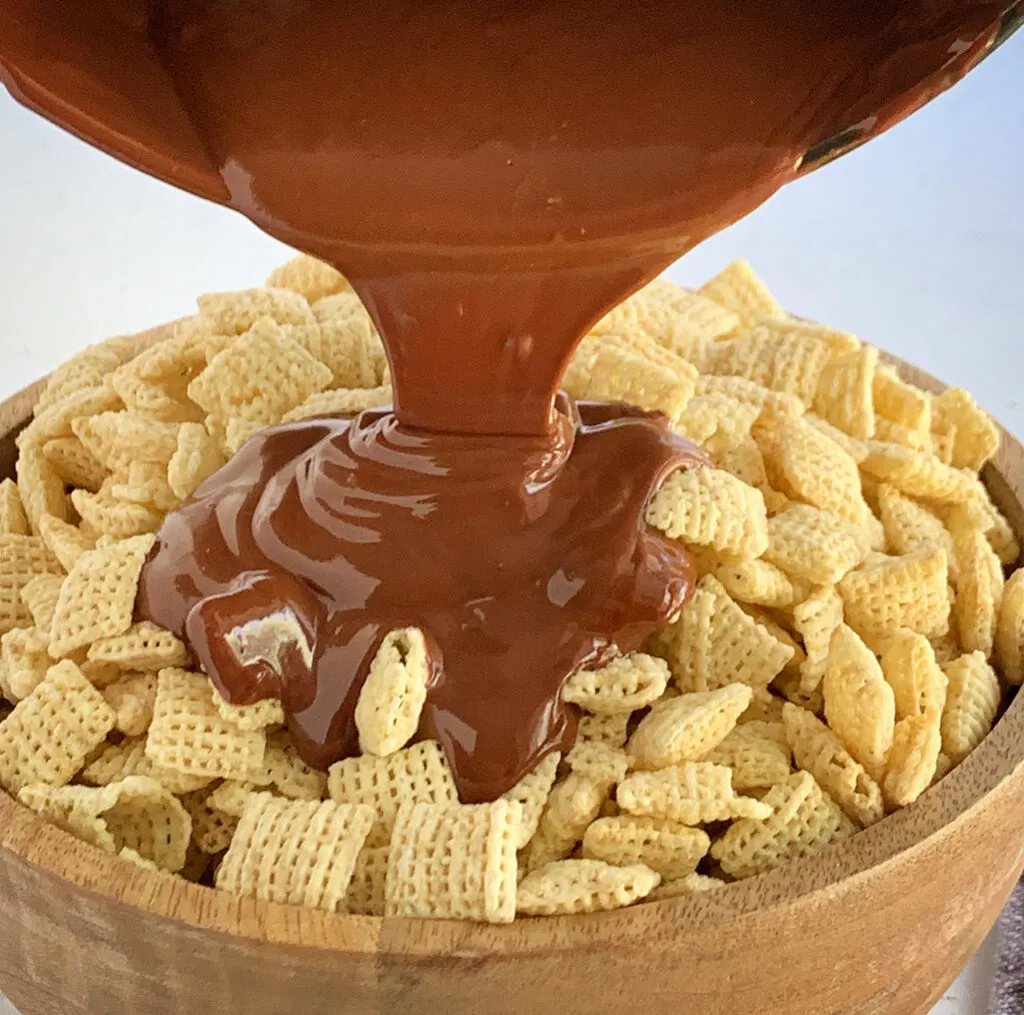 After your stove top mixture has melted, pour it onto the cereal.Â
Then place the lid on the container and gently shake until all cereal is well-coated.
Next combine the powered sugar and chocolate coated cereal in a gallon-size freezer bag. Gently toss for a minute to coat the cereal.
Lastly, once coated place puppy chow on a cookie sheet lined with parchment paper to cool.
And Ta-da! There you go. A delicious snack or dessert in 15 minutes!

I recently noticed there are some new puppy chow creations on Pinterest. You can dress up this recipe with all sorts of add-ins.
For Halloween consider adding candy corns to your finished product. You could also toss marshmallows and small chunks of dairy free chocolate into the mix.
For Christmas consider adding in crushed candy canes or this amazing Christmas snack mix featuring this puppy chow recipe and many other favorites.
Personally, this recipe tastes rich without add-ins. However if you're looking for fun and classy ways to dress it up a little, you have countless options.
#dressthechow whichever way you like.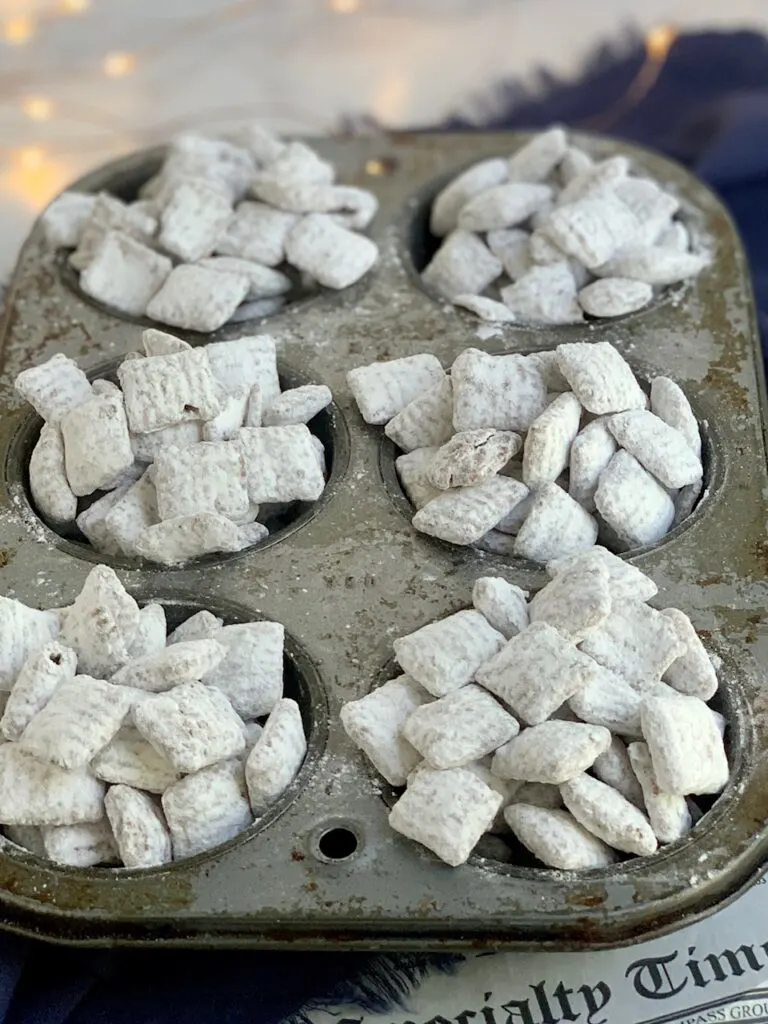 Further more puppy chow does look charmingly festive in holiday tins and treat bags. Keep in mind it stores for weeks in an airtight container in the refrigerator. This works well if you need to make your gifts ahead of time. Puppy Chow is your perfect gift giving snack this Christmas!
more delicious desserts
crunchy crock-pot chex mix-- this easy recipe is perfect for game night, vacation, road trips, movie night, and as an after school snack.
fudgy brownie cookies-- enjoy these bite size brownie cookies where every bite is like the corner piece everyone loves to eat.
lemon streusel bars-- these sweet and sour bars are unlike other lemon bars. The streusel topping definitely sets these bars apart.
Lastly, have fun creating this crowd favorite! Others won't even guess it's gluten and dairy free if you don't say anything. Consider this recipe for your next party. It's fun, easy, and addictive.
And as my 5 year old hilariously says, "Those is yummy."
You don't have to miss out on your favorite childhood snacks any longer.
Eat well, feel well, and get your chow on!
Jill
Print Recipe
Gluten and Dairy Free Puppy Chow
Ingredients
1

cup

gluten and dairy free semi-sweet chocolate chips

½

cup

creamy peanut butter

¼

cup

dairy free butter

1

tsp

vanilla

9

cups

Rice Chex cereal

2½-3

cups

powdered sugar
Instructions
Over low heat melt and combine chocolate chips, peanut butter, and butter in a stove top pan. Stir frequently. This will melt quickly.


Measure cereal into large container with a lid.


Once stove top mixture is melted and smooth add in vanilla. Mix.


Pour mixture over cereal and place lid on container. Gently shake, turn upside down and in all directions for several minutes.


Once all cereal is coated pour into a gallon-size freezer bag. Add in powdered sugar and gently shake to coat well. Place on a cookie sheet covered in parchment paper. Let cool about 15 minutes.


Store in an airtight container. If consuming in a few days, leave out at room temperature; otherwise store in the refrigerator.