When the hubs said he was taking a work trip to Phoenix, I was all over it... like white on rice, y'all. I have family who live in the area that I haven't visited for a few years. My heart cord strings were really pulling at me.
So needless to say there was some pleading... maybe even some bribing?!! Dare I say that?!
And obviously the hubs said yes because, hello, look at these amazing Phoenix pics. Que the cartwheels, backflips, and confetti! Hip, hip hooray for frequent flier miles and an understanding hubs!
Our trip went by way too quick, but no complaining here. I had a wonderful visit with family, got in some gorgeous outside time, and had my mind blowin' by all the gluten and dairy free food choices.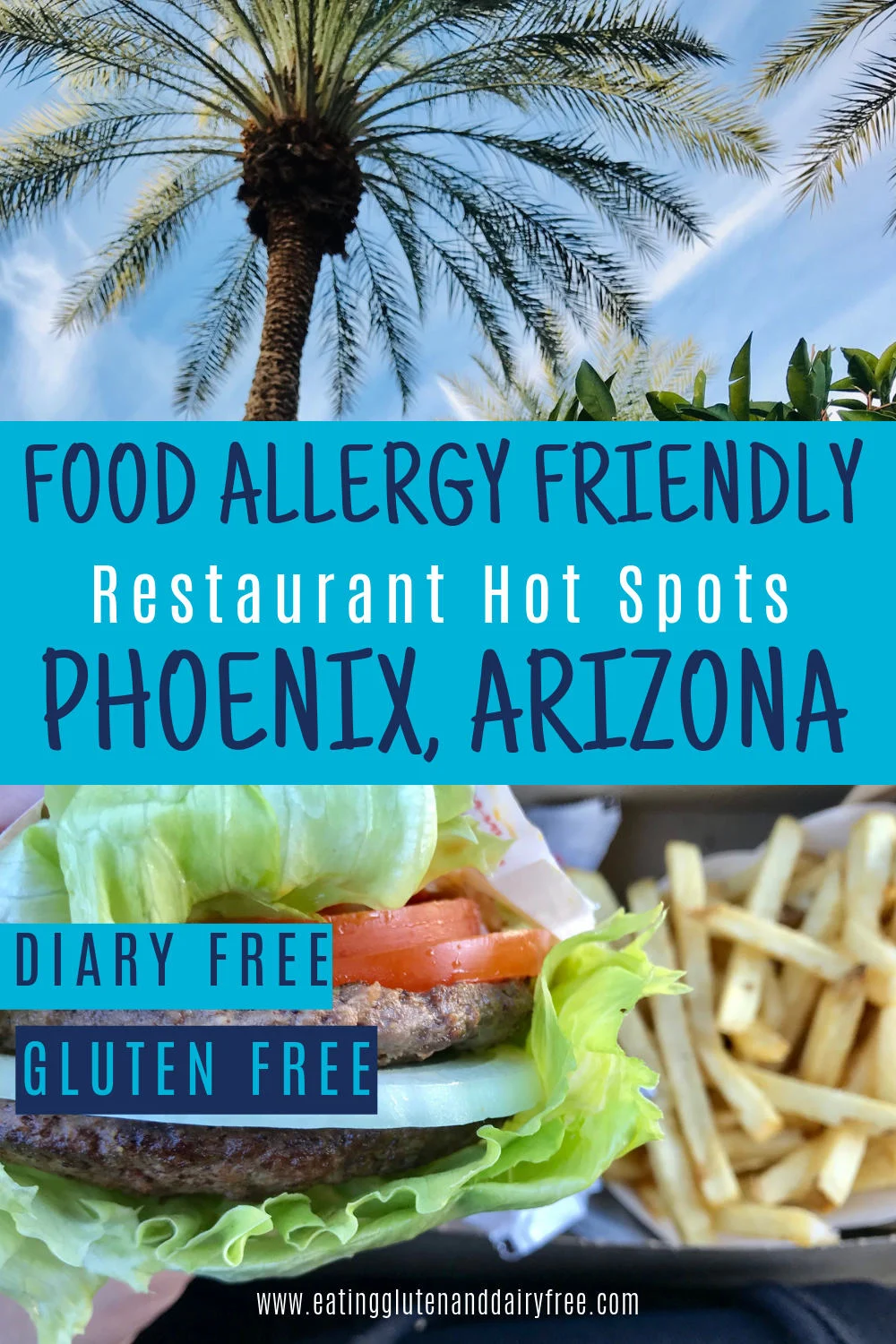 So. Many. Food. Options.
First things first, though. You'll soon notice a pattern to my traveling madness... grocery stores. We almost always go to a grocery store first after landing. We grab water, lemons (love my lemon water), and fresh fruit/veggies. If the kids are with us, I'll grab gluten and dairy free buns and maybe even breakfast muffins or donuts. Then, we're covered food-wise and good to go. Any other grocery shopping is an added bonus.
Phoenix offers my dream smorgasbord of grocery store chains... Whole Foods, Trader Joe's, AND Sprouts. I'd love to have one of these in Montana let alone all three. Holy cow, Phoenix was amazing.
I felt I was in a dream... the best kind of dream. Again... so many options!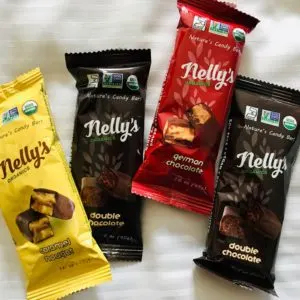 I scored some great kid and adult snacks that aren't available back home. I grabbed a couple treats to put in the kids' Christmas stockings next month. I also came across these vegan, gluten and dairy free Nelly's Organics bars. Initially, I grabbed one to try out back at the hotel for dinner one night. I might have gone back to Sprouts to grab a couple more in different flavors to bring back to Montana. AND I might have taken advantage of their after Thanksgiving cyber sale at 30% off. Can we say, "Hello good deal!" They'll be perfect in our carry-on food stash for an upcoming family trip! More about that later. If you have food allergies or prefer to eat raw vegan, you'll want to check these out! They are lit!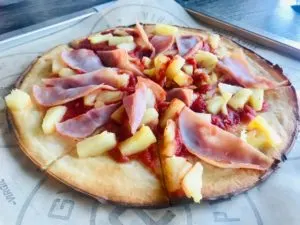 My aunt took me to Pieology for lunch in Surprise. We have a couple similar pizza establishments in Montana. I was hoping to try the cauliflower crust they'd highly advertised throughout the store. After chatting with the staff, I found out it had dairy in it. Thankfully they had other crust options. I must say their gluten and dairy free pizza crust was the BEST I've ever had. It was soft with just a little chew to it. Gluten and dairy free crusts are typically quite thin, so most restaurants tend to bake them a smidge too long. Not Pieology! The crust was perrrfect. They offer Daiya dairy free cheese, too. Just look at those toppings!

It was so good. And I had the best visit with my aunt while we ate. It was the perfect day with family!
I'd heard so many great reviews about Jewel's Bakery. It's 100% gluten free! It's not just a bakery either, but a full service cafe that prides itself on mouth-watering brunch options. Being dairy free did limit my choices, but I was really thrilled with the food. I tried the berry muffin, the fluffy waffles with warm maple syrup and potatoes. Let me say this was a ton of food and could easily be split between 2 people or plan on leftovers. I didn't even make it through half the order.
Their menu is quite amazing. If you're traveling with others who have a more open diet, this is your place! They offer biscuits and gravy to fried chicken and eggs! They have a bit of everything. My kids would have been very happy eating breakfast here. Check them out on Instagram if you're heading to Phoenix! Their menu is online as well.
If you'll be in the the Old Town Scottsdale area, be prepared to be spoiled! There are endless dairy and gluten free options. We're talking amazing food in an amazing atmosphere. I had a hard time deciding which restaurants to explore. Fellow food allergen peeps -- how many times does this happen to us?! Seldom to never.

Put the Kaleidoscope Juice on your list if you're into fresh fruit juices, cleansing juice detoxes, or acai bowls. They also offer bakery items, smoothies, waffles, and toast with creative toppings. They have an entire cooler of cold press juices to help detox and refresh. You can try their juice "flu" shot with turmeric root garlic, ginger, lemon, green apple, and oil of oregano. Totally my kind of place! Portion sizes are huge, and I left with a to-go bowl. The fruit tasted fresh and was revitalizing after spending the day before flying. Enjoying another acai bowl made me determined to start making my own at home. I bought an acai mix at Sprouts...watch out family! Our morning smoothies will be taking a walk on the acai side soon!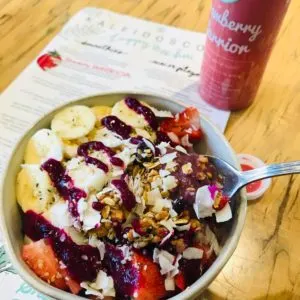 However, this would not have been a great choice for my kids unless the order was to go. Seating is very limited and there are lovely breakables for sale throughout the cafe. Since I was eating solo, I brought a book and made it a self-care kind of morning. This juice bar is a pretty hip place with good safe eats and a friendly atmosphere.
They even have a few locations spread throughout the Phoenix area! Three cheers for Kaleidoscope!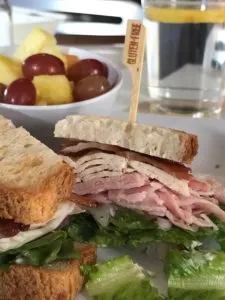 Another great restaurant in the Scottsdale area is the Scramble. They call themselves a "breakfast & lunch joint." Many of the ingredients are locally sourced. The menu was gluten free friendly and clearly labeled. I did need to question the staff to find dairy free options. I specified gluten and dairy free a couple of times. I also requested the bread NOT be toasted to avoid cross contamination. I ordered the smoked turkey club "sammy" which was fresh and full of flavor. My sandwich did arrive with cheese on it. Ugh. Thankfully on a sandwich I am fine with just removing the cheese myself and continuing on; I know many are not. Had it been a dish where the cheese wasn't so easy to remove I would've needed to return the dish. Lesson for me to have the waitstaff read the order back to me. The restaurant itself was fun, hip, relaxed, and kid friendly.
Notice a Scottsdale restaurant theme? Hip...relaxed...gluten free friendly....
I need to live closer to this magical place or at least visit more often!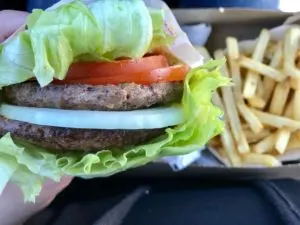 If you're looking for a quick hamburger stop, it's gotta be the In-N-Out Burger. Oh heavens, this place NEVER disappoints, and it's the best hamburger joint.
Ever.
I prefer the "protein" burger (lettuce wrap, no bun) with no sauce. The waiter said the sauce had gluten and dairy in it. Their fries have their own dedicated fry. They use sunflower oil so even those with peanut allergies can enjoy! The worst part about In-N-Out Burger restaurant chains is there aren't many of them! This chain is in the southwest so we don't visit them often enough. When we eat there with the kids, I take gluten free buns with us and have never had a problem from staff, just happy kids!
On our last morning in town we stopped by the Necter Juice Bar close to our hotel. This place screams FRESH fruit and veggies. I branched out and tried something new -- dragon fruit. My smoothie was very refreshing after the stress of packing and needing the hubs to sit on my suitcase to zip it shut. Ugh, too many Goodwill treasures and kid snacks from Spouts!
I ordered the Pink Flamingo smoothie. And I decided the dragon fruit in the Pink Flamingo was epic! We'll be adding that to our Montana lives. It's a blessing I didn't know about this place before our last morning in town, or I honestly could have had every meal there. What a boring review that would have been! They have a few locations throughout the Phoenix area.
Scottsdale and Phoenix have so many outdoor opportunities. I enjoyed a hike around Pinnacle Peak Park. It was the perfect temperature kind of day- 70 degrees, peeps. Mind you it was 8 degrees Fahrenheit with snow and ice when we left Montana. I felt spoiled walking through this desert oasis!
Pinnacle Peak is easy to find and navigate. Not to mention busy! Be prepared to see the parking lot filled and cars parked along the street. The scenery was surreal with the rocks and cactus. Very different from the mountains of Montana. I appreciate God's creativity when He created the heavens and the earth. His work is so breathtaking and Arizona is gorgeous, y'all!
The Phoenix and Scottsdale area has so much to offer recreation and food wise. I could've stayed for days and not needed to repeat a restaurant or run out of places to explore. We've traveled to plenty of US cities and had to have hamburger after hamburger. #Repeatrestaurants. I used www.findmeglutenfree.com for restaurant suggestions. I also found several possibilities on Pinterest.
I am counting down until I can go back to visit family again and explore more! This area has so much to offer. If you've been there, please share your suggestions too! I'm sure other readers would appreciate more ideas.
As always...
Eat well, feel well, and travel well! So long Phoenix! You are the next best place.

Jill